Everything About the Mushroom House in La Jolla, San Diego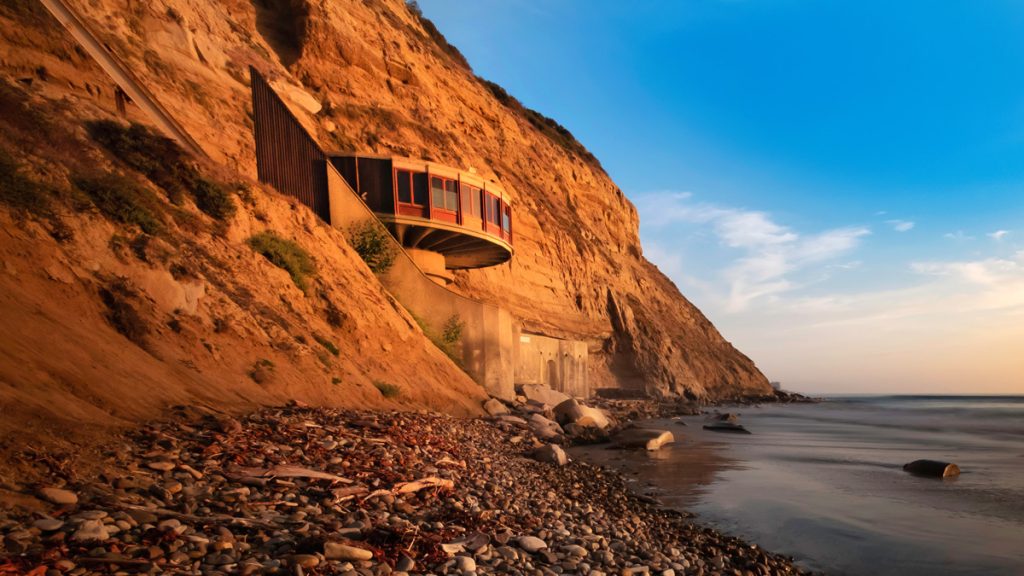 Have you ever wanted to explore an iconic historic landmark in San Diego? If so, the La Jolla Mushroom House (also known as the Bell Pavilion House) on Blacks Beach is the perfect place to journey back in time (or outer space, depending upon your viewpoint). The La Jolla Mushroom House has fascinated visitors from all around the world for over 50 years. It has become a symbol of La Jolla's vibrant beach culture, and its unusual architecture makes it stand out as an epic feature to surfers, tourists, and locals alike. From its origins to its current state, here's everything you need to know about the Mushroom House, San Diego.
About La Jolla Mushroom House
Did you know that La Jolla Mushroom House is also known as the Bell Pavilion House? This is because the home was originally designed and built for Sam Bell of Bell's Potato Chips. Mr. Bell already had a summer home on top of the cliffs overlooking Blacks Beach, but he wanted to have a special place where visitors could enjoy privacy while taking in the magnificent ocean views.
To this end, Bell was motivated to find the perfect La Jolla real estate spot so he could create this memorable guest house where visitors could get a 180-degree view of the ocean and Torrey Pines State Park. He found that at the bottom of the cliff and on Blacks Beach.
Furthermore, Bell certainly got the unique part covered when he set about building this one-of-a-kind home. The house gets its name from its unique shape, which resembles a mushroom. In addition to the smashing view, the home features three bedrooms, three bathrooms, and a private section of Blacks Beach accessible during low tide.
Sam Bell wanted the house to be ultra-futuristic in appearance, and he also wanted it to withstand tough conditions such as earthquakes. To respond to that need for protection against the elements, the home is made out of mostly concrete, and it has a beautiful upper deck that overlooks the ocean.
The home sits below a sweeping 300-foot cliff. Back in the late 60s, there was a tram that escorted visitors to the Mushroom House. However, according to locals, the tram is no longer serviceable today.
In fact, that tram has been a point of contention from its inception. Because of the many challenges of building the house and attempts to amend the tram – several workers walked off the Blacks Beach house project due to treacherous conditions. While the Bell Pavilion house lacks practicality, it wholly makes up for it with its legendary stature on the beach and has become an enchanting landmark of La Jolla.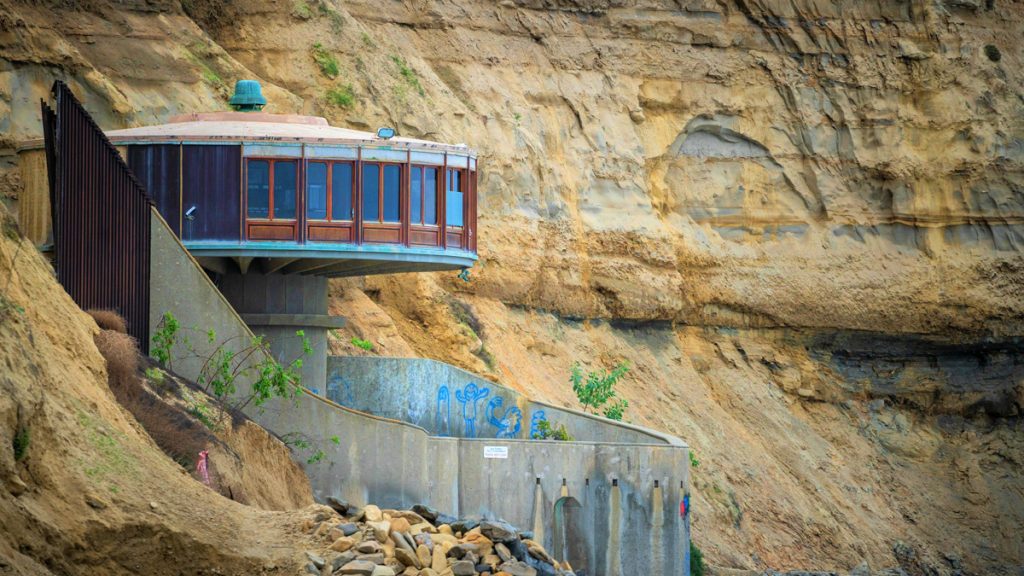 Is the Mushroom House Abandoned?
Maybe it's too much house to handle, or its accessibility is precarious at best – but for whatever reasons, the Mushroom House in La Jolla is currently abandoned. This is unfortunate because the home has been the victim of several graffiti attacks over the years – making what should be a marvel on the beach into somewhat of an eyesore today. The house also appears to be in disrepair and a state of neglect, with falling rocks, cliffside debris, and rubbish cluttering the exterior.
The portion of the beach the home is located on is virtually isolated from the public for about four miles due north. The Mushroom House is not accessible from the south side of the beach unless it is low tide. Neither the interior nor the immediate exterior is accessible because it is private property. However, surrounding areas on the beach are publicly accessible. So, it's still worth a lookie-loo if you want an unusual adventure on Blacks Beach (or if you are architecturally curious).
Who Owns the Mushroom House?
When it comes to the Mushroom House, La Jolla residents can tell you that the house has had quite a history over the years. As mentioned, it was originally owned by Sam Bell, who was the heir to General Mills and magnate of Bell's Potato Chips. At one point, entrepreneur and venture capitalist Buzz Woolley owned the house in 2015, which he purchased for a cool $4 million.
Today, the home is said to be owned by the University of California San Diego (UCSD), where the university is rumored to occasionally allow faculty or administrative staff to spend time there for some R&R along Blacks Beach. However, there is also gossip that an unknown philanthropist in San Diego might own the home.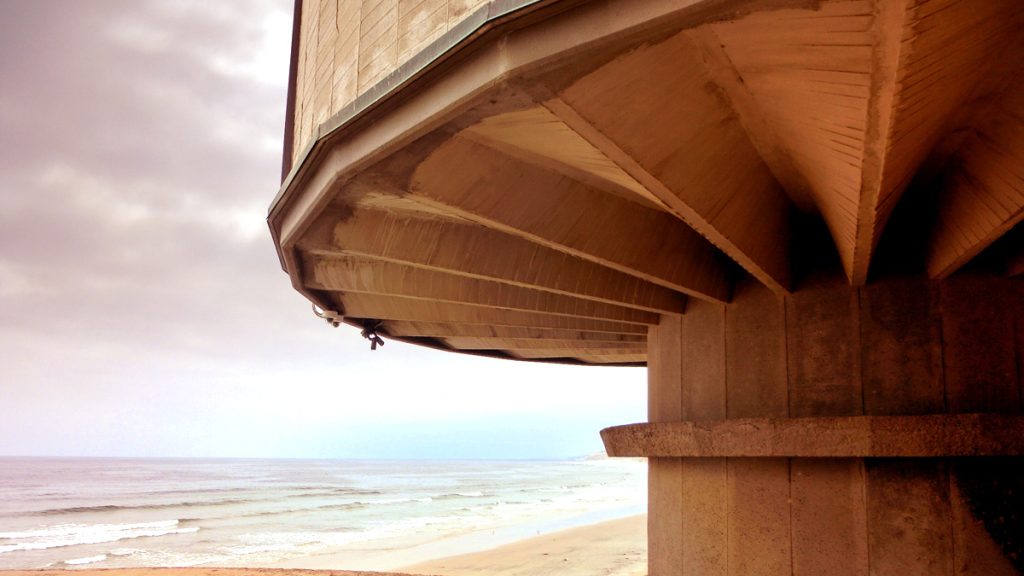 Who Designed the Mushroom House?
Dale Naegle designed the mushroom beach house. Born in Los Angeles in October 1920, Naegle got his bachelor's degree in architecture at USC in '54. He worked in LA for a while but admitted that La Jolla always called to him in a special way.
In fact, Naegle is quoted saying, "I love La Jolla because of its sense of place. You knew you had left somewhere and felt you had arrived when you got there. The cove has always been the heart. La Jolla is not defined by its border but by its heart. I thought to myself — I'm going to work all my life; I'm never going to take a vacation; I may as well live in a vacation setting."
So, La Jolla became Naegle's stomping grounds, as well as a premier place to express his architectural mastery. After consulting with real estate lawyers in San Diego and doing necessary research about the feasibility of this project, Sam Bell of La Jolla contracted Naegle in 1968 to begin work on the guest house that was dubbed Bell Pavilion and endearingly referred to as the Mushroom House of La Jolla today.
The concrete perimeter you see circling the base of the 100-foot center column of the home was not originally there when it was first built. That stone wall was erected later as a way to ensure privacy, as well as keep the base protected from the crashing waves of the beach.
While the home was being built, there were a myriad of challenges with the 300-foot tram that used to transport visitors from the top of the cliff to the guest house below in its early days. Engineer Jack Schultz of Electric Elevator, Co. lent a big helping hand in the construction of the cliffside railway and even assisted in installing the last 100 feet of it when workers began walking off the project.
When Was the Mushroom House Built?
As mentioned, work on the La Jolla Mushroom House broke ground when Dale Naegle was hired to head up the task of building the monumental guest home for Sam Bell in 1968. The house was designed to mimic the rocky cliffs that it is nestled within, and the design is also said to be inspired by primal elements of nature.
Aside from other-worldly aesthetics and jaw-dropping views from the inside – the chief purpose of the design was to withstand rugged environmental and weather conditions. The house is constructed of mostly concrete, with steel supports and glass windows. It features an ultra-modern design and is a rare example of such futuristic, unconventional architecture in San Diego.
Location
The La Jolla Mushroom House is located on Blacks Beach in La Jolla, California. The house is about a 18 to 20-minute drive on Interstate 5 North from San Diego. It's almost smack-dab in the middle between the Ellen Browning Scripps Memorial Pier and Torrey Pines City Beach.
How to Get There
How you get to the mushroom beach house is largely up to your sense of adventure. As you might imagine, it isn't the easiest destination to access, but it's certainly worth the effort. One of the most popular routes (and arguably the easiest) is to take the Scripps Coastal Reserve trail from the top of the cliff down to the house. This trail is paved, but be warned – it's a very steep trek down that cliff (not to mention a leg-crusher going back uphill).
You can also access the home by hiking the Ho Chi Minh Trail, which got its name from VietNam veterans who dubbed the trail such for its twisty, twirly path. Be wary while taking this trail, though, because most of it is made of sandstone, which can be quite slippery, making for a potentially challenging hike.
When is the Best Time to Visit?
The best time to visit Blacks Beach house is totally up to you, your travel itinerary, and your purpose. If you want to get up and personal, you've got to go when the water is at low tide because the house is literally on the beach, and high tide will obstruct your proximity.
Locals claim the best time to view the house is at sunset. Firstly, because the sunsets at this particular spot on Blacks Beach are killer. Secondly, the sun beaming directly off the concrete exterior of the home makes it look eerily glowy and surreal – a perfect opportunity for a pro photo or a selfie.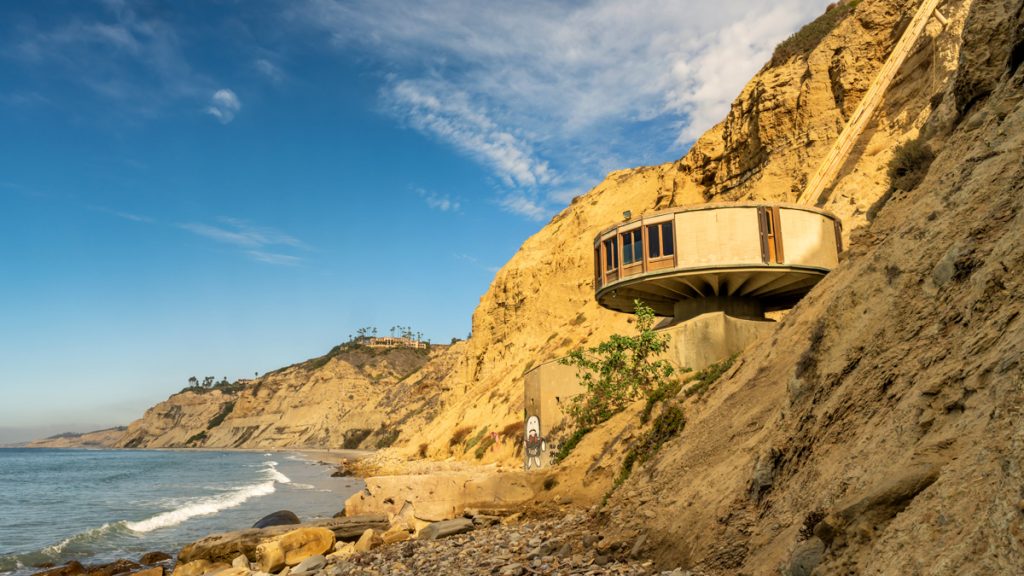 How to Enjoy Your Time at La Jolla Mushroom House
If you're anything like us – you don't need much motivation to enjoy all the spectacular views and attractions in La Jolla – including the Mushroom House, San Diego. However, if you really need a reason, here are a few suggestions to get you inspired to visit this intriguing relic on Blacks Beach:
Take Pictures
We're not talking just any old pictures. While a selfie or a snapshot is fine to capture the moment, we're suggesting you might set up your own photo shoot. If you're into the unconventional, the La Jolla Mushroom House might be the perfect backdrop for engagement photography, wedding photos, family reunion shots, retro music videos, or any special event you want to capture. Just bear in mind – the house is private property, so keep your distance restricted to the public areas around the home.
Go Surfing
Blacks Beach has been a mecca for surfing ninjas and enthusiasts for as long as boards have been hitting its waves. In fact, one of the very best ways to see the legendary Bell Pavilion house is from a board. So, why not catch a wave close to the house and take in its view as it is meant to be seen – from the surf in the sea on a surfboard?
Take Your Dog
Some of the trails leading down to Bell's guest house are not dog-friendly. However, Blacks Beach welcomes dogs as long as they are on a leash. With that said, soak in the stellar, sunny views of the mushroom house while taking your pooch along for the walk.
Have a Sunset Picnic
The sunsets at Blacks Beach are beyond reproach, and the area is a perfect setting for a little nosh and maybe a few sips of wine. Pack your finest charcuterie and vino and enjoy a seaside picnic basket reverie while nibbling in front of the mushroom house.
Have Fun With Your Drone
Some of the most phenomenal images of the mushroom beach house are taken from the skies. If you have a drone or just got one and you're aching to give it a maiden voyage – we recommend this spot for droning out. Because the house is private property, a drone might be your best chance to get a closer, mega-view of the perimeter.
Conclusion
The La Jolla Mushroom House, or Bell Pavilion House as it is also known, is one of the most unique and impressive structures in San Diego County. Not only has it become a well-known landmark in its own right, but it has become an iconic symbol of the area's rich architectural history.
From its eccentric design to its bold presence on Blacks Beach, this structure stands out as one of the area's most unforgettable sights—and with good reason! With so much character packed into such a secret, magical niche, there's little doubt that the La Jolla Mushroom House will remain a beloved attraction for generations to come.