Where to Go Off Roading in San Diego?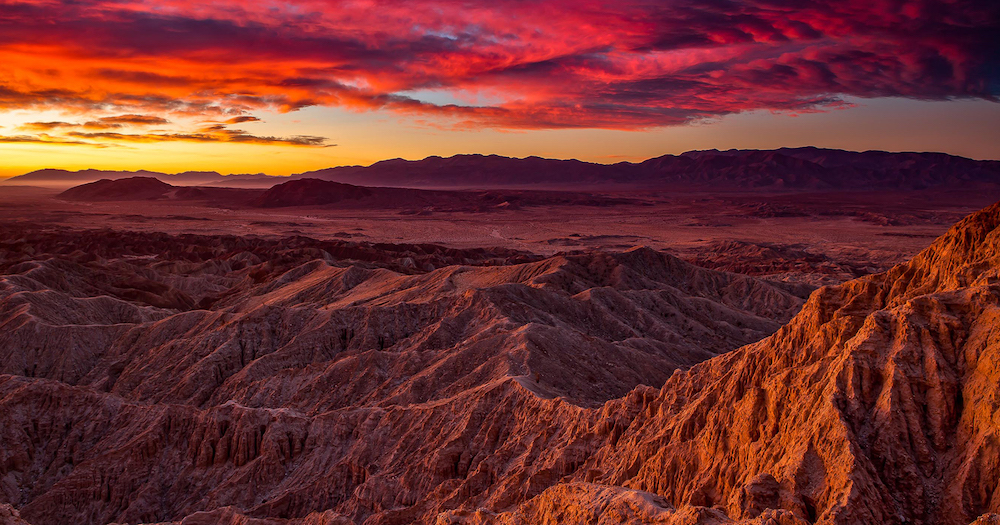 The freedom of off roading is as vast as the trail enthusiasts travel. The cloud of dust, the burst of adrenaline as your wheels veer close to a decline of a few hundred feet, and the near-vertical view of the bright, blue California sky is in the dream of every off roading traveler.
Regardless of whether you're going out for a day trip or to camp, there is nothing more refreshing when the dust settles as you reach the peak of your destination than the view that encompasses multiple states on the horizon. Although California is known for spectacular weather and stunning beaches, there is a complete culture of off roading in San Diego that can offer a lifetime of adventure.
Shop La Jolla Artwork
The Best Off Road Trails in San Diego
Are you looking for waterfalls or mud pits? Either way, here are the best off road trails in San Diego. Some of these trails have earned a reputation, while others are lesser-known and ripe for exploration. From beginner trails to expert adventurers, these trails are ready for you and your friends to rev your engines and experience the exciting majesty that off-roading in San Diego has to offer. Just make sure you have a winch between you because the chances of getting stuck when navigating the dusty, natural oasis found within these trails is fairly high, regardless of your expertise.
Otay Mountain Truck Trail
View this post on Instagram
Otay Mountain Truck Trail is one of the more popular trails to go 4 wheeling in San Diego, as it is a well-maintained beginner's track. Yet, that doesn't mean that it doesn't come with its fair share of obstacles. The coolest thing about this trail is that you can see Lyons Peak, Jamul Mountains, Tecate Peak, and Mexico throughout your adventure. There are great sunset views, too, if you're there at the right time of day.
Proctor Valley Road Trail
The Proctor Valley Road Trail is one of the best Jeep trails in San Diego due to its rugged terrain. In addition to off roading, bike riders, hikers, and runners use this 7.9 mile-trail. Off roaders like it because it offers a view of beautiful vegetation and flowers in the spring. The track isn't too long, leaving you with plenty of the day to visit the Jamul Casino or find another trail. (NOTE: The Proctor Valley Road Trail is reportedly closed as of March 2021.)
Palomar Divide Road
View this post on Instagram
Palomar Divide Road is one of the longest unpaved off roading trails in San Diego County. Throughout your journey, you will trek up to High Point Lookout in Cleveland National Forest, witnessing one-of-a-kind views from Lake Henshaw and Dodge Valley. Commenters on trail review websites regularly mention the views (using adjectives ranging from "nice" to "great.") Off roaders choose Palomar Divide Road over other OHV trails in San Diego due to its length and beautiful scenery. This trail is 25.1 miles and moderately trafficked, which makes it relatively safe for adventurers.
Smugglers Cave Trail
Smugglers Cove Trail, located in Jacumba, provides a fairly easy ride for the first stretch of dirt road. This road turns into a single track trail area where you will encounter terrain more suited for 4×4 vehicles. Oh yeah–and there is also a cave at the end! Besides the cave and iconically scenic views, you will likely interact with some humongous boulders, as you might expect while off roading in San Diego. If your 4×4 is a pickup truck, it might be a good idea to have a cover to protect the bed between the boulders and the caves to avoid flying rocks or debris. (Here is a great guide to picking truck bed covers to help you get the right shield for your vehicle.)
Corral Canyon OHV Trail
View this post on Instagram
Corral Canyon OHV Trail is another one of the more popular ATV parks in San Diego. Besides off roading, you'll probably find a lot of ATV enthusiasts having fun at this location. For off roading, Corral Canyon offers 13.8 miles of mudding, with moderate clearance. If you're looking for an adventure-packed medium trail this is a great place to visit. However, when the area experiences rainy weather conditions, the park will close. Just make sure to check if the trail is open before you dive out there.
Anderson Truck Trail
The Anderson Truck Trail in Alpine is far from a one-trip wonder. This option for off road trails in San Diego offers an array of unique views of the El Capitan Reservoir, complete with winding, open paths and plenty of side paths to explore. Although, for either hiker or off road enthusiast, this trail is rated difficult. Therefore, it is a good idea to earn some experience points before getting this 7.5 miles of lightly trafficked trail underway.
Wagon Creek Falls
Wagon Creek Falls is another great place for ATV riding in San Diego, but it is also great for going off roading. This trail is a little over 12 miles with plenty of scenic mountain views and a waterfall along the way. If you are not that experienced going off roading in San Diego or do not have a vehicle you are sure can traverse steep bouldering, you might want to consider hiking the end. Either way, though, this trail is sure to provide an exhilarating adventure.
Thomas Mountain Road
View this post on Instagram
Thomas Mountain Road is another one of the many excellent ATV parks in San Diego, with the addition of camping and breathtaking sunset views. The trail is easy and family-friendly. So, it is also a fun place to camp out or just spend the day off roading.
Bear Valley Road
Bear Valley Road is another great one of the many off road trails in San Diego. The 12.6 mile-road is sprawling with majestic views of Bear Valley and Cottonwood Valley lining the horizon. Plus, there are plenty of wildflowers along the trail to enjoy in the spring and summer. Off roaders can enjoy this trail, regardless of expertise. However, you want to avoid this trail during bad weather as it can quickly become wet when the road gets wet.
Bee Canyon Truck Trail
View this post on Instagram
Bee Canyon Truck Trail is for the moderately experienced off roading explorer, as the terrain of the 15.5-mile trail can be tricky to navigate. Yet, if you brave this moderately trafficked San Diego OHV trail, you will be rewarded with beautiful wildflowers and a unique bird-watching experience.
Sugarpine Mountain OHV Trail
Sugarpine Mountain OHV Trail is a fantastic place to go dirt bike riding in San Diego, along with 4-wheeling and off roading. This 17.6-mile trail is moderately trafficked and accessible all year round. In addition to the main trail, there are also plenty of other trails connected to it, which wind around Silverwood Lake's perimeter.
Bonita Cove Park
Bonita Cove Park is a gorgeous 11.7-mile loop that offers access to waterways and islets that add to your trip's adventure. Additionally, this trail is close to the Fiesta Island Trail, making it easy for you to finish one and experience the other all in one trip.
Cedar Creek Road
Cedar Creek Road is getting another lease on life as an adventure spot for explorers. A few years ago, this trail was closed due to a bad fire. Fortunately, in October 2020, the 5.2-mile course was deemed safe to reopen for anyone wishing to go off-roading, walk, hike, or bike. This trail is also a popular spot for nature buffs as the road leads you to the majestic waterfall at Cedar Creek Falls.
Black Mountain Truck Trail
The Black Mountain Truck Trail is another one of the beautiful off road trails in San Diego. This trail is 14.1 miles, with stunning scenery that visitors enjoy all year long, along with wildflowers that sprout in the spring and summer months. This OHV trail is moderately challenging, and don't forget to check before visiting Black Mountain Truck Trial due to the possibility of seasonal closures.
Boulder Creek Road
View this post on Instagram
Boulder Creek Road is just southwest of Julian, offering visitors an easy-going off roading experience at most 21 miles long. This trail is great if you are just starting on your off roading adventures or want a gorgeous area to take the family. There are also fantastic mountain views and an easy path, with one trailhead leading to 3 Sisters Falls.
Double Peak
If you're looking to get a moderate, steep challenge from off road trails in San Diego, you should visit Double Peak. While this is a great spot for seeing nature and bird watching, it is also a fairly challenging 3.9-mile trail. Another interesting thing about this particular trial is that both dogs (leashed) and horses can go on the trail. Therefore, if you are off roading, be aware that there could be hikers and animals traveling your same route.
Fiesta Island
This trail just sounds like a good time, and even though this is a paved trail, Fiesta Island is a great place to take a ride. This trail is a family-friendly, wheelchair accessible, heavily trafficked loop of only 4.1 miles, perfect for all experience levels.
Upper Coyote Canyon Trail
View this post on Instagram
The Upper Coyote Canyon Trail is not for beginners. This 17-mile trail has light traffic but difficult terrain. While there are many different scenic views throughout the trail, the rocky, narrow, and often steep passages make it difficult to traverse. Regardless of your experience level or which trail you choose, travelers will be in for a real treat, destined to experience some of the best views in San Diego along their journey.
Conclusion
Whether you seek adventure and difficult terrain or waterfalls and other amazing sources of California's finest natural beauty, these trails are perfect for both off roading or walking; as nature enthusiasts count these trails as also being some of the best hikes in San Diego! So, whether you are traveling on four wheels, on foot, or a little bit of both, make sure you check out some (or all) of these spectacular off road trails in San Diego.
Shop La Jolla Artwork