5 Epic La Jolla Activities for the Outdoor Adventurer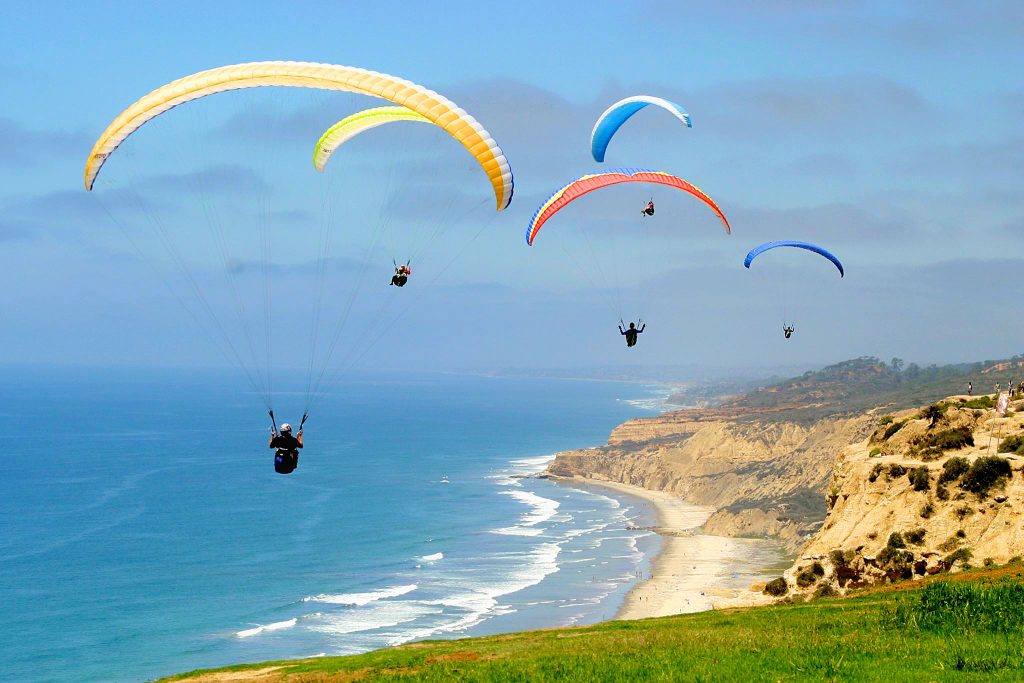 La Jolla Activities for the Outdoor Adventurer
La Jolla, San Diego is a pretty great place to explore — especially for outdoor enthusiasts! I mean, there is only so much time you can spend on the internet checking to see if anyone new liked your latest social media post or looking to see if there's any unclaimed money with your name on it. There are plenty of La Jolla activities for the outdoor adventurer, from scuba diving to hang gliding and even snorkeling through the many sea caves along the coast. If adventure is your thing (or adrenaline!), these are five things to do in La Jolla that you won't want to miss!
Paraglide or Hang Glide
Nestled above Blacks Beach, this cliff-high spot is the go-to-place for those craving a flying adventure! This 300 foot-high spot has been launching fliers for over 100 years, making it the most historic aviation site for non-powered flight on Earth. It's been deemed a historic place by the state of California because of the many famous flyers and records that have been set here. The Gliderport offers an array of tandem flights and lessons, including:
Tandem Paragliding & Hang Gliding with a certified instructor
Paragliding lessons
Advanced clinics
Powered Paraglider lessons
Be sure to give the Gliderport a call before you head over there. Wind and weather conditions vary greatly, and on certain days they don't allow people to fly. Visit their website for more information. Tip: Afterwards, visit the Cliffhanger Café for an epic cliffside dining experience! The full-service deli-cafe is open daily, offering lunch and snacks from 9am-4pm.
Snorkel & Swim
La Jolla Cove is an incredible place to snorkel, because the beach is sheltered from the waves due to its north facing location (this is one of the most popular things to do in La Jolla). Once you get your snorkel gear on, you don't have to swim far to see a multitude of aquatic life. While the most plentiful are Garibaldi and sea lions, people have been known to see leopard sharks, octopus, stingrays, sea stars, urchins and many other fish species. You can also choose to swim at La Jolla Shores Beach or Windansea Beach. Several tour companies offer snorkel rentals and guided snorkeling tours, including Everyday California, La Jolla Kayak, and Bike & Kayak Tours La Jolla.
Tip: We recommend swimming at La Jolla Shores Beach for children and amateur swimmers due to its sandy bottom and smaller waves. Windansea Beach has a big shore break and a rocky bottom and is probably best-suited for adults and more advanced swimmers. Afterwards, visit the tide pools for further adventures!
Kayak the Seven La Jolla Caves
If you love the ocean and revel in exploring it, kayaking in La Jolla will be a magical experience for you. The reason? The La Jolla Underwater Park, which is a vast area of sea that goes all along the La Jolla Coast and includes the ocean bottom and canyons that extend from it. Not to mention the incredible sea caves, a few of which you can actually kayak into! In total, the park's perimeters encompass nearly 6,000 acres! It's particularly interesting because of its wide variety of landscapes — kelp forests, deep water canyons, rocky shallows, beaches, and sky-high cliffs.
There are several tour companies down at La Jolla Shores that will take you on a guided kayak tour, or a combo kayak and snorkel tour; including La Jolla Kayak, Everyday California, and more.
Scuba Dive
If you have your scuba certification, there is truly no more beautiful place in San Diego to scuba dive than La Jolla. From kelp forests at La Jolla Cove to the canyon wall at La Jolla Shores, the La Jolla Ecological Reserve has it all — beautiful, diverse marine life and the chance of seeing something amazing. There's even an underwater graveyard to explore!
During the summer, you can swim with the leopard sharks, and throughout the year marine life such as sea lions, seals, green turtles, sevengill sharks, giant black sea bass, toupe sharks and even dolphin have been seen by divers. There are a few different companies that offer guided tours, such as La Jolla Dive and San Diego Expeditions. Most tours meet at Kellogg Park or on the beach at the Shore
Rent a Bike and Explore on Wheels
There are several different options for bike rentals and bike tours in La Jolla, and for good reason! Beautiful, clear weather year-round and terrific views make for some great biking excursions. Bike & Kayak Tours offers bike rentals starting at $8 an hour, and La Jolla Kayak offers two pretty awesome combo bike tours: the Soledad Slide Bike Tour and the half-day Bike & Kayak Tour (which essentially combines the original Kayak Tour with the Soledad Slide Tour). Head to our Tours on Wheels page for more info!
Tip: Nearby, the Birch Aquarium at Scripps and the Salk Institute provide for some great informational activities after you finish with the outdoors. Call ahead for information, tickets, and tour dates. Both the Birch Aquarium and Salk are easily accessible from La Jolla Cove and La Jolla Shores.
La Jolla is a great place for families to spend the day outdoors; at just a 30-minute drive from downtown San Diego and other nearby attractions such as Balboa Park, northern areas like Del Mar (and the Del Mar Fairgrounds) and Solana Beach, and with so many attractions of its own (the sea lions, sea caves, beautiful beaches, and incredible restaurants), it's definitely a must-do when in the City of San Diego.