Top 4 Spots to Get Poke in La Jolla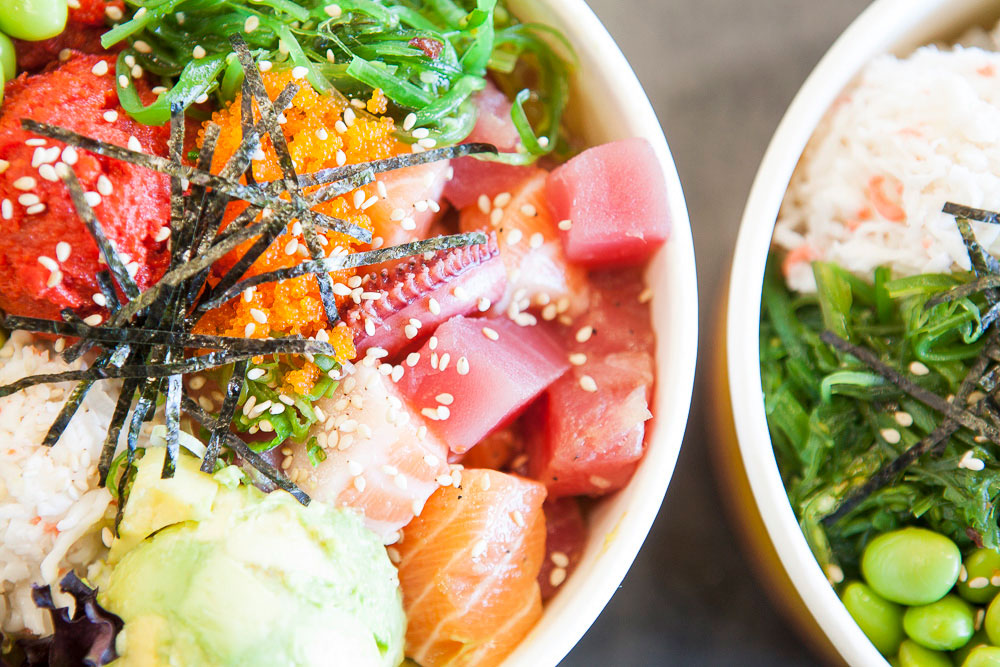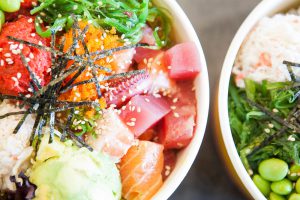 The poke craze is alive and well in San Diego, and now the Poke trend can be found in La Jolla! The Village is home to its very own poke-centric place (Poke Go), and now boasts a few other local restaurants that serve the yummy dish. For those who haven't yet tried it, poke is a salad bowl served with fresh seafood and a variety of ingredients. Poke in the Hawaiian language literally means "to cut or slice;" usually the fresh fish, like tuna or ahi, is sliced up into small chunks along with the other ingredients. It is sometimes served as an appetizer but is more typically a general lunch or dinner entree.
We found out who serves what and rounded up all the best poke La Jolla spots! Take note that some offer the bowls seasonally, so do check the menu before you go.
Poke Go La Jolla
510 Pearl St.
La Jolla, CA 92037
As downtown La Jolla's only restaurant dedicated solely to poke, Poke Go is a great option if that's what you're looking for! With two other locations in San Diego already, the eatery specializes in what they refer to as "poke with a twist;" guests can choose from five unique poke seasonings to add to their bowl:
Shoyu Hawaiian
Spicy Mayo
Kimchi
Wasabi
Teriyaki
You can choose from Ahi Tuna, salmon, shrimp, or Tako poke. Additional flair includes Bibi Go, which is their twist on the Korean Bibimbap; and Poke Bibigo, which includes assorted shredded veggies with Shoyu Hawaiian poke topped on rice.
Sushi Nekosan
1119 Wall St.
La Jolla, CA 92037
Sushi Nekosan has officially opened on Wall St. after a long and relatively quiet remodeling phase. Besides traditional sushi rolls and sashimi, they are also one of the only spots in La Jolla to offer poke bowls. Their "Nekosan Bowl" is packed with fresh salmon, tuna, bacon kimchi, avocado, garlic crisps, shishito peppers, and topped with a spicy citrus sauce.
They also have an interesting "Mango Mango Bowl," which combines salmon, mango, sweet-pickled onions, crab salad, and a sweet habañero sauce for a fruity/spicy flavor. Their other bowls include the Big Island Tuna, Bayside (which has fresh scallops and masago), Livekind (which is tofu), and a Hamachi Bowl (which adds in yellowtail, crab, shiitake mushrooms, and crushed macadamia nuts with a honey wasabi aioli).
The flavors here are really unique and quite different than the poke bowls on other menus we've seen.
El Pescador
El Pescador is truly a seafood staple in La Jolla; having been open since 1984 right here in the Village, they are one of the few restaurants that have withstood the test of time — and for good reason! Fresh, high quality seafood is their standard, and you can expect everything from fresh sashimi to their famous El Pescador sandwich on the menu (a delicious combination of Dungeness Crab, shrimp, Bay Shrimp, and smoked salmon).
Their poke bowls are seasonal, which makes them all the more fresh. Each comes topped with Sashimi-quality tuna, avocado, green onions, sesame seeds & soy sauce. They don't have any variations or additional bowls on the menu, but you can usually ask to swap out the type of fish if you ask.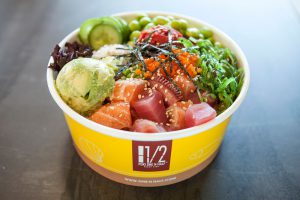 Poke One n Half
8657 Villa La Jolla Dr. #109
La Jolla 92037
Though not technically in downtown La Jolla, Poke One and a Half in the La Jolla Village Square (right across the shopping center where Snooze La Jolla and Mendocino Farms) is relatively new. The eatery proudly offers four bases, seven types of seafood, and over ten types of toppings and various sauces to choose from. They also serve the newest craze, Poki Burritos!
This spot is different than the others on the list as there are no pre-formed bowls; it's a strictly choose-your-own everything menu. You can customize everything from the type of rice you want down to the number of toppings (choices range from jalapeño and crunchy garlic to seaweed salad and fresh ginger). Fresh fish options include salmon, yellowtail, tuna, shrimp, albacore, octopus, scallops, and spicy tuna. Poke aficionados have long been fans of the other four locations in San Diego, and this one is no exception!