Your Guide to Basketball in San Diego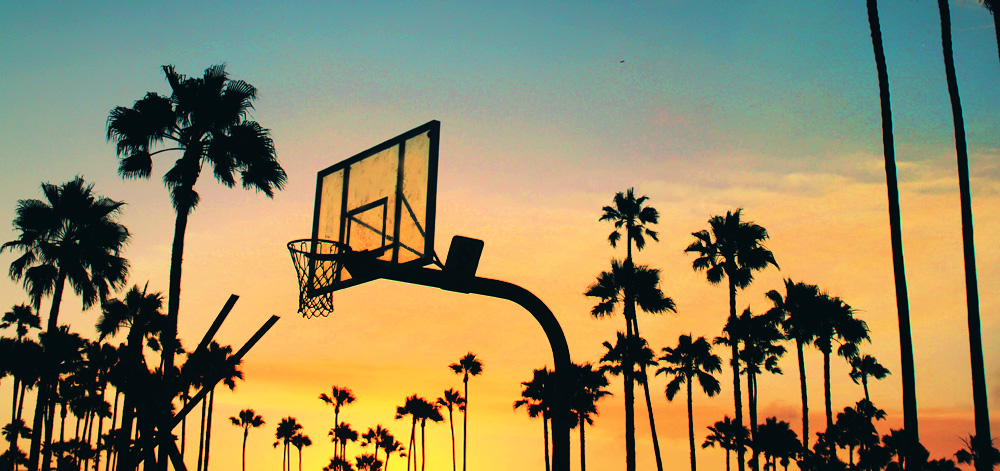 With the amazing weather and the pristine beaches, it's easy to think that San Diego's not much of a sports town. But don't get swayed by it — you're still in Southern California, and the beach can't take away our city's balling spirit. San Diego has the basketballing heart of a torero, if only the bull could make it from Chicago.
Here, you're bound to find some pickup games or leagues that get you pumped. Whether you're just a casual player or a total basketball fanatic, our amazing city's got something for players of all skill levels.
What to Know About Basketball in San Diego
San Diego's got a bustling basketball scene for locals and tourists alike. Most courts that are open to the public get the ball rolling early on Saturdays, and you could hit a nearby gym to check out their pickups.
We've rounded up all that you need to know about what the city has to offer to fans and players alike. So if you're trying to catch some outdoor exercise in San Diego, don't forget to make room for some of these events in your itinerary.
NBA Teams From The Past
San Diego's had two professional basketball teams in the past. Despite showing promise, they weren't really that big in the bigger NBA games and eventually left owing to poor attendance. Nonetheless, they still managed to leave a mark on the people. With that in mind, you'll likely be able to dig out some hardcore Rockets or Clippers fans even to this day.
San Diego Clippers
Seven years later, San Diego's basketball fans welcomed The Buffalo Braves, whom they renamed as The Clippers after the famous San Diego Bay ships. They had an impressive season and barely made it to the finals.
The legendary World B. Free managed to finish second overall during this season, as well. Free left the team in 1979, however, and key players such as Bill Walton missed important games due to injuries, contributing to the downfall of the team.
After consistently poor performances that ended up averaging only 4,500 fans a game during their final San Diego years, the team was finally relocated to L.A. after attorney Donald Sterling bought the team. The team now plays for Los Angeles, but they've still kept the franchise name that San Diego gave them.
San Diego Rockets
The San Diego State basketball craze dates way back to 1967 when the NBA formed the city's first franchise that went by as The Rockets. Unlike their explosive name, however, the team didn't manage to take-off, winning 2 out of a total of 16 games during their first season.
Even in 1968 when Elvin Hayes managed to secure the team's first-ever playoff, the team lost during the semi-finals and didn't manage to make it to the playoffs in the upcoming seasons despite recruiting stellar coach Alex Hannum. After several poor performances, the team was finally acquired by Houston, Texas as their first NBA team.
College Basketball in San Diego
San Diego is home to about 20+ colleges and universities, and most have formidable teams. One can only expect the city to be a fiery yet teeming arena when it comes to college basketball. And that's just quite true. The NCAA competitions here are tremendously amazing.
San Diego State University Basketball
SDSU's team, the Aztecs, become one of the most notable local basketball teams and have made waves countless times, and not just because of the team's incredible performance during games. They've created all-kill records of 26-0, beaten BYU, Utah, and New Mexico to get perfect seasons, making them a team to watch out for.
The veteran team has been around since 1921 and has 6 NCAA victories under its belt. Also, think about what's in common between Malachi Flynn, Kawhi Leonhard, and Jalen McDaniels.
If you think it's NBA and basketball, then you've just got half the right answer. They were all members of the Aztecs before going to their current teams! No matter what they say about San Diego not being part of the NBA, those very teams still get their players from San Diego.
Other Basketball Teams in San Diego
Besides the Aztecs, there are six other teams that play in San Diego during the NCAA. They are the following teams:
USD Toreros Men's Basketball Team
USD Toreros Women's Basketball Team
UC San Diego Tritons Men's Basketball Team
Oceanside Surf
San Diego Wildcards
San Diego Stingrays
And if you add in the former San Diego Clippers, then that would be seven. But why would you want them when you've already got great teams to watch during the collegiate basketball games?
Every single one of these teams is special on its own. They are all great, even without having to play in the NBA. It's these teams that bring out the San Diego basketball spirit and make it spread around like wildfire!
Where to Play Basketball in San Diego
Of course, basketball is best enjoyed while playing. Too bad you can't just play basketball by yourself. There are two kinds of places to play basketball in San Diego, but they just differ on who you want to play with.
Adult teams can play against other adults in the San Diego Basketball Leagues. There's an $870 registration fee and you'll need to have your own uniforms. But that's practically the price for having officials watch you play.
On the other hand, kids aged 8-15 have their own league in the San Diego Youth Basketball League. They also run coaching classes for kids wanting to learn how to play basketball. Or they could go with the University of San Diego Sports Camps during summer. There's always something for everyone!
Where to Buy the Best Basketball Gear and Memorabilia in San Diego
To play basketball, you'll need at least three things. One, you'll need a ball. Two, you'll need a net. And then three, you'll also need some decent running shoes to keep your feet from getting blisters. So feel free to buy your stuff at any of these places when you're going around San Diego!
SDSU Bookstore
Besides books, you can also buy hats and clothes for sports here, too. They also have a lot of clothes and accessories for SDSU Aztecs fans. There is a lot of novelty stuff to find here, as well, meaning there's a ton of variety for all UC San Diego basketball fans.
Address: East Commons, Campanile Dr., San Diego, CA 92182
Phone: (619) 594-7525
Hours: Mon – Fri 8 a.m. – 7 p.m.
Sat: 10 a.m. – 3 p.m.
Closed Sunday
Play It Again Sports (Pacific Beach)
Play It Again Sports is a retail sports equipment chain, with a location found here in San Diego. Whatever you need, they probably have it. Balls, shoes, jerseys…they have it all. That said, you may have to look for someplace else if you're trying to get custom prints.
Address: 1401 Garnet Ave., San Diego, CA 92109
Phone: (858) 490-0222
Hours: Mon – Sat 10 a.m. – 7 p.m.
Sun: 11 a.m. – 5 p.m.
DICK's Sporting Goods
DICK's is a trusted nationwide retail shop that sells an assortment of sports equipment for both novice and pro athletes. They have a lot of stuff, but you'll definitely want to look for clothes and shoes here. DICK's also sells customizable gear, too, but you'll still need to do the customizing on your own.
Address: 3265 Sports Arena Blvd., San Diego, CA 92110
Phone: (619) 523-0975
Hours: Mon – Sat 9 a.m. – 9 p.m.
Sun: 10 a.m. – 7 p.m.
Centre City Sports Collectibles
Centre City Sports Collectibles is kind of a generalist collectibles shop, which is great for memorabilia fans. You can find plenty of different stuff, ranging from basketballs to shoes and jerseys. Most stuff for sale comes in their own boxes, but things like jerseys, caps, and figures generally don't.
Address: 1027 Sixth Ave., San Diego, CA 92101
Phone: (619) 338-0007
Hours: Mon – Sat 11 a.m. – 6 p.m.
Sun: 10 a.m. – 2 p.m.
Syndicate Sports Cards
Cards, cards, and cards everywhere! Syndicate Sports Cards has unopened cards, sealed straight from the factory. You could get them one-by-one or by bulk. If you're looking to resell en masse but don't have enough to buy a lot from the factory, this place is a good stop to get what you need.
Address: 3402 Myrtle Ave., San Diego, CA 92104
Phone: (619) 804-6849
Hours: Listed on Website
All things considered, the heart of basketball is well and alive in San Diego. Even with the loss of the San Diego Clippers, you can still find the glory of basketball everywhere. From the shops to the stores, it's the San Diego basketball community itself that keeps it breathing in the souls of locals and tourists alike.
About the author: Brianne loves fancy notebooks and tasty mushrooms. If she's not jotting down her latest recipes, then she's probably writing about the romance comics that keep her up every night.