San Diego Surf Film Festival Returns to La Jolla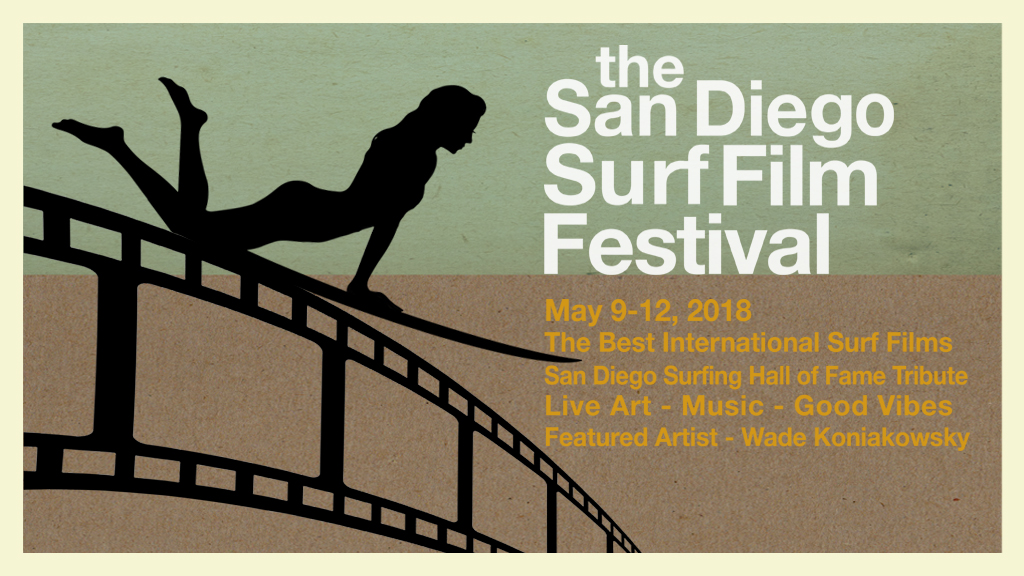 The San Diego Surf Film Festival returns to San Diego and downtown La Jolla for its seventh year this May 9th-12th! Films will be shown at a dozen locations all around San Diego, with its hub being one of the newest art galleries in La Jolla: Misfit Gallery on Pearl Street. This year, a roster of fifteen of the best international surf films are being presented over the four-day festival. From La Jolla Cove to north county, here are some of this year's SDSFF highlights!
This Year's Highlights
Opening Night
The festival kicks off at 6pm on Wednesday, May 9th at Wade Koniakowsky's (this year's featured artist) art gallery in the Cedros Design District area of Solana Beach. The Opening Night movie begins at 7pm, but arrive early to catch a gorgeous sunset, take in the live art, and enjoy some refreshments. This year's Opening Night will also feature a special tribute to Bruce Brown, the legendary filmmaker behind one of the most important and well known surf cinema productions of all time: Endless Summer. 
In tribute, the festival will be presenting three films on different screens that evening: Endless Summer, On Any Sunday, and Discovering Mentawais.
[ad size=728×90]
San Diego Surfing Hall of Fame Induction Ballot Ceremony
Thursday, May 10 is the highly-anticipated San Diego Surfing Hall of Fame Induction Ballot Dinner Ceremony, introduced by Hank Warner at the La Jolla Community Center. More than a dozen local eateries have come together to create a special tasting menu to be paired with Ballast Point beer, ZioBaffa wine, and Babe Kombucha in what looks to be an incredibly memorable evening amongst the legends of San Diego surfing. The dinner and event is $75, or included for VIP Nautilus Pass holders.
Last year the SDSFF presented Skip Frye with their highest honor, the Spirit of the San Diego Surf Film Festival. For SDSFF 2018, they have invited over two dozen San Diego Surfing Legends to show up for the San Diego Surfing Hall of Fame Induction Ballot. With the approval and guidance from these legends, they compiled a list of around 100 of the Most Influential San Diego Surfers; and during the ballot ceremony, you'll be able to have your voice heard in the process! The Hall of Fame will inducts its first 25 Surfers in September, 2018.
3 Nights of Surf Films
All six nights of film viewings, as well as the closing Awards Ceremony, will be held at Misfit Gallery in La Jolla (565 Pearl St., #100). Friday and Saturday include the majority of the films, as well as special events running throughout the day and into the evening.
This year's film highlights include:The Church of the Open Sky, Nathan Oldfield
Proximity, Taylor Steele
Biarritz Surf Gang, Nathan Curren & Pierre Denoyel
Big Wata, Gugi van der Velden
[ad link="https://www.lajolla.com/guides/la-jolla-cove/" size="300×250″]
Special Events
The festival isn't just about surf films! Other activities will be happening throughout the week, including morning surf and yoga sessions, special Filmmaker Workshops by Salty Surf Housings, and the 3rd Annual SDSFF Art & Surf Expression Session Invitational in Carlsbad on Saturday (artists will be riding the waves and creating works of art on the beach throughout the day). Afterwards, enjoy the Filmmaker & Artists Meet and Greet at El Pescador in La Jolla, followed by Happy Hour at the Misfit Gallery.
[ad size=728×90]
The San Diego Surf Film Festival boasts seven years of incredible films, hard work, and talent behind it. The fest was founded by Pierce Kavanagh  as a small film showcase in 2012; that first year, every film sold out and they had lines around the block. The City of San Diego presented them with a plaque, and seven years later, it has become one of the largest and most respected surf film festivals around the world. 2018 returns with another awesome lineup of the best surf films, filmmaker Q&As, special events, and more.
Visit the SDSFF website to purchase tickets or see the full film lineup.