Quintessential Festival 2019: Celebrate All Things San Diego!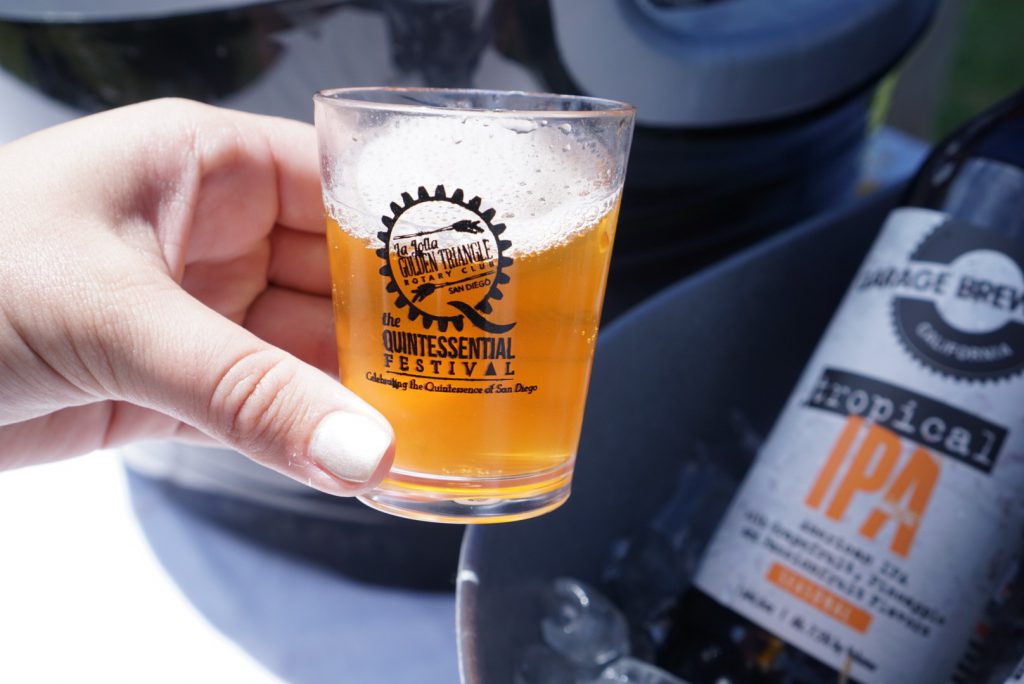 The La Jolla Golden Triangle Rotary Club presents the 6th annual Quintessential Festival this April 27th, from 1pm – 5pm. Celebrate the true 'quintessence' of San Diego with craft beers from local breweries, wineries, and distilleries, along with fantastic food, music, and – most importantly – the amazing people that make San Diego America's Finest City!
The inspiration for this community event stems from the Rotary Club's desire to build a collaborative event that brings people together from throughout San Diego and raise awareness and funds for the great projects Rotary is doing locally and globally. Last year's event drew approximately 750 attendees, and this year they intend to drive attendance in excess of 1,000!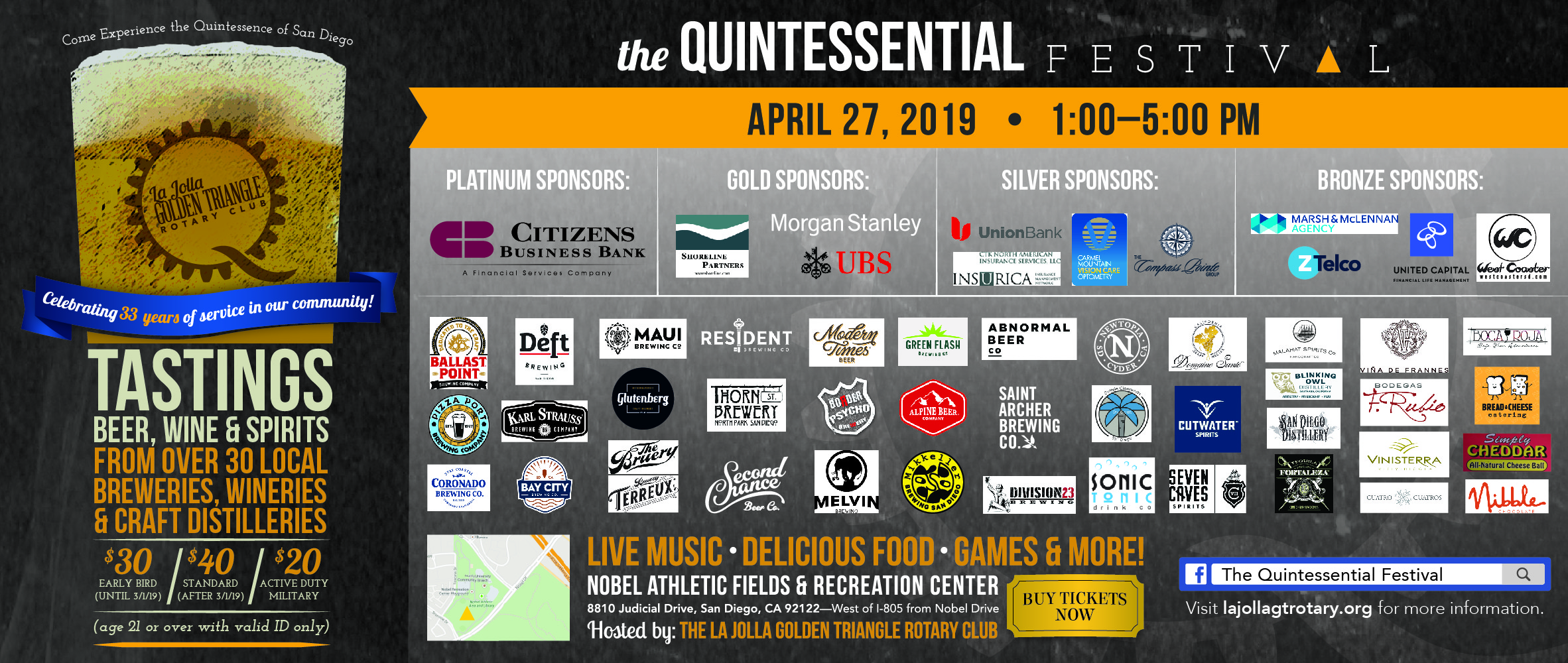 Food, Beer, & Fun
This year's festival will be held at the Nobel Park and Recreation Fields (8810 Judicial Dr, San Diego 92122). Proceeds from this event benefit over 45 local charities and non-profit groups supported annually by the La Jolla Golden Triangle Rotary Club.
Attendees will get exclusive access and unlimited samples from more than 30 of San Diego's finest craft brewers, distilleries, and wine and spirit companies. There will also be plenty of live music, complimentary bites from local vendors, and a few dog-friendly events for your four-legged friends.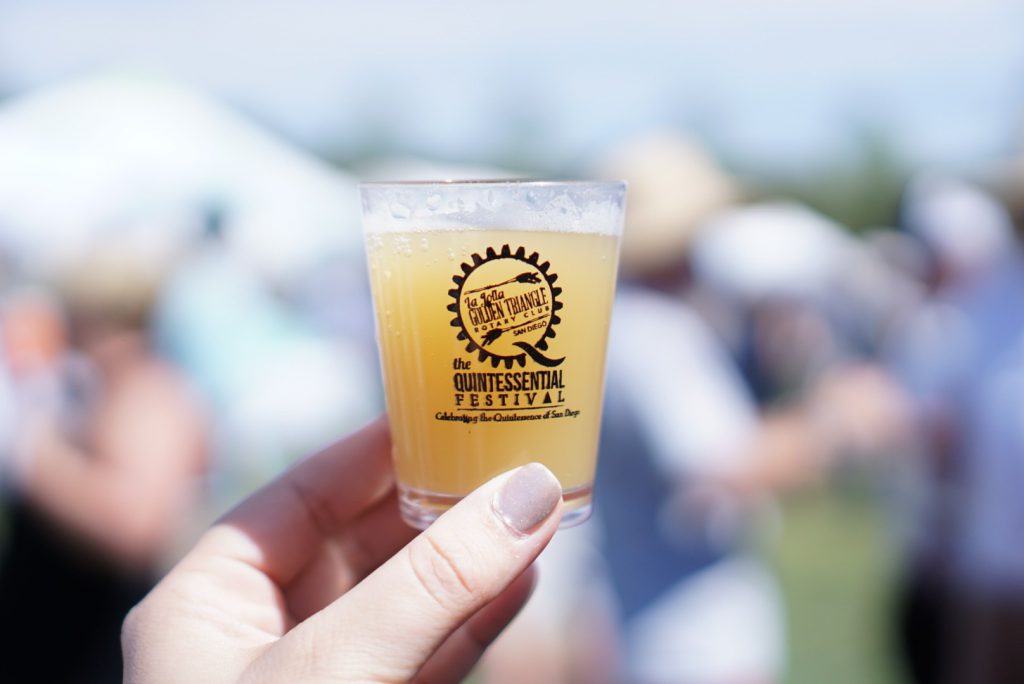 A Few of This Year's Participating Breweries
Abnormal Beer Co.
Alesmith Brewing Company
Alpine Beer Company
Ballast Point
Coronado Brewing Company
Green Flash Brewing Co
Karl Strauss Brewing Company
Mikkeller Brewing
Modern Tims Beer
Pizza Port Brewing Company
Saint Archer Brewing Company
Food Vendors
Aloha Poke Company
Bread & Cheese Catering
Doggos Gus
Nibble Chocolate
Simply Cheddar
For a complete list of participating craft breweries, visit their website! Tickets are $30 and can be purchased ahead of time online.
About the La Jolla Golden Triangle Rotary Club
Chartered in 1986 during the formative years of the La Jolla Golden Triangle region (San Diego County), the Rotary Club associated with the growth and dynamics of this renowned area has become one of Rotary International's most highly accomplished clubs.
The La Jolla Golden Triangle Rotary Club is an organization of approximately 100 enthusiastic men and woman united in fellowship providing a broad range of humanitarian service and building lasting goodwill locally and globally.
Unabashedly self-proclaimed as the "most dynamic Rotary Club in the world" La Jolla Golden Triangle Rotary is consistently one of the top-performing clubs not only in the San Diego/Imperial Counties District, but indeed in the world. The club consistently develops projects to improve health, well-being and self-sufficiency in our surrounding communities and beyond.