How To Get Surfer Hair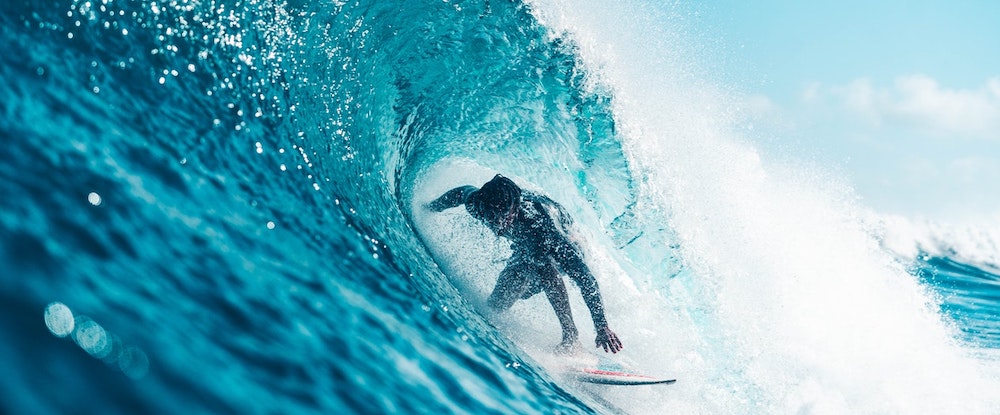 Surfing and the surfer lifestyle have quickly become mainstream over the past few years, with many aspiring to the casual, laid-back life that the term "surfer" brings to mind. The sport itself, the fashion, and the hairstyles all make one think of days at the beach in the sun, the sand, and the water. However, even if you are a landlubber, landlocked, or even have no desire to be on a beach, you can still achieve that beach wave surfer girl or guy hair at home.
Tips for Beach Wave & Surfer Hair
Surfer hairstyles and the beach look have the added bonus of an easy style that fits great into a variety of situations. Having long, beach wave hair tells the world that you identify with those aspects of the surfer lifestyle that are the best in any climate. Things like staying true to yourself, respecting others, patience, seizing the day, and constantly searching for whatever your best "wave" may be, whether it's an actual wave or not, are all great life lessons for surfers and non-surfers alike. The trademarks of surfer hair express all of these qualities: on the long side, bleached by the sun, tousled, and wavy.
Steps for Getting Beach Wave Hair
If you're lucky to live near the best beaches in La Jolla, then achieving that surfer hair is more a matter of patience than anything. The first step is to let your hair grow long, and spend a lot of time outside. Exposing your hair to the elements around the ocean will create a more authentic surfer hair style with less work; however, it does take time. Immersing your hair in the ocean will help — but keep in mind that the salt water will dry out your hair, and take care of it accordingly.
If you do not have the luxury of living near a beach, the surfer boy or surfer girl style is still available to you with a little bit of patience and work. The first step is still to let your hair grow out. With a beach wave hair style, don't try to force texture, curls or waves into your hair. The right texture for you will make itself apparent as your hair grows. If you want to add a touch of sun-lightened glow to your hair, there are many products on the market that make this easy. For a more temporary solution, you can also use lemon juice or olive oil.
Surfer Boy Hair Styles
Shoulder-Length Lob
Surfer hairstyles for men all have two things in common: they are always on the long side, even when the cut is short, and they all give a look of spending the day riding the waves and sitting in the sun. A great way to display a surfer hairstyle is with a shoulder-length lob, swept to one side or straight back. To get that long surfer hair look, run some gel through the hair when it is wet, then scrunch it after it dries to remove stiffness and create piece-y chunks.
Short Curly Layers
If your hair is on the shorter side and curly, this beach wave hair style is perfect for you. The curls add natural tousle while still being sexy. A tiny bit of smoothing cream or oil will keep your curls together and prevent frizz that can be a frustration with curly hair.
Short, Straight, and Tousled
If you want to know how to beach wave hair with a shorter haircut and straight hair, take inspiration from undercuts and tousling. Sharp angles, a few wind-swept flyaways, and a touch of sun lightening can transform a regular shorter haircut into surfer boy hair in no time.
Volume and Texture
Want to know how to get surfer hair when your hair is straight, dark, and fine? Opt for a cut that has the same length overall. Use a beach wave hair tool and styling products to give your hair some volume, and don't concern yourself with keeping it smooth. Allowing for some wind-swept pieces will show off your surfer boy hair style vibes.
Surfer Girl Hair Styles
Big Side Swoop
In the "how to get surfer hair – women" edition, any length of hair can be made surfer ready without a lot of work. If you have long, straight hair, a big side sweep will make you look perpetually as if you've just come out of the water and casually swept your sun-glazed locks aside to get them out of your face. Use a volumizer on your roots while your hair is drying, separate a part that you want to "swoop," and use a bobby pin to create a pin curl. Tousle the rest of your hair with salt spray and let it dry, then take out the pin curl and sweep that section to one side, creating a long, low side part.
Piece-y Waves
Another long, layered hair look (and perhaps the most sought-after long surfer hair style!) is loose, piece-y waves. To achieve this look without the beach, use mousse in your hair before drying, and then twist sections of hair away from your face with salt spray and a dry oil. The twists will come loose on their own, creating sectioned waves that look like you air-dried on the beach amongst the waves.
Suns Up Buns Up
For the ultimate casual surfer girl hair, try throwing your hair up in a quick, messy bun. Use handfuls of mousse on dry hair for texture, and gather your hair up on the very top of your head. Separate the pony into two sections, twist them, and then twist both into a bun shape. Secure with bobby pins and then use a salt spray all over. You may also want to rough up the sleekness, or pull a couple of shorter pieces out of the bun. The style is all about creating a look that looks like you didn't create a look.
Products and Tools For Getting Surfer Hair
To achieve that surfer hair or beach wave hair, a great arsenal of tools and products will help you keep your hair healthy while getting the exact style you want. To start, look for a great curl shampoo and conditioner that will keep moisture in your hair. This is even more important if you are in the ocean often or your hair is generally dry. Products without sulfates and with moisturizing agents are good to look for.
For volume and control, a good mousse is great for thicker hair. For fine hair, a dry shampoo can help you achieve these looks without weighing your hair down. A leave-in conditioner is good for hair that is on the dry side or that may be exposed to the elements. And a good light-hold hairspray can help keep your look in shape without going too far on the sleek side, which will make you look less beachy and more polished.
For tools, a good round brush for blow drying, a straight line brush for loosening waves, and a small curling iron or flat iron for creating loose curls if you want them are all you need. When it comes to loose surfer styles, your fingers may be the best tool available.
The pinnacle of beach style is the sea salt spray. There are many available sea salt sprays on the market, all promising that beachy, tousled look you want. If you plan to use heat on your hair to create your look, try to find a sea salt spray that doubles as a heat protectant. If heat besides the sun isn't in your future, look for a spray that provides moisture with a matte finish.
Surfer Hair Care Tips
Whether you're lounging on the best beaches in San Diego, or you just want to know how to relax in La Jolla with that surfer hair style, if you want to be able to have that and many other styles for the long run, then it's essential to keep your hair healthy. A big worry for surfers and people who spend a lot of time outdoors in general is dry, brittle hair. The elements can wear out your hair like nothing else, and the salt in the ocean, while creating some great looks, is not great for your hair health. The biggest thing you can do to combat this is very simple: before you dive into the salt water, get your hair wet with fresh water. This will prevent the hair shaft from absorbing so much of the salt that can make it dry and brittle.
Use moisturizing hair products that are free of sulfates and other agents that can strip your hair of its natural oils. Dry shampoos and moisturizing conditioners with ingredients such as oils and shea butter can help lock moisture in your hair. If you have particularly dry hair even when not exposed to the elements, look for styling products that add and lock in moisture as well. A great leave-in conditioner is good for almost everyone who may be worried about dry hair.
If you're using tools such as curling or flat irons, always make sure to use a great moisture-locking heat protectant product, and be careful. Heat can dry or damage your hair very quickly if used improperly.
Get the Beachy Waves of Your Dreams
If you want to embody the surfer lifestyle the first place to start is your attitude and world views — and the second is your hair. A beach wave style can be the epitome of a casual, hot style, on the beach or anywhere else. Embrace the sand, sun, and surf, even if it's on the city streets, and go catch that barrelling wave!
About the author: When not hiding behind a laptop, Cara Becker can be found asleep or exploring the wide world of interesting things, like how to bake the perfect cheesecake and where to find the best waterfalls. If you're interested in exploring a food you've never tried or learning a word you don't know, please share your wisdom with her on her LinkedIn profile.