Maple Smoked Turkey: Holiday Recipe From Chef Guillas of The Marine Room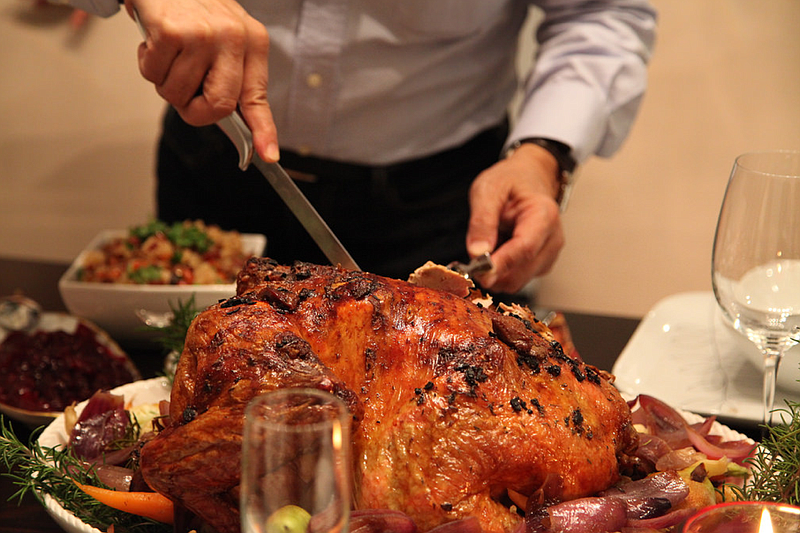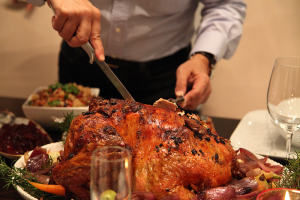 Chef Bernard Guillas, Executive Chef at The Marine Room and The Shores Restaurant, is one of the most well known chefs in La Jolla and San Diego. We are so excited to be able to share this holiday featured recipe from his archives! This recipe is for a Maple Cider Smoked Turkey, complete with Preserved Fig Cranberry Relish and Black Muscat Sauce. This makes for a perfect Thanksgiving meal and is large enough for the whole family to enjoy.
Maple Cider Brine
2 gallons apple cider€¨2 ½ cups organic sea salt
2 cups maple syrup
1/4 cup liquid smoke
1 bunch thyme۬1/4 cup freshly cracked black pepper
1 teaspoon ground pickling spice
Combine all ingredients in large pot. Heat to 160°F. Do not boil or it will harm flavor. Remove from heat. Cool to room temperature. Place turkey in brine in non-reactive container (or plastic bucket). Place heavy platter on top of turkey to keep turkey submerged. Refrigerate 12 hours. Remove turkey from brine. Pat dry.
Spice Rub
2 tablespoons fennel seeds
2 tablespoons mustard seeds
2 tablespoons ground dried orange peel
1 tablespoon fleur de sel
1 tablespoon togarashi pepper mix
1 tablespoon dried thyme
1 teaspoon ground cumin
Process fennel and mustard seeds in coffee grinder to powder stage. Combine with remaining ingredients.
Cooking the Turkey
3 tablespoons olive oil
1 cup peeled cipollini onions or pearl onions
30 small new potatoes, halved
20 baby carrots, peeled
20 baby beets, peeled
3 medium parsnips, peeled, cut into 1/2 inch pieces
1/2 cup unsalted butter
to taste sea salt and freshly ground black pepper
1 bouquet fresh herbs
Pre-heat oven to 350°F.
Remove the turkey from brine. Rinse. Pat dry with paper towel. Coat olive oil over entire turkey. Rub spice mixture on turkey. Bake turkey in roasting pan, breast side up. Brush with glaze every 30 minutes. After 2 1/2 hours, surround turkey with vegetables dotted with butter. Season vegetables with salt and pepper. Cook 1 hour or until internal temperature reaches 160°F at thickest part of leg. Turn off oven. Transfer turkey to ceramic serving platter. Surround with root vegetables. Tent with foil. Keep warm in oven. Garnish with fresh herb bouquet before serving.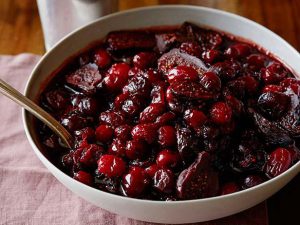 Preserved Fig Cranberry Relish
1 2/3 cups ruby port
1 cup light brown sugar, packed
8 dried black Mission figs, stemmed, chopped
1/4 teaspoon ground black pepper
1 stalk lemongrass, split
1-12 ounce bag fresh cranberries
Combine first 5 ingredients in medium saucepan. Bring to boil. Stir until sugar dissolves. Reduce heat to low. Simmer 10 minutes. Remove lemongrass. Add cranberries. Cook over medium heat until liquid is slightly reduced and berries burst. Stir occasionally, about 5 minutes. Cool. Transfer sauce to bowl. Chill until cold. (Can be prepared 1 week ahead. Cover and keep refrigerated).
Black Muscat Sauce
**reserved neck and giblets, chopped
2 tablespoons olive oil
1/4 cup minced shallots
1/2 teaspoon finely chopped fresh thyme
3 tablespoons unsalted butter
2 tablespoons flour
1 cup chicken stock
1/2 cup black muscat
2 tablespoons sherry vinegar
1/4 cup diced sun dried apple
to taste sea salt and freshly ground black pepper
Heat olive oil in heavy skillet over high heat. Roast neck and giblets five minutes. Add shallots and thyme. Add 2 Tbsp. butter. Sprinkle in flour. Stir to combine. Pour in chicken stock, black muscat and sherry vinegar gradually, stir constantly. Bring to boil. Reduce to spoon coating consistency. Strain through fine sieve. Return to pan. Add sun dried apples. Finish with 1 Tbsp. butter. Season to taste with sea salt and freshly ground black pepper.
Not cooking this year? Make a reservation for Thanksgiving dinner at The Marine Room or the Shores Restaurant!