Top 4 Sushi Places You Need to Try

Sushi in La Jolla
Whether you love classic raw sashimi or the ever-popular California roll, La Jolla has you covered because sushi has become a top food genre here. With the ocean full of fresh seafood as our border, it makes sense! There are many great options available, so we did a little recon to find the some of the very best.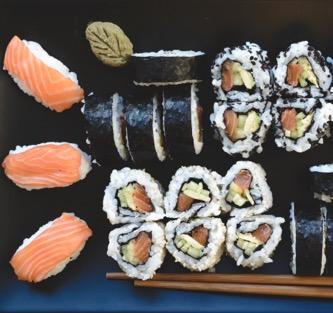 1. For after a beach day: Sushi Mori
Located at La Jolla Shores, this spot has the whole enchilada — sushi rolls, sashimi, a great Happy Hour, plus a variety of noodle dishes, including Yakisoba, Udon, and Ramen. They have a separate Kids Menu for the little ones, too. All sushi is made fresh to-order, and some can take a bit longer to prepare so don't head here if you're in a hurry. We love getting a variety of Sushi Rolls to split for the whole table.
2. For a wicked happy hour: Shiku Sushi
In the heart of the downtown La Jolla village, stop by Shiku Sushi for a wide variety of sushi options. This spot is considered most prime for going during happy hour, which is from 3 until 7 pm. During this time you can get options like yellowtail jalapeno appetizer sashimi, crunch roll, jammin salmon roll and gyoza all under $8 each!
3. For an amazing lunch deal: Ahi Sushi & Grill
Situated on Governor Drive, this spot is prime for those working at UTC or at the UCSD campus for the day. What truly makes this spot a must-go is the lunch deals. You can get a spicy tuna roll, edamame, salad (with delightful dressing) and a miso soup…all for $6.50! The service is impeccable, as well, so you'll have time to order and eat before getting back to business.
4. For seriously high quality: Sushi Ota
It's technically not in La Jolla, but in the neighboring San Diego area, Pacific Beach. However, it is so good we simply had to include it. The extensive list of nigiri, such as giant clam (mirugai) and sea urchin (uni), are incredibly fresh options not offered at a lot of sushi establishments. It's not the lowest costing establishment, but the high quality ingredients are well worth the price.