Veteran Homelessness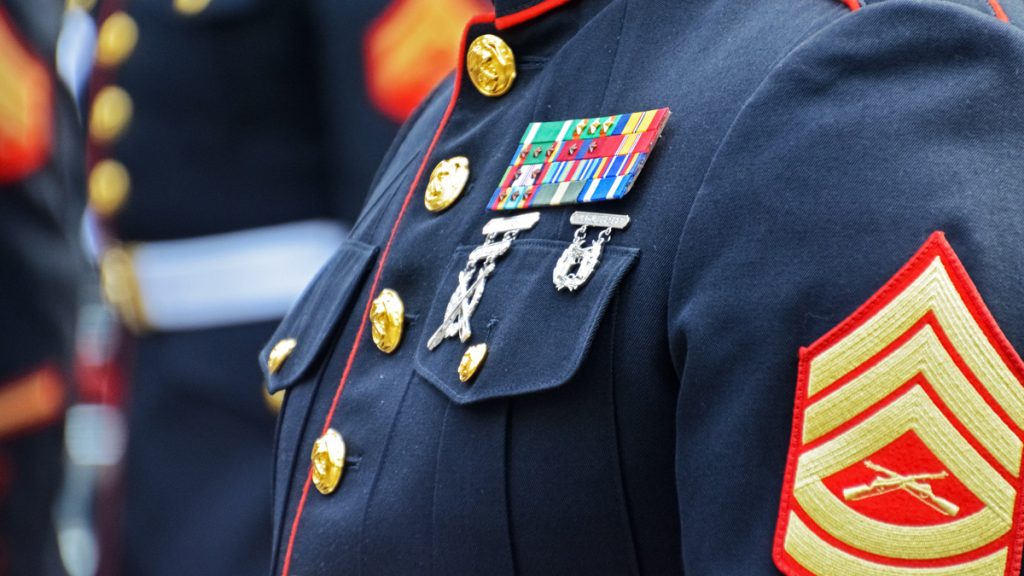 Veterans are some of the most respectable individuals in society, having personally sacrificed for the defense of national interests and security at home and abroad. Unfortunately, veterans experience significant disadvantages upon returning home after serving, such as personal injuries, psychological trauma, and poor employability due to gaps in relevant work experience.
Veteran Homelessness in the US
An estimated 160,000 veterans experience homelessness per year, making up 11% of all homeless adults. Anywhere between 44,000-66,000 veterans lack shelter for at least six months per year. However, these shelters can help veterans return to civilian life. If you're a veteran struggling with homelessness, or you know someone who is an unhoused veteran, here is everything you need to know about shelters and resources in San Diego.
Which Veteran is Most Likely to Experience Homelessness?
Many factors can increase a veteran's likelihood of experiencing homelessness. Veteran mental illness statistics show that veterans are more prone to risk factors of homelessness. Veterans discharged for misconduct, who suffer from PTSD and anxiety disorders, who have custody of minor children, who have experienced sexual trauma, or who identify as women are at the greatest risk of experiencing homelessness. However, all veterans have a higher likelihood of experiencing homeless compared to non-veterans.
How to Help Veteran Homelessness?
There are many things a veteran experiencing homelessness or a person who knows a veteran experiencing homeless can do to help. Veterans at risk of homelessness may contact the National Call Center for Homeless Veterans at (877) 424-3838 to ask about aid programs run by Veterans Affairs. Additionally, homeless shelters and veterans shelters can offer some respite.
How to Prevent Veteran Homelessness?
Veteran homelessness prevention can be challenging. If a veteran is about to suffer eviction, you may petition the landlord or landlady to extend a grace period and set up a plan to pay rent. Staying off the streets by seeking shelter with a family member or a friend can also help prevent homelessness. Finally, you can petition your local political leaders to set up programs in order to help veterans.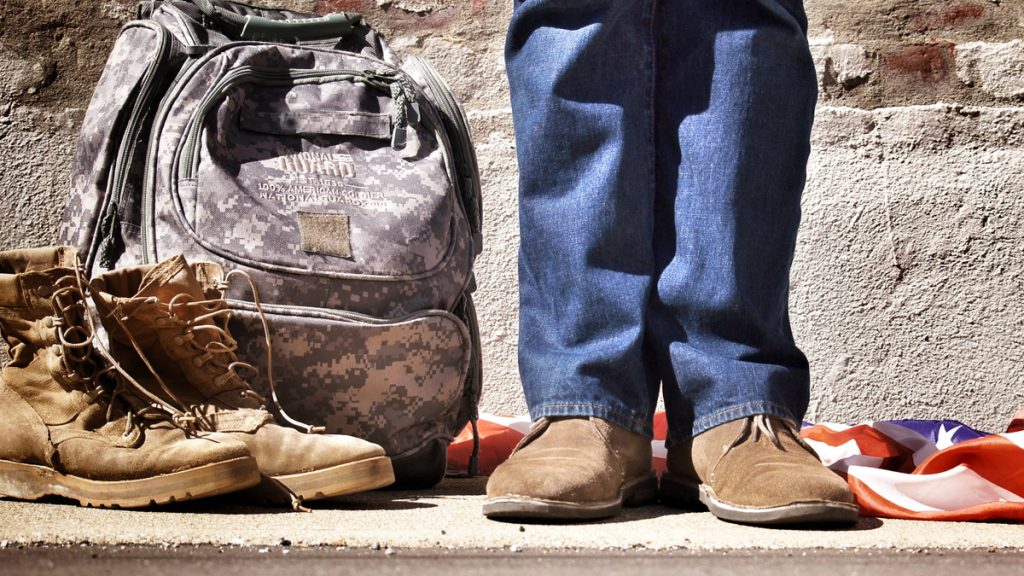 The General Homeless Population & Shelters
Veterans are not the only people who suffer from homelessness. In San Diego alone, an estimated 4,152 individuals become homeless every year, according to a report by the Regional Task Force on the Homeless. Like many homeless veterans, many homeless individuals also suffer from various mental health concerns, substance abuse issues, or difficult employability and have to rely on housing for the homeless to survive.
How long do people stay at homeless shelters on average?
According to the National Coalition for the Homeless, the average length of a homeless person's stay at a shelter varies by demographic. Single men stay an average of 69 days, while single women stay an average of 51 days and families stay an average of 70 days.
What are the different types of homeless shelters?
Many different types of homeless shelters exist to prioritize and help different situations and individuals. These include day shelters which allow a safe place for individuals newly at risk of homeless to spend a single night, emergency homeless shelters which offer homeless individuals a stay of up to three months, halfway housing which acts as a subsidized transitional form of housing, and permanent affordable housing which has no limit on how long an individual may stay and is always subsidized.
Additionally, different shelters may target different demographics. These include homeless shelters for women, homeless shelters for men, homeless shelters for families, and homeless shelters for youth. Some shelters also double as rehabilitation programs, where residents must follow rules on intoxication or substance use.
What are the demographics of people who use homeless shelters?
Homeless individuals come from many different backgrounds, but certain demographics account for a greater proportion of the total homeless population in San Diego. 69% of San Diego's homeless population identify as male, although the majority of homeless youth identify as either female, transgender, or gender non-conforming. 17% of shelter users are veterans. Domestic violence and homelessness are also heavily correlated, with domestic abuse ranking among the top seven reasons reported for homelessness.
What services are available to help the homeless in San Diego?
While individuals experiencing homelessness face many difficult challenges, federal and state-level programs have been implemented in order to rescue and protect homeless persons from suffering the worst effects associated with homelessness. These programs include food banks, veterans resources, legal assistance, and counseling. Shelters, job training, and certain treatment centers also help to improve a person's chances of coping with displacement or escaping homelessness altogether.
What kind of donations do homeless shelters need?
Homeless shelters depend on donations from generous contributors in order to provide the assistance and services they offer to homeless persons. While monetary donations are always welcome, donations of specific goods can also do a lot to help a homeless shelter. Some of the most sought-after donated goods include feminine hygiene products, first-aid products such as bandages and alcohol wipes, as well as clothing items such as socks.
Homeless Shelters in San Diego
There are many homeless shelters in San Diego working to offer services and aid to homeless individuals throughout the city. Whether you're looking on behalf of yourself or someone else, here are seven homeless shelters that can help save a homeless person's life or even keep them off the street altogether.
Alpha Project
Located on the corner of Fifth Avenue and Evans PIace, the Alpha Project operates a 325-bed emergency shelter intended to provide adult single men and women with a temporary space to stay until permanent housing can be arranged. The program provides trauma-informed care for residents and aims to ensure that individuals at risk of homelessness are able to find an alternative before ending up on the street.
Address: 3737 5th Ave., San Diego, CA 92103
Phone: (619) 542-1877
Hours: Mon – Sun 9 a.m. – 5 p.m.
Brother Benno
Established by the intersection of Production Avenue and Roymar Road, Brother Benno's Center offers a variety of services for homeless or low-income individuals, including offering free family food boxes to families with children, senior citizens or disabled members, clothing for men, women, and children as well as mobile showers and laundry services. A twelve-step program is also available through the Brother Benno Recovery Program.
Address: 3260 Production Ave., Oceanside, CA 92058
Phone: (760) 439-1244
Hours: Mon – Fri 6:30 a.m. – 1 p.m.
Sat: 8 a.m. – 1 p.m.
Closed Sundays
Catholic Charities
Organized and funded by the Catholic Diocese of San Diego through the organization Catholic Charities, Rachel's Women's Center offers a range of services to help homeless or extreme low-income women at risk of homelessness, including a drop-in daycare center, bathroom, shower and laundry facilities, lunch services, free clothing, and mental health care. A night shelter is also available for women in need of emergency housing.
Address: 759 Eighth Ave., San Diego, CA 92101
Phone: (619) 696-0873
Hours: Mon – Sun 7 a.m. – 4:30 p.m.
Interfaith Community Services
You can find Interfaith Community Services on the corner of Libby Village and N River Road. The center offers a variety of housing services to homeless or at-risk individuals, including rental or mortgage assistance as well as bridge housing for veterans, although the organization's veterans' shelter is housed at a different location. Affordable permanent housing is also available upon consultation.
Address: 4700 N. River Rd., Oceanside, CA 92057
Phone: (760) 721-2117
Hours: Mon – Fri 8 a.m. – 11 a.m.
Closed Sat & Sun
Interfaith Community Services of Escondido
Another one of Interfaith Community Services' headquarters, Interfaith Community Services of Escondido is located on the corner of West Washington Avenue and North Quince Street. The center offers housing services such as rental and mortgage assistance, bridge housing, and affordable permanent housing for eligible individuals, as well as a variety of counseling and crisis management services and employment training.
Address: 550 W Washington Ave., Escondido, CA 92025
Phone: (760) 489-6380
Hours: Mon – Fri 8 a.m. – 5 p.m.
Closed Sat & Sun
San Diego Rescue Mission
San Diego Rescue Mission's building is tucked away on the corner of Elm Street and 1st Avenue, where the organization offers emergency shelter for women and children fleeing domestic violence and family conflict. The shelter provides a bed, hot meals, clothing, hygiene products, and hot showers to help women achieve a new chance in life.
Address: 120 Elm St., San Diego, CA 92101
Phone: (619) 687-3720
Hours: Mon – Sun 8 a.m. – 5 p.m.
St. Vincent De Paul-Father Joe's Village
Located near the corner of 14th Street and Commercial Street, St. Vincent de Paul Village is run by Father Joe's Villages and offers emergency shelter to at-risk and homeless individuals. They also provide several programs designed to help homeless persons obtain stable and permanent housing through rapid rehousing and on-going support efforts. The shelter has both short-term and longer-term units and also operates a number of affordable housing apartments.
Address: 1501 Imperial Ave., San Diego, CA 92101
Phone: (619) 233-8500
Hours: Mon – Fri 8 a.m. – 4:30 p.m.
Closed Sat & Sun
Taking Care of San Diego Homeless Veterans
Homelessness is one of the most significant social issues facing San Diego right now. Regardless of why a person is facing homelessness, they deserve as much help and support as possible. If you are or know a person facing homelessness, please ensure that you reach out to organizations that can help support you through this difficult time and allow you to transition back to permanent housing as soon as possible.
About the author: Roy Shi can often be found spending his time writing articles, short stories, and whatever else suits his fancy. When he isn't behind the screen, he loves reading the latest fantasy novels by his favorite authors, baking, and practicing the saxophone, much to the chagrin of his neighbors.