4 Weed-Friendly Restaurants & Dining in Los Angeles for the Highest Experience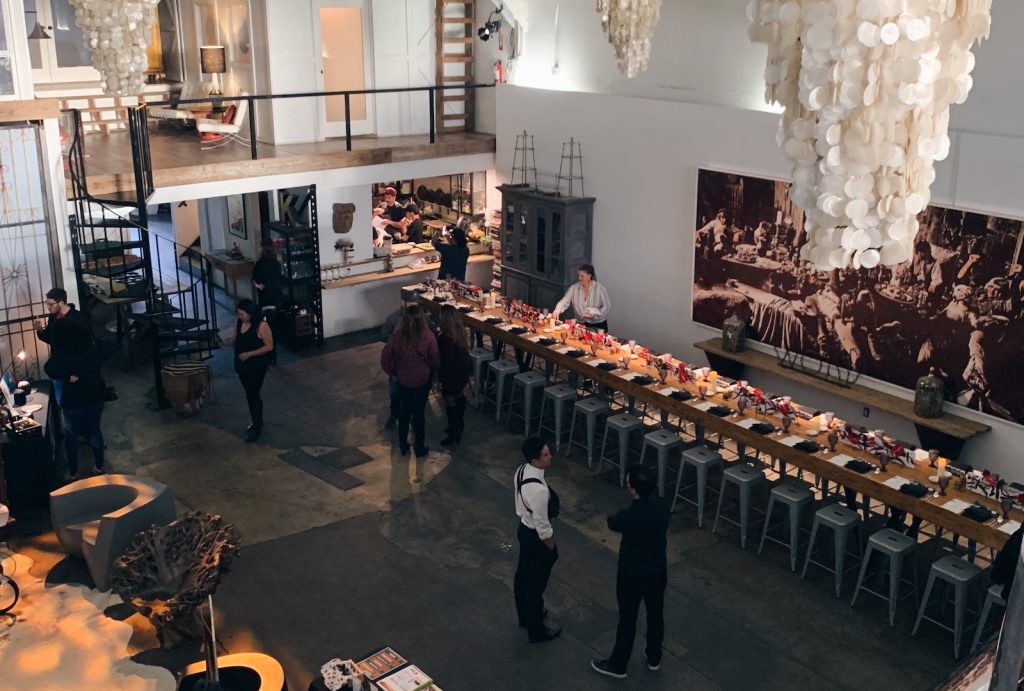 There's no denying that cannabis cuisine in hospitality is becoming a hot topic amongst cannabis-forward cities across the U.S., so it's no surprise that weed restaurants in California are popping up across the state. In recent months, Los Angeles has seen a significant uprising in weed establishments and restaurants that desire to crossbreed and offer cannabis-infused food, beverages and drinks–or at least the ability for weed users to toke and chill whilst eating a delicious meal. While receiving proper permitting and approval for selling and manufacturing THC-filled treats at LA restaurants may take a while, there are a few weed-friendly businesses that offer delectable THC eats which you can devour while getting–and in order to get–buzzed. 
Eager to try some weed-infused foods? Check out this list of 4 up-and-coming cannabis dining experiences that encourage cannabis users to let their freak flags fly and indulge in the higher things in life. Of course, you'll need a valid ID to enter, so don't forget to have it on hand!
Weed-Friendly Restaurants & Dining in Los Angeles
While restaurants that cook with weed in California are few and far between, there are several private cannabis supper clubs, membership-based cannabis clubs, and ticketed THC-infused fine dining events on the map that are designed as a way to work around strict laws and regulations that currently prohibit the sale of weed-infused plated food in California. These are crafted from cannabis-forward establishments that have a deep passion for cannabis culture yet still face struggles around what is not permitted–or is simply looked down upon in modern-day society. While each business might not necessarily classify as a weed restaurant in Los Angeles, you can undoubtedly puff, puff pass as you indulge in great food–sometimes THC food–and entertainment with your whole gang of weed lovers.
Cannabis Cafe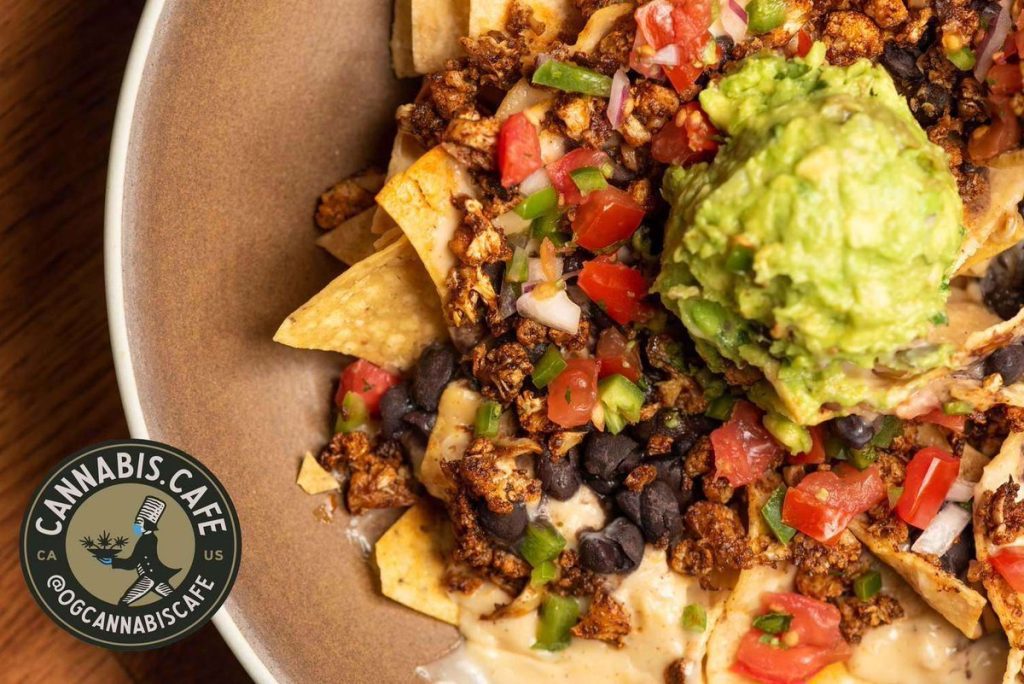 A weed restaurant in Los Angeles any cannabis user will find exciting is the Cannabis Cafe, a dispensary and restaurant where you can smoke and consume weed, munch out, and enjoy your high in an exciting atmosphere. Their open air restaurant is spacious and inviting, and they have an outdoor patio with heat lamps for the chillier LA evenings. You can even bring your own cannabis; instead of a corkage fee for BYOB, you'd pay a $30 "tokeage fee" to bring outside cannabis to the cafe. You don't need to order food at the bar or a communal window, but table reservations are for those looking to eat, drink, and consume cannabis. Due to legislative reasons, no food is currently infused with cannabis. Still, the menu items–consisting of seasonal produce and ingredients from local farmers' markets–are specifically curated to heighten the sense of taste and smell.
Cannabis Cafe also offers an extensive supply of high-quality weed goodies to purchase and consume either at home or on-site, including flower, vapes, packaged edibles, concentrates, and extracts, as well as smoking accessories from brands like Summerland Ceramics, Stundenglass, Puffco Peak, and Higher Hemp Wraps.
Address: 1201 N La Brea Ave, West Hollywood, CA 90038
Phone: (323) 975-7676
Website: cannabis.cafe
Hours: Private events only, cafe may re-open
Cannabis Supper Club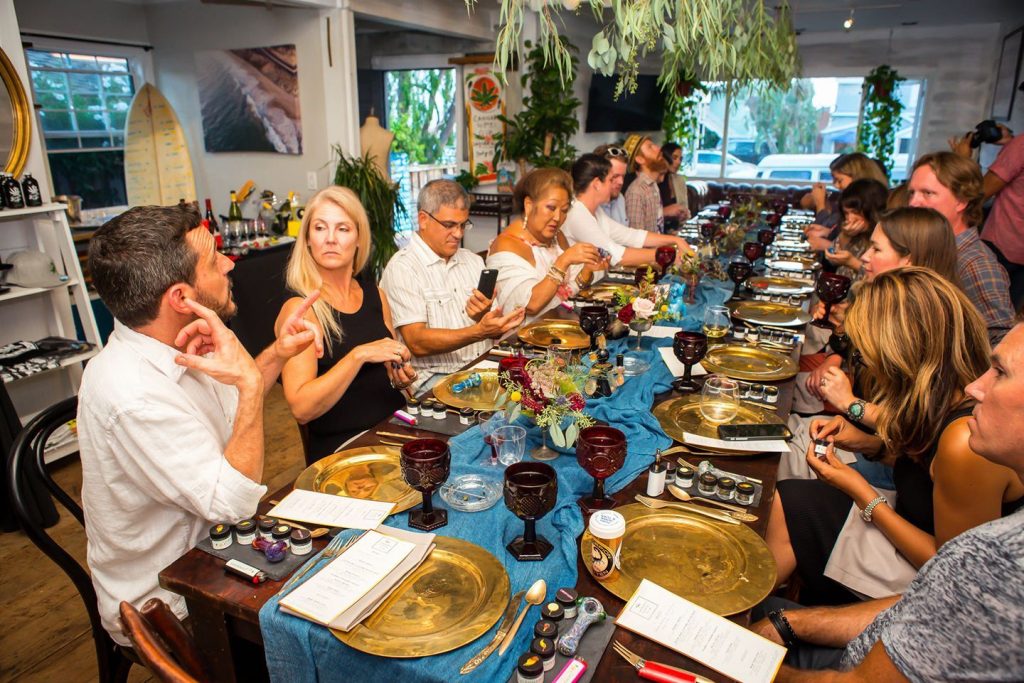 Indulge in an unmatched culinary experience at one of Cannabis Supper Club's curated modern cannabis fine dining events. Immerse yourself in exquisite eats paired with high-quality cannabis strains sourced from local roots. While not a cannabis restaurant entirely, this private, ticketed supper club crafts events with multi-course menus and accompanying entertainment such as a comedy act. The menu frequently changes, featuring cleverly crafted dishes like Sativa-viche hamachi and prawns marinated in coconut milk, togarashi spice, fresh sativa leaves, or popcorn truffle cheesecake mousse with brown butter graham cracker crumble. Where else will you find happy hour, THC-infused food with fresh ingredients, a showcase of multiple cannabis brands, and a curated comedy show?
Address: Los Angeles; Private locations
Email: cannabissupperclub@gmail.com
Website: cannabissupperclub.com
Hours: Events only
Shop La Jolla Artwork
Rainbow Bar & Grill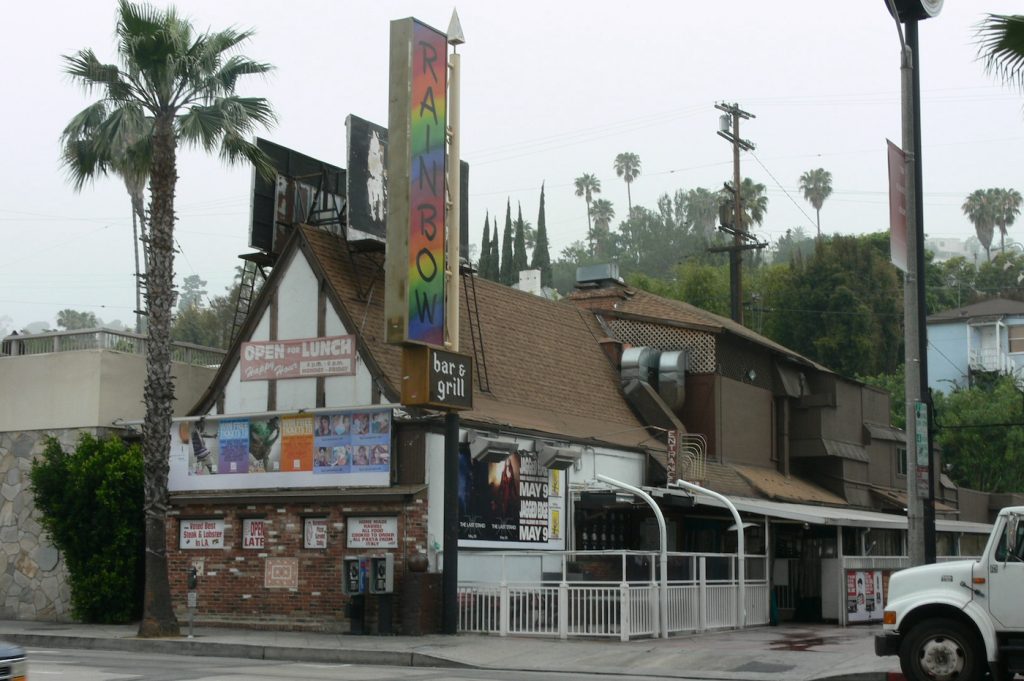 Located on the Sunset Strip, the flamboyant Rainbow Bar & Grill is a smoke, weed, and eat restaurant that dates back to 1972, which opened with a party held for the legendary Elton John. It's a BYOB establishment open for lunch and dinner, though in this case, the B stands for bud instead of booze. Some of Hollywood's finest celebs have passed through this one-of-a-kind swanky, weed-friendly nightclub, and you can actually smoke weed at the tables. They serve all kinds of delicious eats for lunch and dinner, such as soups, salad, sandwiches, fresh fish and chicken, Italian, burgers, and desserts, and even have some vegan options. Rainbow Bar & Grill is also available for delivery on Postmates, Grubhub, Uber Eats, and DoorDash. Another plus is their unique merch line, featuring mini guitar replica collectibles, t-shirts, ashtrays, and flasks.
Address: 9015 Sunset Blvd, West Hollywood, CA 90069
Phone: (310) 278-4232
Website: rainbowbarandgrill.com
Hours:
Mon – Fri Lunch 11 a.m – 4 p.m., cocktails 11 a.m. – 2 a.m.
Sat-Sun 3 p.m. – 2 a.m.
Dinner Served til 2 a.m. 7 days a week
The Herbal Chef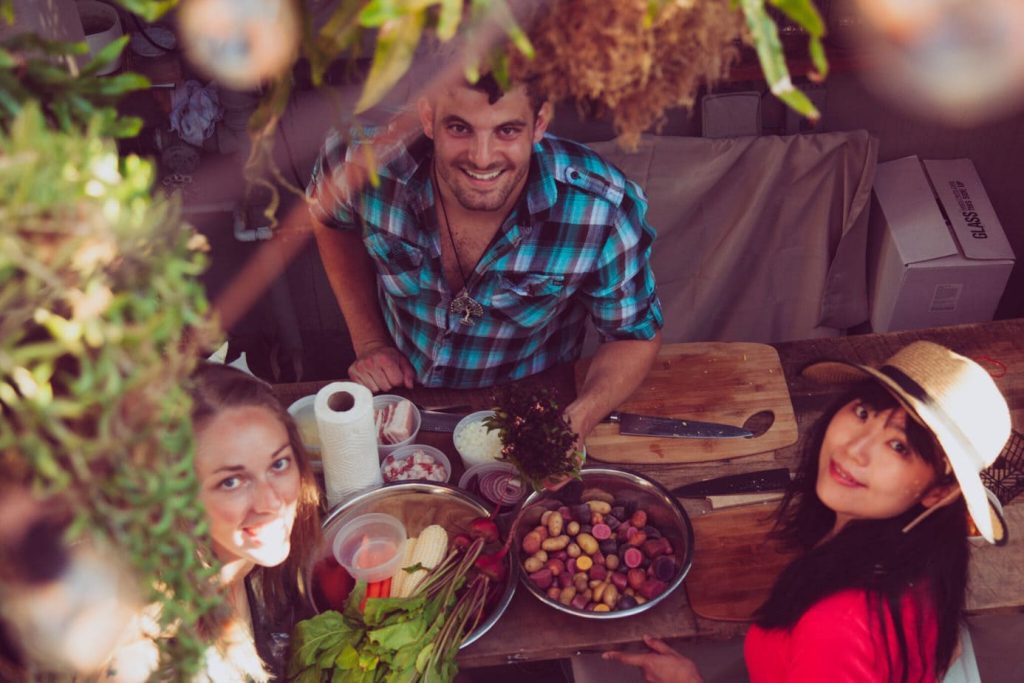 The Herbal Chef, or THC for short, is an immaculately designed private fine dining experience that prides itself on literally turning cannabis into art–in the form of food. Their exclusive themed dinners are curated down to the wire, including everything from the packaging to the dish preparations, the decor, menu, and clever dish names. For their private events, you can choose your adventure by indicating your preferred dosage, which will then be divided among the meal's multi-savory courses and CBD-infused desserts.
The Herbal Chef is currently the only weed restaurant using water-soluble terpenes in the drinks from Abstrax Tech. The terpene blend derived from cannabis plants gives the drink a refreshing twist. Moreover, they only use organic produce and healthy, non-inflammatory seed oils–avocado and olive oil–even for frying food. The Herbal Chef is an excellent option for those who want to experience a host a private event or dinner party, celebrate a birthday, or simply indulge in incredibly well-prepared and plated dishes that will have you giggling with pure joy as the night continues.
Address: Los Angeles; Private locations
Phone: (310) 975-0866
Email: info@theherbalchef.com
Website: theherbalchef.com
Hours: Events only
Nearby Dispensaries to Stop By Before Dining
Project Cannabis Hollywood
If you prefer cannabis takeout over a weed restaurant in Los Angeles, Project Cannabis Hollywood is your best bet. This high-end dispensary serves pristine quality weed from established and local brands in all shapes and sizes, including Dreamt, Luchador, La Familia, Alien Labs, and Ganja Gold. Aside from excellent customer service and personalized guidance from knowledgeable budtenders, Project Cannabis offers showstopping wake and bake deals, happy hour pricing, and daily specials that keep their loyal customers coming back for more. Project Cannabis is a dispensary to be reckoned with, no matter whether you're a first-timer to consuming pot or are a longtime advocate for cannabis.
LA Wonderland Marijuana Dispensary
La Wonderland Marijuana Dispensary is a haven for all cannabis, situated in the heart of downtown Los Angeles. If you can't get your fix at a weed restaurant in Los Angeles, LA Wonderland might be the next best way to achieve the high you're looking for. They have an extensive selection of concentrates, fresh flowers, edibles, vapes, and many strains. They are dedicated to providing quality products, first-rate service, and prices that won't break the bank. Their private reserve flower comes in many different formats, designed for anything, from sending you to the moon, helping you get some shut-eye, or loosening you up to be more social and flirty.
Address: 150 Venice Blvd., Los Angeles, CA 90015
MedMen Downtown LA
A clean, pristine, high-tech chain dispensary you'll want to check out is MedMen. You can shop by effect, category, brand, strain, or take advantage of their list of sweet specials in any of their 12 stores in California. However, their location off Broadway in Downtown LA is among their most-visited cannabis retail stores. If you're a fan of prestigious brands, potent pot, and speedy, streamlined service, MedMen is sure to impress.
Address: 735 S Broadway, Los Angeles, CA 90014
Ganja gastronauts and bud experts alike put in a lot of work to ensure your high is as enjoyable and memorable as possible. As such, we hope you get the chance to experience these marijuana restaurants and dispensaries in the near future! As laws change and new doors open for the weed and hospitality industries, be on the lookout for restaurants that cook with weed in California!
Thank you for reading, and get ready to have some happy high times!
About the author: Courtney Pester is a San Diego based San Francisco bred millennial with a passion for design and self-expression. She prides herself in her charcuterie board making skills and has a soft spot for animals. When she's not pumping out articles, you can catch her playing tennis and enjoying the diversity of events and restaurants San Diego has to offer.
Additional photo credits: The featured photo in this article is courtesy of Cannabis Supper Club in Los Angeles. The photo of Rainbow Bar & Grill on Sunset Blvd. came from Wikipedia.