The Best Weed Restaurants in California to Visit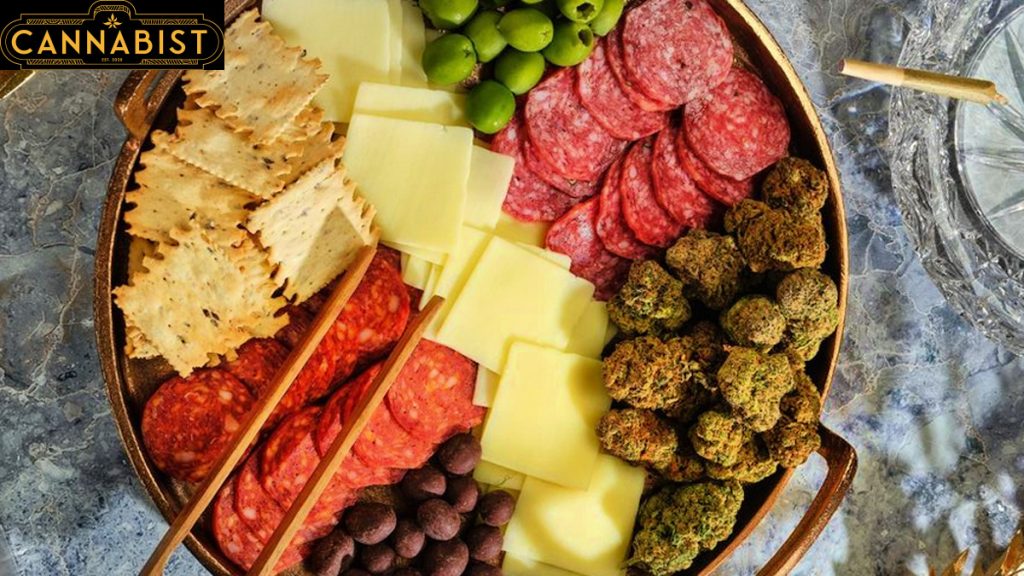 This post is part of our Best Dispensary in San Diego series, sponsored by Cannabist.
California is no stranger to cannabis. It was the first state to legalize medical marijuana back in 1996, and 20 years later, recreational cannabis got the go-ahead as well.

This not only paved the way for dispensaries to pop up across the state, catering to the needs of both MMJ and recreational customers, but other businesses found ways to get in on the canna craze, including 420-friendly hotels and weed restaurants in California. What is a weed restaurant, and why should you visit one?
What Is a Weed Restaurant?
Weed restaurants come in different forms. Some are simply 420-friendly, which means they welcome you to bring your own product and partake on-site, allowing you to better enjoy your dining experience.
Others actually sell product. They may offer a lounge in which to enjoy your purchases or even find ways to incorporate cannabis into a culinary menu, with entrees, desserts, drinks, sauces, and so on.
Before you visit a weed restaurant or event, it's best to find out what they offer and allow so you can come prepared. Here are a few great options to consider in California.
Rainbow Bar & Grill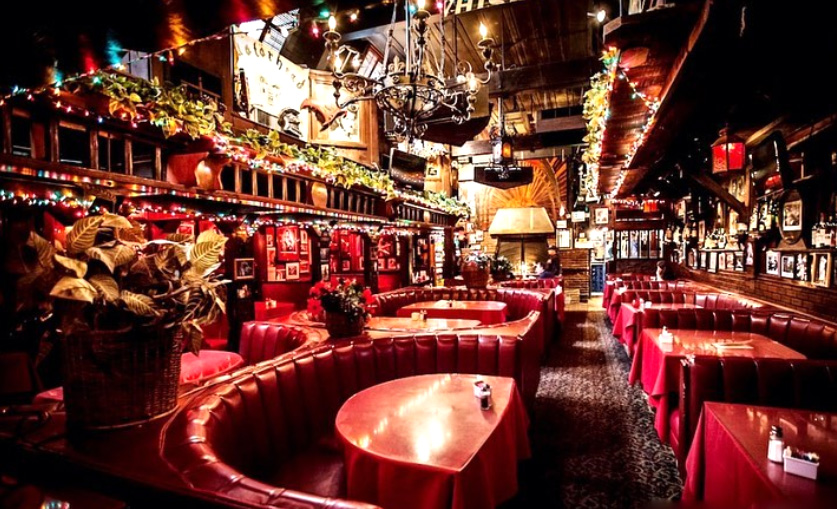 While you won't find weed on the menu at this Hollywood haunt, the Sunset Strip establishment is 420-friendly, which means you can toke up, order an outstanding meal, and perhaps spot a celebrity in the wild.
You might also catch some live music, or you can entertain yourself by checking out the rock paraphernalia that decorates the dining room.
Located at 9015 Sunset Blvd., West Hollywood, CA 90069
Phone: 310-278-4232
Open Monday to Friday, 11 a.m. to 2 a.m., Saturday and Sunday, 3 p.m. to 2 a.m.
The expansive menu offers soups, salads, burgers, pizzas, fresh fish, Italian and Mexican specialties, vegan options, and a full bar serving beer, wine, and cocktails.
Cannabis Supper Club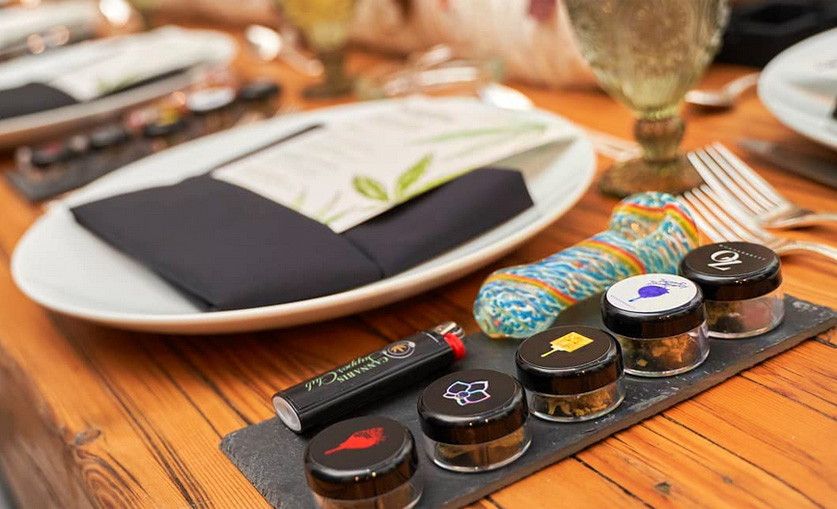 When it comes to pairing cannabis with culinary creations, the Cannabis Supper Club strives to provide an elevated experience. Operating out of a rotating list of cannabis speakeasies, the club offers members access to multi-course, gourmet meal events planned by expert chefs, with a carefully curated cannabis menu complementing each dish.
Events only (no fixed location)
Contact: cannabissupperclub@gmail.com
Dates and hours dependent on the event
You'll have to join the club to receive notifications of upcoming events and have the opportunity to attend.
Barbary Coast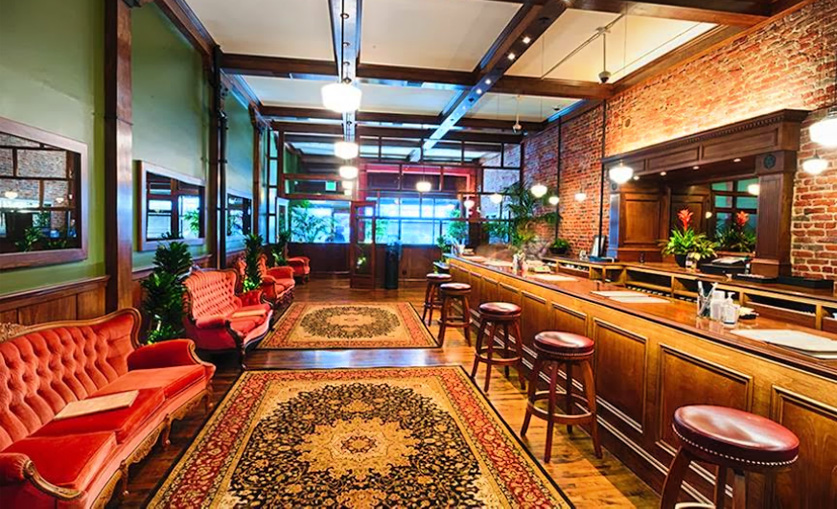 With a team of friendly and knowledgeable budtenders on-site and an extensive menu of cannabis products in San Francisco, this dispensary can help any customer find the perfect items to purchase.
What sets it apart from similar retail establishments is the lounge, equipped with five HDTVs and the comforts of home, so you can socialize while you enjoy flower, edibles, beverages, tinctures, and more.
Located at 952 Mission St., San Francisco, CA 94103
Phone: 415-243-4400
Dispensary open 8 a.m. to 9:45 p.m. daily, lounge open 8 a.m. to 9:30 p.m. daily
Located within a mile of the Moscone Center and two miles of the Chase Center, Barbary Coast offers a great way to round out an evening of entertainment.
Mangia Ghanja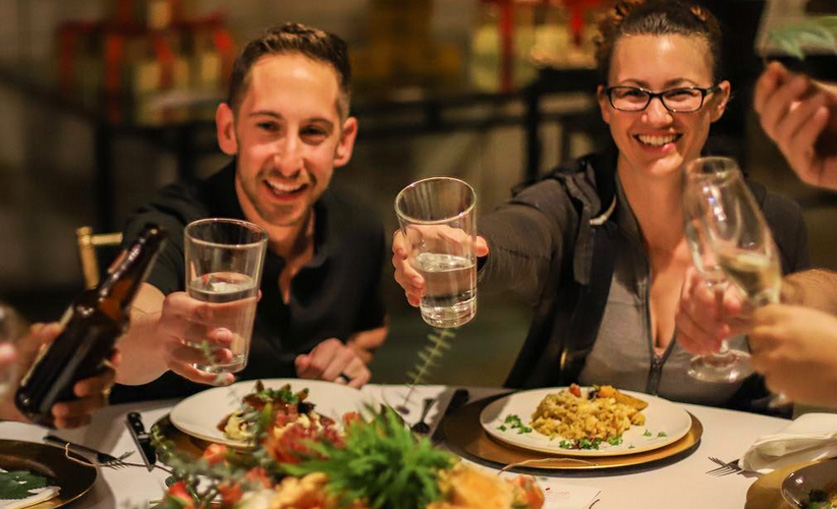 Foodies and cannasseurs alike are sure to love this San Diego-based operation, offering private chefs to create the experience of weed-infused restaurants in California.
Location varies by event
Phone: 619-306-4569
Dates and hours dependent on event
The secret to success is a combination of organic and locally-sourced ingredients, handcrafted dishes, and microdosing to create the perfect balance of THC and CBD that elicits a pleasant, euphoric effect. Chefs and founders Anne and Ivan book events for up to 12 at their private home or prep and serve at your location.
Tasty High Chef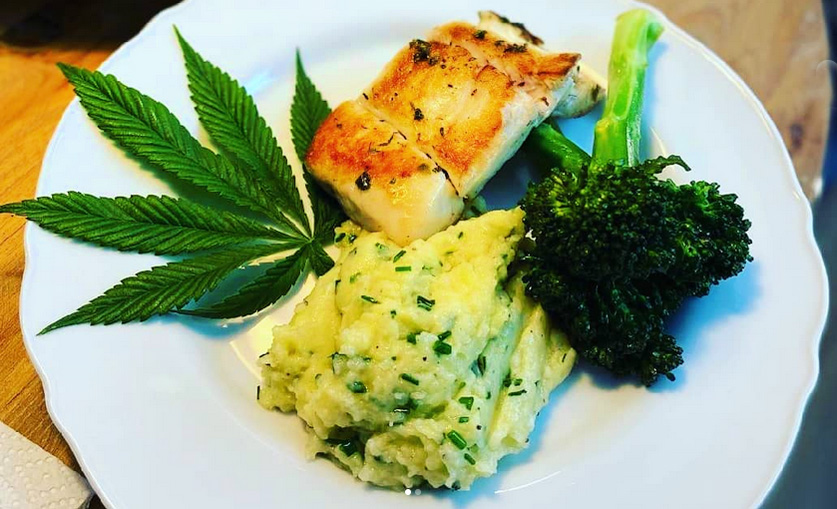 Infused dinners, weddings, parties, and corporate events are all on the menu at Tasty High Chef, where they take your celebration to a higher level. Personal chefs create gourmet menus for each client, with food prepared fresh at their location of choice.
Meals feature organic, seasonal, and locally-sourced ingredients, and alternative diet dishes are available. Ingredients and the inclusion of cannabis are tailored to your specific needs and preferences. There's also an event menu with limited reservations available.
Location varies by event
Phone: 619-738-3623
Dates and hours dependent on event
You can always pick up your favorite products from Cannabist in San Diego, but if you're seeking a unique dining experience, you can't go wrong with canna catering.
Tips for Selecting a Weed Restaurant
When you start researching weed restaurants in California, you'll find they offer a wide range of experiences. What should you look for? First, you need to know how a given establishment operates.
Do you want to bring your own weed selection to pair with their menu? Would you prefer to purchase and consume recommended pairings on-site? Or are you looking for dishes infused with cannabis?
Next, you should consider location and how far you're willing to travel for this particular form of hospitality. Alternatively, you may prefer a service that comes to you. The atmosphere is also important if you want to ensure a positive experience. This is especially true if you are a first-time user, because you want to find the right venue that supports a fabulous initial experience.
What Kind of Food Is Sold in a Weed Restaurant?
The type of menu offered at a given weed restaurant will vary by establishment. Some offer tasty snacks and small plates to combat the munchies, while others have a full menu of meals and alcoholic beverages.
You can also find gourmet selections from top-rated chefs that feature cannabis infusions to create a whole dining experience. It's always best to understand the menu before you select a weed restaurant.
Are Weed Restaurants Legal?
The laws surrounding weed restaurants in California are a bit confusing. Technically, it's only legal to consume cannabis on private property. It is not legal to consume it in public, and that includes dining establishments.
That said, some municipalities in the state have allowed cannabis lounges or dedicated marijuana smoking rooms. When attached to dining establishments, they virtually create conditions conducive to partaking in pot and dining at one location.
Cannabis and the Culinary Arts in California
While it's not quite legal to roll a blunt and smoke weed right at your table in a restaurant, and public restaurants remain unable to offer infused products, you can definitely find ways to enjoy the cannabis dining you crave, with lounges, dispensaries, and private chefs offering a range of options for food-loving connaisseurs.
The banner image at the top of this article is courtesy of Cannabist via IG @DiscoverCannabist