Where to Find the Best Mexican Food in San Diego in September 2023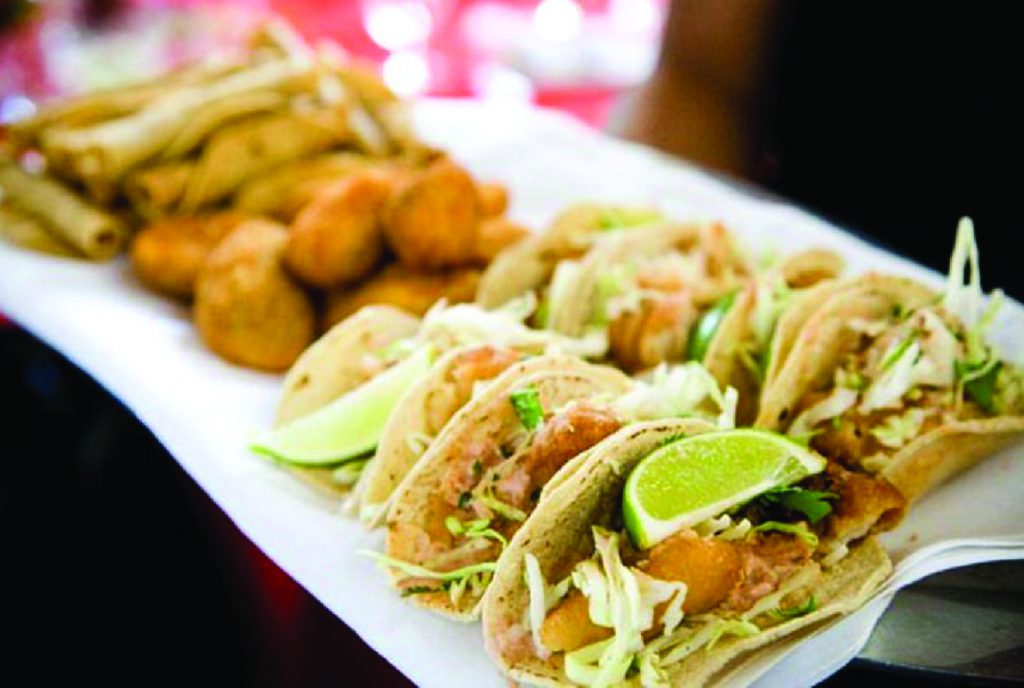 One of the best things about San Diego is its plethora of incredible authentic Mexican food and drink — from quick and easy to sit-down fine dining, there is no shortage of it here! From the best California burritos to the finest tacos, we've rounded up the very best Mexican food in San Diego, all the way from downtown to North County. Here's where to go next time you've got that craving!
Puesto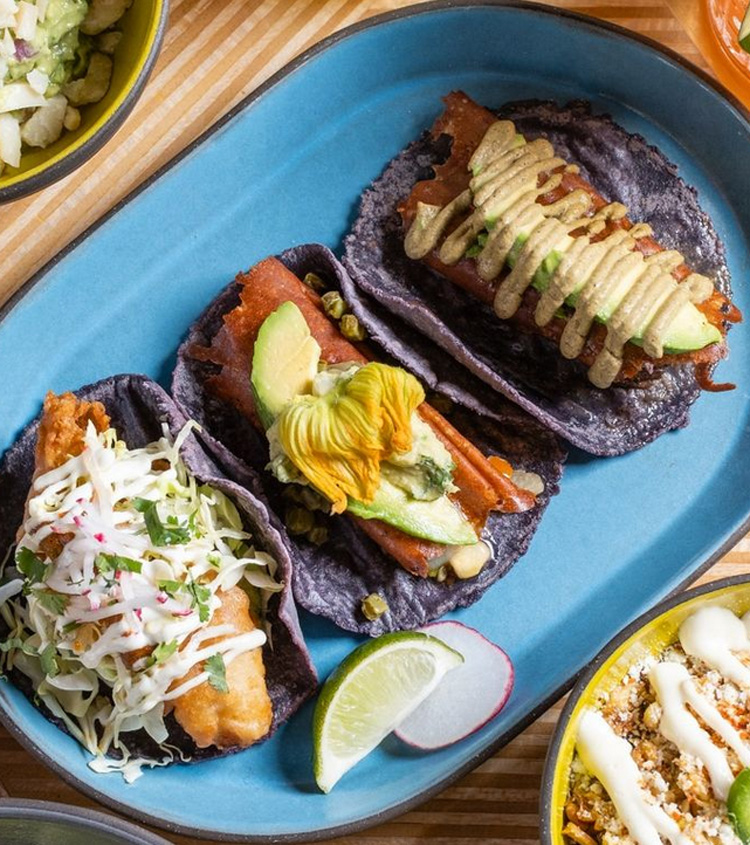 Puesto put down its roots in La Jolla several years ago, and has been a beloved local favorite ever since. The cozy, open air restaurant has reached national acclaim for its Mexico City-style tacos complete with fresh blue corn handmade tortillas, crispy melted cheese, and scratch salsas courtesy of Executive Chef/Partner Luisteen Gonzalez and Executive Creative Chef Katy Smith. Puesto has been awarded as the people's choice for best taco at the notable Tacolandia competition for the past three years, and has been named a delicious taco destination by USA TODAY.
What to get: tacos! Come here for your next Taco Tuesday — their taco options range from traditional carnitas to zucchini with nopales (a type of cactus), in addition to snacks like chicharrónes and ceviche. The drinks menu is basically an homage to Mexico, and includes the classic margaritas, and impressive tequila and mezcal list, plus beers and wines from Valle de Guadalupe.
El Indio
Opened in 1940, this landmark in Mission Hills is a casual, family-run Mexican restaurant that still manages to be cozy, delicious, and consistently good. Their menu includes an extensive lineup of classic authentic Mexican dishes, including enchiladas, tamales, burritos, quesadillas, nachos, chimichangas, beans and rice, and more. Or if you're feeling bold you can try some carne asada fries with chips and salsa on the side. Enjoy the authentic Mexican ingredients you know and love!
What to get: some say El Indio invented the taquito, and although that might be up for debate, they are definitely the restaurant's specialty. The crispy rolled tacos come in beef, chicken, or potato and can be topped with cheese, guacamole, or sour cream.
Las Cuatro Milpas
If you're in the Barrio Logan area, this is definitely where to go for Mexican food. There's always a long line outside this super no-frills, cash-only taqueria, so use that time to figure out what you want (don't worry, the menu isn't long).
What to get: the rolled tacos slathered in sour cream and cheese, along with the rice and beans with chorizo served with two flour tortillas. Everything is made fresh daily, right there in-house, and the spot has been a San Diego staple for decades.
Galaxy Taco
Located in the heart of downtown La Jolla Shores, this colorful, sunny restaurant is known for its non-traditional take on Mexican street food–you can add uni to your guacamole, and the Tres Leches cake is made of sweet potato. The spot serves a variety of classic and updated regional Mexican dishes, ranging from tostadas, to tlayudas, to grilled fish, alongside a stacked craft cocktail menu with plenty of agave spirits and cocktails involved. The vibe is light enough for happy hour with friends, but still polished enough for date night, a work lunch, or a family meal.
What to get: any of the tacos or shared plates. Their fresh tortillas are definitely a must-try: they're made in-house, using heirloom blue corn sourced from small-scale farms back in Oaxaca. With at least six taco options at any given time and an extensive roster of larger shared apps, you can't go wrong with trying a combination of items.
The Taco Stand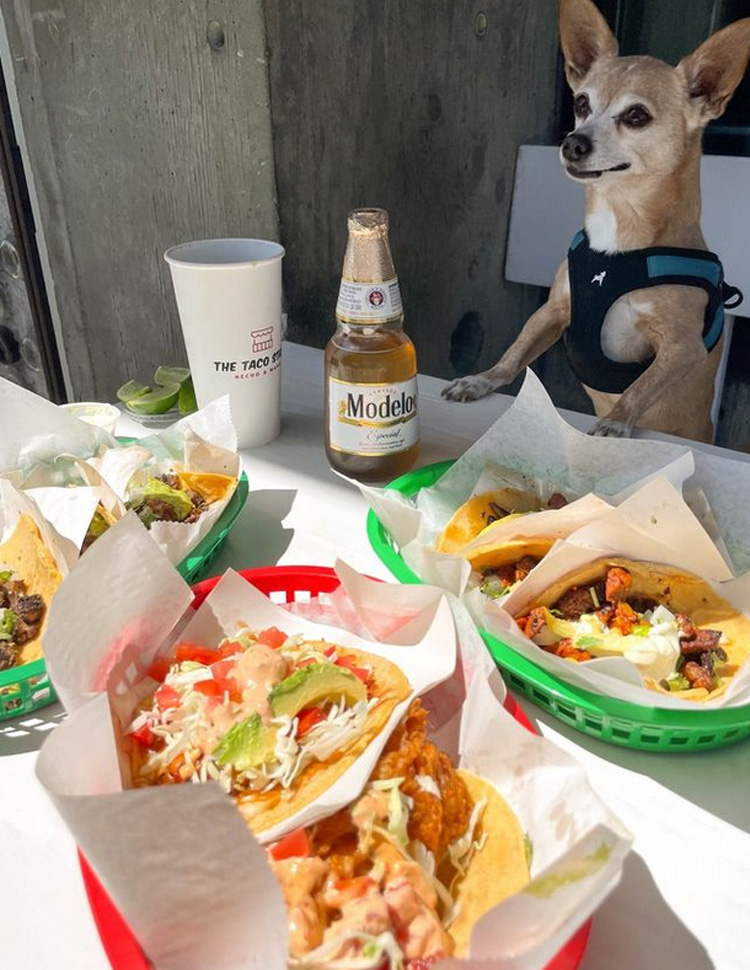 What originally started in downtown La Jolla as a small, casual taco place has now expanded to three locations across San Diego County. The cozy spot, made to resemble a Mexican taco stand, is still cranking out Tijuana-style tacos in its original brick-and-mortar storefront in La Jolla.
What to get: favorites include the classic al pastor; the Sonora taco with steak, cheese, beans, guacamole, onions and cilantro in a flour tortilla and the grilled mahi mahi. Vegetarians can also try the nopal taco, with grilled cactus, cheese, cilantro sauce tomato and avocado–vegans can swap out the cheese for beans.
Tacos El Gordo
With its flagship location in Tijuana, Mexico, Tacos El Gordo delivers truly excellent authentic Mexican cuisine. The taco shop makes its own homemade corn tortillas, serves top-grade meat, and uses fresh ingredients in its house-made guacamole and salsas.
Located south of downtown in Chula Vista, Tacos El Gordo's motto is that every customer is family. What to get: there is no wrong choice when it comes to the tacos, but popular ones include the tender and flavorful adobada (spiced pork), the succulent lengua (beef tongue) and the traditional tripa (beef tripe). The restaurant also serves Mexican soda. The best part? All tacos cost less than $2.50!
Super Cocina
Super Cocina seems like another unassuming storefront in City Heights, but what isn't obvious on the surface becomes so once the food is sampled. The cooking here is more like what you'd find in a Mexican home than a traditional restaurant, with dishes like chicken in cilantro sauce or pork in a chile Colorado sauce often featured alongside red or green posole. Super Cocina also offers a catering service, which means you can bring its bright flavors to homes all over San Diego.
What to get: the Chicken Mole Poblano is a classic favorite. The chicken is simmered in a rich brown sauce made from poblano chiles and chocolate, and the flavor is like nothing else here in San Diego.
El Comal
El Comal is a cozy, homestyle Mexican joint in North Park that's particularly loved for its thick, homemade corn tortillas, enchiladas, gorditas, red or green pozole, and variety of other regional Mexican dishes.
This place also has a long cocktail list, with many different kinds of tasty margaritas, micheladas, and other Mexican drinks, as well as a happy hour special where beer costs just $3.
What to get: start with a cup of the Pozole, and finish off with an order of the enchiladas or gorditas. You can't go wrong with any of the authentic classics!
La Puerta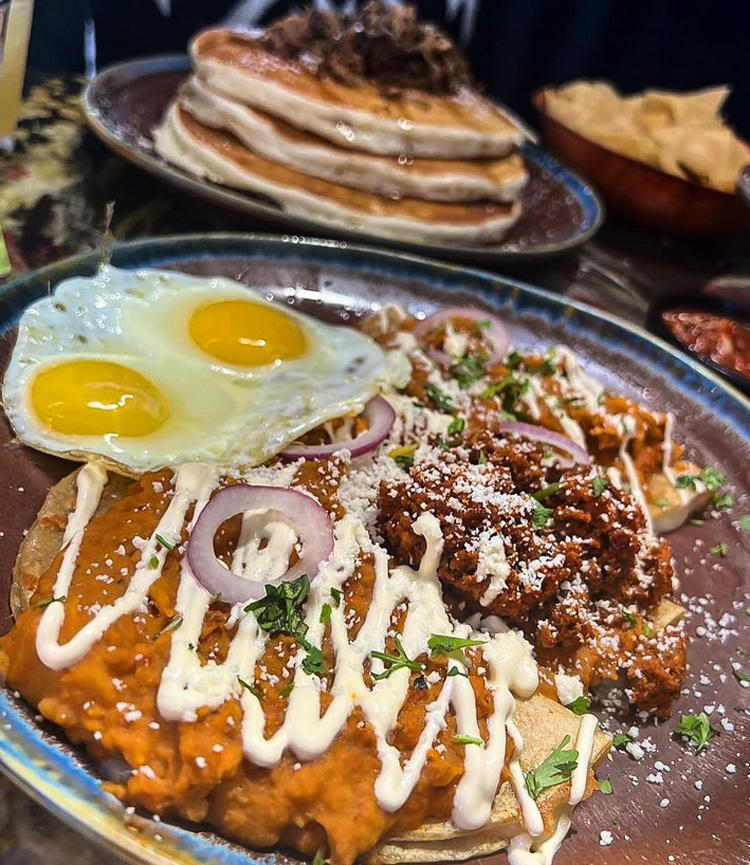 If you're looking for great, traditional Mexican food in the Gaslamp Quarter, this is the place to be! Street food-style tacos might be the meal du jour in San Diego, but this sleek place on Fourth Avenue also delivers heartier family recipes in quesadillas, sopas, and specialty burritos, like "The California" made with Arranchera Steak, French fries, and grilled onion.
La Puerta offers over 100 different tequilas and mezcals, as well as raicillas, sotols, and bacanoras with fresh lime. Just ask the bar staff for guidance — they'll give you a great recommendation. This is an affordable, casual, and festive spot that's great for groups or even a casual date night. What to get: Street tacos and the guacamole, or the delicious California burrito. Pro-tip: come for Happy Hour, which runs 3pm-7pm on weekdays and features half off a bunch of different menu items.
Oscar's Mexican Seafood
San Diego is well known for having some incredible fish tacos (and some of the best in the entire state), seeing as they were invented just down the road in Ensenada (which is about an hour and a half south of the border).
What to get: There are many places to find great ones in San Diego, but local mini-chain Oscar's churns out a perfect version of the classic fried fish in a corn tortilla with cabbage, chipotle mayo, crema and salsa bandera. Head to their Pacific Beach location, which is right next to the ocean, for maximum effect.
El Agave Tequileria
If you're looking for mole and mezcal, this is your spot! Some of the best mole turns up at this high-end Old Town San Diego Mexican restaurant featuring excellent, authentic regional dishes made with fresh ingredients. Their drink list consists of more than 2,000 types of tequilas and various mezcals, and their customer service in an upscale-rustic setting seals the deal.
What to get: Any of their mole dishes. You'll find seven different variations, including the traditional mole poblano, mole verde, and mole negro as well as veggie mole and Ahogado en Natas, which is chicken or pork smothered in guajillo and puya chili and a touch of nata (reduced milk) and served with agave style rice. Pair it with a specialty drink with tequila or a margarita and you're set!
Try these Mexican eateries for some of the best Mexican food in San Diego! Or, for more restaurant and dining ideas, head to our complete restaurant directory or check out our La Jolla Restaurant Guide!