Wine Tasting in San Diego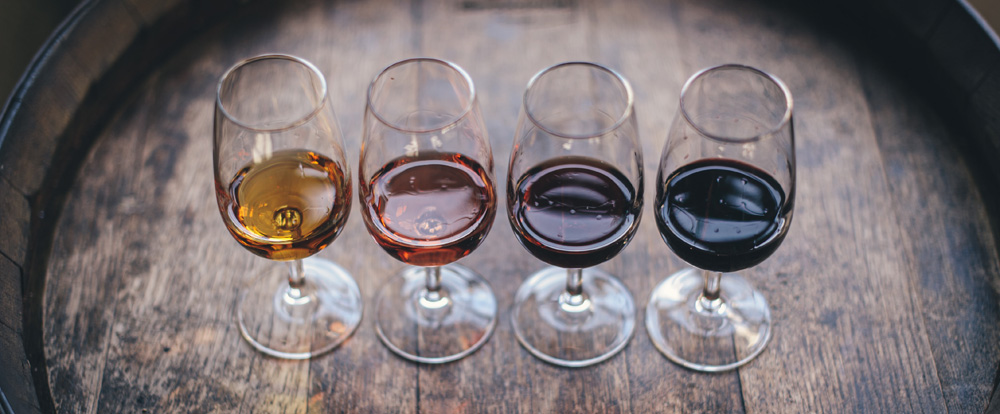 Due to our pristine weather conditions and enriched soil, Southern California has no shortage of wine-growing regions. With plenty of vineyards and wineries to go around in San Diego County, wine tasting is an activity you can find pretty much anywhere. Whether you're looking for a cute date spot in order to woo your lover, or a posh establishment to impress a potential business partner, San Diego has plenty of venues in store for you to do an educational and flavorful wine tasting.
The most exciting part about wine tasting in San Diego is that many places offer wine club memberships where you can receive discounted rates, complimentary tastings, and exclusive access to upcoming wine releases. If indulging in wine and cheese while getting sun-kissed sounds like your ideal kind of day, stick around to learn where you can sip, shop, and relax at some of the best wineries and vineyards in the area.
Where to Go Wine Tasting in San Diego
Some people seek out a wine-tasting experience just so they can check it off their bucket list. Others do it to learn how to taste and evaluate wine based on smell, texture, viscosity, age, and so on and so forth. No matter your reason for wanting to engage in a classy outing with wine and good vibes, there is an experience out there for everyone. 
If you're feeling extra romantic and want to please your partner, an in-home wine tasting in San Diego is an idea that goes a step beyond a wine tasting. And of course, if you're a cheap date, there you can find free wine tasting in San Diego, too. For a more hands-on experience, you might want to consider signing up for a food and wine tour. In that case, check out our list of San Diego Food & Drink Tours You Should Absolutely Take.
If you are looking for the best wine tasting in San Diego, however, we've lined up a list of unbeatable locations where the world's most scholarly Sommeliers will take you along a journey through the world of wine. See, swirl, sniff, sip, and savor at any of the elite locations listed below. We've also dedicated an entire article to places to do a wine tasting in La Jolla, so head on over there if that's where you'd like to venture to.
North County Coastal Wine Tasting
Who doesn't want to sip wine at a coastal tasting room? North County Coastal offers many opportunities to savor the flavor of local wines right near the lovely Pacific Ocean. Should you grow tired of wine tastings (but how could you?), we've also compiled a list of ideas for a date night in Encinitas.
Orfila Vineyards Tasting Room & Kitchen
Situated mere steps from the Oceanside Pier, you'll have the opportunity to indulge in fine wines and delectable eats at Orfila Vineyards Tasting Room and Kitchen. Orfila's incredibly educated staff suggest wine pairing choices with their selection of world-class menu items such as Harissa Spiced Duck Confit Sliders and their signature Ambassador Charcuterie Board. This must-see establishment is first come, first serve, so if you're not in the mood for planning, you can have an impromptu afternoon on their lovely terrace whenever you feel called to do so.
Address: 221 N Cleveland St, Oceanside, CA 92054
Phone: (760) 755-7040
Hours: Sun, Tues, Wed: 12 a.m. – 8 p.m.
Thurs, Fri, Sat: 12 a.m. – 9 p.m.
Closed Mondays
Solterra Winery & Kitchen
Solterra Winery is your not-so-typical place to taste wine. As you lounge in their beautiful and indoor/outdoor space, knowledgeable wine gurus will assist in matching you with the perfect wine pairings based off of your preferences. Their fruit is sourced from San Diego and Baja, Mexico, and aside from their fascinating food and wine selection, you have the chance to experiment with blending wines. Do you like dry wine? Great! Hints of cherry? No problem! More tannic? Amazing! Whatever you are fond of, you can be sure you'll find it at Solterra. You can even take home a bottle or an entire case of your own blended wine creation, which makes for an authentic and thoughtful gift.
Address: 934 N Coast Hwy 101, Encinitas, CA 92024
Phone: (760) 230-2970
Hours: Wed-Thurs: 3:30 p.m. – 9:00 p.m.
Fri: 3:30 p.m. – 10:00 p.m.
Sat: 12:00 p.m. – 10:00 p.m.
Sun: 12:00 p.m. – 8:30 p.m.
Closed Mondays and Tuesdays
Carruth Cellars Urban Winery & Tasting Room – Solana Beach, CA
With a motto like "sip, swirl, repeat," you know you're in for some fun when you go to Carruth Cellars. Carruth has quite a few locations, though their Flagship urban winery and tasting room in Solana Beach's Cedros Design District. Post wine tasting, head over to the Belly Up Tavern for a concert or skip on over to Fletcher Cove Beach Park for an afternoon snooze. Carruth has an unbeatable wine club membership and adorably aesthetic interiors; their Solana winery and tasting room is a massive warehouse lined with wooden barrels and a long steel bar, giving off industrial vibes. In Little Italy, their outdoor wine garden features charming string lights and a glimpse of the open sky where you can sip and catch a lovely sunset. If that doesn't sell you, they source fruit from all over the West Coast and support local wineries, even dedicating bottles to various charitable efforts to raise funds to donate to good causes.
Address: 118 S Cedros Ave #C, Solana Beach, CA 92075
Phone: (858) 847-9463
Hours: Mon – Thurs: 1:00 p.m. – 9:00 p.m.
Fri-Sat: 12:00 p.m. – 10:00 p.m.
Sun: 12:00pm – 8:00pm
North County Inland Wine Tasting
As you make your way a bit inland, you'll discover lush vineyards and fanciful wineries whose ambiance mirrors Northern Italy. The exceptional climate, soil, and weather patterns inland of North County allow winegrowers to produce indispensable wine varieties that you'll remember for a lifetime.
Highland Valley Vineyards
This boutique Micro-Winery is wedged into the picturesque Highland Valley and San Pasqual Valley in the San Diego Foothills. The hillside vineyard boasts Bordeaux variety grapes with jaw-dropping views of the valley, where you can bring your own snacks to enjoy a lovely picnic and glass of vino tinto or rojo. Highland Valley Vineyards provides a detailed list of recommendations for food pairings for their fantastic wine list, such as pairing their 2018 Cabernet Franc–encompassing aromas of strawberry, sour cherry, bell pepper, and sweet tobacco–with a Roasted Cornish hen and Red Fruit Compote or a Camembert Cheese Stuffed Spinach Artichoke Quiché.
Address: 15412 Bandy Canyon Rd, Escondido, CA 92025
Phone: (858) 531-6589
Hours: Sat-Sun: 12:00 p.m. – 6:00 p.m.
Closed Monday through Friday
Espinosa Vineyards and Winery
Just a few blocks away from the Highland Vineyard, you'll find Espinosa Vineyards and Winery, which was established in 2008. This small-lot, single-vineyard winery focuses on high-quality wines with locally grown fruit. Book a private wine tasting for yourself or a group of friends or colleagues. If you happen to come on a Sunday, you can get your morning stretch on with some yoga pre- or post-wine tasting. The views are to die for!
Address: 15360 Bandy Canyon Rd, Escondido, CA 92025
Phone: (619) 772-0156
Hours: Sat-Sun: 12:00 p.m. – 5:30 p.m.
Closed Monday-Friday
Bernardo Winery
Bernardo Winery is an Italian family-owned winery that has been serving San Diego since 1889. Enjoy flights, wine by the glass or bottle, or delicious eats that fuse traditional Sicilian dishes like pizza with a touch of California flare. Their landscaped garden is a charming place to take a stroll as you sip on their unique wine varieties derived from their locally sourced grapes. If it strikes your fancy, you can take a peek at their modern winemaking facility and historic antique wine facility located right on the property where you'll see large scale redwood barrels built over 130 years ago. You can find Bernardo Winery near Oaks North Golf Course in Montelena.
Address: 13330 Paseo Del Verano Norte, San Diego, CA 92128
Phone: (858) 487-1866
Hours: Wed – Sat 11:00 a.m. – 8:00 p.m.
Sun: 11:00 a.m. – 6 p.m.
Closed Mondays & Tuesdays
Crystal Hill Vineyard
Crystal Hill Vineyard is known for the gorgeous, lush landscape that envelops the property North of Mount Grower County Preserve near Wash Hollow Creek. Nothing compares to the artisan, small-batch wines from locally grown grapes that Crystal Hill bottles and packages for their guests. If you want to go beyond wine tasting in San Diego and host an event, wedding, or afternoon date, you will be pleasantly surprised with Crystal Hill's service and eclectic selection of premium wines and flatbread pizzas.
Address: 24067 E Old Julian Hwy, Ramona, CA 92065
Phone: (858) 429, 0900
Hours: Fri-Sun 12:00 p.m. – 6:00 p.m.
Closed Mondays through Thursdays
Central San Diego Wine Tasting
If visiting a vineyard sounds like a farfetched idea, no need to worry–you can still get your wine fix. Central San Diego has several wineries, wine bars with tasting menus as well as guided tours if you want to give someone else the responsibility of finding the best spots in town so you can simply sip and relax.
San Diego Beer, Wine & Spirits Tours
Get chauffeured around the city to go on a guided vineyard adventure, take a train tour, or use those legs of yours and walk from point a to point b on an unforgettable walking wine tour. San Diego Beer, Wine, and Spirits tours gives you a taste of unique local wines and culinary experiences through the lens of expert guides. They pride themselves on offering a mixture of farm-to-table food, next level tasting presentations, and site seeing beyond tourist traps.
Address: 7514 Girard Ave, La Jolla, CA 92037
Phone: (858) 551-5115
Hours: Mon – Fri 9:00 a.m. – 5:00 p.m.
Sat-Sun: 9:00 a.m. – 1:00 p.m.

Gianni Buonomo Vintners
Gianni Buonomo is an old-fashioned style, quaint space that houses an antique wrap around tasting bar and barrel hoop sculptures. This tasting spot is known for their award-making wine, which is located off the main strip of Ocean Beach on Newport Avenue. Sip on a savory glass of red wine, then enjoy the sunset over at the Ocean Beach Pier, just a few blocks away. Gianni is truly a timeless gem in the heart of OB.
Address: 4836 Newport Ave, San Diego, CA 92107
Phone: (619) 991-9911
Hours: Wed – Sat: 1:00 p.m. – 7:00 p.m.
Closed Sundays, Mondays, and Tuesdays
Boutique Vino
Boutique Vino has a brick wall interior that makes you feel all kinds of cozy. This hidden gem has a phenomenal ambiance and is a short walk from the Gaslamp District. Their Sommeliers are well-versed and happy to educate their customers on the history of the wide range of wines they offer. If you are a big wino, you'll want to pit stop at this amazing boutique, where small-batch wines from all over the world line the shelves; bubbly, reds, rose, whites, bargains, the owner's vault of personal favorites–you name it, they've got it.
Address: 923 E St, San Diego, CA 92101
Phone: (619) 564-6824
Hours: Mon – Thurs: 3:00 p.m. – 9:00 p.m.
Fri-Sat: 12:00 p.m. – 9:00 p.m.
Sun: 12:00 p.m. – 5:00 p.m.
East County San Diego Wine Tasting
Live a real moment of relaxation when you head to East County's wine tasting spots. Let's see what they have in store, shall we?
Granite Lion Cellars
In Jamul Highlands on the outskirts of Cuyamaca Rancho State Park rests Granite Lion Cellars, featuring a delightful grotto with matchless views, exceptional service, and a well-rounded experience. Their wines have a distinctive, youthful quality which you can enjoy with a BYOF (Bring Your Own Food) picnic. Granite Lion Cellars will occasionally have local vendors on their property so you can pair your wine with some gourmet food.
Address: 2801 Jamul Highlands Rd, Jamul, CA 91935
Phone: (619) 669-2982
Hours: Mon – Sun: 11:00 a.m. – 5:00 p.m.

San Pasqual Winery Tasting Room & Gallery
San Pasqual Winery & Tasting room is perched in Northern la mesa–the industrial area. They have a cooperative tasting room with a vibrant industrial vibe, where you can view their extensive wine list of locally produced varieties. The amazing part about San Pasqual Winery is their event calendar, where you can frequently enjoy live music from local artists, special deals like BOGO wine nights and wine slushies, as well as wine nights dedicated to trivia and arts and crafts.
Address: 8364 La Mesa Blvd, La Mesa, CA 91942
Phone: (619) 462-1797
Hours: Mon – Thurs: 1:00 p.m. – 7:00 p.m.
Friday – Sat: 1:00 p.m. – 9:00 p.m.
Sun: 12:00 p.m. – 5:00 p.m.
South Bay San Diego Wine Tasting
Wine tasting in San Diego only gets better as you venture toward the boarder. South Bay San Diego offers quaint options to sit back amidst a cool breeze and sip on wine influenced from both California and Mexico.
La Central Beer & Wine Garden
Located off H street & Broadway in Chula Vista a couple blocks inland from Bayside Park is the charming outdoor area of La Central Beer and Wine Garden. Enjoy their patio any time of year under the sun or night sky, providing heat lamps when it's cold and umbrellas when it's nice and sunny. La Central is a casual environment with a menu full of Mexican-fusion foods, craft beer, and wines from Napa Valley and Valle De Guadalupe–a place overflowing with top-notch wineries just south of the border.
Address: 555 Broadway Suite 1019, Chula Vista, CA 91910
Phone: (619) 932-6263
Hours: Mon – Sun 11:00 a.m. – 10:00 p.m.
Vino Urbano
Vino Urbano is a family-owned and operated business that is only open by appointment for barrel tasting just North of the border between California and Mexico. Their artisanal small production is sure to please any palate. Vino Urbano's outdoor atmosphere is lively and unique: take pleasure in the coastal breeze, get a glimpse of the views of Spring Canyon's rolling hills, and see the lights illuminate in distant but not so far off Mexico. They release mouth-watering vintage wines, which are a byproduct of California and Baja influences.
Address: 6825 Gateway Park Dr #3, San Diego, CA 92154
Phone: (619) 429-6820
Hours: Fri-Sun: 12:00 p.m. – 6:00 p.m.
Closed Monday through Thursday
Evidently, the wide selection of wine tasting in San Diego makes it that much easier for you to please a friend who comes to town for a visit, or to get on your boss' A-List, so you can get that promotion you've been waiting for. Never get frustrated with where to go on wine Wednesday in San Diego, as you now have a bountiful assortment of options in your back pocket!
Don't forget, if you grow tired of sipping wine under the San Diego sun, we've created a fabulous list of San Diego Food & Drink Tours You Should Absolutely Take. When you're happy, we're happy. Now, jump off your smartphone or computer and give yourself a pat on the back for getting through this article. What are you waiting for? Time to get to sipping!
About the author: Courtney Pester is a San Diego based San Francisco bred millennial with a passion for design and self-expression. She prides herself in her charcuterie board making skills and has a soft spot for animals. When she's not pumping out articles you can catch her playing tennis and enjoying the diversity of events and restaurants San Diego has to offer.