Hotel del Coronado Holiday Events Are The Perfect Way to Celebrate the Season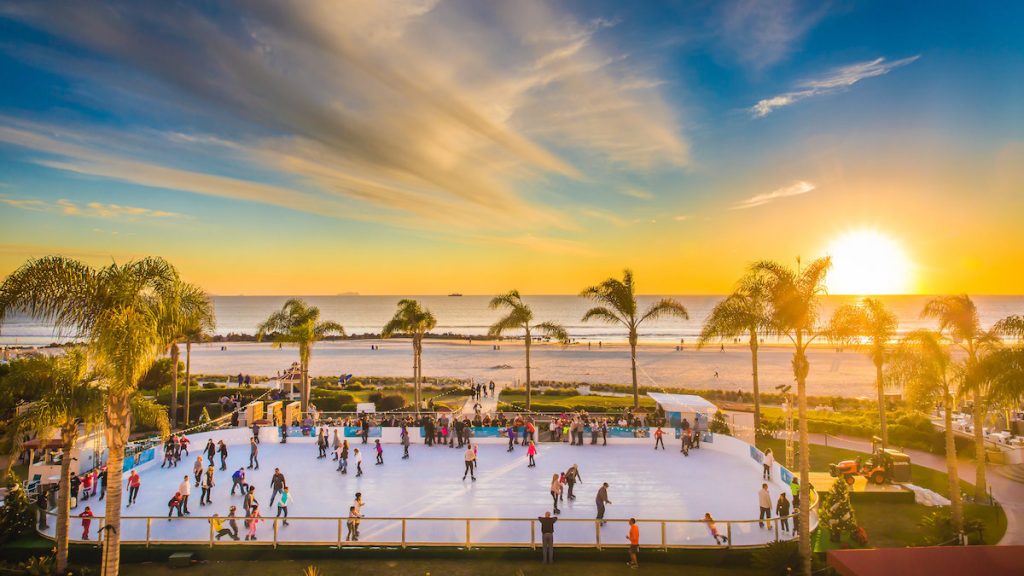 If you're looking for a fun, festive, and family-friendly way to celebrate the season, look no further than the list of Hotel Del Coronado holiday events.
The Hotel Del Coronado is a beautiful and historic property located in Coronado — a resort city known as a stunning attraction near downtown La Jolla.
Better yet, a recent Hotel Del Coronado expansion plan has resulted in an updated and modern hotel that hasn't lost any of its Hollywood era charm. After all, the Hotel Del is known to have played host to a range of celebrities, from Thomas Edison to Marilyn Monroe.
This year, the Hotel Del Coronado is celebrating the season with a slate of events as part of its 2023 theme "A Twenties Holiday Affair."
Here's a list of Hotel Del Coronado holiday events and more to help you make the most of the season.
Skating by the Sea: The Hotel Del Coronado's ice rink by the sea is world-famous. Likely the most recognizable ice skating rink in California, this San Diego holiday tradition makes for an unforgettable experience.
Beachside Igloos: Newly expanded for the 2023 holiday season, these Beach Igloos allow guests to hang out and enjoy a roaring fire pit, unlimited s'mores, and a dedicated server that will deliver holiday libations and snacks.
All That Jazz Lightshow Spectacular: This dynamic light show has been revamped for this year's holiday season with a new 1920s jazz soundtrack. It also features more lights, more snow, and a new bar and lounge area serving up hot cocoa and festive cocktails.
Additionally, the Hotel Del Coronado holiday event calendar also includes the famous two-story Christmas tree in the lobby, holiday movies on the beach, and cozy fire pit lounges for sunset viewing while sipping holiday drinks.
Most of the holiday events last from Friday Nov. 17 through Sunday, Jan. 7.
Media credit: Image courtesy of hoteldel.com