Coronado: A Beautiful Beach Attraction Near La Jolla

Coronado
You may have heard of the Hotel Del. It's legendary for its role in films like Marilyn Monroe's Some Like it Hot. Hotel Del is short for Hotel Del Coronado, the island that rests one bridge (or boat ride!) away from San Diego's downtown. With more miles of coastline than square land itself, this place is ideal for bicycle riding, walking and, of course, sun bathing. It's a place like no other.  And if this landmark wasn't amazing enough, the current plans for Hotel del Coronado expansion will be sensational!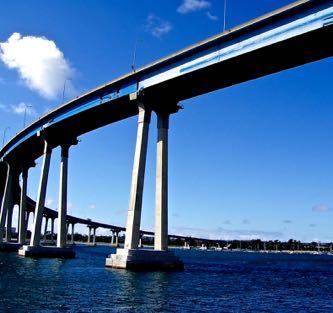 The Hotel Del Coronado
This hotel isn't simply a place to stay; it's a place to shop, spa, dine and enjoy a cocktail on one of the large patios that overlook the ocean. It was originally created to be the center of Coronado, to make Coronado a beach resort town…which it essentially did.
The most famous of famous celebrities have stayed on these premises, often renting out the exclusive villas. Some famous names that have stayed here include Jimmy Carter, Babe Ruth, Bill Clinton, Muhammad Ali and Emma Stone. (As you may have noticed, this has been a popular spot for presidents. Eleven presidents have stayed here so far!)
The Ultimate Activities
With so much beach, it's natural that many of the favorite activities involve the water and adjacent sand. Here are the top activities we personally recommend trying: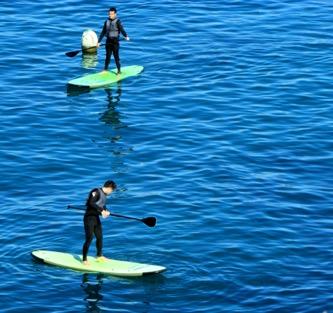 Rent a 4 Wheeler:
We don't mean the one person 4 wheeler you coasts sand dunes in; we're talking about a 4-wheeled contraption that seats 4 people. Each person, 2 in front and 2 in back, pedals to propel the group forward in this 4 person bike. Having done it with both family and friends, we can attest that it is both fun and, because of how much you must work together, a true bonding experience.
Take a boat ride:
If you want to visit and to ride a boat, you can kill two birds with one stone by taking a boat over from the mainland. The Hornblower sends out cruises directly to and from San Diego's harbor. Learn more about cruise opportunities at our Dinner Cruises Page and Sunset Cruises Page.
Go for a gondola ride:
Imagine yourself in far away Italy by taking a gondola ride with your significant other. It's a wonderfully romantic way to spent an hour.
Try stand-up paddle boarding:
The waters are calm enough around the Hotel Del that you can, on many days, coast out onto the ocean, no experience needed.
Hit Coronado Brewery:
If you enjoy beer, especially craft beer, this is a must stop. Go in for a tasting and grab some great food at the same time.
Stroll the residential streets:
The houses here are all incredibly beautiful and unique. Simply walking the roads near the heart of the town will have you basking in many types of architecture and incredibly well-tended gardens.
Getting Hitched?
Coronado is a very popular spot for those looking to tie the knot, the Hotel Del in particular. So don't be surprised to walk along the beach and find yourself hearing two love birds saying their "I dos"!
The U.S. Navy
The top employer of the entire island is the proud United States Navy. You'll see handsome young men and women in uniform and certain areas exclusive for those enlisted. Many highly acclaimed commanders, captains and admirals have come from this island, making it an important place in U.S. military history.
To be amongst them in action? Run along Silver Strand State Beach early enough and you may find yourself warming up with the navy!
While You're in the Area
As you already had to go through downtown San Diego to get here, it may be the perfect day to combine visiting the Gaslamp Quarter, as well. You can spend the day soaking in the beach activities of Coronado, and then explore the nightlife of or watch a baseball game in downtown. Learn more about what the area has to offer at our San Diego Downtown & Gaslamp Page.