Attend Howl O Scream 2021 at Sea World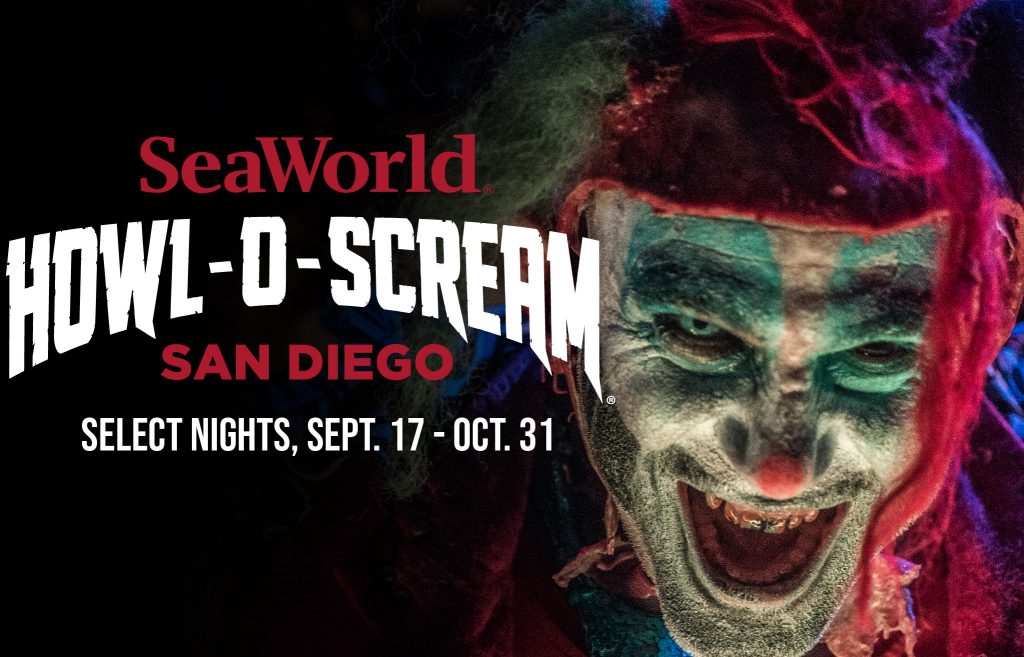 C'mon in, slip off your skin, and rattle around in your bones during Howl-O-Scream 2021 at Sea World! The long-awaited frightful thrills and chills at SeaWorld in San Diego are back for their 20th year, transforming the peaceful park you once loved into something truly horrific for Halloween. Hundreds of creatures wandering fright zones and lurking in haunted houses have awoken with the arrival of nightfall: Are you brave enough to face them?
When it comes to Halloween events in San Diego, Howl-O-Scream is a spectacularly spook-splattered fright fest. So, whatever kind of eerie thrills and chills you're into for Halloween, Howl-O-Scream 2021 at Sea World is sure to give you a hair-raising good time!
Haunted Houses and Terror-Tories
Howl-O-Scream is back with even more terrifying attractions, featuring ALL-NEW haunts, such as Simon's Slaughterhouse, The Death Water Bayou, three NEW terror-tories and 6 new screechingly good scare zones! Giggle at gruesome ghouls and let your spine tingle with sensationally spooky attractions at SeaWorld San Diego this Halloween! Read on for some of the frightfully fiendish features in store for you this year.
The Death Water Bayou
The Death Water Bayou sends unwitting victims deep into a mysterious and terrifying backwoods bayou. Will you be able to make it out alive, or will you succumb to the Bayou's dark legends? Buy your tickets to find out!
The horror never ends in the murky mires of the Bayou. With gruesome gravestones, wicked swamp witches and vicious voodoo dolls, you'll have to screw your courage to the sticking point to enter this sinister swamp. Oh, and keep sharp, because you never know when the hands of the cursed will grab out for you to save them from their eternal despair!
The Nightmare Experiment
If it sounds nefarious, it is! Set in a seriously creepy laboratory setting, the dubious "Doctor" is waiting to eat you. Ehem, we meant, "meet" you. This is an escape room-esque fright feature that is sure to put your spook meter on tilt. Just remember, when you check in with The Doctor a the Nightmare Experiment – you may never check out!
The Simon's Slaughterhouse
Simon says, "SCREAM!" Visit Simon the Butcher in his menacing slaughterhouse featuring grisly mazes and horrors galore. Try to navigate your way through bloody meat twisting from the ceiling, and be prepared to be aghast at the gore awaiting you. Simon's Slaughterhouse is not for the faint of heart, but if you dare to brave the butcher's blades, you're sure to have a terrifyingly good time.
6 Scare Zones & 4 Roaming Haunts
There's nowhere to run, nowhere to hide and no holds barred when it comes to howling haunts and blood-curdling scare zones. SeaWorld has outdone themselves this Halloween with roving freaks, misfit villains, creepy clowns and all manner of wicked characters waiting to scare you out of your skin. With 6 Scare Zones and 4 Haunting sites, everyone in the family can get their fill of tingly terrors.
Don't Forget the Rides
If you've never ridden the Manta, Electric Eel or Journey to Atlantis at night – then you're missing out. SeaWorld is world-renowned for its thrilling rides and roller coasters. And flying at the speed of a bat under a full moon at Halloween time makes their rides all the more devilishly delightful!
But Wait! There's More!
If getting the bejeebers scared out of you isn't really your scene, Howl-O-Scream can offer a milder side to celebrating Halloween this year. SeaWorld provides more tame entertainment in the form of adult cocktails. So, get a wicked witches brew, a restless spirit and enjoy your creepy cocktails while shopping in SeaWorld's sinister gift shop. There you will find all manner of ghoulishly good souvenirs and gifts to help you remember the horrifically happy time you spent and Howl-O-Scream at SeaWorld San Diego.
Ticket and Theme Park Details
What is better than this spooky SeaWorld Halloween adventure this October? NOTHING, obviously. So, get into the Halloween mood and attend Howl-O-Scream 2021 at SeaWorld!
The Halloween horrors and events start nightly at 7:00 p.m. You can enter the park starting at 6:00 p.m. Howl-O-Scream is a separately ticketed event running from September 17 to October 31, and you can get your Howl-O-Scream tickets starting at $44.99/each at your preferred date and time. Be sure to book your tickets for SeaWorld San Diego now, as prices for Howl-O-Scream go up after October 21st.
Address: 500 SeaWorld Drive, San Diego, CA 92109
Phone: (619) 222-4732
Park Hours: Mon – Fri 10:30 a.m. – 5:00 p.m.
Sat – Sun 10:00 a.m. – 7:30 p.m.