Firefighters Rescue Man From a Car Dangling Over Stormy Waters in La Jolla Cove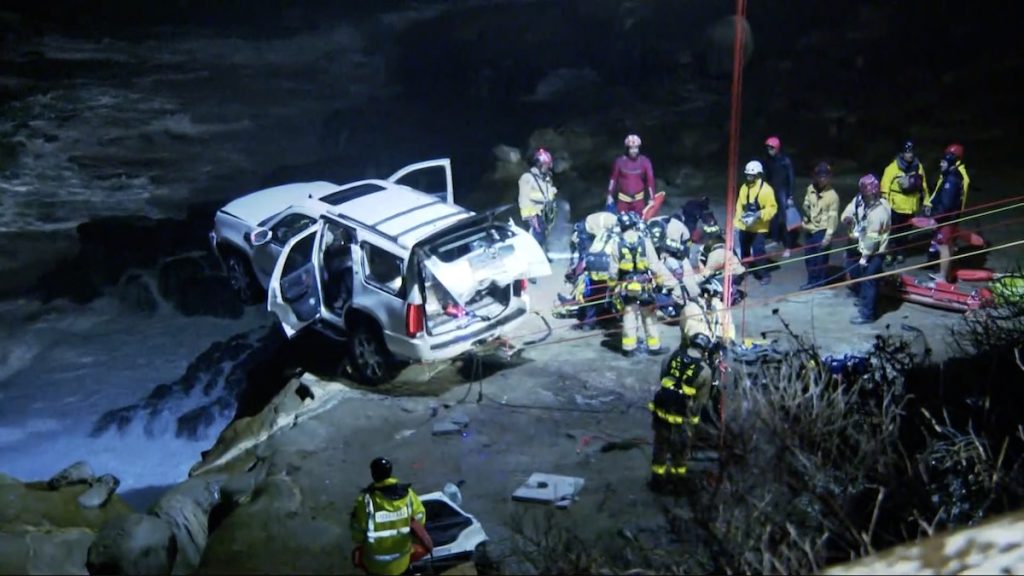 San Diego Lifeguards and San Diego Firefighters carried out a cliffside rescue after an SUV crashed through a guardrail and over a cliff on Saturday night in La Jolla.
Emergency responders arrived at the scene around 5:30 p.m. on Saturday night in La Jolla in response to reports that a vehicle had crashed into the ocean near the 1200 block of Coast Boulevard.
When they got there, first responders found a white Cadillac on the rocks over La Jolla Cove and partially hanging over crashing ocean waves and storm waters, CBS 8 San Diego reported.
"I couldn't believe my eyes," one witness said. "I got really scared because I just pictured the car crashing down into the ocean and the person dying."
As a torrential downpour of rain beat down on the scene of the crash, dozens of emergency crew members worked to rescue the person from the vehicle.
Firefighters and lifeguards attached ropes to the rear of the vehicle to stabilize it. From there, crews tried to rescue the person with tools like the jaws of life.
First responders in a helicopter eventually used an aerial ladder and pulley system to pull the man from the vehicle and transport him to an ambulance.
As of Sunday morning, the crash victim was in stable condition with only minor injuries.
All in all, the rescue took about an hour and a half. However, an atmospheric river that has been part of a "relentless parade" of storms hitting San Diego complicated the rescue.
San Diego police officials told CBS8 that the man was likely trying to park his vehicle near La Jolla Cove when the accident happened.
Banner image courtesy of cbs8.com