Annual La Jolla Village Open House Returns this Sunday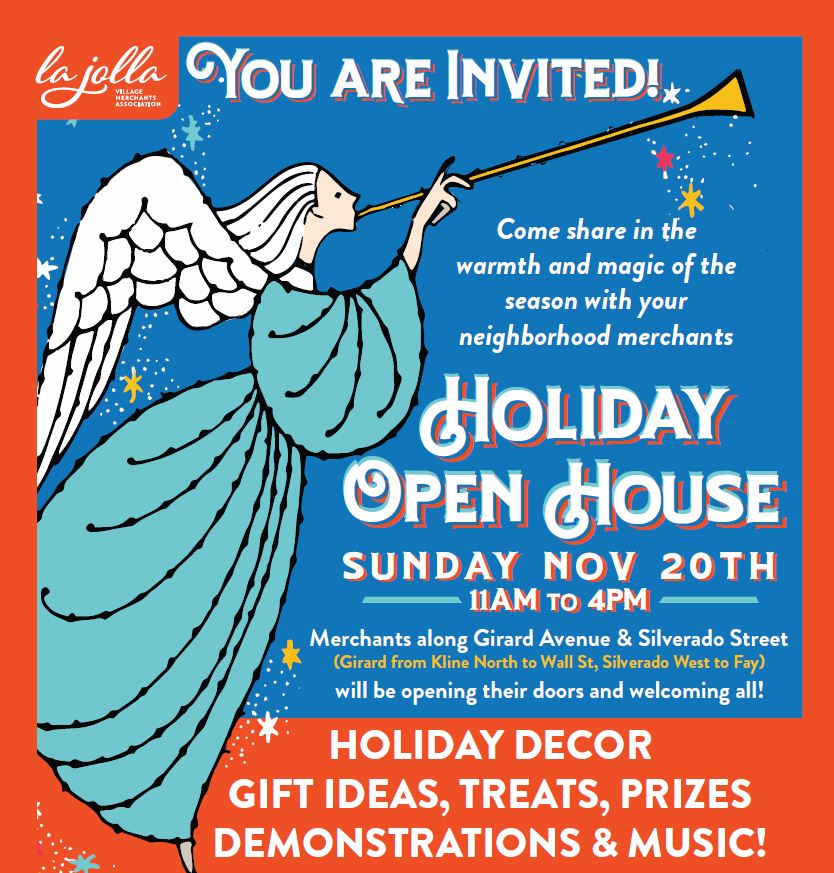 Come celebrate the holiday season in beautiful La Jolla village with an annual tradition more than 30 years in the making.
The La Jolla Holiday Open House will return from 11 a.m. to 4 p.m. this Sunday, Nov. 20. At the event, you'll find a variety of gifts and holiday decor items at some of the finest shops and merchants on Girard Avenue.
Participating businesses, which are located in the 7700 and 7800 blocks of Girard Avenue in the downtown Village of La Jolla, include Adelaide's, Bendls, Meanley & Son Ace Hardware, Bella Woof, Cos Bar, Geppetto's Toys, Warwick's, and more.
Along with great shopping from local businesses, the event will also feature holiday festivities, book signings, refreshments and food, and special events such as:
"The Voice of La Jolla" DJ Ron Jones performing from 11 a.m. to 4 p.m. at Ace Hardware.
A meet-and-greet with Santa at 11 a.m. at Geppetto's, 12:30 p.m. at Warwick's, and 2 p.m. at Adelaide's.
Paty Sevener performing from 11:30 a.m. to 2:30 p.m at Warwick's.
Country Day/Madrigal Singers performing at 11 a.m. at Adelaide's.
Guitar music by Sergio Azocar from 11 a.m. to 4 p.m. at Bowers Jewelers.
Holiday design and demonstration classes at 1 p.m. and 2 p.m. at Adelaide's.
Prize drawings at Warwick's, Vuori, Bendl's Custom Shirts, Bowers, and Ace Hardware.
And a lot more.
In other words, the La Jolla Holiday Open House is the best place to kick off the season and experience the warmth and magic of the holidays in San Diego.
If you'd like to attend, the event takes place on Girard Avenue in the Village of La Jolla. You'll be able to find it by looking for the green and gold balloons.
Thank you to the La Jolla Village Merchants Association, LaJollaByTheSea.com, for organizing this event and the flyer at the top of this page.