Complete Guide to Beaches in Del Mar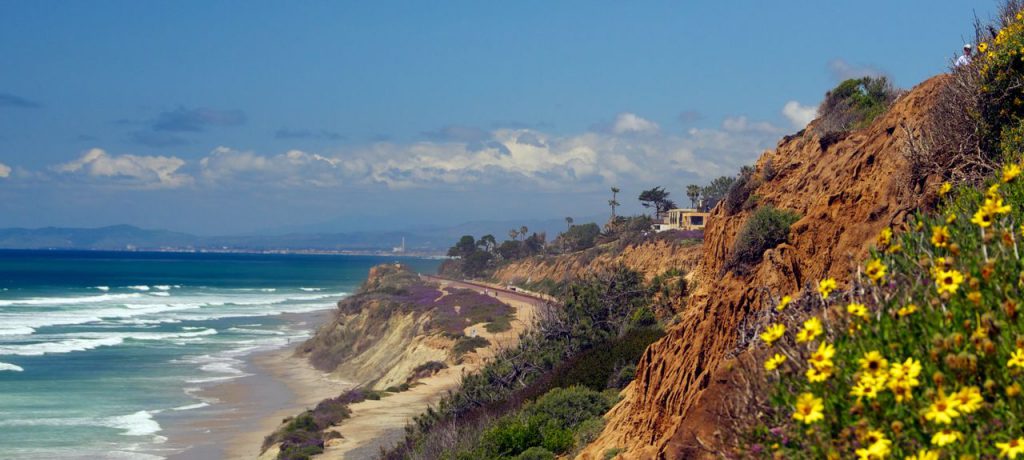 With stunning ocean views from historic coast Highway 101, wildlife reserves, sandy beaches, dramatic cliffs, oceanfront parks, and plenty of shopping and dining, the cozy community of Del Mar is among the most picturesque in all of San Diego County. The quaint yet upscale charm of this seaside village in San Diego's North County is a perfect complement to Del Mar's two miles of beautiful, sandy coastline. The area offers both family- and dog-friendly beaches where you can relax, have a picnic, and kick off your shoes. Here is your complete guide to the best beaches in Del Mar!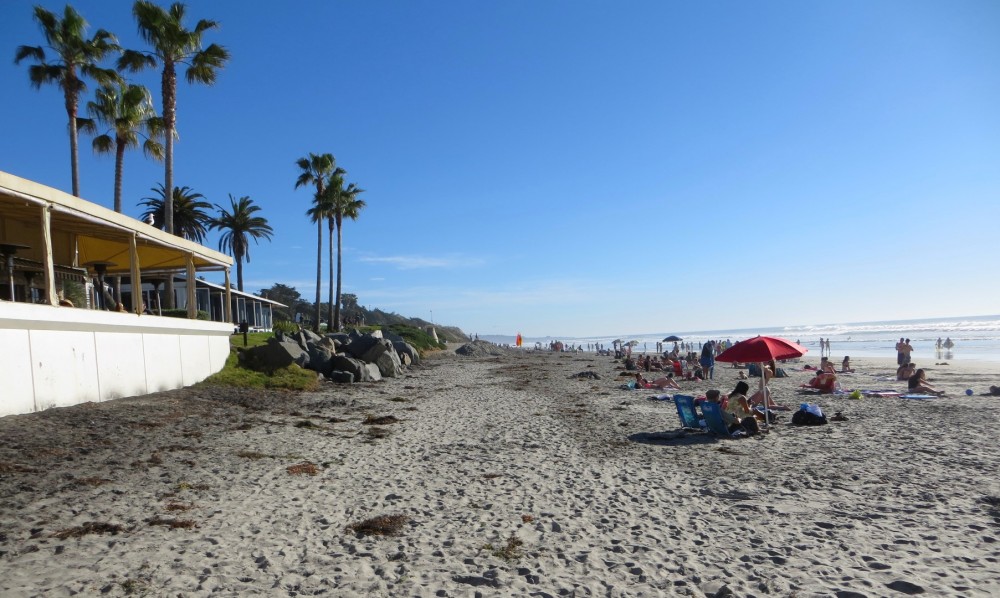 Del Mar City Beach
Del Mar City Beach North starts at 15th Street/Powerhouse Park and runs all the way to Dog Beach. This is definitely our pick for the best and most family-friendly beach in Del Mar. It is known for its good swimming, intermediate surf, and easy access at every block. Parking can be difficult on weekends, but you will usually have some luck if you go a block or two south to the residential areas.
Get an early start to enjoy this beautiful beach for the entire day; bring a picnic and then watch the sunset. Note that at high tide the beach can be narrow — if you walk south from Powerhouse Park you will be on South Beach tucked below steep colorful eroding bluffs.
Parking can be a challenge, especially during the busy spring and summer months. Street parking in commercial (usually metered) and residential neighborhoods are your best bet. There are a few parking lots available in downtown Del Mar's shopping district, but be watchful of signs for spots reserved for patrons of restaurants and shops. Metered parking is also available, so be sure to bring plenty of quarters!
Popular activities at this Southern California beach include swimming, sunbathing, beach walking, picnicking, and surfing. The water is usually calm enough to swim here, and there is always a lifeguard on duty. Jogging and bicycling along the coast, south of 15th Street, are also quite common, as is volleyball. Sunbathing is best at the Del Mar City Beach around 17th Street.
Amenities here include a large grassy park, picnic tables, a kids' playground and play area, a lifeguard tower, restrooms, and several benches.
Directions to Del Mar City Beach: From freeway I-5 exit Del Mar Heights Road or Via De La Valle and head west. Del Mar Heights leads to the south end of Del Mar at Pacific Coast Hwy and 4th Street; Via De La Valle meets Pacific Coast Hwy on the extreme north end of Del Mar at the Rivermouth. To find the main Del Mar City Beach area, follow the Coast Highway to the intersection of 15th Street and Coast Boulevard, midway between these two points. All of Del Mar's beaches are named after its numbered streets, so finding any specific spot referred to here is as simple as locating the same street.
The dog policy here is somewhat strict compared to North Beach (Dog Beach). Dogs are not allowed at all from June 16th through Labor Day, but they are allowed leashed from the day after Labor Day through June 15th.
Powerhouse Park: Right above this sandy beach, you'll find Powerhouse Park. This is a great place to start your day in Del Mar: you'll find public restrooms, picnic areas with tables and benches overlooking the ocean, and a large children's playground. You'll also find a snack shop and several restaurants walking distance.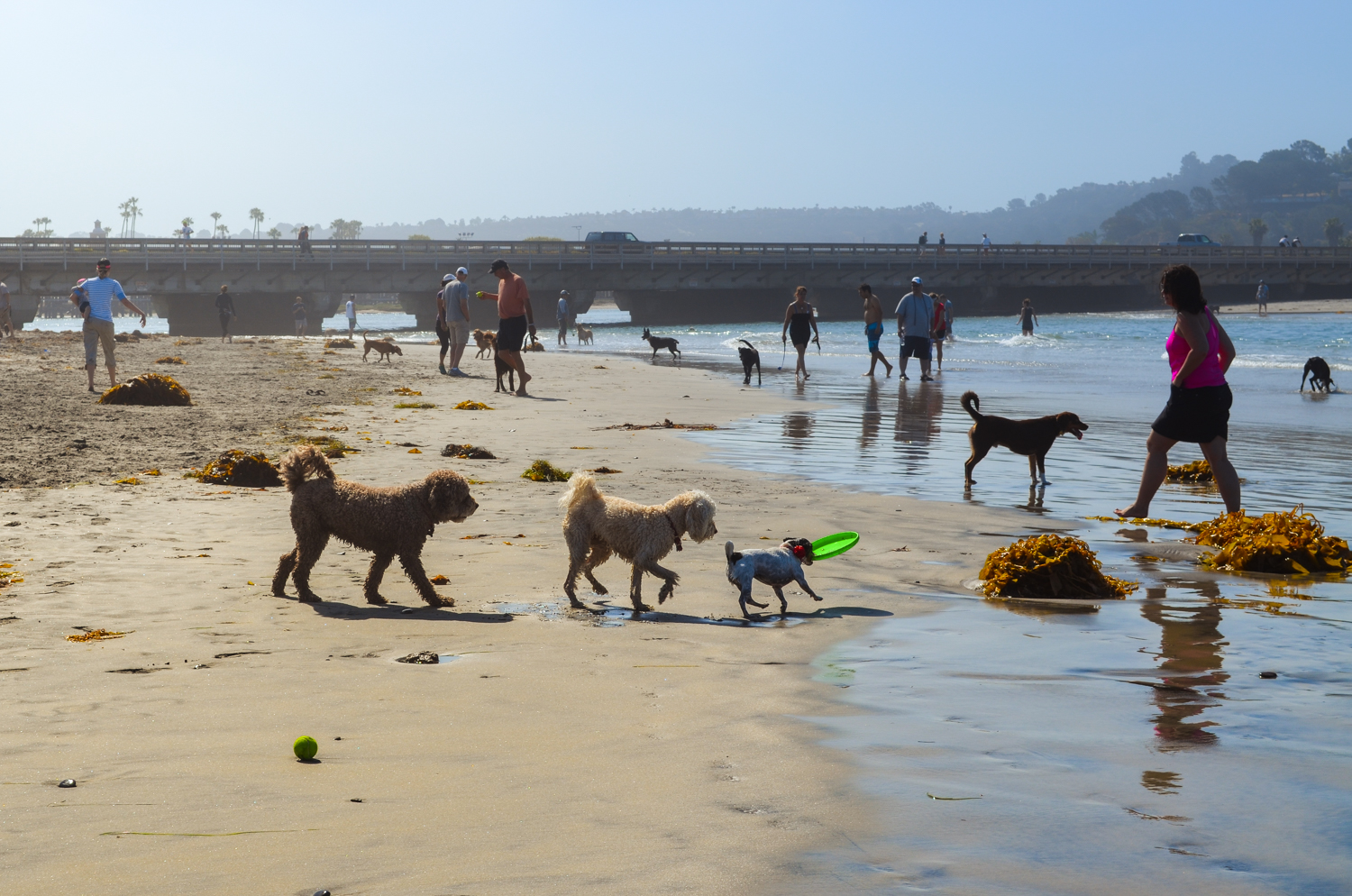 Del Mar North Beach (Dog Beach)
Del Mar North Beach, affectionately known to locals as Dog Beach because of its lax dog policies, runs from 29th Street north all the way to Solana Beach. Dogs can run freely all along this beach, except during the summer months (between June 16 through Labor Day), when they must be on-leash. Dog beach extends north for nearly ½ mile, and includes the area around the mouth of San Dieguito River.
The main part of this beach is on the north side of the San Dieguito River Lagoon entrance next to Camino del Mar. There is a short hiking trail that leads up to an overlook at James Scripps' North Bluff Preserve, above North Beach, and is definitely worth exploring.
Parking is all free street parking along Camino Del Mar, behind the beach, as well as at 29th Street.
Popular activities at this beach include volleyball (there are usually several volleyball courts set up in the wide flat part of the beach), surfing (surfers can find breaks on sand bars near the river mouth and reefs north of it), dog walking, and fishing.
Amenities at this beach include volleyball courts, hiking trails, a beach overlook, lifeguard tower, and restrooms.
Directions to North Beach: Del Mar North Beach is located at 3200 Camino Del Mar. From freeway I-5, exit Via de la Valle and head west. Turn left onto Camino Del Mar, and the beach will be a little ways up on the right side. Look for parking anywhere on the street or a block north.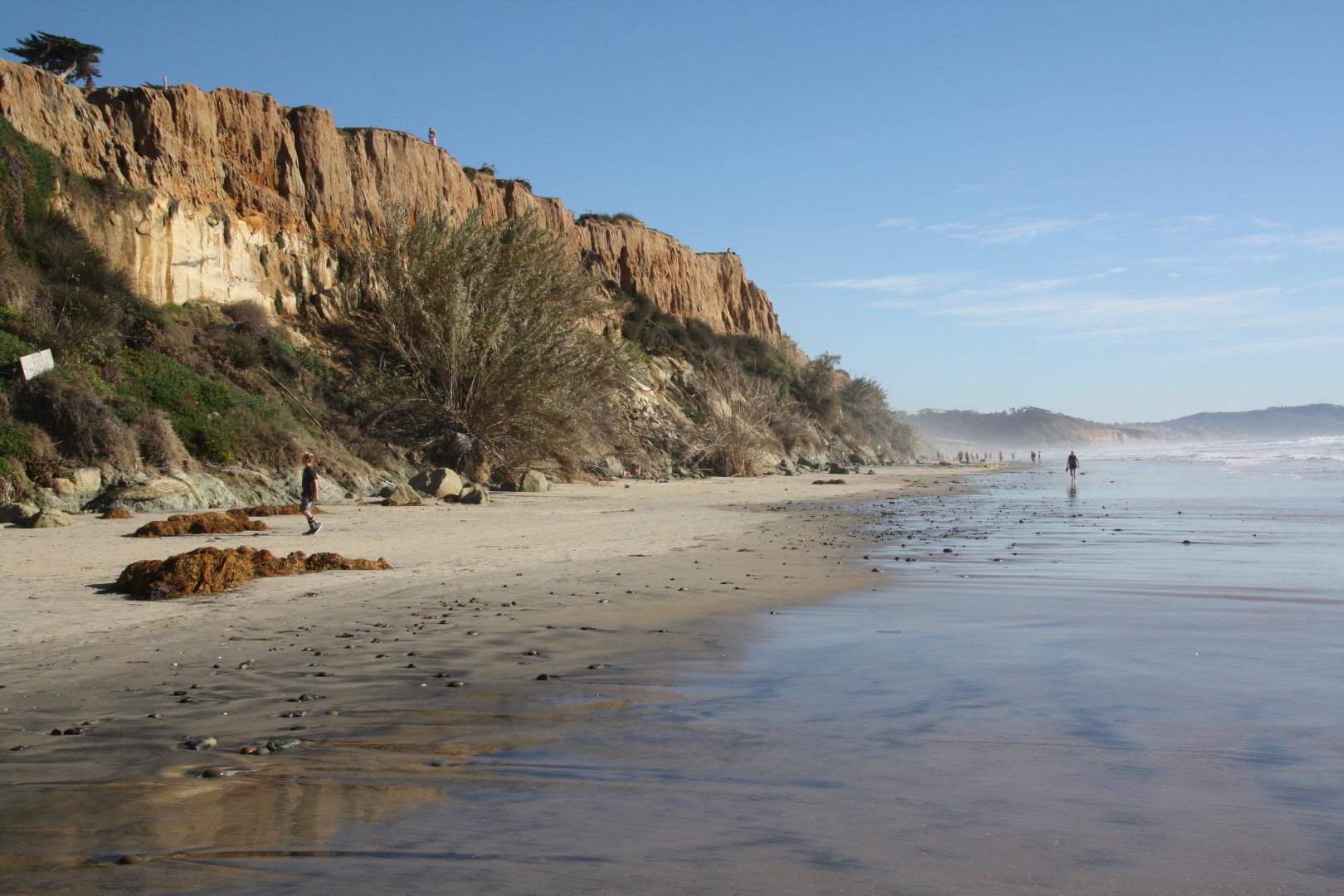 Del Mar South Beach
South Beach in Del Mar runs from the south of Powerhouse Park all the way to 6th Street at the north end of Torrey Pines State Beach. This beach is less popular than Del Mar City Beach, but is a common area for locals to walk along the beach at low tide or up on the cliff walking trails high above the sea near the train tracks. South Del Mar Beach can be narrow at high tide which can put a damper on sunbathing and other beach activities here.
Parking can be found near Powerhouse Park or Seagrove Park. There is also free parking on the street near the west end of 13th through 6th Streets, but you'll have to cross the railroad tracks and then find a route down the steep cliffs to the beach. The safest route down the bluff to the beach is at 11th Street, but it's easy to park at any of the numbered streets and walk along a dirt path next to the railroad tracks to get there.
Popular activities at this beach include sunbathing, beach walking, beachcombing, and surfing.
There are few amenities at this beach, but there is a trail and a small grassy park above the beach at Seagrove Park.
Seagrove Park is a beautifully landscaped park with benches and unobstructed views of the Pacific Ocean, which is perfect for whale watching season from December through April. There are public restrooms here, and do note that they close just before dark.
Directions to Del Mar South Beach: South Beach is located at Stratford Ct & 11th Street in Del Mar. From Freeway I-5, exit Del Mar Heights and head west. Turn right onto Camino Del Mar. Look for residential street parking near 11th Street or 13th Street, and find access down to the beach via the trail at 11th Street.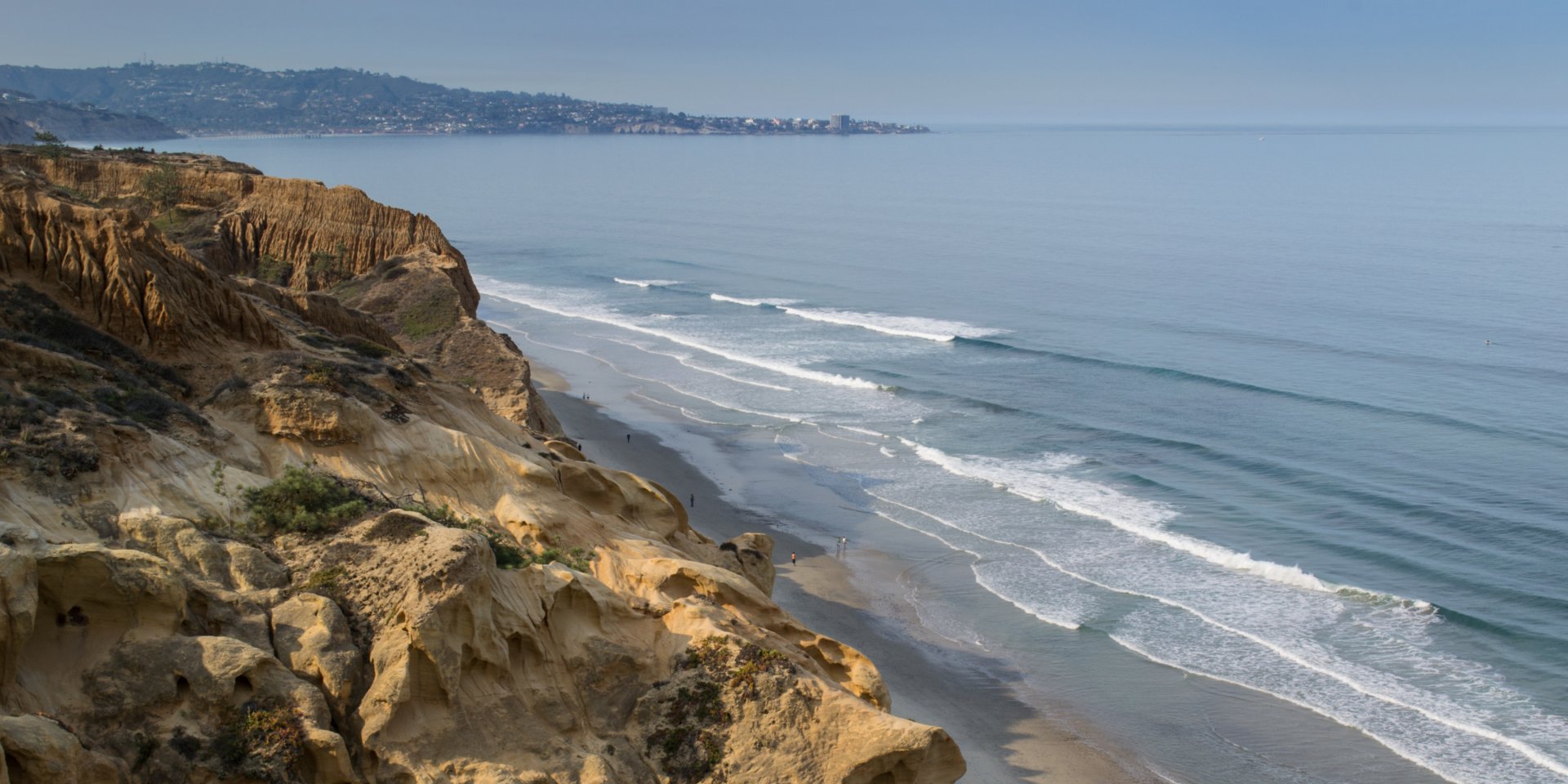 Torrey Pines State Beach North
North Beach at Torrey Pines State Beach is on the north side of the lagoon entrance at Los Peñasquitos Marsh Natural Preserve. Like Torrey Pines South Beach across the marsh entrance channel, the North Beach has a large parking lot with easy access and nice facilities.
When the water is deep enough you can swim in the saltwater at the channel, but it's often hardly a trickle; just deep enough for children to splash around in. When conditions are safe, you can play in the surf here too, but the waves can be high and are often better suited for surfing. There are lifeguards on staff in the summer months. Torrey Pines State Natural Reserve is on the hill above the beach and has hiking trails to many great vista points. The downtown area of Del Mar is just a few minutes' drive north.
Parking can be found in a large parking lot to the east of the freeway which can be used for a fee or if you have a California State parking pass. Public parking can be found at the bottom of the hill along Torrey Pines Rd. next to the beach (there are several designated parking spaces, but they fill up quickly).
Popular activities here include bird watching, hiking, fishing, swimming, surfing, sunbathing, and beach walking.
Amenities at this beach include a lifeguard tower, public restrooms, and public showers near the parking lot.
Directions to Torrey Pines State Beach North: From the I-5 freeway exit Carmel Valley Road and head west to Torrey Pines Road south (aka Pacific Coast Highway). Look for roadside parking along the southbound shoulder of PCH, or find the North Beach Parking Lot and pay a small fee. You can then walk across over to the beach.
Tip: While there is a lifeguard tower here, there is no permanent lifeguard supervision anywhere below the bluffs at Torrey Pines. Lifeguards will sometimes be present, but it is often a swim- at-your-own-risk zone and the area can be known for powerful surf and strong currents. Exercise caution when you are swimming here, especially with small children.
Looking for more beach options in San Diego? Visit our complete guide to the beaches at Encinitas, or browse our picks for the top La Jolla beaches!