The Best Halloween Stores in San Diego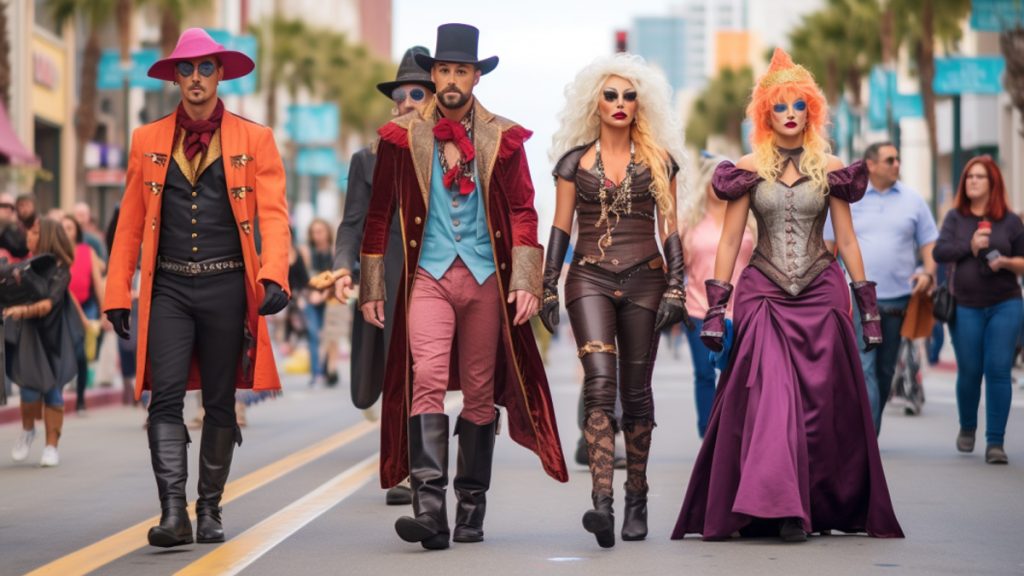 "Darkness falls across the land. The midnight hour is close at hand. Creatures crawl in search of blood, to terrorize y'all's neighborhood…."
You might be familiar with this classic line narrated by Vincent Price in Michael Jackson's "Thriller."  It's a delightfully ghoulish tone to set the mood for Halloween. But maybe creepy or spooky isn't your scene. Not to worry. Halloween stores in San Diego are ready to help you with all your costume needs, no matter how you celebrate the season in your neighborhood. 
Halloween Stores in San Diego by Neighborhood
Are you looking for the perfect red nose to complete your clown costume? Or maybe you need a dashing hat to boost your swashbuckling pirate look. Perhaps you're on the hunt for cauldrons, streamers, and smoke machines to create a smashing ambiance for your Halloween celebrations in San Diego. Whatever your costume or decoration needs may be, Halloween stores in San Diego can cater to your every whim.
Halloween Stores in North County San Diego
North County might be known for its stellar beaches and knockout hiking, but in terms of costume stores in San Diego, this area dishes out some mighty fine delights. Whether you're browsing for inspiration or on the hunt for a flawless flourish to finish off your party frock, read on.
Flashbacks (North County Locations)
As their storefront name implies, Flashbacks is the bomb for bygone, hip trends, but they also offer contemporary styles. Flashbacks specialize in recycled clothing and accessories, making this funky haberdashery a must-see for your dress-up demands. If you're looking for Halloween stores open year round in San Diego, look no further than Flashbacks for any kind of costume, accent, or outfit. With a location in Carlsbad and another store in Encinitas, your wardrobe will never lack the perfect costume or flashy, fun fashion again.
Encinitas: 576 S. Coast Hwy. 101, Encinitas, CA 92024
Phone: (760) 632-2658
Hours: Wed – Sun 10 a.m. – 7 p.m.
Closed Mondays & Tuesdays
Carlsbad: 570 Grand Ave., Carlsbad, CA 92008
Phone: (442) 333-9308.
Hours: Thurs – Sat 10 a.m. – 8 p.m.
Halloween Stores in Hillcrest
Hillcrest is the perfect host for carefree fun when treasure-hunting through various Halloween costume stores in San Diego. Make a day out of collecting party goods and outfit accessories while also enjoying Hillcrest's many attractions. After a jaunt to Balboa Park, savor a craft beer at one of Hillcrest's taverns and then mosey into these ginchy Halloween stores in San Diego.
Buffalo Exchange (Hillcrest Location)
You can absolutely crush a costume that nobody is going to replicate at Buffalo Exchange. Specializing in new and recycled fashion, this store has unique offerings you won't find anywhere else. Their two store locations do stock gently used costumes, but they also have a slew of other on-point fashions to spruce your outfit any day of the year. Buffalo Exchange is also a gem if you're on a budget so that you can be thrifty and chic at the same time.
Hillcrest: 3862 Fifth Ave., San Diego, CA 92103
Phone: (619) 298-4411
Hours: Mon-Sat 11 a.m. – 8 p.m., Sun 11 a.m. – 7 p.m.
Flashbacks (Hillcrest Location)
The beauty of Flashbacks is their commitment to repurposing materials into dazzling vintage and contemporary style attire. The owners take pride in upcycling, and their shop is in constant flux with fresh threads. With an ever-changing inventory and two other locations in addition to their Hillcrest store, you're bound to find the bling, bolo tie, or bell-bottoms to add to your glam.
Address: 3849 Fifth Ave., San Diego, CA 92103
Phone: (619) 291-4200.
Everyday Hours: 10 a.m. – 7 p.m.
Halloween Stores in Pacific Beach
Whether you're hanging ten on your surfboard or strolling down the boardwalk, Pacific Beach has loads of exciting attractions, including some of the best costume stores in San Diego. Pacific Beach is home to these unique boutiques that can transform your look for Halloween or any occasion.
Buffalo Exchange (PB Location)
If you have caviar taste but are low on coins, Buffalo Exchange is the place to shop. The nifty thing about this shop is that they offer gently used costumes, as well as clothing and accessories. They also accept trade-ins. So raid your closet before you go and trade your old duds for a new costume that will stun party-goers at your next Halloween celebration.
Address: 1079 Garnet Ave., San Diego, CA 92109
Phone: (858) 273-6227
Hours: Mon-Sat 11 a.m. – 8 p.m., Sun 11 a.m. – 7 p.m.
Mileage
This sweet boutique offers a feast for your fashion-forward cravings. Mileage offers a dizzying selection from sexy Halloween costumes, wigs, shoes, makeup, and more. If you're looking for something quirky, eccentric with an aim to distinguish yourself from the crowd, then Mileage could be the perfect Halloween store in San Diego County for you.
Address: 951 Garnet Ave., San Diego, CA 92109
Phone: (858) 581-1285
Hours:
Mon – Sat: 12 – 7 p.m.
Sun: 12 – 6 p.m.
Halloween Stores in La Mesa
Known as the "Jewel of the Hills," La Mesa is certainly glittering with opportunities for assembling your show-stopping costume for Halloween. La Mesa was a forerunner in movie-making in the 1913s, so it's got a special love for theatrics and flair you'll enjoy while shopping for your next glam look.
Gypsy Treasure
For over 40 years, Gypsy Treasure has served up costumes, props, makeup, and more to folks fiending for that over-the-top look. They are one of the few Halloween stores open year round in San Diego. They specialize in finely crafted, hand-made, bespoke costumes. So if you're looking for something more personalized and not popped out of a box, Gypsy Treasure is a goldmine for distinctive costume garb.
Address: 5500 Grossmont Center Dr., La Mesa, CA 91942
Phone: (619) 466-2251
Hours:
Mon – Fri: 10:30 a.m. – 6 p.m.
Sat: 10:30 a.m. – 5 p.m.
Sun: 10:30 a.m. – 7 p.m.
Halloween Stores in San Ysidro
With its bodacious beaches and plentiful parks, San Ysidro attracts visitors young and old all year round. San Ysidro is a melting pot of cultural celebrations and festivals, including Halloween and Día de Muertos as the southernmost destination in San Diego before reaching the Mexico border. It's also a great place to shop for theme costumes.
Disney Store
If your family plans to attend any Halloween events in San Diego for kids, the Disney Store may be the ideal stop for your child's costume. And when your kid wishes upon a star, the Disney Store can make their dreams come true with a fabulous outfit. They offer pretty princess dresses fashioned after beloved Disney characters such as Sleeping Beauty or Cinderella. Or maybe the kiddos want to be a hero for the day by sporting a Captain America or Spider-Man costume. All kinds of Disney character costumes are available that will surely make memories for the whole family.
Address: 4321 Camino De La Plaza, San Diego, CA 92173
Phone: (619) 428-2174
Hours:
Mon – Sat: 10 a.m. – 8 p.m.
Sun: 11 – 7 p.m.
Party City and Pop-Up Halloween Stores
Halloween stores in San Diego run the gamut of sizes, selections, tastes, and styles from extravagant to budget-friendly. Here are a few stores located throughout San Diego that will surely meet your costume and party needs.
Halloween Express
Arguably one if not the biggest Halloween store in San Diego, this pop-up warehouse is bound to have you sitting pretty for all your spooky holiday activities. From trick-or-treating needs to jack-o-lantern kits, Halloween Express has you covered. Choose from a mind-boggling array of costumes, decorations, Halloween lawn ornaments, and so much more. They have costumes for people and pets of all ages and sizes and a stunning selection of themes and props from which to choose.
Party City
Party City really kicks up its heels during the Halloween season. This party-hardy costume treasure trove is a well-known stop for birthday decorations, wedding invitations, and themed festivities. From giant tombstones to spooky spider party favors, they have an assortment of choices that will have your Halloween hopping. Party City might be a good choice for outfitting kids because they offer kid-friendly decorations, costumes for babies, toddlers, and kids of all ages. And don't think you're left out because they have a great variety of budget-friendly costumes for adults too.
Rio San Diego Plaza: 8330 Rio San Diego Dr., San Diego, CA 92108
Phone: (619) 295-4200
Hours:
Mon – Fri: 10 a.m. – 8 p.m.
Sat: 9 a.m. – 8 p.m.
Sun: 10 a.m. – 6 p.m.
Loma Square: 3309 Rosecrans St., San Diego, CA 92110
Phone: (619) 523-9200.
Hours:
Mon 8 a.m. – 8 p.m.
Tues & Wed 10 a.m. – 7 p.m.
Thurs & Fri 9 a.m. – 11 p.m.
Sun: 10 a.m. – 9 p.m.
Spirit Halloween
From positively putrid to princesses in pink, Spirit Halloween is a pop-up store that is bound to have a costume, accessory, or decoration to fit you or your child's personal preference. They are on-trend with the latest superhero outfits and newest movie character costumes. Spirit Halloween also carries a myriad of impressive animatronics as well as unique collectibles. With many different locations throughout San Diego, Spirit Halloween may be your best bet in terms of convenience and variety.
Halloween City
These Halloween stores in San Diego are a subsidiary of Party City. While they offer similar items, Halloween City specializes in unique needs for Halloween party-goers and trick-or-treaters alike. Halloween City is not yet open as of this writing but should be ready by the time Halloween gets in full swing. In the meantime, avoid the crowds and get Halloween-ready by shopping their spooky wares via their online store.
Hot Topic
If you want to go a little unconventional route, then Hot Topic might be just your scene. While not touted as an exclusive Halloween store in San Diego, Hot Topic does have some quirky offerings that might make your costume over-the-top. They have a fun, punky, young vibe and carry band merchandise, hip threads, cool bling, all of which you could convert into a crushing counter-culture costume.
Buying vs. Making Custom Costumes
If you're flummoxed about whether or not to buy or make your costume, consider your objectives. For example, if you're yearning for something out-of-this-world from a concept that you've conjured in your mind, then your best bet is to design your outfit. Furthermore, if you want to wear a costume for a specialized event such as ComiCon, you might not find the ideal outfit off-season, so you may consider making your own.
However, if you don't have the time or talent to make your own, then these Halloween stores in San Diego can surely accommodate your needs within your budget. Remember that even if you're buying a pre-made costume, that doesn't mean you have to skimp on originality. Many of the stores listed here provide unique touches that can give you the individuality you crave for your one-of-a-kind costume extravaganza.
Supplies You Need to Make a Great Costume
Your only limitation to making a great costume is your imagination. Well, your budget might play a factor too. However, with just a few simple supplies and a few added accessories from the various costume stores in San Diego listed here, you can make a wicked-awesome getup.
Many common supplies to make a great costume are likely lying around your home: such as thread, scissors, fabric, glue, and glitter. You can create something magnificent by rummaging through your closet too. A few snips and a bit of sewing can transform everyday blah into 'ta-dah!' Also, added accessories such as chains, makeup, scarves, or props can make a brilliant final touch on your homemade costume.
Child-Appropriate Costumes and Parties
While many adults love a good Halloween party, most might agree that this is a special time for kids to laugh, play and enjoy. That said, some costumes are more appropriate for kids than others.
For example, little tykes do best with simple options such as dressing up as their favorite movie character, and that's when the Disney Store mentioned previously might be the perfect solution for your kid's favorite costume. Other costume options for kids might include dressing up as their beloved animal, going as a cowgirl or cowboy. And remember, you can't go wrong with the classics like a ghost, witch, or zombie!
Halloween parties are something almost every kid looks forward to, and many parents are opting for themed parties over trick-or-treating in the neighborhood. If you're thinking about throwing a party for your child to frolic with other ghosts and goblins this Halloween, explore your different options.
For instance, you might elect to have a themed party. Let's say your kiddo is nuts about Aquaman. Why not bedeck the party grounds with Aquaman-themed decorations, finger foods, activities, and music? Or perhaps you want to keep it old-school for your kid. In this case, stick with the classics like cobwebs, witches brew and play creepy soundtracks. Toss in a few spiders and a dancing skeleton in the mix, and your child will be wide-eyed with ghoulish glee!
Last Word About Halloween Stores in San Diego County
It doesn't matter if you go traditional or get wild this Halloween. The point is to cut loose and have some fun. This time of the year allows kids, adults (even pets) to dress up and don a completely different personality. Thankfully, the best Halloween stores in San Diego are available to assist you with your every costume and celebratory need.
Media credits: Except where otherwise noted, images copyright LaJolla.com.