Ultimate Guide to the Best Beaches in La Jolla in November 2023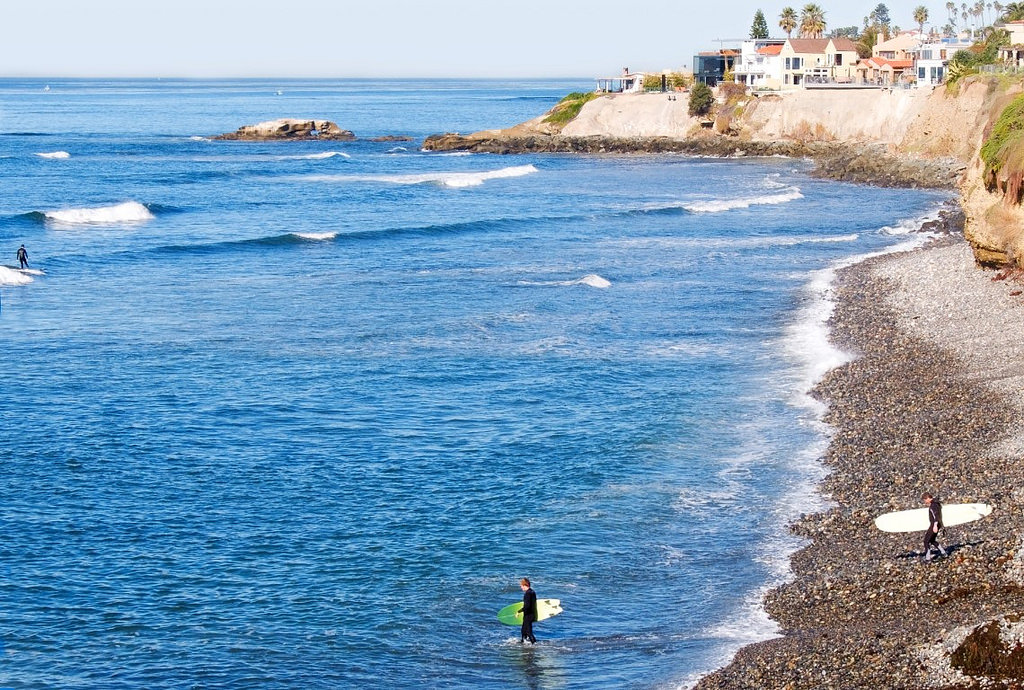 The La Jolla coastline is nothing short of wondrous. Its miles of sandy shores along the Pacific Ocean are divided up into several of the best beaches in San Diego, each with its own personality and benefits.
After countless hours of beach exploration and research, we've put together the ultimate list of "The Best of La Jolla Beaches." No matter what activity you want to conduct on the San Diego shoreline, we want to make sure you get to the right spot.
Best for Surfing:
Windansea Beach & Black's Beach
Celebrate the Southern Californian passion of surfing at this La Jolla beach!
Windansea Beach is local favorite and isn't recommended for beginners, but it's known as one of the best surf spots in San Diego. The secret is not just knowing where to go, but when! The variety of reef formations around the Windansea and Bird Rock areas, just south of downtown La Jolla, create conditions that are difficult to predict. The waves vary with the tides and best left to be surfed by advanced surfers who know them well. Look for the famed Windansea Surf Shack here; it's a local staple and gets rebuilt every summer with palm fronds from nearby trees.
Black's Beach has been a prime surf spot since the '60s, when it was discovered by four famous pro-surfers. The submarine canyon directly offshore funnels extra-powerful waves onto the beach, making this another spot for more experienced surfers.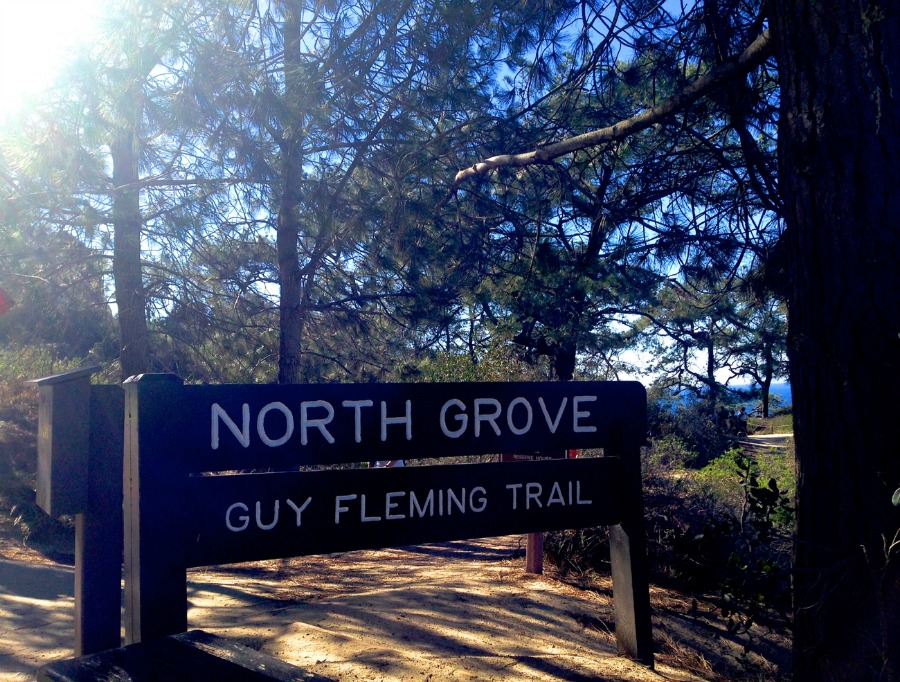 Best for Hiking:
In the northernmost part of La Jolla, Torrey Pines State Reserve sits tucked away behind Torrey Pines beach. It is a large reserve, filled with trails, beautiful Torrey Pine trees, plenty of wildlife, and an unparalleled ocean view. The staggering cliffs are home to six trails that vary in difficulty; do just one, or complete them all for a serious workout!
For those who want to truly feel the burn, hit the Guy Fleming Trail for its intense hill climb. If you're looking for something a little less strenuous, try out the easier Razor Point Trail for a 1.3-mile adventure and the Beach Trail for a path that lands you directly on the sand (one of our favorites and definitely the most popular trail at Torrey Pines). Make a day of it and grab a picnic — check out our complete one-day itinerary for Torrey Pines here.
Directions to Torrey Pines Beach: Located just north of La Jolla along historic Highway 101. Since it's owned by the state park system, there is a day use fee for using the parking lot. Fees are paid at the South Beach kiosk where there is a small parking lot as well as the parking lots at the top of the mesa in the park. You may also find free parking along Highway 101.
Black's Beach
If you're looking for a more difficult, strenuous hike, try Ho Chi Minh Trail down to Black's Beach. It's a well known "surfer's trail," and has guided San Diego swimmers and surfers alike down to its sandy beach for decades. This is a lovely trail that makes for some epic views of the shoreline on the way down — but it will definitely test your endurance! Always exercise caution here, especially after it rains; the mud and rocks can get quite slippery. This La Jolla Beach trail is recommended for more experienced hikers and isn't ideal for younger children or those with disabilities.
5 La Jolla Hikes That Aren't Torrey Pines
Best for Families:
Children's Pool
True to its name, Children's Pool is a great place for children who are new to swimming. The seawall creates a calm grotto without waves or a big tide. You can even try scuba diving with older kids and teens. Those who prefer to stay dry can explore the ever-popular Sunny Jim Sea Cave. An added bonus is always the adorable seals and sea lions, but please respect their habitat and stay a safe distance away from the sea life. Here are some helpful tips when visiting the La Jolla Cove seals.
Directions to Children's Pool: 850 Coast Blvd, at the end of Jenner Street. You'll see a long seawall and steps down to the beach.
Parking at Children's Pool: Street parking is your best bet; most are timed for two hours, but you might get lucky with an untimed spot in one of the adjacent neighborhoods.
Families with young children want to make sure they're going to one of the beaches in San Diego with calm surf, lifeguards, room to picnic and, of course, bathroom and shower amenities. These can all be found at La Jolla Shores! As an added bonus, there's a big playground at the adjacent Kellogg Park, complete with a big grassy area and plenty of activities for the younger ones. Because this is such a wide, open beach, the waves never get very big which makes it an excellent choice for families.
It also makes it a fun spot to try surfing or stand-up paddle boarding—unlike more advanced areas like Windansea Beach, the surf is pretty predictable here. There is always a lifeguard on duty (from morning until sundown). If you're in the mood for roasting some marshmallows, there are several fire pits here; plan a great day out with the family at a beach bonfire with our helpful guide. You can even stay on the shores—the La Jolla Shores Hotel and La Jolla Beach and Tennis Club offer luxurious accommodations and dining with an incredible ocean view. Staying at the Beach and Tennis Club even guarantees access to a private stretch of beach.
Directions to La Jolla Shores: 8200 Camino Del Oro, La Jolla. The easiest way is from Torrey Pines Road and a right onto La Jolla Shores Drive. There is a small parking lot at La Jolla Shores park, but there is also some street parking in nearby neighborhoods.
Best for Tide Pools:
Shell Beach
Exploring the coastal tide pools is one of the most popular activities in La Jolla, for people of all ages. Although there are several spots in San Diego to go tide pooling, Shell Beach boasts a colorful array of sea anemones and sea stars all within an easy-to-access area. It provides the opportunity to experience the beauty of aquatic life, without having to dive underwater or pay an aquarium fee!
How to get to Shell Beach: This beach is located at the intersection of Coast Blvd. and Ocean Lane; at the south end of Ellen Browning Scripps Park at La Jolla Cove. You'll see a long set of stairs that takes you from the grass park down to the sand at Shell Beach.
Wipeout Beach
From here down to Hospital Point lie some of La Jolla's best and most active tide pools. They are a bit more off the beaten path and tucked away, which means there are almost always fewer crowds — a bonus if you really want to experience some wildlife. Here, you'll also spot those round, curved little pools that are so popular to photograph and put on Instagram! Go here for some tips on tide pooling and info about what you might see at this beautiful beach.
Always wear close-toed shoes that you don't mind getting wet when adventuring to the tide pools. The surf is unpredictable, even at low tides.
How to get to Wipeout Beach: 745 Coast Blvd. It's a sandy beach south of Children's Pool, along Coast Boulevard.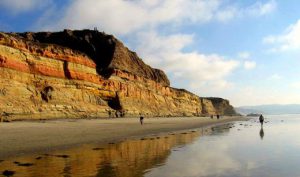 Best When in the Mood for Something to Write Home About:
Feel like you're in Europe without leaving the country by coming to Black's, America's first legal nude beach. Whether you bare it all or not, it's a great place to watch some great surfing or just relax. It also has a super interesting history — impress your friends with your San Diego beach knowledge!
There are a few different ways to get to Black's Beach. While some routes are easier than others, each does involve a steep climb and/or stairs. You can walk along the beach from La Jolla Shores, which is only an option during very low tide; you can hike down from the Torrey Pines Glider Port parking area; or you can walk down Salk Canyon Road, from La Jolla Farms (right across the street from University of California-San Diego). Decide which route is best for you before you go, and make sure you know how to get there.
Once you do make it down to the beach, you won't be disappointed! A long stretch of sand plus gentle waves that are easy to swim in makes this a truly lovely area to spend the day.
Directions to Black's Beach: 2800 Torrey Pines Scenic Dr. There are four different hikes down to the beach; for details go here.