Is Salt Water Good for Skin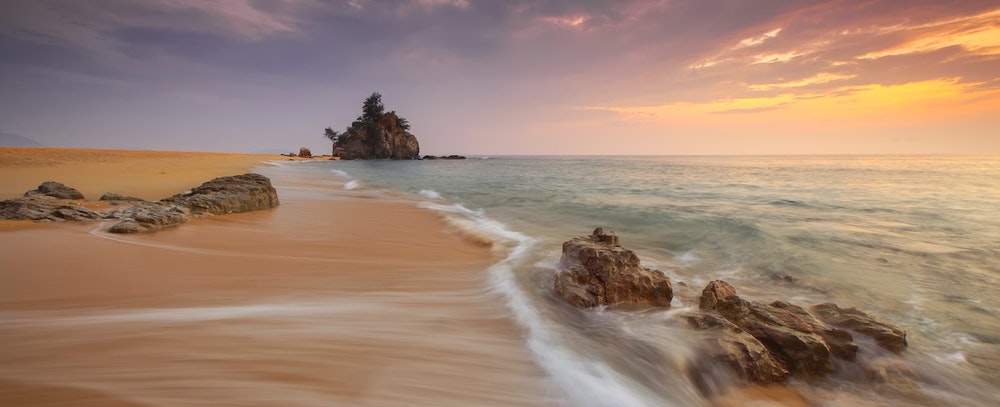 We all know fresh, good quality water is essential for health, but what about salt water? Sea salt shows up in all sorts of different products these days. You may have first seen it in products like bath soaks or body scrubs. From there, sea salt has since migrated into everything from hair sprays and beachy scents to granola and chocolate. But is salt water good for skin? Doctors will warn you about putting more salt into your body, but sea salt can be extremely beneficial to your skin.
Shop La Jolla Artwork
Benefits of Salt Water On Your Skin & Body
How is salt water good for skin when tap water is usually not? When it comes to salt water benefits, the positives of salt water far surpass anything you might feel you derive from the shower or bath. For one, tap water often contains additives that may dry out or damage your skin. Salt water benefits may do the opposite and may even provide healing properties. So before you pooh-pooh what your grandma says about her days at the beach and how good it was for her skin, consider these points that have proven positive effects of salt water on the body.
Natural Cleanser
So how is salt water good for your skin? Using salt water products can act as a salt water detox — not only for your face but the entire expanse of your skin. Salt absorbs and can draw impurities out of your skin. When used as an exfoliating agent, sea salt can help scrub away old skin cells and rejuvenate your skin tone. Salt water benefits for skin also include tightening pores and acting as a cleanser to remove oil, leaving your skin feeling fresh and bright.
Clears Acne
When asking yourself if salt water is good for skin, consider this: using a cleanser with salt water may help clear acne issues. Saltwater contains naturally occurring minerals like potassium and calcium, which can help clear up many issues with your skin and dry out acne-causing bacteria pockets, all while keeping your healthy skin looking vibrant. Sea salt also helps exfoliate dead skin cells off of your body. This natural exfoliation means less debris hanging around to clog your pores. Consider following up saltwater treatments with a nutrative collagen serum, which is highly hydrating and can help reduce acne flare-ups.
Gentle Exfoliant
Is ocean water good for your skin? One of the most commonly used benefits of salt water for skin is the exfoliating power. Sea salt scrubs have been around for ages due to their multiple benefits. In this case, how is ocean salt water good for skin? The gentle exfoliating provided by the tiny salt particles can increase blood circulation, open your pores, and scrub off old skin cells. These salt particles allow for moisturizers to be absorbed more thoroughly and may also help rid your pores of bacteria. Plus, you can't beat the good clean look and feel that your skin has after a good exfoliation.
Treat Skin Conditions
Salt water is good for skin, and using salt water in products is not just a passing beauty trend. There have even been evidence-based scientific reviews of the benefits that sea salt and saltwater may have on your skin. These studies showed that saltwater use for skin conditions could reduce inflammation, allergic reactions and even help calm eczema. So when questioning is salt water good for skin, you now have evidentiary proof! Do something good for your skin and body while treating yourself to a pampering day, whether at the beach or home.
Alleviates Dandruff
You may not struggle with dandruff, but as many as one in every five people do, and salt water may help shrink that number. An often overlooked benefit of sea salt and salt water is that you can use them on your scalp to soak up excess moisture, reduce dandruff flakes, and help promote circulation. Give that anti-dandruff shampoo with all the harmful additives the boot, and use a natural product on your natural skin instead. Or just head to your next in line of ocean adventures, and let nature do the work for you. Another reason to shout ocean salt water, good for skin!
Softens Skin and Hair
If you love your days at a great San Diego spa and the ways they make your skin and hair feel amazing, you may be surprised to learn that salt water benefits may provide some of the same nourishment for your body. Exfoliation, added minerals, and moisture-absorbing properties you can earn with a quick dip in the sea. Or, of course, the hundreds of products available made with salt water and sea salt that can give you a great spa day at home.
Keeps Your Body Hydrated
With the correct amount of exposure to the ocean, salt water can increase the level of hydration in your skin. We all know that it can be deadly to ingest sea water, but having moderate soaks at your local beach may help increase hydration in your skin by opening pores, balancing natural oil levels, and exfoliating. So is salt water good for skin? Go, take a swim, and report your findings.
Draws Out Toxins
Another of many salt water benefits for skin is drawing out toxins by opening your pores and exfoliating your skin. The minerals that naturally occur in salt water can help dry up acne and other problem-causing bacteria. By opening your pores and exfoliating away dead skin cells, salt water may help prevent many skin issues caused by toxins in your pores. Just make sure you aren't spending too much time in the sea. An overly excessive amount of exposure to the sun, sand, and salty waves can dry out your skin and hair.
Experience the Benefits of Salt Water
While San Diego tap water is a necessity, it doesn't beat sal water for the benefits we've mentioned here. Salt water and sea salt have long served as remedies for skin issues and healing agents for wounds. While salt water may not make that cut feel very good, the benefits of salt water and sea salt-inclusive products have been proven — even by scientific studies! — to be positive for your skin. Get your salt water the old-fashioned way if you can, but don't miss out on great salt water products available for beachgoers and landlubbers alike. A beachy complexion and healthy, glowy skin is just a salt spray away.
About the author: When not hiding behind a laptop, Cara Becker can be found asleep or exploring the wide world of interesting things, like how to bake the perfect cheesecake and where to find the best waterfalls. If you're interested in exploring a food you've never tried or learning a word you don't know, please share your wisdom with her on her LinkedIn profile.
Shop La Jolla Artwork