How to Enjoy a Beach Bonfire in La Jolla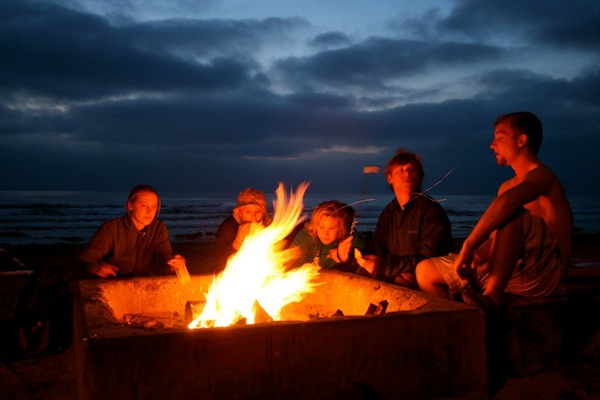 There's nothing quite like a bonfire on the beach; especially a La Jolla bonfire! They are a great way to enjoy the beach any time of year. Unfortunately, they are not legal on all beaches in La Jolla, and the ones that do allow them still have some strict regulations. We've picked out which beaches in San Diego allow bonfires and broken down everything you need to know about enjoying a La Jolla bonfire!
Shop La Jolla Artwork
Before You Go
Before you head to the beach, it's a good idea to prepare!
Pick up some wood or charcoal to burn in the fire pit (burning anything else is prohibited)
Pre-bonfire picnics are popular, as well as (of course) s'mores!
Don't forget gloves — they'll come in handy when you're handling wood or hot coals
Prepare to arrive very early to secure your fire pit
Read up on other safety guidelines outlined by the City of San Diego
Also, plan on how you're going to dispose of the coals or burned material once you're done. The remains of clean, untreated wood do not have to be removed from your fire pit, but coals in other containers should be deposited in receptacles specifically marked for hot coal disposal. Dumping coals in a regular trash can could result in a fire.
And one last tip: Check out our monster article about How to Throw an Epic Beach Party in San Diego!
La Jolla Shores
There are 6 fire pits available at La Jolla Shores, and they are available on a first come, first served basis. They do fill up quickly, especially on holidays like the 4th of July and Memorial Day — some arrive as early as 6am to secure their spot! Weekdays are less crowded, but if you're planning on a weekend bonfire, we do recommend getting there quite early to secure the pit. The ordinance for officially reserving a fire pit in San Diego requires that at least two adults are in the vicinity at all times, so keep this in mind as well.
Here are a few general guidelines courtesy of SanDiego.gov (these apply to all fire pits in San Diego):
Fires are not allowed between midnight and 5am
The burning of rubbish is prohibited.
Only wood, charcoal or paper products may be used as fuel
Fuel for the fire may not exceed a height of more than twelve inches above the upper edge of the fire pit
Open beach fires outside of the provided pits are prohibited at all times
All fires must be extinguished before leaving the beach. Coals must be removed or deposited in hot coal containers
Overnight camping is prohibited here
Once you've secured a pit, a great way to kill some time is to go swimming! La Jolla Shores is the perfect beach for swimming and surfing, and there are designated areas for both. The Shores is also a popular place for scuba diving and kayaking. There are always lifeguards present at the Shores between 9am and dusk. Don't forget to call ahead to check surf conditions!
See Also: Ultimate La Jolla Shores Guide
Tourmaline Beach
Officially known as Tourmaline Surfing Park, this spot is a longtime favorite of local surfers. Swimming is largely prohibited here, as it's primarily for surfing; but it makes for some great sightseeing! Take a look at the park's monument up close and you'll see surfing legends called out by name, a testament to some of the greatest innovators in the sport of surfing.
A few things to know about this location:
Parking is free (there's a big lot available)
During April through October, dogs on leashes are allowed on the beach before 9:00am and after 6:00pm.
Other amenities include: restrooms, showers, picnic tables, barbecues, and lifeguards for your safety and convenience needs.
As always, the fire pits are first-come, first-served, so arriving early is also advised.
Ocean Beach
This beach is perpetually crowded because of the popular Pier, but fortunately there are numerous fire pits here — your odds of getting one are pretty good provided you arrive early in the day.
Other amenities include volleyball courts, picnic tables, a lifeguard, showers and a fishing pier
Lifeguards are staffed year-round from 9am til dusk
Dogs are not allowed here, but they are allowed at the 24-hour Dog Beach just adjacent to this beach
Overnight camping is prohibited
Coronado Beach
If you're looking for a more luxurious bonfire experience, this beach is for you! The fire pits at Coronado are spread out across the sand and easy to spot, which makes this an extremely popular location for families.
Coronado Beach starts at the Hotel Del Coronado and continues north. Access to the main Coronado Beach is from the area near the "Hotel Del" where there are free parking spaces all along Ocean Blvd. This wide family-friendly beach gets crowded, but it is wide enough that you can find a place to spread out comfortably. Keep an eye out for the elaborate sand castles for which this beach is known!
Get here early to park nearby and secure a good spot on the sand
Other amenities include picnic tables, BBQs, restrooms and the gorgeous Hotel del Coronado nearby
If you head south from the Del, you'll find a beach below tall condo buildings called Coronado Shores Beach which has a free public parking lot.
Fun fact: The Hotel Del can one-up your bonfire experience! Make it gourmet by renting one of their fire pits and roasting s'mores on the beach or other yummy treats (hot dogs and a charcuterie board are on the menu).
Before You Leave
Fire hazards are a big risk in Southern California, especially during the summer months. The best way to reduce hazards from beach fires is proper disposal of the coals, and that begins with putting out the fire.
Begin the process 45 minutes to an hour before leaving to make sure you have plenty of time to put the fire out. Cover the fire with sand to douse the fire, then pour water over it to cool the coals. You can leave anything that isn't burned inside the pit.
Shop La Jolla Artwork