La Jolla Camping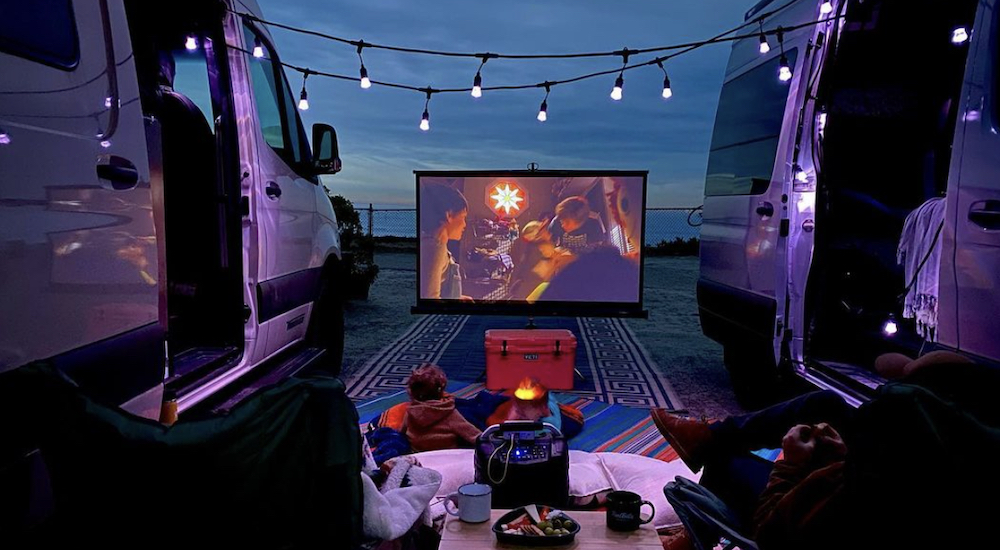 Though there is no shortage of great things to do in San Diego, it is always hard to beat the fun you can have simply enjoying nature, friends, food, and family by taking a camping trip. You do not need to go deep into the mountains to have a great camping trip, but for those who have not been camping before it can be confusing to know where to go and what to do: What should I bring? Is it legal to camp on the beach in San Diego? Is there La Jolla Indian reservation camping still available? How do I start a fire?
 Well, don't worry – here we will go over some of the best ways and places to camp in the La Jolla area.
The Best Campgrounds Near La Jolla
 You might think that La Jolla camping options are limited; after all, La Jolla is part of a major urban area, so why should there be good La Jolla camping grounds? The answer is that the natural beauty in and around San Diego has made it economically feasible for property owners and even government agencies to keep many local areas reserved for La Jolla camping sites. 
La Jolla Indian Campground 
View this post on Instagram
If you are asking yourself "Is there camping near me?" you should really be asking yourself questions more along the lines of "What is there to do at La Jolla Indian Reservation?" or "Can you fish at La Jolla Indian Campground?" To answer the first question first, there are too many things to do at La Jolla Indian reservation camping to possibly list. That said, some of the most popular activities are campfires, river tubing, hiking, biking, swimming, and even the longest zip line of its kind in California! The second question people frequently have is about fishing. Not only can you fish, but the fishing is great, especially for panfish, carp, and catfish. La Jolla reservation camping really is a little-known gem.
Santa Fe Park RV Resort
View this post on Instagram
If you have (or rent) an RV and are looking for things to do in North County San Diego, then Santa Fe Park RV Resort is for you. Aside from being close to Sea World, the San Diego Zoo, and miles of gorgeous beaches, the park itself has almost any amenity that you could think of. They have concrete parking pads, 20 and 30 amp electrical services, and even free satellite TV. The grounds offer everything you would expect a good campground to have — things like picnic tables, barbecues, etc.
La Jolla Shores Park 
View this post on Instagram
Ready for a bonfire San Diego? La Jolla Shores Park has six bonfire pits; however, six is not as many as it sounds. These are incredibly popular so if you want to claim a spot (especially on the weekends), be sure to start camping in La Jolla CA early. If you are interested in La Jolla beach camping, it is also worth remembering to bring some charcoal and hotdogs. There are barbecues in the grass near the beach, but be sure to keep your barbecue on the grassy part (barbecuing on the beach itself is not allowed). Also, if you have any furry friends you would like to tag along, they are welcome to be on the beach, but only after 6:00 p.m.
La Jolla Shores Park contact information: The beach does not have a phone number, address, or hours; however, if you have questions or concerns, you can contact San Diego LifeGuard Services at (619) 221-8899.
Campland on the Bay
View this post on Instagram
It does not matter if you are interested in La Jolla beach camping, La Jolla RV camping, or any other type of camping near La Jolla CA, Campland on the Bay needs to be on your shortlist. Aside from the fact that it was voted the best place to camp in the 2019 San Diego City Beat readers' poll… and the fact that USA Today named it one of the ten best urban campgrounds… and the fact that TravelAwaits named it one of the top five campgrounds of 2020, this campground is just plain old fun. It has every amenity you could imagine: a swimming pool, game room, campfires, basketball court, RV hookups, boat rentals, laundry facilities, and even a skate park. In fact, if there is one complaint that could be leveled against Campland on the Bay, it would simply be that there are so many amenities that it does not even really feel like camping. If you are the kind of person who likes to "rough it" then you will probably want to look elsewhere; however, if you are just looking for a fun and easy camping trip, then this just might be the place for you.
Other Beach Camping Options Available in San Diego
Mission Bay RV Resort
View this post on Instagram
This RV park overlooks scenic De Anza Cove on the Mission Bay. Aside from the cool calm waters of the cove, visitors will have access to everything you would expect to find at a top-notch RV park: showers, laundry facilities, restrooms, and full electric hook-ups. The sites in the RV park are enormous. They can easily accommodate RVs up to 45 feet long, and even if you do not need all that room, you still get the benefit of all the extra space.
South Carlsbad State Beach
View this post on Instagram
If you want to get a spot at the campgrounds here, you will need to book far in advance, especially during the summer months. The grounds are located on a bluff above the beach that is eroding away. This means that it is a fantastic location with great views, but it also means that the site will not be here forever. Because it is a state park, you can get free access during the day and there is even a free parking lot just south of the beach. You will, however, have to pay a small fee to camp. There are only about 200 campsites available, so you can expect to have to plan far ahead to get a spot reserved. Once there, though, there is no end to the fun. The site boasts camping, surfing, swimming, scuba diving, hiking, fishing, and birdwatching. There are also premade fire pits, a small store, showers, and even lifeguards. The only downsides to this site are the narrow stairways down to the beach and the fact that dogs are not permitted on the beach itself.
San Elijo State Beach
View this post on Instagram
Here is another state-run park and campground with most of the amenities you would find at a commercial RV park. There is also a day-use parking area north of the beach; however, there is a parking fee to use it. The beach itself is used primarily by surfers, and there is even a surfing statue that locals call the "Cardiff Kook" that has become somewhat of a tourist attraction in and of itself. You will almost always find the statue dressed up or decorated in one way, shape, or form. One of the reasons it is so popular with surfers is that the surf can get rough, and this, combined with the frequent rip tides, means that only very experienced swimmers should venture into the surf for a swim. The campground has restrooms, showers, picnic tables, and a store. Just like at South Carlsbad, however, dogs are not permitted on the beach area. There is also a Mexican restaurant on the grounds so that you can grab a delicious bite to eat without even having to move your RV.
Silver Strand State Beach
View this post on Instagram
The final state beach to make the list is Silver Strand State Beach. The beach covers both sides of the Coronado Island peninsula, and there is a nature preserve south of the main entrance that is a great place to walk along the beach. While there are calm waters for swimming and boat rentals for water recreation, there are a few downsides to this site. The first is that the RV park is not much more than a paved lot. This is not the best situation imaginable if you are RV-ing, but it is absolutely a deal-breaker if you want to simply camp in a tent. The other downside is that the beach is bordered by a military base. The base rarely causes any kind of disturbance, but just be sure to keep an eye out for signs and follow any that you see. Parking and camping both cost money, but the activities on the grounds make it worth it. Aside from boating, fishing, and swimming (which you would expect at most any campground), there are also some more unique activities available such as volleyball, kiteboarding, and bonfires.
If you are looking for things to do in north county San Diego, do not forget the wonderful camping and RV sites in the area. There are tons of campgrounds and RV sites, and they each have something unique to offer. La Jolla camping is a quick and easy activity to plan that will have something fun to do for everyone. Be sure to take advantage of your proximity to the coast — it is just too much fun not to! 
The banner photo for this article is from IG user @rentbetty.