La Jolla Real Estate Update and Neighborhood Guide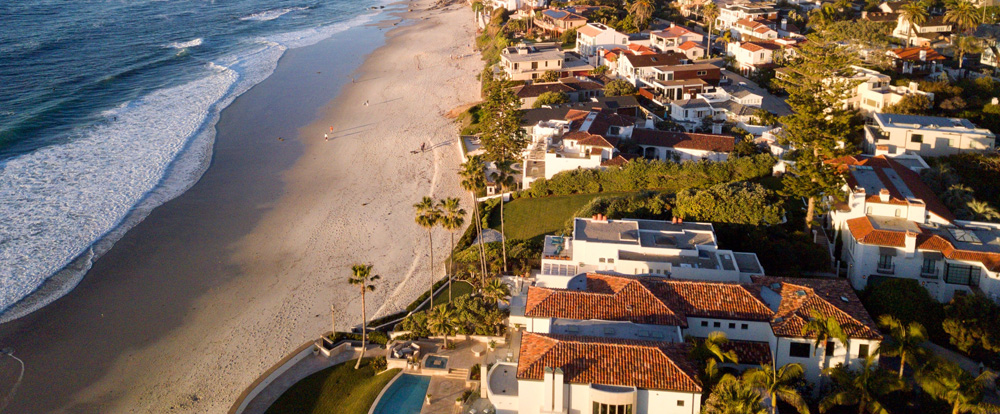 Stretching across seven miles of stunning San Diego coastline, La Jolla is a highly desirable seaside community known for its affluent tastes, impressive views, and outstanding amenities.
Here is an update on the latest real estate conditions for La Jolla, as well as a guide to this gorgeous San Diego neighborhood.
House Prices up for Moderately Competitive La Jolla Market
La Jolla's real estate market has weathered the tumultuous grip of Covid well and is bouncing back with vigor.
According to the latest data as of December 2021, average home prices in La Jolla were up by 18.1% year-on-year, selling for a median price of just over $1.9m. Homes are also selling extremely quickly, within an average time-frame of 20 days, compared to 36 days in the previous year.
Home selling activity in La Jolla does seem to have slowed sales somewhat, with 54 properties being sold in December 2021, down from 81 year-on-year.
However, despite some decrease in activity, the market remains moderately competitive, with many homes still receiving multiple offers. As a result, average home listings are achieving approximately 1% over the list price. Meanwhile, particularly desirable properties are selling for about 5% over the asking price.
Property Styles
The La Jolla property market boasts a wonderful variety of architecture and property styles. There are many traditionally styled Spanish properties in the area, as well as some beautiful lifestyle beach cottage-style homes.
A lot of renovations have been carried out since the 2008 recession, with many foreclosures snapped up and modernized, giving some of the area's older properties some fanciful rejuvenation. Further from the coastline, the houses become more modern, with some surprisingly artistic and dramatic designs and renovations. Certainly, there is something for everyone's tastes in La Jolla when it comes to property.
A Little History of La Jolla
Meaning 'the jewel,' La Jolla dates back 10,000 years to native settlers, although the modern settlement was established in 1850 when it became part of the city of San Diego. Brothers Samuel and Daniel Sizer both bought and developed a plot of land each, and by the 1890s, a railroad was extended to include La Jolla, leading to further building and growth.
It was in these early days that Ellen Browning Scripps, a wealthy newspaper heiress, came to settle in La Jolla. She gave very generously to various causes in the area, and her name still pops up frequently to this day. By the turn of the 20th century, La Jolla began growing at a rapid pace, and today the area is home to almost 40,000 residents.
Transportation and Connectivity
La Jolla features natural beauty that attracts tourists, so traffic and congestion can differ considerably between seasons. It can get quite busy and congested in the summer months, mostly during typical rush hour times in the morning and late afternoon.
Either heading east to the I-5 or south towards Pacific Beach will lead you out of La Jolla, and many take the back roads to avoid freeway traffic.
Depending on where you are located in La Jolla, the views you encounter as you drive can feel like more of a scenic pleasure cruise than a commute! From the Village, Torrey Pines is approximately 10 minutes, as is Pacific Beach to the south. Commuting downtown would take closer to 15-30 minutes, depending on your starting point. La Jolla is a popular place to live for those who work closer to San Diego and want the best of both worlds.
Excellent Schooling Options
La Jolla is known for being home to some of the best schools across the county. Four public schools under the San Diego Unified School District are La Jolla Elementary, Bird Rock Elementary, Torrey Pines Elementary, and La Jolla High School. In addition, private schools on offer in the region include The Children's School, Stella Maris Academy, The Bishop's School, and The Gillispie School.
A Wealth of Attractions
Walking through the village of La Jolla is delightful, with its fascinating architecture and pleasing variety of eateries, retail and luxury shopping.
Close to the village, you can find the beautiful Scripps Park, with its long coastal walkway, picnic spots, and open grassy areas that host a myriad of summer activities and concerts.
For Aqua Lovers
La Jolla Cove is a stunning protected cove famous for its abundance of wild marine life and is a hotspot for fantastic snorkeling and diving. However, be aware that while there is a lifeguard station close by, sudden swells can roll quickly in, and being so close to rocky outcrops, it's essential to take care and be a strong swimmer.
Children's pool beach is located just south of the cove and offers an area of shallow water for children to swim and play while being protected from the larger waves that the cliffs endure. The beach has become somewhat controversial in recent times, as seals frequent the area, and environmentalists are fighting to leave the beach protected for them. Either way, it is currently a safe place for children to play and a wonderful spot to watch the seals in their natural environment.
Black's beach is a stunning spot south of Torrey Pines, and is popular with naturalists and nudists – so only head to the south side of the beach if you are open to public nudity! It's also well known for being one of the best surf beaches in San Diego.
Birch Aquarium is located overlooking the Pacific Ocean and houses a myriad of amazing marine life. The aquarium is part of the Scripps Institution of Oceanography at San Diego University and features a regular petting zoo open to encourage further education regarding marine life.
Leisure Pursuits
The options for a day of enjoyment don't stop there for La Jolla residents and visitors. The area features a famous PGA Tour golf course, the Torrey Pines Golf Course, the La Jolla Playhouse, a delightful non-profit theater, and the Museum of Contemporary Art, one of the most visited attractions in the area.
Many wonderful events are held in La Jolla, including an Art & Wine Festival, the La Jolla Half Marathon, and the La Jolla Concours d'Elegance event, showcasing some of the finest automobiles from far and wide, displayed right next to the stunning shoreline.
La Jolla is Undoubtedly a Jewel That Doesn't Disappoint
With its breathtaking scenery, stunning coastlines, exciting architecture, and a wealth of leisure, retail, outdoor, and cuisine options, it's no wonder that La Jolla's popularity continues to soar. It truly is a jewel of a place.