Complete Guide to the La Jolla Tide Pools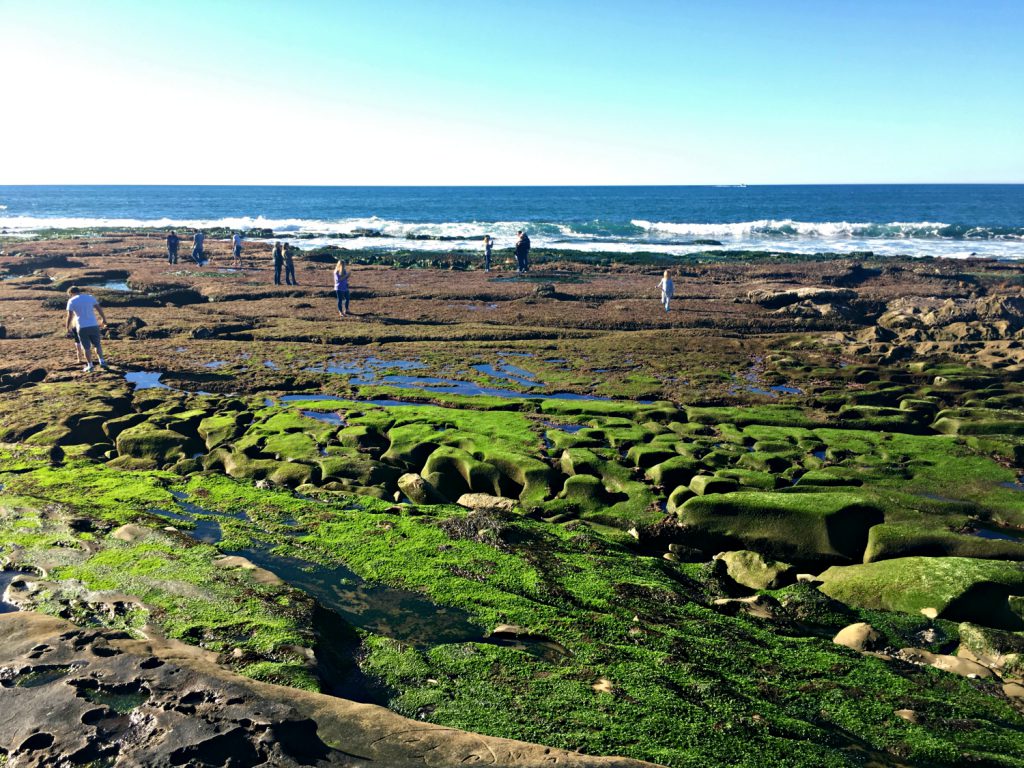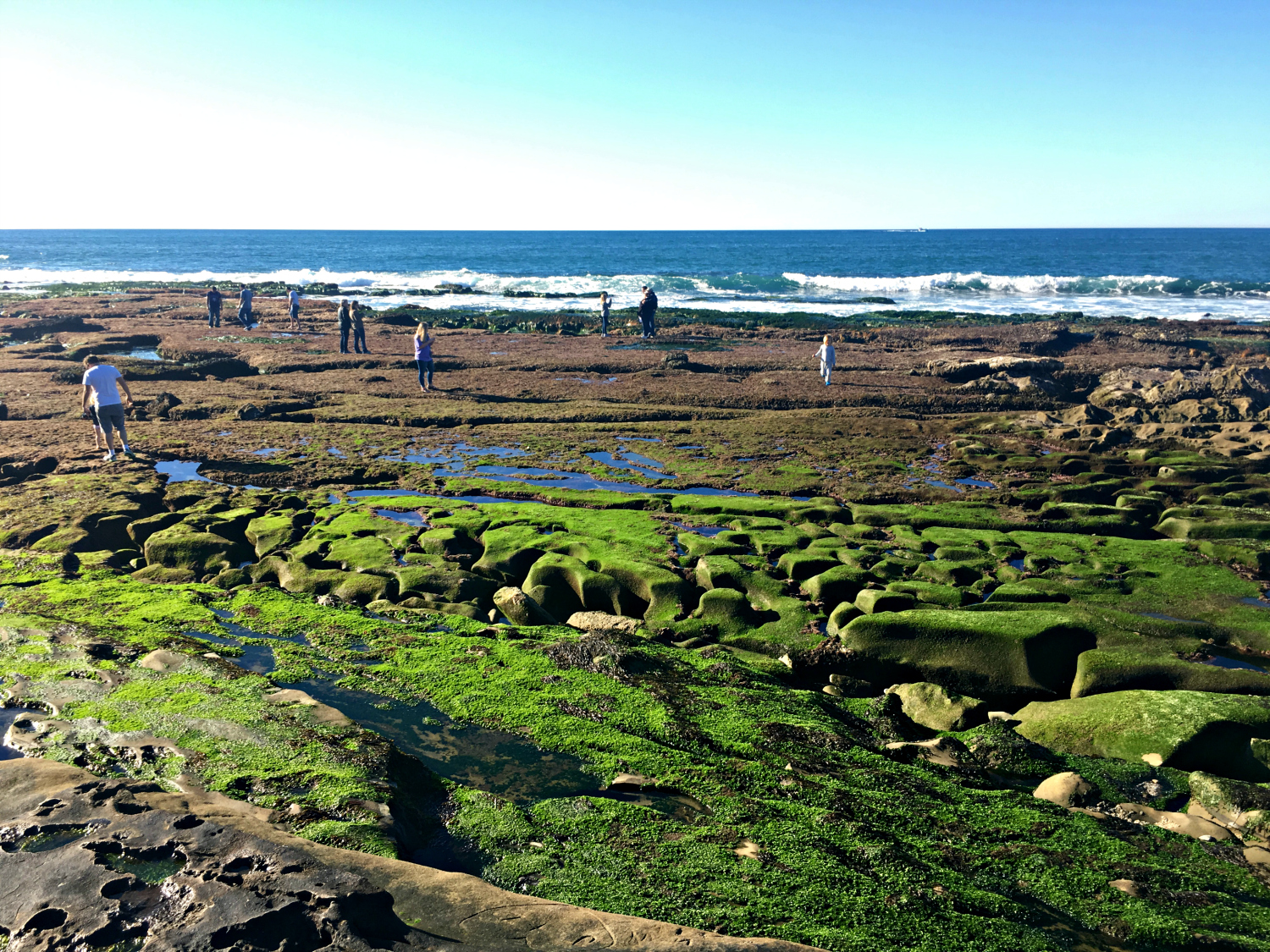 La Jolla is a terrific place for tide pooling; in fact, it's one of the best areas to go in all of San Diego! Visiting the La Jolla Tide Pools in the village of La Jolla is one of the best free activities for families in the whole city!
Its myriad of rocky cliffs and sandy beaches have created an endless supply of nooks and crannies for marine life viewing. The optimal season for tide pooling is December to March, when minus tides reveal wider beaches and the tide pools are uncovered.
Before you go, be sure to check the tide charts to make sure you'll be there during a low or minus tide.
It's also a good idea to wear close-toe shoes with good grip, long pants, and a jacket.
Here's your complete guide to the La Jolla tide pools, from La Jolla Shores all the way to La Jolla Cove. Before you go, check out this handy guide on what kind of marine life/animals to look for. and if you want to see the tide pools from a birdseye view check out our drone footage below of Hospitals Reef which you can read about below!
Shop La Jolla Artwork
Dike Rock
Dike Rock is located just north of Scripps Pier, and is also one of the spots where Birch Aquarium hosts guided tide pool tours.
The tide pools at Dike Rock are not as large as other locations but provide terrain features that allow for a variety of marine life to life on.
The main area is a single large rock and a long rocky sea wall covered by marine life.
Both the rock and the rock wall provide are covered by a variety of marine life. There are small pools that have accumulated over the years, and many have large sea anemones and crabs living in them.
The smaller rocks near the sand are covered by mats of aggregating sea anemones and solitary sea anemones. This can be a great place to see both species side by side!
The second distinct area of this tide pool are the smaller rocks found near the sandy areas. Some of these rocks are covered by mats of aggregating sea anemones and solitary sea anemones.
This can be a great place to see both species side by side. The higher rocks are covered with mussels and barnacles.
Directions:
Walk north along the sandy beach from La Jolla Shores, over a rocky area until you reach the dike which is located on a slight point just north of Scripps Pier.
What to look for:
Keep an eye out for clams, snails, lots of limpets, mussels, barnacles, and the occasional sea anemone (some of the rocks are covered by many of these little guys). Sea hares are also common in this area, if the conditions are just right.
La Jolla Cove
A mention of the La Jolla tide pools would be remiss without including La Jolla Cove!
Although the Cove is a popular spot for swimming, snorkeling, and of course, watching the seals and sea lions, there are also some great tide pools in the area if you look closely!
The tide pools start at the northern end of the Cove and wraps around the point. Look for a rocky area that slopes down toward the ocean just past the small cave to the left of the stairs.
Directions:
Find parking along Coast Blvd. and walk down the stairs at La Jolla Cove to get to the sandy beach area. Look for the small cave, and walk past it around the point to find the pools.
What to look for:
Look for limpets, anemones, hermit crabs, mussels, and barnacles of all different shapes and sizes. Plenty of algae cover the rocks, making them slippery; but it's great for exploring. The mussels and barnacles can be found lower in the tide pool area, along with abundant seagrass.
Tips for Visiting Tide Pools With Kids
Hospitals Reef
Hospitals is one of the most well known favorite of many La Jolla locals — and a photographer's paradise! San Diego is known for its many beaches, but Hospitals Reef is great to photograph.
Here, you'll quickly see a section of rocks filled with potholes, which almost look like tiny craters of the moon. During low tide on calm days, these craters are filled with water and reflect the clouds and even the sunset on rare occasions.
Directions:
Located just south of Wipeout Beach and along Coast Boulevard. Look for a narrow grass strip on the bluff above this point called Coast Boulevard Park. 445 Coast Blvd.
What to look for:
Lobsters, sea shells, sea anemones, crabs, barnacles, and mussels are often seen here.
Shell Beach
The tide pools at Shell Beach are just as accessible as those at La Jolla Cove, but are quite often less crowded. It's an absolute 'must' to go at minus tide, however, since this isn't a large beach by any means and you won't be able to see much unless the tide is way out. A pathway along the bluff goes north through the park and continues to the Coast Walk Trail above La Jolla Bay. Seal Rock is just offshore and Children's Pool Beach is visible beyond that to the south.
Directions:
Shell Beach Tide Pools are located at the southern end of Ellen Browning Scripps Park. Look for the cement stairway (it'll say Shell Beach on it) and head down; you'll see the tide pools right away if you're there at low tide.
What to look for:
Sea anemones, crabs, starfish, and even smaller octopi are common at this spot!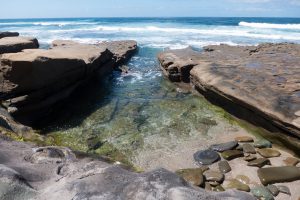 [image]
South Casa Beach
South Casa Beach is a small triangle-shaped cove just south of Children's Pool Beach (Children's Pool is also known as Casa Beach, so this little slice of land was dubbed South Casa).
Although seals and sea lions can take over portions of the beach, there is easy access via a small staircase at the northern portion of the beach and at low and minus tides there are some nice little spots to look for smaller marine life.
There is plenty of sand here, so it isn't as precarious a location as some of the other La Jolla tide pools.
Directions:
Locate Children's Pool and walk just south (behind the sea wall). Use the stairs just south of the lifeguard tower. Parking can be found along Coast Boulevard and at the parking lot above the beach.
What to look for:
Sea anemones, brittle stars, sea stars, mussels, limpets, chitons, and crabs are often spotted here.
Windansea Beach
Beloved by avid local surfers, it's been a popular San Diego surfing area and gathering spot of the Windansea Surf Club since the 1960's and recognizable by its historic surf shack.
Windansea is also home to some great tide pools. The area is mostly rocks (which can get slippery when wet), with a small sandy spot at the bottom.
The crevices within those rocks are where to look for the tide pools; the water gets trapped in the shallow depressions in the rocks.
Winter storms can remove a lot of the sand here so it's quite different between summer and winter! To get to the beach area, there are a couple stairs that descend the steep bluff where you'll have to scramble down off sandstone ledges.
Directions:
Located below Neptune Place, at the intersection of Neptune Place and Nautilus Street in La Jolla. There are a about ten designated parking spots above the beach and street parking spaces if those are taken.
What to look for:
Small crustaceans (crabs), sea anemones, algae.
False Point
Though a bit closer to Bird Rock, False Point is one of the best spots to see tide pools in La Jolla. So much so that this is the second spot where Birch Aquariumoffers guided tours.
Easily accessible down a small set of stairs from the street (though the rocks here can get very slippery and are often quite loose, so do exercise caution when walking here especially during high tide), there is an abundance of marine life here to explore.
Directions:
Located at Sea Ridge Drive and Linda Way in La Jolla. Street parking is available (free during certain hours — make sure to check signs before you park). It can be limited, so we recommend going during off-peak hours.
What to look for:
Sea anemones, hermit crabs, urchins, mussels, limpets, chitons, octopi, barnacles.
Some Tips for Tide Pool Viewing & Etiquette
Courtesy of National Marine Sanctuaries.
Learn before you go
Read about the wildlife, viewing sites and local regulations to get the most from your wildlife viewing experience. Research on the internet, buy regional viewing guidebooks, talk with local residents and hire local guides to increase your chances of seeing marine wildlife.
Keep your distance
Use binoculars and cameras with zoom lenses to get a closer look. Marine wildlife may be very sensitive to human disturbance, and if cornered, they can harm the viewer or leave the area.
If wildlife approaches you, stay calm and slowly back away or place boat engines in neutral.
Never touch or feed the wildlife
Never touch, handle or ride marine wildlife.
Touching wildlife, or attempting to do so, can injure the animal, put you at risk and may also be illegal for certain species.
The slimy coating on fish and many marine invertebrates protects the animal from infection and is easily rubbed off with a hand, glove or foot.
Feeding or attempting to attract wildlife with food, decoys, sound or light disrupts normal feeding cycles, may cause sickness or death from unnatural or contaminated food items, and habituates animals to people.
Never chase or harass wildlife
Following a wild animal that is trying to escape is dangerous.
Never completely surround the animal, trap an animal between a vessel and shore, block its escape route, or come between mother and young.
When viewing from a boat, operate at slow speed, move parallel to the swimming animals, and avoid approaching head-on or from behind, and separating individuals from a group.
If you are operating a non-motorized vessel, emit periodic noise to make wildlife aware of your presence and avoid surprise.
Stay away from wildlife that appears abandoned or sick
Some marine animals, such as seals, leave the water or are exposed at low tide as part of their natural life cycle – there may be nothing wrong with them.
Young animals that appear to be orphaned may actually be under the watchful eye of a nearby parent. An animal that is sick or injured is already vulnerable and may be more likely to bite. If you think an animal is in trouble, contact the local authorities for advice.
Leave your pets at home
Wild animals can injure and spread diseases to pets, and in turn, pets can harm and disturb wildlife.
For example, wild animals recognize dogs as predators and quickly flee when they see or smell dogs. If you are traveling with a pet, always keep them on a leash and away from areas frequented by marine wildlife.
Take your trash with you
Human garbage is one of the greatest threats to marine wildlife. Carry a trash bag with you and pick up litter found along the shore and in the water. Plastic bags, floating debris and monofilament line pose the greatest risk to wildlife.
Shop La Jolla Artwork