The Ultimate Guide to Eating Vegan in La Jolla in November 2023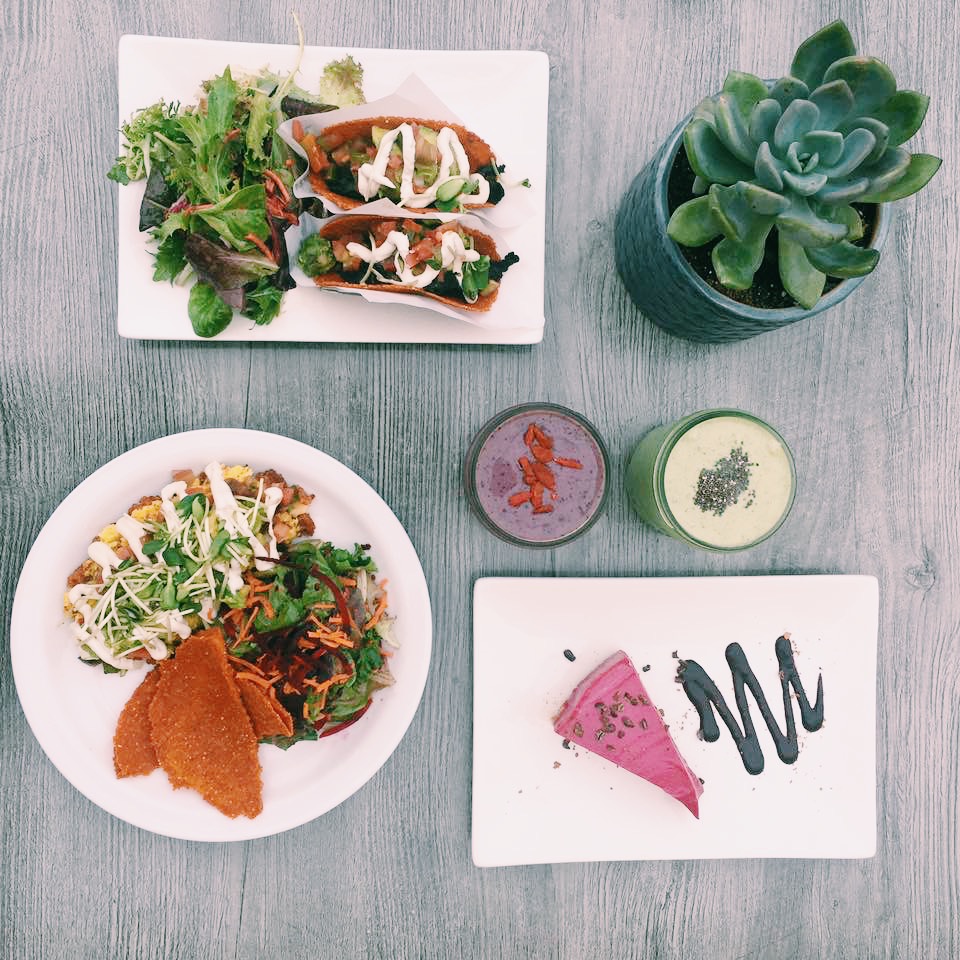 La Jolla is a vegan-friendly hub, and restaurants in the Village have always emphasized health and sustainability. We've made it even easier for you to enjoy the best vegan food by rounding up all the options we could think of — we hope you find a new favorite with our Ultimate Guide to Eating Vegan in La Jolla!
As always, please call ahead to check on availability of options or any allergy concerns.
Purely Vegan Restaurants
Eliminate all strategizing and guesswork with these straight-up vegan restaurants.
Trilogy Sanctuary Vegan Cafe has a wide-ranging menu to hit the spot any time of day. of meals, snacks, desserts. They also offer a diverse selection of smoothies, juices, shots and tea! Try their raw nut-based cheesecake pictured at top! 7650 Girard Ave #400
Beaming superfood cafe comes to La Jolla after great success in the Santa Monica area. Beaming mainly serves smoothies and juices, but also has a sizeable list of baked goods, snacks, and desserts! Entrees, soups and salads rotate daily. Find them at La Plaza. 7863 Girard Ave #201
Farm to Fork Juice is our new favorite juice place in La Jolla, mainly because it's not just juice. Check out the rest of their menu, including the spaghetti and meatballs and soup selection. 5646 La Jolla Blvd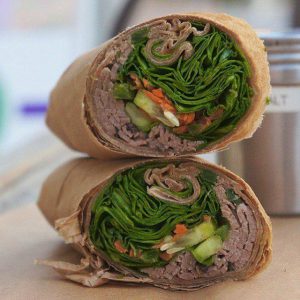 Lots of Vegan Options
If you're going out with a gang of vegans and non-vegans, these eateries will keep everyone happy.
Fruittitude is the place to go if you're exclusively interested in lighter options. Fruittitude serves juice and acai bowls, along with an variety of boba slushes, greek yogurt bowls, sandwiches and wraps, salads. If you're too busy to go out and get lunch, they'll deliver to downtown La Jolla Monday — Friday! 7777 Girard Ave #10
Pictured above is the south east Asian style beef wrap from Lean & Green! This newer restaurant has quickly become very popular with La Jollans. Check out their menu of power shakes, smoothies, burritos, rice bowls, wraps, and acai bowls. If you're looking for a savory meal, we recommend the Teriyaki Bowl of brown rice with broccoli, pine nuts, and vegan Teriyaki sauce. 7825 Fay Ave
Juice Kaboose serves juices and smoothies, wraps and sandwiches, and bowls (like pitaya, acai, quinoa, hummus, maui fruit salad!). Nestled in a line of shops in the heart of La Jolla, Juice Kaboose is convenient for getting lunch on a workday, or if you're about to go tasting at La Jolla Brewing Company and want to get your vitamins in. 7556 Fay Ave
We all know Thai restaurants tend to have solid vegan options, so give Chedi Thai Bistro on Pearl or Spice & Rice on Girard a shot. If you can't decide between the two, Chedi Thai has great Happy Hour and lunch deals, but Spice & Rice has outdoor dining options. 737 Pearl St #110, 7734 Girard Ave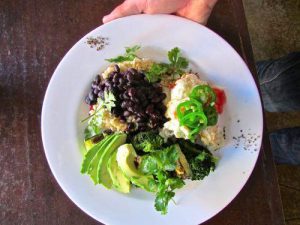 Going out to lunch with the in-laws? Persuade them to go to The Cottage, a charming local eatery that has a whole vegan section on the lunch menu. (The vegan is not reflected online, if you had looked and were panicking). The Cottage only serves dinner seasonally, so make sure to call ahead and see what dining options you have before you plan for dinner at 6! 7702 Fay Ave
For locals, Coffee Cup is the place to start your day! Tasty, nutritious breakfasts, brunches, and lunches give you energy and are packed with veggies. Happily, most meals either already are vegan or are easily made so by swapping out milk, meat or eggs with substitutes like soymilk, soyrizo, and grilled or marinated tofu. 1109 Wall St
George's at the Cove has a surprisingly large amount of vegan options, for a restaurant that also specializes in seafood. We recommend Ocean Terrace or California Modern, two of their three dining venues, as Level2 is mainly cocktails and bar fare (though that has its value too!). You can't really go wrong with anything here! 1250 Prospect St
Like Thai food, Indian food is also pretty vegan-friendly. Taste of the Himalayas on Girard has incredible Nepalese and Indian food served in a cozy atmosphere, and Tandoori Chef on Pearl is another option. 8008 Girard Ave #170, 613 Pearl St
A Few Options
Don Carlos Taco shop has the best burritos in town! If you want to go beyond the classic bean burrito, vegan substitutions like soyrizo are available. 737 Pearl Street Suite 113
Shore Thing Cafe serves breakfast, brunch, and lunch and has at least a few vegan options. It seems the oatmeal, acai bowl, and some of the sandwiches and salads are pretty safe, though you will want to ask to be sure. 8080 La Jolla Shores Drive
For vegan options, Pannikin Coffee & Tea has a few salads, an always-vegan daily soup, a hummus and veggie plate, and a granola which seems like it could be vegan. There's likely a vegan pastry or two floating around in the case if you ask. Of course, vegan milk options for coffee and tea are available. 7467 Girard Ave
The Promiscuous Fork and Girard Gourmet have salads and sandwiches that you can ask for all non-vegan materials to be taken out of. It's not clear that the bread is vegan (although it probably is, avoiding brioches) so just ask to be sure before getting anything. Fun fact, the produce at Girard Gourmet is all farm-to-table from their local farm! 6984 La Jolla Blvd, 7837 Girard Ave.
If we missed any of your favorites, please let us know in the comments and we'll be sure to check them out! Happy dining!