Top 5 Art Galleries (with Great Collections) in La jolla
Love art and want to know where to go? Interested in bringing something back for your faithful collection at home? Make sure to check out these La Jolla art galleries — we have some of the best collections in the city. From Dr. Seuss to nature photography and contemporary art, there is no shortage of eye candy at these art galleries!

1. Madison Gallery
1055 Wall Street Suite 100
Monday through Saturday 10am — 6pm, Sunday 12 — 4pm
We love the Madison Gallery with its open design and tons of natural light! One of the few contemporary art galleries in San Diego, the Madison is a reliably fresh experience with an array of artists and exhibits rotating about every six weeks.
"We're one of the Top 500 Galleries in the World (Bluoin Modern Painters magazine) for 4 years in a row now," says Associate Director Amanda Fernandez-Leon. "Our staff are very knowledgeable and educated individuals and we have a team of very seasoned dealers."
If you're interested in starting a collection of your own but are feeling a bit overwhelmed, don't worry. "We always look forward to talking to new collectors and leading them in the right way within the contemporary art world and how we can help them establish and build a collection of their own" says Fernandez-Leon. Artists the Madison Gallery has worked with in the past include John Baldessari, Robert Montgomery, Miya Ando, Hunt Slonem and many more.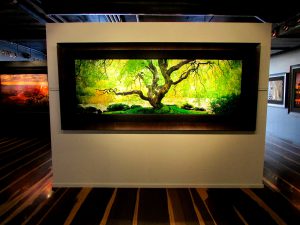 2. Peter Lik Gallery
1205 Prospect Street, Suite C
Friday and Saturday 10am — 10pm, Sunday through Thursday 10am — 9pm
Even though you live in La Jolla, you can travel through the rest of our nation's beauty without stepping outside your neighborhood! Just take a walk down to the Peter Lik Gallery, featuring the work of international nature photographer Peter Lik. Feel the spray on your face as you look at colorful images of Scripps Pier or a gigantic waterfall! This gallery is a great one to visit in person so you can get up close to see the details. Interestingly, in 2014 Lik sold one of his works for $6.5 million, making it the most expensive photograph in the world at the time.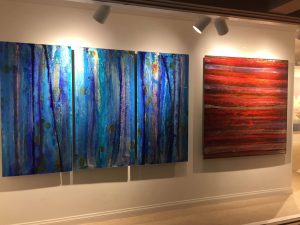 3. Contemporary Fine Arts Gallery
7946 Ivanhoe Avenue
Friday 11am — 10pm, Saturday 10am — 10pm, Sunday through Thursday 10am — 6pm
Contemporary Fine Arts has been in La Jolla for 25 years, ushering many artists through.
"This family owned gallery features a very diverse selection of original contemporary paintings and sculpture in a variety of mediums including wood, glass, bronze, ceramic, oil and acrylic," says a representative. "You will find smaller works for beginning collectors up to larger than life sculpture and oversized original paintings." Artists they have worked with in the past include Jane Burton, Paul Ecke, Sally Huss, Weiliang Zhao and many more.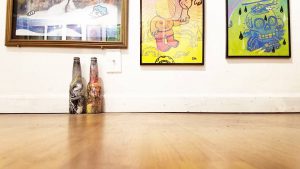 4. Thumbprint Gallery
920 Kline Street
Friday 12 — 6pm, Saturday and Sunday 12 — 4pm
Thumbprint has been part of La Jolla since 2009, featuring both local and international artists. Thumbprint creates a welcoming environment to introduce new and upcoming artists to the La Jolla community with exhibits that rotate monthly. If you love urban art and pop surrealism, you'll be sure to rave over Thumbprint gallery. Artists they have worked with in the past include Matthew Agcolicol, Nonie Cruzado, and many more.
5. Legends Gallery
1205 Prospect Street, Suite B
Sunday 11am — 7pm, Monday through Thursday 10am — 8pm, Friday through Saturday 10am — 10pm.
Legends Gallery on Prospect Street may not take up much of the sidewalk, but it's a big gallery in La Jolla! This intimate gallery features the work of Dr. Seuss, along with Mackenzie Thorpe, Martin Beau Pre and Katey Kalange.
"It's amazing because people come in here and don't really know the history of Dr. Seuss, [who] gained his fame in La Jolla two miles away from our gallery," points out artist Katey Kalange. "Especially considering his art, you can see how he was inspired by our surroundings."
Legends gallery focuses on fun, nature-inspired art, described as a "very whimsical collection." "Our gallery has a very welcoming and good feeling about it. Everything in here people seem to connect to," says Kalange. Children and adults alike will enjoy the Dr. Seuss material, but as always, children need close supervision to protect the works.