Glen Ivy Hot Springs or: How to Escape to a Tropical Paradise Without Leaving Southern California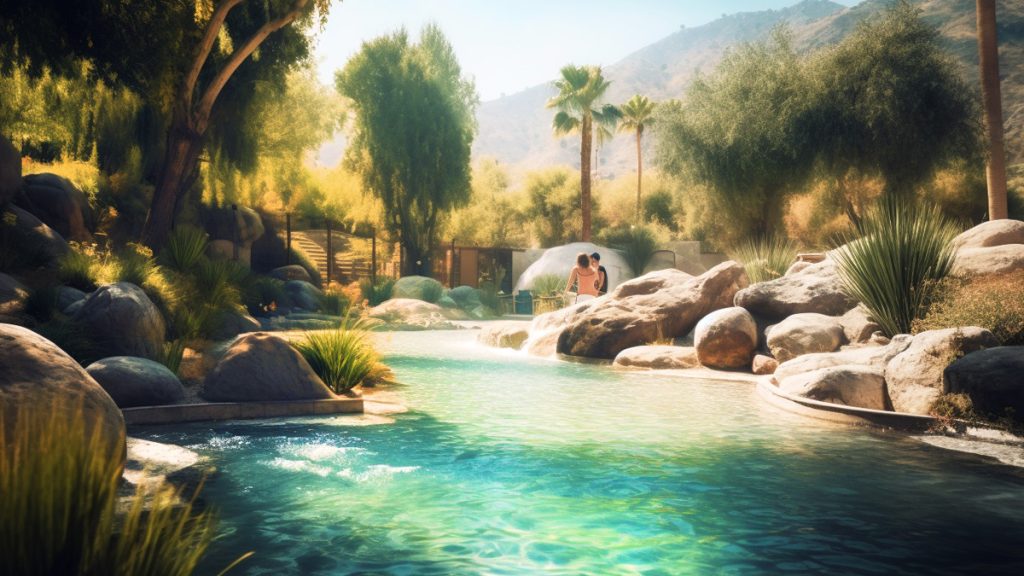 This essay is part of "Discovering California," a series of content about must-visit locations and businesses in California.
There are many ways to spend a relaxing weekend in Southern California, but a luxurious day trip to a natural hot spring and spa is hard to beat.
My wife and I recently spent such a day at Glen Ivy Hot Springs in Corona, California (25000 Glen Ivy Rd.). It's a short one-hour drive from our neighborhood in North San Diego County — and it was well worth the trip.
The Environment
We arrived at Glen Ivy Hot Springs right when they opened at 9 a.m. It was a lightly rainy day with mist rolling through the hills surrounding the resort, so it absolutely felt like we had escaped to a tropical locale.
Glen Ivy Hot Springs brings a resort-like atmosphere to your normal spa day. Sure, you can get a massage, facial, or spa treatment here — but you'll feel like you were transported to a lush paradise.
During our recent trip to Glen Ivy, we booked a cabana, which included dedicated beach chairs in front of a mineral pool. The cabana even came with a small tabletop Zen garden, a bowl of fresh fruit, and a personal staff member to bring us beverages. (All the cocktails are made with wine-based liquor and are delicious.)
With our cabana package, we received complimentary bathrobes for the day. You can also hit the bathhouse for locker storage — and take advantage of a Roman bath and other luxurious services.
The main draw here is all of the mineral pools available. You can take a dip in a natural hot spring complete with volcanic minerals or relax in a saline salt pool with a drink in your hand.
If you get hungry during the day, there are several restaurants and food stands throughout the resort. During our trip, we had delicious ahi tuna lettuce wraps and a plate of chicken nachos complete with homemade cilantro lime crema, charred corn, and pico de gallo at the Ivy Kitchen.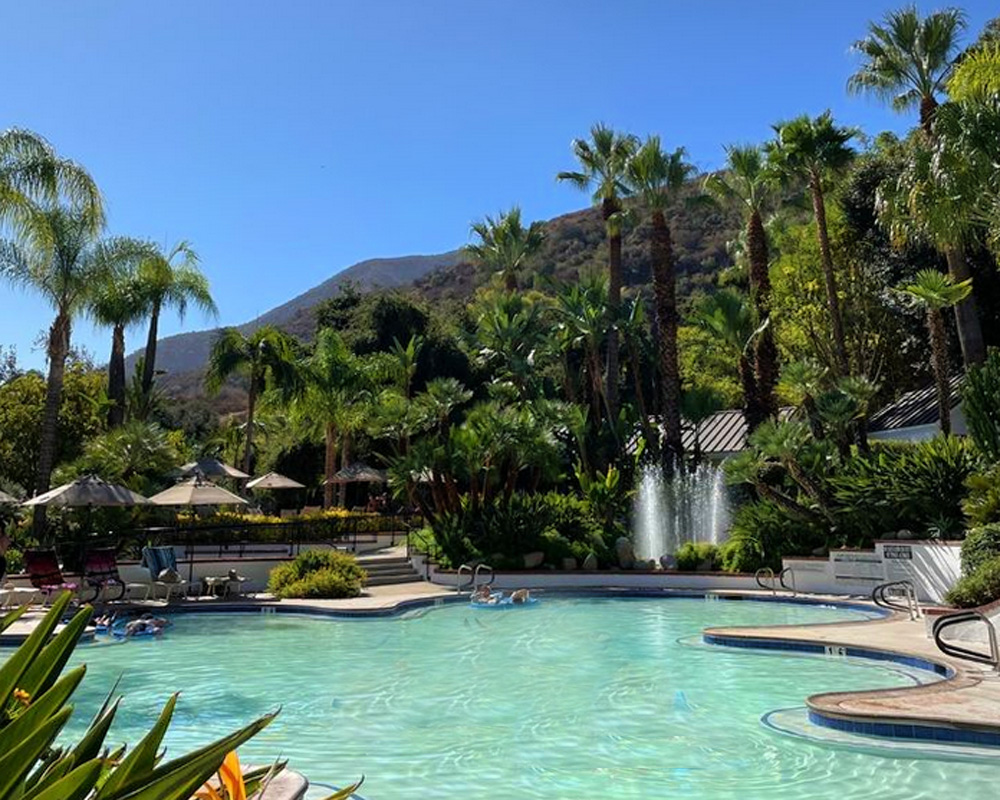 The Treatments & Services
There's a lot to do at Glen Ivy, even though your first instinct might be to do nothing and just relax the day away.
We started our trip with a relaxing Swedish massage. The resort has its own "massage village" with small huts surrounded by growing greenery. We booked a couple's room for our massage treatment.
After that, we headed off to The Grotto, which is a unique experience, to say the least. Friendly attendants will basically "paint" you head-to-toe in a silky moisturizing body mask. From there, you head into a heated underground cave to let the formula sink into your pores. Afterward, you can cool off in a larger cavern with a cascading waterfall, tea, and fruit.
Then, there's Club Mud — an adult playground. With this treatment, you can plaster your entire body in a natural red clay. Once you do, you can head to a dry sauna to "bake" for a while. When you're done, head to the pool to wash all of that clay off.
If you get bored of total relaxation, you can check out some of the complimentary activities offered. There are daily yoga classes, guided meditation sessions, and wine and painting workshops.
What to Do After Glen Ivy
There aren't any actual lodging facilities at Glen Ivy, so you'll need to book a room nearby if you want to make a weekend out of it. We didn't book a hotel, given the fact that we lived just an hour down the freeway.
Luckily, if you're close enough to the resort and want to hit a fine dining spot after your spa day, Glen Ivy makes it pretty easy.
The bathhouse has lockers, showers, and a Roman bath so that you can wash off all of the moisturizing treatments from the day. After a hot shower, all it took was a fresh change of clothes and a spritz of Versace Eros cologne to get dinner-ready.
Corona is home to a variety of delicious and luxurious restaurants, including TAPS Fish House & Brewery (2745 Lakeshore Dr.), which serves up sushi and Cajun-inspired seafood alongside craft beers.
We, however, went for The Toasted Barrel (1300 El Sobrante Rd.). This trendy steakhouse has fine cuts of beef and an impressive selection of wine and craft cocktails. It was the perfect way to end the day.
After what was likely one of the most relaxing days in our recent memory, we hit the road back home — and even made it to bed before 9 p.m.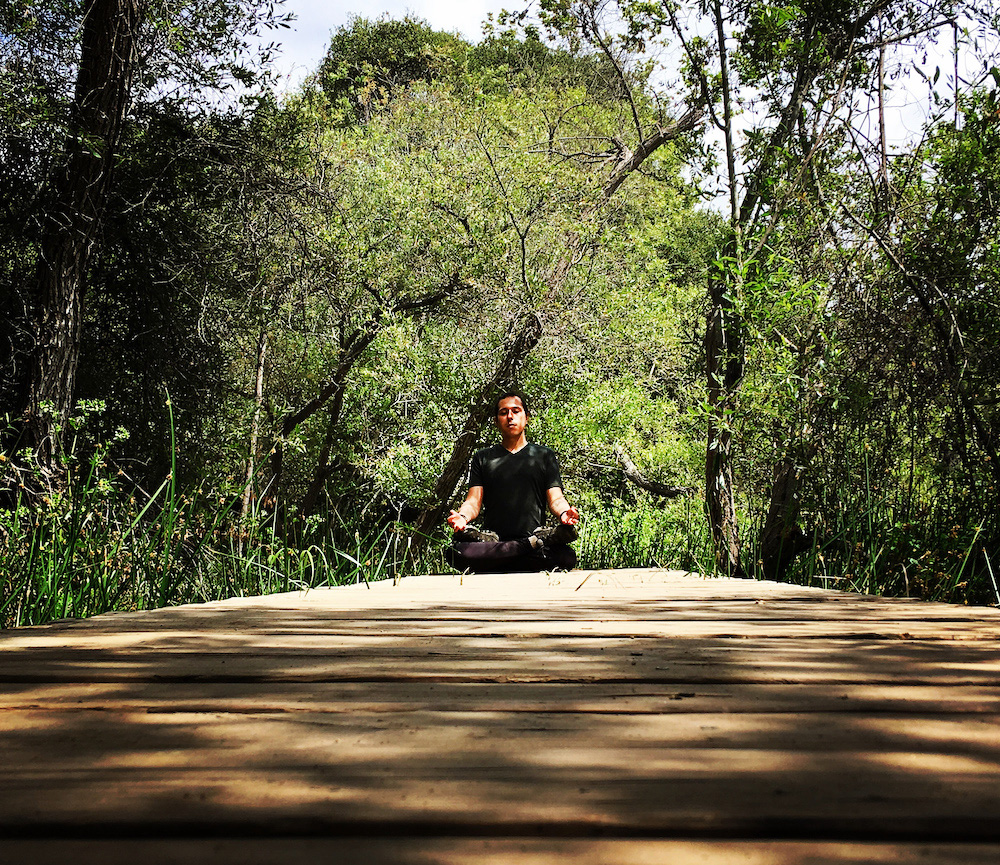 About the author: Mike Peterson is a Southern California native who is passionate about both nature and wellness. He is a writer and yoga teacher by trade, but you'll just as often find him exploring all of the trails, mountains, and wild places that San Diego has to offer.