Cannabist San Diego Celebrating Fourth Anniversary with Deals & More
One of the best dispensaries in San Diego is celebrating its fourth anniversary with a plethora of deals on weed, activities, and more.
For Cannabist's four-year anniversary, the dispensary is holding four days of amazing deals on weed products. The celebration is slated to kick off on Friday, Aug. 25 and last through Monday, Aug. 28.
Although Cannabist San Diego regularly has great deals on cannabis products, this weekend's Cannabist anniversary deals are exceptionally good.
For example:
Between Friday, Aug. 25 and Sunday, Aug. 27, you can get buy-one, get-one 60% off your entire purchase.
On Monday, Aug. 28, customers can get a whopping buy-one, get-one 80% off their entire purchase!
Along with those incredible deals, Cannabist San Diego will also have $4 grab-and-go bins available throughout the weekend.
As far as the selection, you can expect a range of different high-quality marijuana products, including fresh flower, edibles, vape pens, tinctures, beverages, and a whole lot more. That makes the Cannabist anniversary a great time to stock up on your favorite items.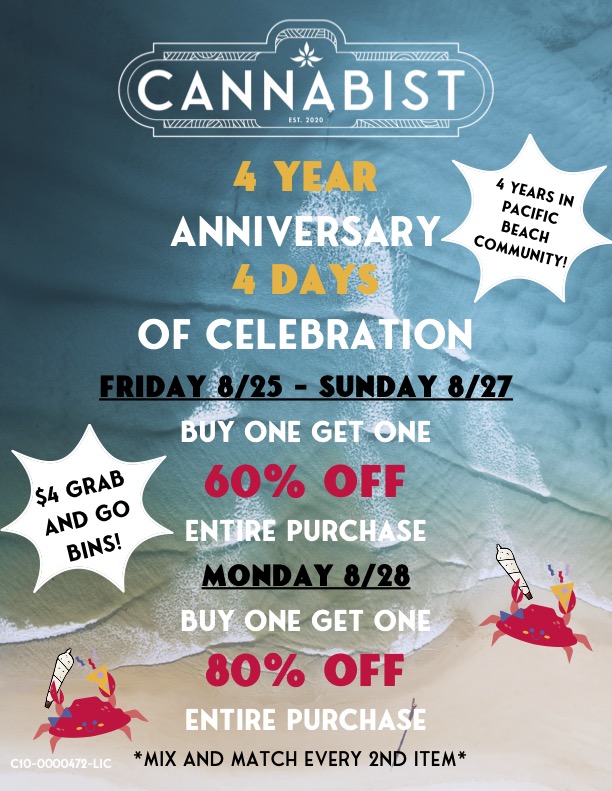 Cannabist San Diego is located in the Pacific Beach neighborhood, which makes it the closest dispensary to downtown La Jolla. Along with exceptional products and amazing customer service, the dispensary also routinely hosts community events.
For example, Cannabist regularly organizes beach cleanups that held keep local coastlines free of garbage and trash. It also holds holiday and special events, like a Danksgiving Countdown that includes deals, amazing food, and other festivities.
All of this means that many consider Cannabist the best dispensary in San Diego.
Cannabist Pacific Beach is located at 4645 DeSoto Street. The dispensary is open from 7 a.m. to 9 p.m. Monday through Friday, and from 8 a.m. to 9 p.m. on Saturday and Sunday.
For more information and a full menu of products, you can check out the Cannabist San Diego website.