Gatherer, An All-New Vegan Sandwich Shop, Lands in Mission Beach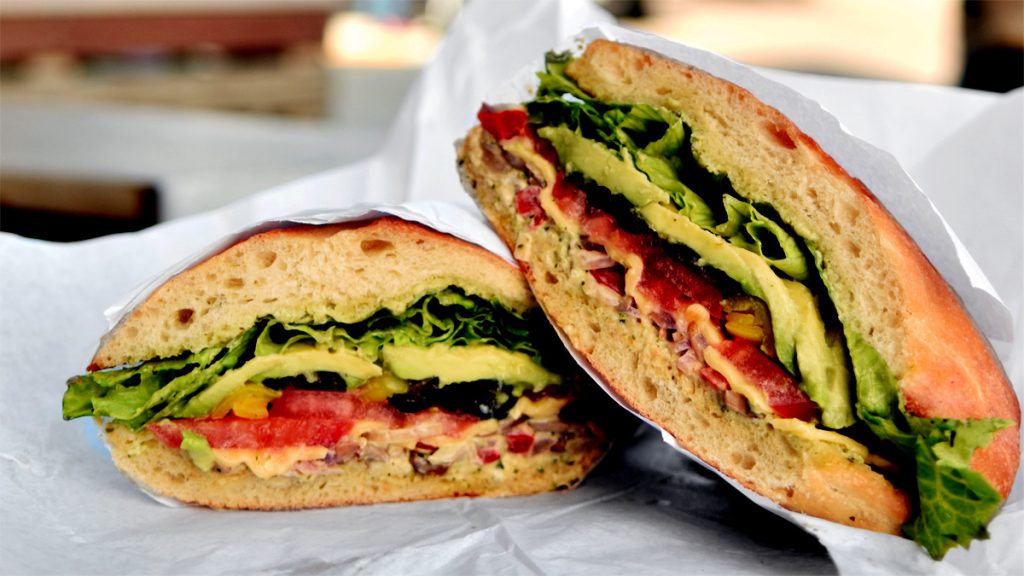 A brand new, all-vegan sandwich shop named Gatherer Sandwiches has officially opened its doors in Mission Beach.
The new sandwich shop is located on Mission Boulevard — steps from the Pacific Ocean and in the same location as the now-shuttered Soulshine cafe, according to Eater.
Items on the menu include the Millennial Falcon, which features stacks of roasted vegan chicken, avocado, sprouts, banana peppers, and Dijon mustard. There's also the Persistence of Mushrooms, which has a medley of roasted mushrooms, onions, and peppers stacked under melted vegan cheese, avocado, banana peppers, and olives.
Gatherer serves all of its sandwiches on gluten-free bread or large ciabatta rolls baked by Bread and Cie. It then dresses each sandwich with vegan pesto mayo, onions, tomatoes, and oil and vinegar-seasoned lettuce.
On the side, customers can expect classic potato salad with dill and celery, as well as a vegan version of Hawaiian-style macaroni salad.
Owner Jacob Russell first had the idea for Gatherer in 2016, when he started posting images of the vegan sandwiches he made on Instagram. Friends of Russell assumed that the photos were for an upcoming business. According to Eater, it was at that point that he thought he might be onto something.
After a short-lived stint doing a sandwich menu for Dark Horse Coffee Roasters, Russell found a location for his new venture when he connected with Soulshine owner Amalia Huffman. Huffman, who had decided to move back to Washington state, was looking for a vegan business to take over her brunch cafe location.
Russell now runs the kitchen at Gatherer sandwiches, while Huffman manages the retail portion of Soulshine.
For Russell, who started as a dishwasher at Alvarado Hospital, Gatherer Sandwiches marks his first independent venture.
"I'm definitely no chef and I don't claim to be," Russell told Eater. "If I have any skill that has put me here, it's being able to break the whole of something down into components that work well together."
About the author: Mike Peterson is a freelance journalist and writer based in North San Diego County. He's written and worked for a number of local media outlets, including the San Diego Union-Tribune, the North Coast Current, and the Oceanside Blade.
The banner photo for this article is courtesy of Eater