Celebrate Spirits, Art & Wine at the October First Friday Art Walk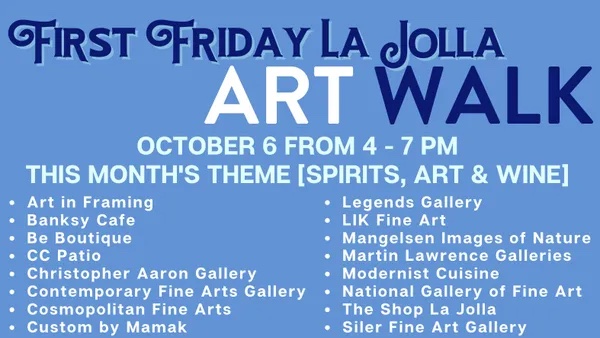 It's nearly the first month of October, which means that fall is in full swing and a new First Friday Art Walk will soon grace the streets of La Jolla.
If you're new to the First Friday Art Walk, it's an annual event celebrating all things art in downtown La Jolla. Attendees will be able to sip, snack, and stroll their way through some of the best galleries in the Jewel of San Diego.
The theme for the October First Friday Art Walk is "Spirits, Art & Wine," which each participating gallery can interpret in their own way. You may see some spooky spirit art while getting to enjoy light refreshments and wine.
The art walk kicks off at 4 p.m. on Friday, Oct. 6 and runs through 7 p.m.
Best of all, galleries stay open later than usual during each First Friday Art Walk, and the October iteration is no different.
You'll find a list of galleries participating in this month's art walk below.
Art in Framing
BFree Studio
Contemporary Fine Arts Gallery
Edna Pines Studio
Klara Chavarria Art Gallery
Krista Schumacher Art Gallery
L&G Projects
Legends Gallery
Lik Fine Art
Mangelsen Images of Nature
Martin Lawrenece Galleries
Modernist Cuisine
Michael Seewald Gallery
National Gallery of Fine Art
The Shop La Jolla
Siler Fine Art Gallery
Simic Galleries
Sotheby's Int'l Real Estate
Thumbprint Gallery
Yiddishland California
La Jolla is a stunning location to enjoy some art and refreshment, so the First Friday Art Walk is one of the best best date night ideas in San Diego. It's also a great way to see some of the top museums and galleries in San Diego.
Attending the free is completely free, but the organizers ask that you register ahead of time. Once you do, you'll get a digital map and complementary parking pass provided by ACE Mobility.