La Jolla First Friday Art Walk Celebrates Red, White & Blues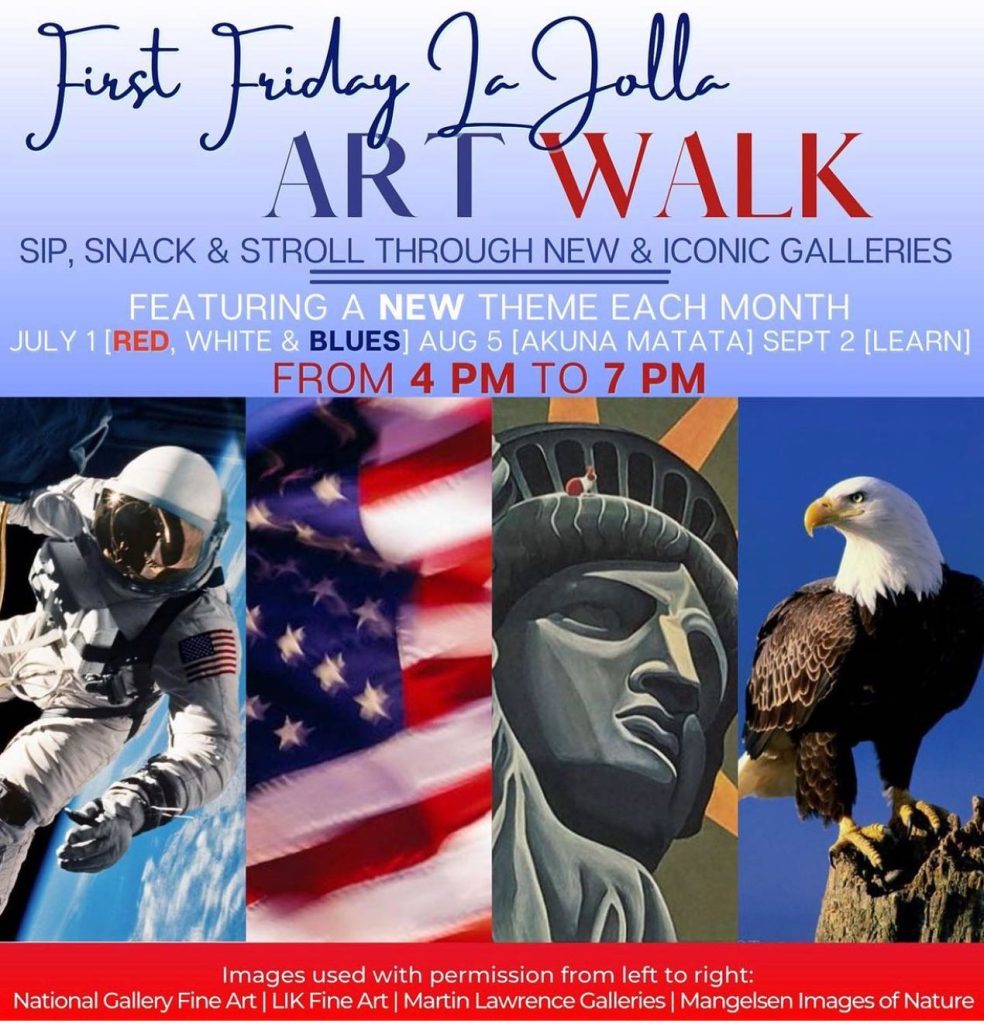 The start of July is right around the corner, which means that summer season is in full swing — and next month's First Friday Art Walk is almost here!
If you're unfamiliar, the First Friday Art Walk is a monthly event that brings together local businesses, art galleries, and others for a leisurely stroll through downtown La Jolla.
Along with the opportunity to see some of the best art galleries in La Jolla, participants in the First Friday Art Walk will also enjoy free entertainment and light refreshments along the way.
Each month, there's a new theme for the First Friday Art Walk. For July, the theme is Red, White & Blues. Although patriotic imagery will be in full force, artists and galleries can also interpret the theme in a number of different ways.
Some of the participating galleries in this month's art walk will include:
Art in Framing
BFree Studio
Contemporary Fine Arts Gallery
Edna Pines Studio
Klara Chavarria Art Gallery
Krista Schumacher Art Gallery
L&G Projects
Legends Gallery
Lik Fine Art
Mangelsen Images of Nature
Martin Lawrenece Galleries
Modernist Cuisine
Michael Seewald Gallery
National Gallery of Fine Art
The Shop La Jolla
Siler Fine Art Gallery
Simic Galleries
Sotheby's Int'l Real Estate
Thumbprint Gallery
Yiddishland California
The First Friday Art Walk in July is scheduled from 4 p.m. to 7 p.m. on Friday, July 7 — meaning you'll be able to peruse local galleries and businesses later than you'd otherwise be able to.
It's a great opportunity to hang out with the community while seeing the top 3 spots for art lovers in La Jolla.
If you're interested in attending, the organizers ask that you register beforehand. The First Friday Art Walk is free to attend, but you'll receive a complimentary parking pass and digital map for registering ahead of time. Maps are also available at any participating gallery.