Sip, Stroll & Learn at the September La Jolla First Friday Art Walk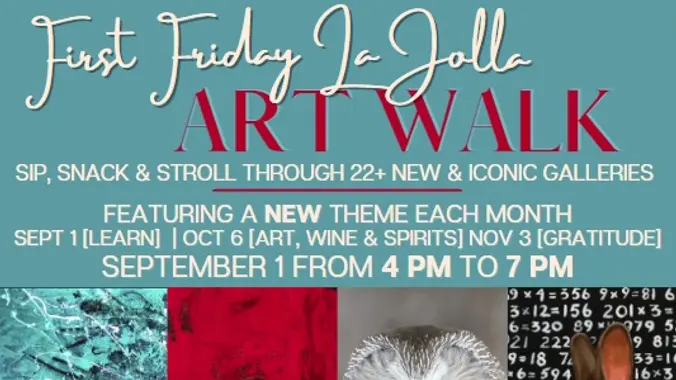 September is right around the corner, which means both that summer is almost over and that a new First Friday Art Walk is on the schedule.
For those unfamiliar with the La Jolla First Friday Art Walk, the event is a monthly celebration of art and artists in downtown La Jolla. The event — which has a new theme each month — encourages aattendees to sip, snack, and stroll through the best art galleries in the "jewel of San Diego."
As is appropriate for back-to-school season, the theme for the September First Friday Art Walk is "learn." Each gallery and artist can interpret this theme in any way they choose, but the motif will be a cornerstone of the art displayed throughout the event.
Along with galleries staying open later than usual, each First Friday Art Walk also includes light refreshments like snacks and wine, as well as free entertainment at participating galleries.
La Jolla galleries taking part in the September First Friday Art Walk include:
Art in Framing
BFree Studio
Contemporary Fine Arts Gallery
Edna Pines Studio
Klara Chavarria Art Gallery
Krista Schumacher Art Gallery
L&G Projects
Legends Gallery
Lik Fine Art
Mangelsen Images of Nature
Martin Lawrenece Galleries
Modernist Cuisine
Michael Seewald Gallery
National Gallery of Fine Art
The Shop La Jolla
Siler Fine Art Gallery
Simic Galleries
Sotheby's Int'l Real Estate
Thumbprint Gallery
Yiddishland California
The casual and creative nature of the event makes it one of the best date night ideas in San Diego, and also an excellent stop on an art lover's itinerary in La Jolla.
First Friday Art Walk is always free to attend, but the organizers ask that attendees register for the event before they go. As a bonus, you'll also receive a free parking permit provided by ACE Mobility!
The event kicks off at 4 p.m. on Friday, Sept. 1 and will last through 7 p.m. After registration, attendees will receive a digital map, which is also available in physical form at any participating gallery.