24-Hour Dispensaries In San Diego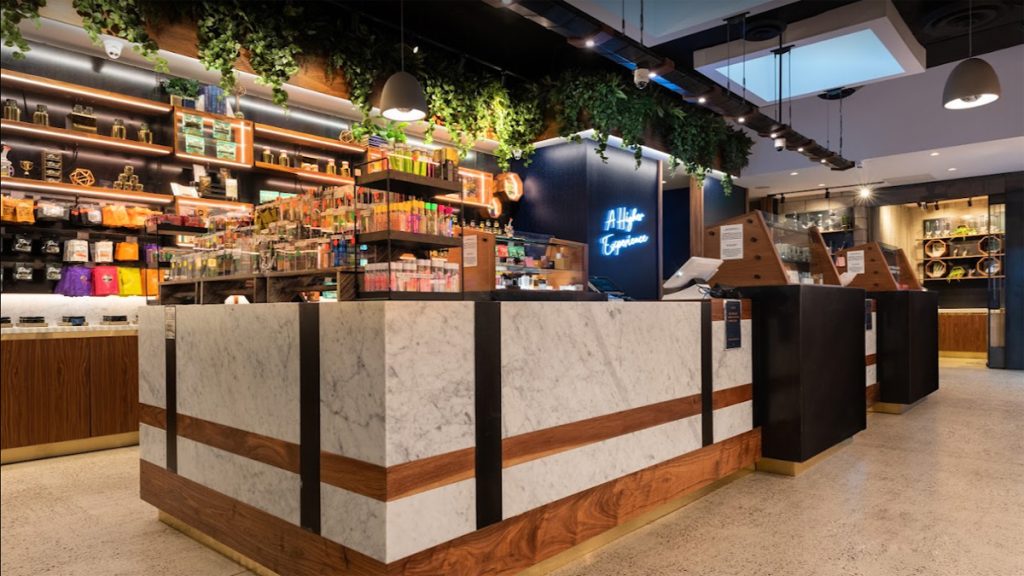 This post is part of our Best Dispensary in San Diego series, sponsored by Cannabist.
Picture it. It's 3:00 a.m., your chronic pain or anxiety has kicked in full force, and you discover you are out of marijuana. Or perhaps you're visiting San Diego and realize you didn't pack your supply. In either scenario, you have options. Thankfully, there is a 24 hour dispensary in San Diego where you can replenish your cache without experiencing any gap in your comfort.

Furthermore, many of our dispensaries provide weed delivery in San Diego. So, whatever your situation or condition, San Diego can provide you with the marijuana you need – when you need it – no matter what the hour might be.
Best 24-Hour Marijuana Dispensaries in San Diego
If you're a resident of San Diego, you know that marijuana can be easily obtained. But are you familiar with what it takes to make the best dispensary in San Diego? And if you are traveling to this area, do you know where the dispensary in San Diego near the airport is located?
From selecting a reputable La Jolla dispensary to shopping yummy marijuana gummies in Carlsbad, this guide will help you navigate and select the best weed dispensary in San Diego for you. And while you're choosing the right dispensary, don't forget to experience all the beauty and bounty of San Diego's entertainment, food, and wine scene!
Tru High Class
Located in the charming, beachy, "gateway city" of San Diego known as Oceanside, Tru High Class has a mind-blowing array of marijuana products. You can easily shop for anything you need on their website, or you can even text them your order. From private reserves to scrummy edibles, Tru High Class offers quality and variety. Be sure to ask about their VIP THC membership club to receive discounts and deals each month.
Address: Oceanside, CA 92054
Phone: (760) 773 – 8600
Hours: Open 24 hours, 7 days a week
Carlsbad Dispensary
This 24 hour dispensary in San Diego is unique in that they are a 100% delivery-based service. This could be convenient if you're strapped for transportation or prefer purchasing your supply discreetly. Carlsbad Dispensary receives high stars for their speedy marijuana delivery and they pride themselves on great quality products. They offer a diverse range of items, including hybrid marijuana blends, glass pipes, and pre-rolled smokables.
Address: No address – delivery service only
Phone: (858) 752-9311
Hours: Open 24 hours, 7 days a week
Delta 8 Marketplace
As their name implies, this dispensary offers the best Delta 8 products on the market. Located next to the McClellan-Palomar Airport, their location is a convenient trip on Interstate 5 North. Or, if you prefer, Delta 8 can ship your selections directly to your front door. Choose from edibles, tinctures, smokables, topicals, beverages and more. They carry various different brands other than D8, including OMG420, CBDism, and D Squared.
Address: 2150 Palomar Airport Rd., Ste. 203, Carlsbad, CA 92011
Phone: (281) 612-1660
Hours: Open 24 hours, 7 days a week
Finest Weed Delivery
Located in a quiet, palm tree-lined residential area in University Heights, Finest Weed Delivery does offer curbside pickup, but they really shine with their delivery service. Reviewers on Yelp rave about their quick service and fast dispatch times. This weed dispensary in San Diego offers a range of quality recreational and medical marijuana. So, whether you need CBD oil, cartridges, concentrates, flowers, or edibles, Finest Weed Delivery will have it at your front door 24 hours a day.
Address: 4380 Mississippi St., Ste. 5D, San Diego, CA 92104
Phone: (619) 768-2648
Hours: Open 24 hours, 7 days a week

Additional Dispensaries Worth Considering in Central San Diego
Balboa Park, the Gaslamp Quarter, and the San Diego Bay are all top-notch attractions in Central San Diego. If these and other destinations don't inspire you, then certainly the high-end marijuana dispensaries in this area will. So, if you're looking for a cultured experience at a walk-in dispensary in San Diego or a convenient, quick pick-up – Central San Diego marijuana dispensaries are sure to suit your needs.
Cannabist San Diego
Since 2019, the Cannabist has been serving up the highest standard of medical and recreational marijuana products. Located on De Soto Street in an ultra-posh modern building, the Cannabist shop is a delight to experience. They are committed to educating their customers about all the amazing uses of marijuana. With their customer-friendly staff and a passion for their products, the experts at Cannabist are both welcoming and knowledgeable. While they are not open 24 hours, the Cannabist is definitely a shop worth visiting. Browse their virtually endless array of marijuana products; from superior buds, flowers, pre-rolls, edibles, marijuana seeds the Cannabist San Diego is your one-stop-shop for all your cannabis requirements. They do have ample parking but note that parking is just past their building to the right of the entrance.
Address: 4645 De Soto St., San Diego, CA 92109
Phone: (858) 324-5130
Hours: Mon – Fri 7 a.m. – 9 p.m.
Sat – Sun 8 a.m. – 9 p.m.
THCSD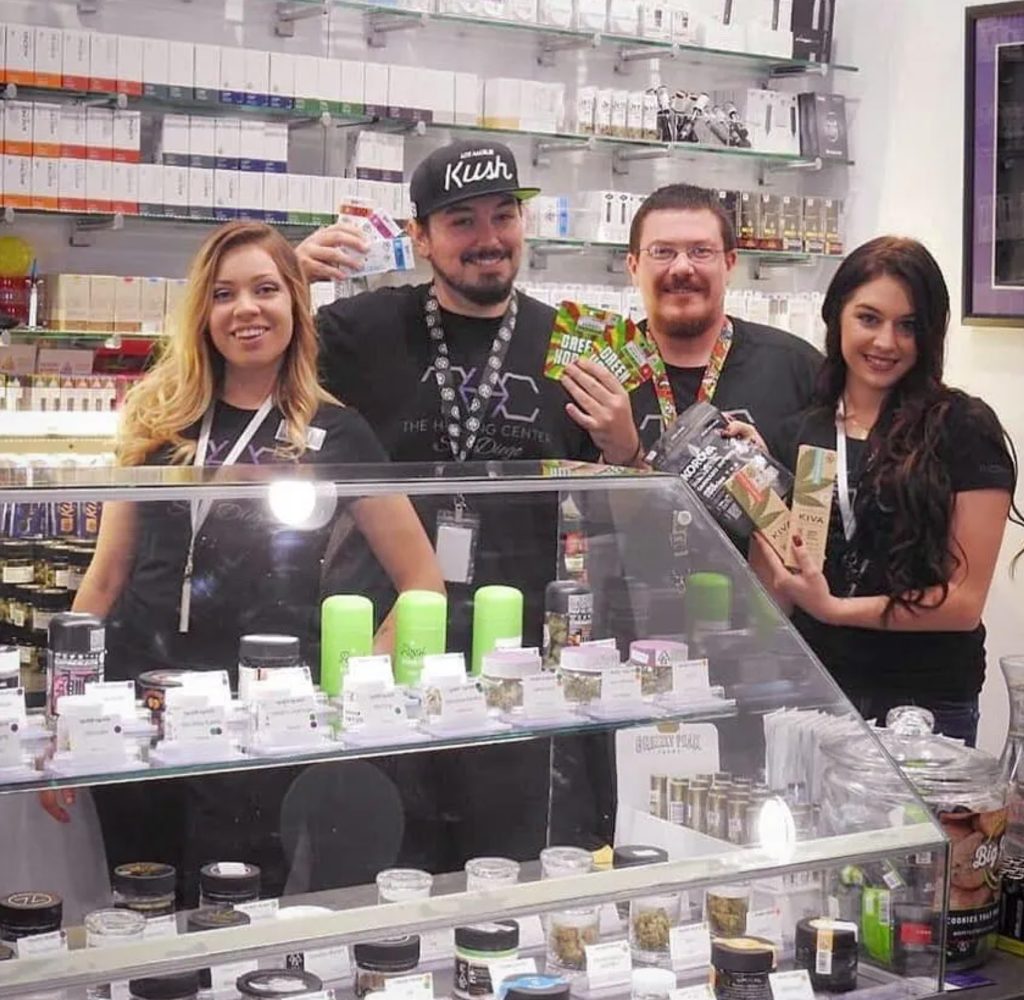 While not exactly open 24/7, The Healing Center San Diego is open early and open late 7 days a week, so you can make a pit stop on the way to work or after a long day to reup on some potent flower and product. Need some edible citrus mints from Petra to freshen up your breath and clear your mind? How about a Cranberry Sage THC/CBD edible drink from Cann to cool you down after an arduous workout? THCSD has got you, and they do not disappoint.
Address: 3703 Camino del Rio S #215a, San Diego, CA 92109
Phone: (858) 324-2420
Hours: Mon – Sun 7 a.m. – 9 p.m.
March and Ash
Tucked in the tranquil hills of the Mission Valley area, March and Ash is a treasure for any marijuana enthusiast. Conveniently accessible from Interstate 8 or 85, their building is both stately and welcoming with plenty of parking. March and Ash features a high-end shopping experience with superior lines of all manner of marijuana products. Choose from a staggering selection of accessories, topicals, marijuana merchandise, flowers, capsules, and more. Their store is certainly worthy of shopping, and don't miss their "clone wall" showcasing beautiful emerald plants. However, if you can't visit in person, they do offer curbside pickup, delivery service, and you can opt to shop online or by phone.
Address: 2835 Camino del Rio S, #100, San Diego, CA 92108
Phone: (619) 314-7336
Hours: Mon – Sun 7 a.m. – 9 p.m.

Goldn Bloom
Touted as the finest and best dispensary in San Diego, Goldn Bloom invites you to stop by and judge their merit for yourself. Located near the Gaslamp Quarter and San Diego Airport, and easily accessible from either Interstate 15 or Martin Luther King Jr. Freeway, the Goldn Bloom building is well-lit, clean, and inviting with ample parking. Family-owned and operated since 2017, Goldn prides itself on excellent customer service. Their knowledgeable staff are extra committed to educating their customers and motivated by rendering complete satisfaction. They offer an eye-popping scope of products from smokeables to edibles, paraphernalia to apparel.
Address: 3385 Sunrise St., San Diego, CA 92102
Phone: (619) 955-5540
Hours: Mon – Sun 7 a.m. – 9 p.m.
San Diego Recreational Cannabis
Established in 2018, SDRC calls the quiet, quaint area of Mission Valley its home in an easily accessible shopping center off Interstate 8. Their sparkling clean and smartly laid-out store on the second floor is definitely worth the trip. However, they have recently expanded their delivery service territories, including delivery to Clairemont and outlying regions. They are providing quality marijuana products in almost every zip code in the San Diego area (minimum purchases apply according to delivery location). Their product line is impressive; from flowers, clones, or extracts, SDRC is a trusted source for all your marijuana needs.
Address: 1299 Camino Del Rio South, San Diego, CA 92108
Phone: (619) 906-5546
Hours: Mon – Sun 9 a.m. – 9 p.m.
Choosing The Right Dispensary For You
Whether you are looking for a dependable 24 hour dispensary in San Diego, or seeking an immersive experience at a walk in dispensary in San Diego, you're sure to find what you're craving from this curated list. And while you can buy weed in nearby states such as Arizona dispensaries, SD offers some of the best marijuana services in the country. To be sure, San Diego is a gem of all things unique, eclectic, and forward-thinking. And marijuana suppliers in the area are all of these things and more.
Whatever delights and excites you is right at your fingertips in America's Finest City, and we invite you to sample all the vibrant experiences we have to offer you. And remember, many San Diego dispensaries offer discounts too – from veteran, senior, frequent buyer, or teacher discounts, be sure to know before you go to save money on your purchase. So, as you take a tour of our many respectable and reputable marijuana providers, why not expand your exploration to our food and wine tours too? What are you waiting for? All the sensations and wonders of San Diego await you!
---

The hero image in this article is courtesy of Gocannabist.com/location/san-diego/