Your Guide for San Diego Marijuana Laws 2023 Edition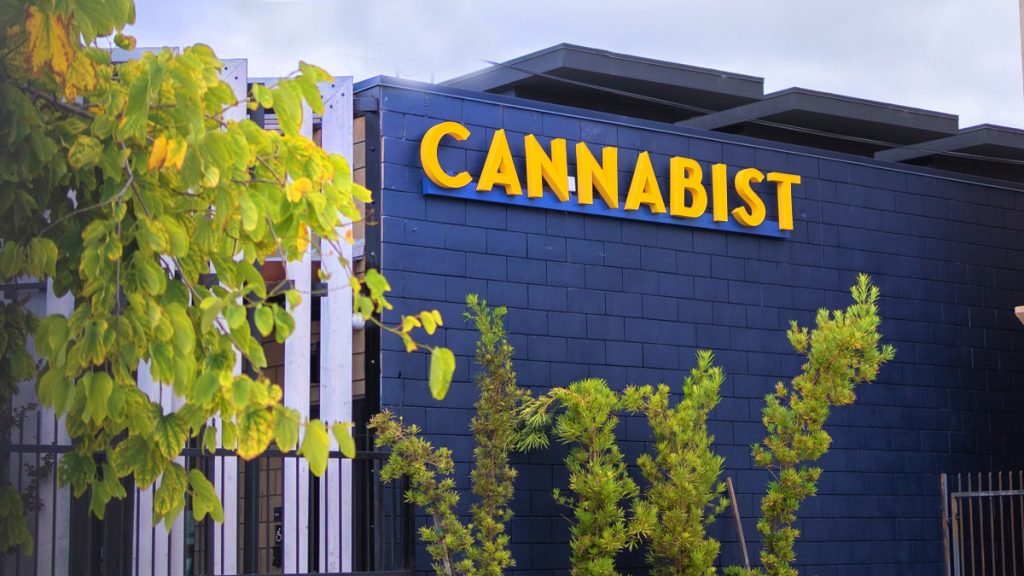 This post is part of our Best Dispensary in San Diego series, sponsored by Cannabist.
As many people already know, cannabis is legal for recreational use throughout the State of California. However, you may want to think twice before you fire up a joint while relaxing at a café in La Jolla Village, as the specifics of the Adult Use of Marijuana Act vary based on jurisdiction. Yes, weed is legal in San Diego, but there are some things you should know about the laws.

What to Know About San Diego Marijuana Laws
Let's start with a disclaimer: At the time of this writing, these are the San Diego marijuana laws as we understand them. However, California drug laws are subject to change, and we're not attorneys. Got it? Okay, let's go.
In San Diego County, possession of marijuana under 28.5 grams (or concentrated cannabis under 8 grams) is legal, provided you are at least 21 years of age. Additionally, it's legal for adults over 21 years of age to purchase or possess cannabis accessories. But you would still be subject to arrest for possessing larger amounts of marijuana.
Of course, medical research has shown marijuana to have medicinal benefits, so the San Diego medical marijuana laws are more relaxed. For instance, CBD for the elderly can be beneficial as an alternative method of treatment. Additionally, San Diego County medical marijuana laws permit the possession of cannabis for 18- to 21-year-olds who have a valid prescription.

Owning and Using Marijuana/ Cannabis Products
If you are new to California or find watching the news boring, you may wonder about the specifics of the Adult Use of Marijuana Act. While it's widely known that California has legalized marijuana, it's still important to understand the specifics of this legislation.
Also known as Proposition 64, the Adult Use of Marijuana Act was passed in California in 2016 and officially became effective in January 2018. The passage of Proposition 64 decriminalized recreational marijuana use for adults over the age of 21. This Prop also mandates a lot of other specifics such as the legal amount of possession, cultivation, and weed tax regulations.
Yes, you can kick back at home in front of the television and smoke a joint while you watch the San Diego Chargers nail their opponents. You can even possess marijuana seeds. But be mindful as there are still restrictions in place, especially with regards to California marijuana laws San Diego, as there are some strict policies to abide by.
Say, for instance, you are over 21, have a legal amount of marijuana in your possession, and are ready to head out for a day on the La Jolla Shores Beach, you still need to hold off and wait a minute before you consider smoking a joint while sunbathing. San Diego marijuana laws are strict with regards to where it is legal to consume cannabis.
In San Diego, it's illegal to consume marijuana in public places. Although you can use cannabis in the comfort of your own home, landlords and business owners have the authority to prohibit cannabis use on their property. Also, cannabis use is restricted within a thousand feet of schools and daycares.
Not meaning to blow your buzz, but it is still illegal to consume marijuana in public places, so you won't be able to smoke a joint after finishing your delicious meal at George's at the Cove. You'll need to hold off until you return home or get back to your hotel room.
And yet, you still need to double-check with your landlord or hotel manager beforehand. Although marijuana is legal for recreational use, businesses and landlords continue to have the right to ban cannabis use on properties they own.
Additionally, cannabis use is restricted within a thousand feet of a school or daycare center, especially when children are present. Also, if you are new to the San Diego area and are still applying for jobs, your employer may still have a policy in place that prohibits employees from engaging in marijuana use.
Growing Marijuana & Cannabis Products
If you plan on growing pot plants on the balcony of your San Diego condo, you may want to think again. Although it is legal to cultivate a maximum of six marijuana plants for personal use, you are required to grow your plants in a locked room out of public view. Hey, at least you can make good use of that walk-in closet!
Also, keep in mind that cities and counties retain the right to prohibit the outdoor growth of marijuana plants, and property owners may also ban the cultivation of marijuana plants. Of course, you can always just play it safe and stick with CBD oil in San Diego.
Selling Marijuana & Cannabis Products
While Proposition 64 does legalize recreational cannabis use, strict San Diego marijuana dispensary laws regulate local cannabis outlets, production plants, and testing facilities.
The passing of Proposition 64 doesn't mean that you can legally sell marijuana on the street corners or to your buddies down at the San Diego State University. San Diego marijuana laws prohibit the unlawful sale of marijuana and cannabis products. It is only legal to purchase cannabis products at licensed retail outlets, such as Cannabist San Diego, our choice for the best dispensary in San Diego.

Carrying & Possession
Although it may be tempting to stash a bag of marijuana in your suitcase as you prepare to head home after your La Jolla vacation, this is yet another scenario in which you need to think twice. While cannabis may be legal in San Diego County, California, that doesn't necessarily mean that you can take marijuana home as a souvenir.
It is against the law to bring any amount of cannabis across state lines while traveling. Cannabis possession is also restricted on federally owned properties, including federal parks within the State of California. Additionally, it is classified as a DUI to drive under the influence of cannabis and unlawful to possess an open cannabis container in a vehicle.
Okay, so maybe it's a better idea to take a T-shirt from the Hi Sweetheart Gift Boutique home with you as a souvenir after you have enjoyed the breathtaking sunsets throughout your La Jolla vacation. While you can transport marijuana home with you in a car, provided you reside in California, transporting cannabis across state lines is strictly prohibited under San Diego marijuana laws.
When it comes to DUI laws, the rules are similar to driving while drunk. If you are high, call an Uber or have a friend pick you up. And if you are bringing marijuana back to your hotel room or condo, your stash should be secured in your trunk or sealed in a container. It's also wise to remember that cannabis laws do vary between counties.
Rolling It Up
You may have been under the impression that the marijuana laws in San Diego are laid back. After all, California has legalized cannabis for recreational use, and you can purchase it anywhere around Pacific Beach to areas around downtown. However, rules continue to stay in play to make sure that marijuana is used safely and responsibly.
If you are planning on visiting, you may want to check out some local dispensaries, such as Cannabist San Diego, which is our vote for the best dispensary in San Diego, or Urbn Leaf, which is also highly recommended by locals. Another well-loved dispensary that you may want to stop at is the March and Ash.
Sure, the San Diego marijuana laws may be a slight buzzkill, but they are enforced so that we may all continue to live in a beautiful and safe community where people love to vacation, work, live, and raise families.
The banner image in this article is courtesy of Cannabist in San Diego.