Visit SeaWorld

SeaWorld
SeaWorld San Diego is the epitome of all things ocean. It's an oceanarium, an aquarium, a marine mammal park and an ocean-themed theme park. This inspiring place, founded in 1964 by 4 UCLA graduates, started with the simple idea of creating an underwater restaurant.
For a complete and comprehensive guide to Sea World San Diego, visit our Sea World page! And don't forget to snatch up the best Sea World vacation package discounts here! And if you're a veteran, you can take advantage of SeaWorld's military discounts.
Over 40 years later, it's now proud to host approximately 4 million visitors each year and push on with it's mission to further wildlife species conservation. With all proceeds going back to helping and saving animals and conducting critical research, SeaWorld is doing exactly that.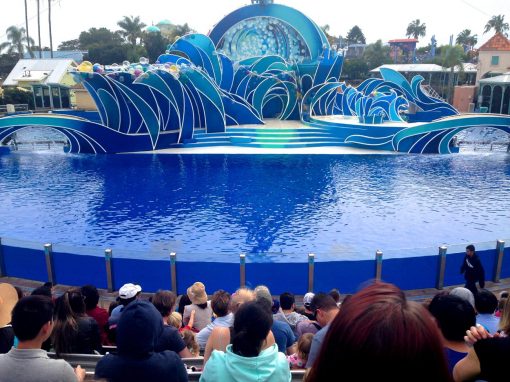 The Animals
It is incredible to think that you can walk up to a glass wall and be within inches of some of the world's most awe-inducing creatures. The focus on marine life and care here let this experience happen.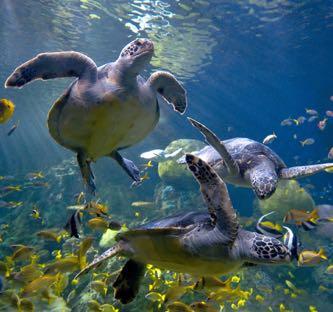 There are exhibits featuring fan-favorites like killer whales, bottlenose dolphins, beluga whales, penguins, sea turtles, sharks, stingrays and more. Some people are surprised to find that SeaWorld has more than just aquatic life too. You can see land animals like armadillos, parrots and at Christmas time…live reindeer!
The Rides
This park is the ultimate way to combine a love of animals and thrills. There are plenty of rides that are tame enough for really young kids, as well. Some of the most popular rides include:
– Manta (a compact coaster with surprising, supreme speed)
– Journey to Atlantis (which will have you running to get in line for round 2)
– Shipwreck Rapids (upon which we recommend ponchos for staying dry)
– Wild Arctic (which virtually takes you to across the world!)
The Shows
With running from animal-to-animal and ride-to-ride all day, SeaWorld wants to let you kick up your feet and allow them to entertain you! Their top shows include:
– One Ocean (the new Shamu Show featuring your favorite killer whales)
– Blue Horizons (which features a beautiful line up of dolphins and birds)
– Sea Lions LIVE (a comedic show featuring the hilarious and ever-playful sea lions)
– Pets Rule! (This show spotlights pets and turns them into athletic superstars!)
Add On Experiences
Your ticket includes all of the animal exhibits, aquariums, rides and shows detailed above. Still hungry for more? There's exclusive opportunities available to learn more about the park and the great animals within it, such as behind-the-scenes guided tours and animal interactions like the penguin encounter. You can even schedule a date to dine with the majestic killers whales in "Breakfast with Shamu" or "Dine with Shamu" adventures.
Food
Speaking of dining, there are many places throughout the park that serve food for a variety of needs, including vegetarian and gluten-free options. This park is very conscious about food allergies, and SeaWorld encourages you to ask for the supervisor, who will be happy to clarify your dietary needs.
If you prefer to bring your own lunch, it's important to note that no outside food is admitted into the park. However, there are picnic areas located conveniently out front. If you go for this option, we recommend packing a cooler in your car, heading out to grab it when hungry, lunching on the picnic benches and simply re-entering the park after. (Just make sure to get your hand stamped on the way back out!)
Seasonal
SeaWorld believes that fireworks are too magnificent to be saved only for the 4th of July. You can watch the sky light up about 8:30 pm on select dates from the end of May to the beginning of September.
The park goes all out for other holidays too, such as its Halloween Spooktacular in October and holiday magic in its Christmas Celebration. The shows and decorations reflect each of the holiday's mood and will have your holiday spirit soaring! Read more about how to purchase our Seaworld San Diego tickets and general information you should know before going into the park.
Side Note
Much of the controversy surrounding Sea World has come from a documentary only showing one side and perspective. This organization and the people that work for it truly love and support the animals inside. This care and love can be clearly seen by all the team in the park. We encourage you to forget the drama, forget the politics and purely enjoy your time here!