Find Satisfaction in Your Career: The Best Companies in San Diego in 2023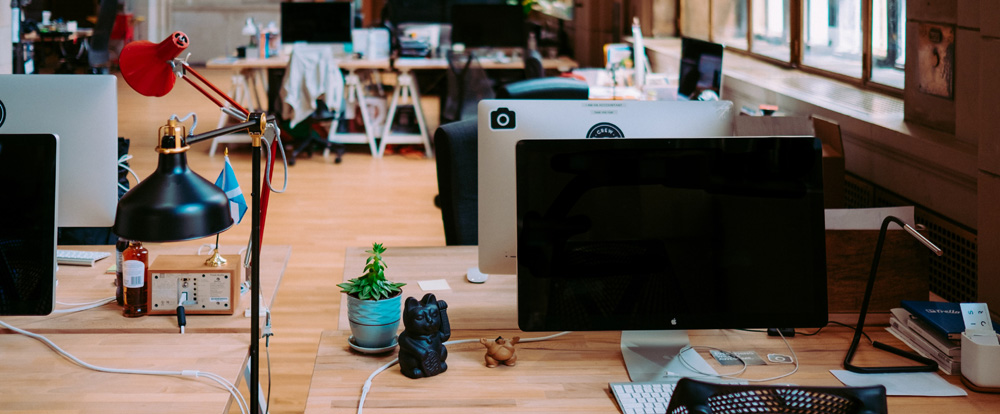 Whether you're looking for a new job or a whole new career, San Diego's job market offers variety and room to grow.
San Diego County is home to thriving medical, science, biotech, and consumer electronics industries; do the names Kaiser Permanente, Salk Institute, Pfizer, and Sony ring a bell? And that's not all. Our county is also home to tech startups, marketing companies, one of the original fast food companies, and at least one famous soap company. (That's Jack in the Box and Dr. Bronner's, respectively.) And thanks to the year-round mild climate, the hospitality industry needs employees year-round.
Whether you live in San Diego are are planning to relocate to America's Finest City, it's always a great time to bust out job applications, spruce up your cover letter and LinkedIn profile, and get moving with the interview process. As a potential applicant, you've probably combed through motivational Instagram accounts and even came to a decision on the best business newsletter to subscribe to as you advance your career. Well, we've generated a list of the best companies to work for in San Diego in 2023, so you can save your sweat and tears for resume revisions and rejection letters. All jokes aside, if you are planning to relocate in the new year, consider moving to San Diego as the job opportunities are growing daily and there is something out there for everyone.
Find Satisfaction in Your Career With the Best Companies in San Diego
The best places to work in San Diego are fortunately all over the map, so whether you are looking for a relatively short commute, something on the coast, or a remote-only work with flexibility to come into the office on occasion, you've got plenty of options. If you are looking for companies that lay focus on particular areas such as health and wellness, work-life balance, mental health, etc., try scoping the web for employee engagement in wellness programs.
In recent years, we have seen a huge shift in focus on mental health in the workplace, and it has drastically changed the way employees operate in their day-to-day, both on the job and off the job. Employee mental health is another important thing to consider when looking for positions, so when browsing potential dream jobs on company websites, make sure you do a proper evaluation of what values are most important to you and what you are looking for from an employer.
The number of outstanding companies in the area is of course a bit longer than the list we've constructed below, but we've made sure to include some of the best companies to work for in San Diego; take a look and see if any excite you.
Best North County Coastal Companies to Work For
As some could guess, some of the best jobs in San Diego are right along the coast. What a better way to de-stress and shrug off the day than to take a stroll alongside the ocean, soothing your worries with every ebb and flow of the Pacific's waves. For those living in North County Coastal or interested in working in this area, here are a few spectacular companies worth mentioning.
Scripps Health
Want great PTO, vacation benefits, pay and a stellar working environment? Scripps Health–which is right off the 5 at Rancho Sierra Medical Group and due North of Encinitas Community Park–might be the choice for you. If you're a hard working with a desire to learn, Scripps has plenty of opportunities, is flexible, and offers upward mobility. To encourage growth, they also offer tuition reimbursement and lay a major focus on teamwork. Scripps is a wonderful place to get your foot in the door, and management is dedicated to helping you succeed.
Address: 354 Santa Fe Dr, Encinitas, CA 92024
Phone: (858) 847-6600
Hours: Mon – Fri, 7 a.m. – 7 p.m.
Closed Saturdays & Sundays
MarcomCentral (Formerly known as PTI Marketing Technologies)
Who doesn't want an office overlooking the ocean? Steps from Fletcher Cove Beach Park and Culture Brewing off of Lomas Santa Fe Drive in Solana Beach, you'll find MarcomCentral. MarcomCentral provides web-to-print and marketing personalization solutions to enterprise users and print service providers to use their brand resources more efficiently. If you want to work in a dog friendly environment with work from home flexibility, access to learning opportunities and conferences, and a benefits package that includes, 401k and healthcare, MarcomCentral is worth considering.
Address: 201 Lomas Santa Fe Dr Ste 300, Solana Beach, CA 92075
Phone: (800) 220-1727
Hours: Mon – Fri 8 a.m. – 5 p.m.
Sat: 9 a.m. – 7 p.m.
Closed Sundays
ImprimisRx Pharmaceuticals
Just North of Torrey Pines State Reserve and South of Carmel Valley Recreation center, you'll find ImprimisRx, a specialty pharmaceutical company focused on development and commercialization of proprietary and novel sterile and topical drug formulations. At ImprimisRX employees have the ability to learn new skills and advance in the healthcare and pharmaceutical industry, and work in an inclusive environment where there is support from management. If you are goal-oriented, driven, and thrive in a fast-paced environment, Imprimis is growing rapidly, looking to add talented individuals to the team. If you are looking to go for the living organisms vs. pharmaceutical route, however, the "best biotech companies to work for in San Diego" is just a quick google search away.
Address: 12264 El Camino Real #350, San Diego, CA 92130
Phone: (844) 446-6979
Hours: Mon – Fri, 8 a.m. – 5 p.m.
Closed Saturdays & Sundays
Best North County Inland Companies to Work For
If you are Inland of North County and don't want to make the trek to work, there are still plenty of opportunities out there that are looking to expand their team. As such, we've highlighted a few fantastic companies in North County Inland.
Dr. Bronner's
If you're not already familiar with the personal care line Dr. Bronner's, famous for their iconically packaged "All-in-One" certified fair-trade organic products, you should pop on over to any convenience store and grab yourself one of their amazing castille soaps or regenerative coconut oils. Founded in San Diego, Dr. Bronner's manufacturing facility sits above Bressi Ranch, right below South Buena Vista Park and a block from Home Depot. Their motto is to treat employees like family, do right by customers, work hard, and treat earth like home. With incredible offerings including childcare assistance, Zumba classes, massages, free vegan lunches, and other programs in place to promote healthy living, this midsize family run business has unmatched opportunities for their employees and is definitely considered one of the best companies to work for in San Diego.
Address: 1335 Park Center Dr. a, Vista, CA 92081
Phone: (844) 937-2551
Hours: Mon – Fri, 7 a.m. – 3:30 p.m.
Closed Saturdays & Sundays
Qualcomm Inc.
If company culture is a make it or break it for you, Qualcomm is known for its innovation and workplace culture. Qualcomm is a tech company that pushes boundaries and uses innovative technologies to transform how the world connects, computes, and communicates. Those considering working here must be hardworking and capable of taking on challenging projects, with the possibility of working on tons of brand-new technologies. Qualcomm Inc. lies right off the 805 in Sorrento Valley in between Chick-fil-A and the Residence Inn by Marriott San Diego.
Address: 5775 Morehouse Drive
Phone: (858) 587-1121
Hours: Mon – Fri 10 a.m. – 7 p.m.
Closed Saturdays & Sundays
CentrexIT
Recognized as one of San Diego's best places to work, CetnrexIT prides themselves on transparency with their employees and clients, ensuring that they not only listen but also and implement suggestions from their employees to better their business and work environment. While they have a partially remote team, their home base is located in the town of Poway near Sportsplex USA, right near tons of gorgeous hiking trails. As a Computer Support Service, CetnrexIT's core values include care, leadership, accountability, service, and speed (C.L.A.S.S.), which they believe is critical for both internal (employees) and external customers (clients). These values are reflective of their ability to offer a good work/life balance for their employees.
Address: 12232 Thatcher Ct, Poway, CA 92064
Phone: (619) 651-8700
Hours: 24/7
Watkins Wellness Headquarters
Watkins Wellness is the world's leading manufacturer of hot tubs and aquatic fitness products. Their sole mission is to enhance people's lives and help them feel relaxed and rejuvenated, and you can expect the same for their employee standards. Watkins offers remote, hybrid, and onsite employment, and focus on celebrating their employees with award-winning wellbeing programs and other self-care oriented offerings. Their intensive training and development programs paired with their leadership enable employees to improve their skills in a variety of different avenues. If you want to grow both in your career and in your personal life, Watkins Wellness could be the move for you. Watkins is located in between Dr. Bronner's and the Belching Beaver pub near Green Oak Ranch.
Address: 1280 Park Center Drive, Vista, CA 92081
Phone: (760) 598-6464
Hours: Mon – Fri 8 a.m. – 5 p.m.
Closed Saturdays & Sundays
Best Central San Diego Companies to Work For
Some of the best companies to work for in San Diego are located very central to the city.
Power Digital Marketing Agency
With national (and sometimes international) household-name clients like Casper, Victrola, The Honest Company, Spanx, and Berkshire Hathaway Home Services, this is a digital marketing agency on the rise. They help clients with a laundry list of services, such as Public Relations, SEO, social media marketing, Pay Per Click advertising, influencer and affiliate marketing, Amazon selling, and email campaigns. If you're a major brand want you want to show up on the For You page of TikTok, this is the agency to work with. If your brand's website gets a ton of traffic but needs to generate more revenue, you call Power Digital. Do you get the picture? Besides being a rapidly growing company, Power Digital also makes our "best companies" list because they're a pleasure to work with, ranging from a hybrid work schedule with flexibility to allowing flexible room scheduling via a conference room scheduling app. Some of their mottos are "FITFO"–Figure It The F** Out (together)– and "Have fun and don't take yourself too seriously."
Address: 2251 San Diego Ave, San Diego, CA 92110
Hours: Mon – Fri 9 a.m. – 5 p.m.
Kaiser Permanente San Diego Mission Roads Wellness Headquarters
According to an online survey, Kaiser Permanente of San Diego enjoys 4.5 stars in employee satisfaction rank. That's 3% higher than most employee satisfaction rankings among other San Diego companies. Additionally, Kaiser offers great pay with competitive rates. This company has been a steady employer in the area for several decades. With its employee incentive packages, impressive benefits, and great work environment, Kaiser Permanente of San Diego is definitely a winner if you're looking for satisfying work with a well-respected company.
Address: 10990 San Diego Mission Rd, San Diego, CA 92108
Phone: (619) 528-5000
Hours: 24/7
Procore Technologies
Procore Technologies is another dog friendly office, known for the community they foster and sense of belonging their employees feel. They offer classes and programs to help employees accelerate, exceptional benefits programs, and value-driven paid time off. Their innovative construction management software allows construction companies to work more efficiently through cohesive communication and collaboration. If you are a tech buff, community-driven, and thrive in an environment where your coworkers are like family, Procore Technologies is a phenomenal place to work. They are located in the Gaslamp Quarter, so going out for an afternoon pick me up post work is easy and accessible.
Address: 707 Broadway Ste 850, San Diego, CA 92101
Phone: (866) 477-6267
Hours: Call for appointment
Best East County Companies to Work For
East County has their own share of solid companies to consider, though we really wanted to mention one in particular.
Sharp Grossmont Hospital
If you're a student, Sharp Grossmont is a lovely place to learn. Staff and management are eager to assist and offer help when needed, and ensure that employees are comfortable. Teamwork, discipline, and structure are core values of the employer, and you'll be sure to feel a sense of support when working there. Sharp Grossmont is located near Costco Wholesale in La Mesa, a short ways from Mission Trails Regional Park. If you need to take a load off after a late night or an long morning, nature is in close vicinity.
Address: 5555 Grossmont Center Drive, La Mesa, CA 91942
Phone: (619) 740-6000
Hours: 24/7
Best South Bay Companies to Work For
Believe it or not, some of the best jobs in San Diego are in East County. This is a very short list, but the possibilities are definitely out there.
Live Nation @ North Island Credit Union Amphitheater
Love events, concerts, and music? Live Nation has opportunities for those who want to get up close and personal with the chaos, action, and excitement that occurs at sporting events and world tours hosted at the North Island Credit Union Amphitheater. If you enjoy working flexible hours in customer facing roles, longer shifts, and don't mind standing for long periods of time, you may want to consider a position at this amphitheater. Live Nation understands the importance of work-life balance and hosts plenty of staff parties and social events throughout the concert season to give colleagues an opportunity to have fun and get to know each other. Some other perks include the opportunity to get up close and personal with first class talent, as well as free concert tickets.
Address: 2050 Entertainment Cir, Chula Vista, CA 91911
Phone: (619) 494-5600
Hours: Call for more information
H&R Block
Need a seasonal job so you can have flexible travel time? H&R Block has plenty of seasonal tax office jobs available, such as a tax professional, team leader, receptionist, or tax office support team member. Of course, this all depends on the time of year, so you'll want to double-check their website to see when their off season is. As one can imagine, working in a tax office job can be highly stressful, but the payoffs are worth it. H&R block has many incentive programs with opportunities for substantial bonuses as a result of good work, in addition to other benefits, free lunches, coffee, and a clean working environment. This particular location is just south of the border between California and Tijuana, Mexico, near in San Ysidro.
Address: 4635 Border Village Rd, San Ysidro, CA 92173
Phone: (619) 662-3840
Hours: Call for more details
You heard it here first, folks. If you are looking for a steady job with employee-friendly labor laws that offers upward mobility and a unique company culture at a badass business establishment, you'd be silly not to check through this list of the best companies in San Diego. Whether the industry itself is something you are particularly interested in or not, these companies have great opportunities and if your values seem to align, it might pay off to prep for an interview. You never know where you might end up.