The Best Dispensaries in LA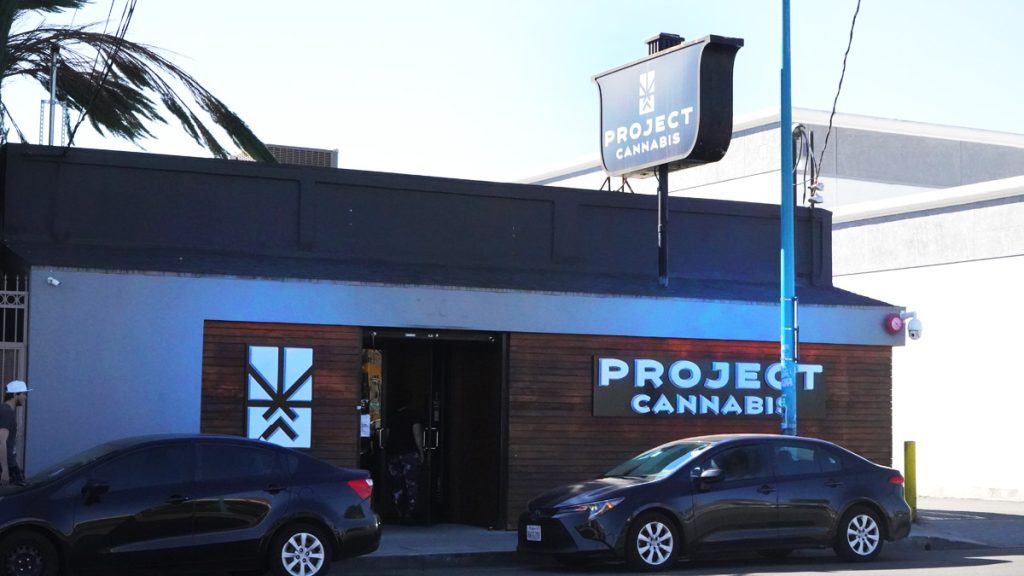 Every year since its legalization in 2016, the cannabis business has continued to grow at an impressive rate. Now, with more and more people growing cannabis and selling it at their brick-and-mortar and online dispensaries, it is important to know the reliable businesses around town. That way, you can be confident that you're patronizing one that can not only provide you with a great marijuana product, but can do so at a fair cost – and while maintaining a higher standard, too.
The Best Dispensaries in Los Angeles
Los Angeles is a truly diverse city, meaning that the numerous dispensaries across the city can easily cater to a wide audience. The city even has weed-friendly restaurants! That being said, each one will have its own strengths, but some should stand out as a "must visit" whether you are a local or someone visiting the City of Angels for the first time. If you're looking for the best dispensary in Los Angeles, then here are a few that made our list.
Find a Dispensary in North Hollywood, Los Angeles
North Hollywood is a truly diverse smattering of residential, art galleries, vintage bars and nightclubs, and more. Hidden among those businesses can be some true gems when it comes to dispensaries in North Hollywood, so be sure to spend some time browsing the vendors in this part of town.
Project Cannabis – North Hollywood
When it comes to marijuana dispensaries, it's safe to say that Project Cannabis is arguably the best dispensary in Los Angeles. As a powerful influence on the cannabis industry, this award-winning dispensary has earned more than fifty coveted Gold Cups from High Times, the trusted experts on quality THC and CBD products. With a focus on affordability and unmatched quality, Project Cannabis takes pride in putting their customers first with their ever-growing indoor cultivation business.
They have a few stores across the state, with one located right in the heart of North Hollywood off Magnolia Boulevard. With an inventory of outstanding marijuana products such as pre-rolls, tinctures, vapes, and edibles, and a staff that really caters to the needs, tastes, and desires of their clients, Project Cannabis sets the standard for customer service. If you're anywhere near this gem, you have to check it out. They are a true baseline of what to expect in your dispensary experience.
Address: 10842 Magnolia Blvd., North Hollywood, CA 91601
Phone: (818) 322-2177
Hours: Mon – Sun 7 a.m. – 10 p.m.
Find a Dispensary in Hollywood, Los Angeles
If you're coming from out of town, this is certainly what you came to see! This area of Los Angeles is the start of stardom for hundreds, dating back to before movies had sound. Besides all of the classic historical icons of film and some of the top weed dispensaries in Los Angeles, there is also a strong and thriving nightlife, supported by local foodie draws in Thai Town.
MMD Hollywood
MMD can confidently list themselves among the higher-rated dispensaries in the region, as they are also one of the ones with the most seniority. Established in 2006 as a medical dispensary, they were one of the first to offer recreational marijuana to Los Angelenos. The staff at MMD believe that each individual, whether an experienced cannabis user or a newbie, has a right to take charge of their own health. If you're too busy to stop in, though, they also are pleased to offer delivery to their customers.
Address: 1515 N Cahuenga Blvd., Los Angeles, CA 90028
Phone: (877) 420-5874 (KUSH)
Hours: Mon – Sun 8 a.m. – 9:45 p.m.
Find a Dispensary in West Hollywood, Los Angeles
Boasting some of the wildest and most buzz-worthy nightlife in Los Angeles, West Hollywood has a fine assortment of nightclubs, LGBT bars, restaurants, and architectural wonders. After a day of exploring it makes for the perfect place to land (or crash land), and how better to do it than with a few edibles or a nice smoke before bed?
The Artist Tree
The Artist Tree can claim its spot as being one of the more delightful dispensaries in Los Angeles because of its truly unique status as both an art gallery and a dispensary. What better way to pass an afternoon is there than to go pick up some marijuana and then to spend some time looking at artwork? It should be noted there is a lounge on the premises, but it is reserved for VIP customers.
Address: 8625 Santa Monica Blvd., West Hollywood, CA 90069
Phone: (310) 461-4134
Mon – Sun 6 a.m. – 9:50 p.m.
Find a Dispensary in Downtown Los Angeles
Downtown LA is a mix of the modern and old-school, with high rises situated near classic art centers and performance halls. As such, it makes for a gathering of people of all stripes, old and new, with plenty to do. One such blessing is an ample selection of dispensaries, as well as the best dispensary in Los Angeles, found in this region.
Project Cannabis Downtown LA
Project Cannabis can cheerfully boast of having two stores in town for your shopping convenience. Each store has its own items and menu, so those that frequent the store in North Hollywood might want to check out their downtown location to see if there are any deals you might be missing. Their expert budtenders are always eager to help their clients, and they're more than willing to answer your questions about the strains they sell.
You don't have to spend an exorbitant amount of money to enjoy quality marijuana, either. Project Cannabis is arguably the best-priced dispensary in Los Angeles, as well as the friendliest, and their popularity shows it. Project Cannabis also runs Cannabist San Diego, so if you are ever exploring the regions away from LA but still need a cannabis pick-me-up, be sure to stop in and browse their selection of award-winning marijuana.
Address: 1555 Newton St., Los Angeles, CA 90021
Phone: (213) 493-4500
Hours: Mon – Sun 7 a.m. – 10 p.m.

Find a Dispensary in Venice, Los Angeles
The canals of Venice have been transported from the namesake to the small beachside town. Whether you are out for a day on the beach, visiting a nearby skate park, or are visiting some of the foodie hot spots, this location makes for a great pit stop to refill any weed that may have been used throughout the day.
Boutiq Dispensary
Boutiq Dispensary is a high-quality brand that offers only the finest cannabis to its customers. They seek to provide a unique and friendly shopping experience for both new and experienced cannabis users alike. As such, they rank as one of the best weed shops in LA, although be aware that high quality sometimes comes at a high cost. For more details about their exceptional buds, be sure to pay them a visit during their business hours.
Address: 1423 Abbot Kinney Blvd., Venice, CA 90291
Phone: (424) 280-4052
Hours: Mon – Sun 10 a.m. – 10 p.m.
Dispensary in Silver Lake, Los Angeles
No place better welcomes those who use marijuana than Silver Lake. In a nutshell, Silver Lake embodies the funky, hipster lifestyle, offering wonderful places for both recreation and work. With so much diversity and culture, you can expect to find some real gems of dispensaries here.
Green Earth Collective
Green Earth Collective is a growing brand that strives to offer a high-quality product by controlling the product, from seed to the moment it hits the shop. The Collective is focused on making customers aware of the benefits of cannabis, both recreational and medical, and finding a product to suit their needs. The next time you're on York Boulevard, be sure to swing by this Los Angeles dispensary and browse their inventory of cannabis strains.
Address: 4801 York Blvd., Los Angeles, CA 90042
Phone: (323) 349-0949
Hours: Mon – Sun 9 a.m. – 9:45 p.m.
Dispensary in Beverly Hills, Los Angeles
As Weezer can attest, even the rich and famous have problems, and what better way to take the edge off than a bit of weed? In all seriousness though, Beverly Hills is a thriving home to many celebrities and beautiful homes, so if you're in the area trying to find a star or starlet, consider making a quick pitstop first
BARCCBH
BARC Collective is a fine marijuana establishment located right along Vicente Boulevard, so it's an easy stop when you're out sightseeing. They select products from some of the best brands and names on the cannabis scene, making them one of the best dispensaries in LA. If you're nearby and need a break from hunting down your idol, BARCCBH is ready to serve you.
Address: 432 S San Vicente Blvd. #100, Los Angeles, CA 90048
Phone: (855) 227-2420
Hours: Wednesday-Sunday, 7 a.m. – 10 p.m.
Dispensary in Santa Monica, Los Angeles
Home to Muscle Beach and the Santa Monica Pier Aquarium, the walkways near Santa Monica distinctly set it apart from the other beaches in LA. With all it has to offer to tourists and locals alike, it should certainly be on the top of any visitors list. And while visiting, a trip to the following dispensary would be well worth your time!
Erba Markets
Erba truly marks itself as one of the finest dispensaries in Los Angeles by focusing on word-of-mouth recommendations. And well deserved it is, as it focuses on curating top brands and having staff who are knowledgeable about the product. If you're done with a workout or out for a stroll on the beach, be sure to stop by and check out their selection of cannabis products.
Address: 12320 W Pico Blvd., Los Angeles, CA 90064
Phone: (310) 207-1900
Hours: Mon – Sun 8 a.m. – 9:50 p.m.
Dispensary in Echo Park, Los Angeles
Central to Los Angeles and a frequent pass-thru, Echo Park is a neighborhood that can be overlooked – but shouldn't be. For experienced visitors or locals, this simply means that there are shorter lines and less congestion when visiting its shops, eateries, and of course, dispensaries.
Starbuds 30 Cap
Located right off of Sunset Boulevard, Starbuds is the perfect place to quickly refill your cannabis stash if you are running low. They cater to both new and experienced people, but the focus seems to be on making new people feel comfortable and truly understand the experience. If it is your first time using weed, consider paying Starbuds a visit. It may not be the biggest dispensary in Los Angeles, but it's certainly among the best.
Address: 1160 N Logan St., Los Angeles, CA 90026
Phone: (323) 374-8626
Hours: Mon – Sun 9 a.m. – 11 p.m.
Best Dispensary in Westwood, Los Angeles
Home to UCLA, Westwood is best known for its extremely walkable neighborhoods and business areas, with a host of solid eateries and shops. After wandering around the quaint region, be sure to visit the dispensaries found here.
Sweet Flower
Sweet Flower is a tried and true, growing brand that has been on the scene – at least medicinally – since 2006. This shop focuses on diversity, inclusivity, and making your cannabis experience as personalized and catered as possible. They offer their own personal delivery to help ensure the product is of high quality. If you're near UCLA or just in Westwood, don't overlook this quality Los Angeles dispensary.
Address: 1413 Westwood Blvd., Los Angeles, CA 90024
Phone: (424) 499-0420
Hours: Mon – Sun 8 a.m. – 10 p.m.
FAQ About Dispensaries in Los Angeles
How Many Dispensaries Are in Los Angeles?
As of 2022, there are 187 licensed dispensaries in Los Angeles. This means that you can likely have access to legal weed in Los Angeles no matter where you are in the city, including quick and easy access to legal medical or recreational marijuana.
How Much Can You Buy at a Dispensary in LA?
You can buy up to six plants. Or, if you are planning to enjoy it right away (as many people are!) you can get up to eight ounces of cannabis. Any more than that and you could be in trouble with the law. However, dispensaries keep an eye on who comes in and out, so don't try and get tricky!
Can Anyone Buy From a Dispensary in Los Angeles?
Anyone over the age of 21 can buy cannabis in California. If you need more than eight ounces for medicinal reasons, you will need a medical marijuana card. This allows you access to the doses you need.
What Dispensary Has the Best Weed in Los Angeles?
Project Cannabis absolutely stands at the forefront when it comes to being the best dispensary in LA. They are a newer company. But, they have a growing client base and offer some of the best cannabis brands out there. They're not only the best dispensary in Los Angeles, though. They're also one of the more established dispensaries. Their friendly "budtenders" are always thrilled to share their knowledge with their clientele.
Enjoy Quality Cannabis in Los Angeles
Regardless of where you go or who you choose, be sure to keep in mind that any shop worth its salt should make you feel comfortable when you shop there. They should help you with choosing the right type and amount of cannabis to fit your needs and budget, and steer away from any dispensary that tries to force you to purchase more than you want or need.
When it comes to cannabis, there can be a lot of choices, and it can definitely get overwhelming for anyone who's new to enjoying marijuana. But with this list of the best dispensaries in Los Angeles in your back pocket, it'll be a breeze to choose a shop that makes you feel welcome and right at home when you walk through their doors.