Del Mar's Gourmet Food Truck Festival: The Full Review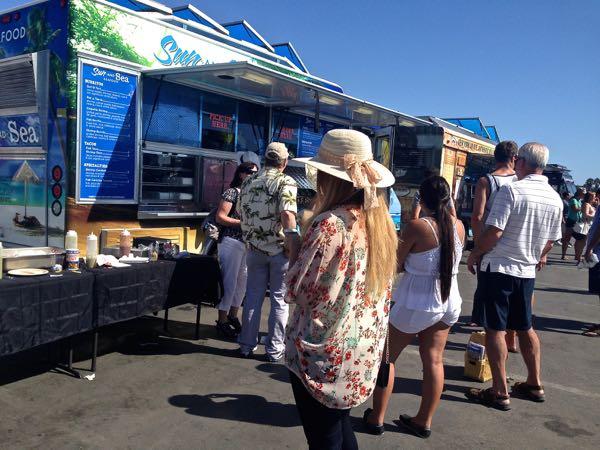 Del Mar's Gourmet Food Truck Festival: The Full Review
I arrived at the Del Mar Racetrack and, quite literally, followed my nose to the Gourmet Food Truck Festival.
The 5th annual festival, held Saturday, August 15th, hosted over 40 gourmet food trucks from the surrounding San Diego and Los Angeles area. There were many food trucks I'd heard of before, but not yet had the chance to try.
When we think food trucks and fair food, images of deep fryers often come to mind. I love french fries as much as the next person, but I was pleasantly surprised to encounter trucks that also offered options that were cool, refreshing and (can you believe it?) healthy.
Fresh Fish at Sun & Seafood
My first stop was Sun & Seafood, where I got to try the shrimp taco and fish ceviche tostada. Both were delicious but, because it was so hot, the cold and refreshing ceviche was the item that really hit the spot.
The Currywurst Truck
My 2 fellow festival goers opted for German food at the Currywurst Truck. This food truck was especially perfect for my friend who is vegetarian because Currywurst serves a vegetarian-friendly "bratwurst" that can satisfy the cravings of any non-meat eater. (Proof of how good it was? It had vanished from her plate before we even sat down.) They, of course, have plenty of very real meat options, as well.
Juice Wave SD
Continuing my own theme of light and cold, we headed to Juice Wave. This juice truck offers several types of organic and healthy juices, smoothies and acai bowls. Overcome by options, I asked the girl taking orders for her opinion. She recommended "The Hangover" and couldn't have picked better.
Coconut water. Carrot. Celery. Ginger. Green apple. I didn't drink the night before, but that didn't make me appreciate this nutrient-packed drink any less. Speaking of coconut water, Juice Wave even had full on coconuts packed with coconut water and meat. Island paradise, right here in Del Mar.
Juice Wave is definitely a spot I'll be returning to, most likely at their newly opened Mission Beach location.