Dispensaries Near Pacific Beach, CA

Pacific Beach is known for its vibrant atmosphere, pristine beaches, and playful nightlife. There is an abundance of restaurants, bars, and fitness studios that breathe life into every corner of the beach town. The nature of the landscape of PB also makes it the perfect paradise to engage in activities all across the board, including but not limited to: surfing, paddle boarding, beach yoga, wakeboarding, jet skiing, and golfing.
In recent years, dispensaries have been making major headway to get a storefront in the heart of the charming city. While there are only two dispensaries in downtown Pacific Beach, there are three other nearby locations where you can purchase prime marijuana in all shapes and forms, for both recreational use and medical purposes. Skip the Google searches and yelp reviews on where to buy weed in PB, and take a peek at our Pacific Beach Dispensary list below.
The Best 6 Dispensaries Near Pacific Beach
The best weed shops in Pacific Beach may be few and far between, but that's simply because it's all about quality over quantity. Real estate in the charming coastal city is hard to come by, so setting up a new dispensary takes years to become a reality. But you needn't worry about getting your hands on some Mary Jane if you catch yourself in PB on a Friday afternoon, in search of an afternoon delight.
If you're wondering where you might find the cleanest reefer to help everything from anxiety, social stimulation, sleep, and more, there's a special dispensary that can fulfill all of your marijuana dreams. From post shops to 24-hour dispensaries in San Diego, you are certain to find what you need.
So who takes the cake for the finest Pacific beach dispensary?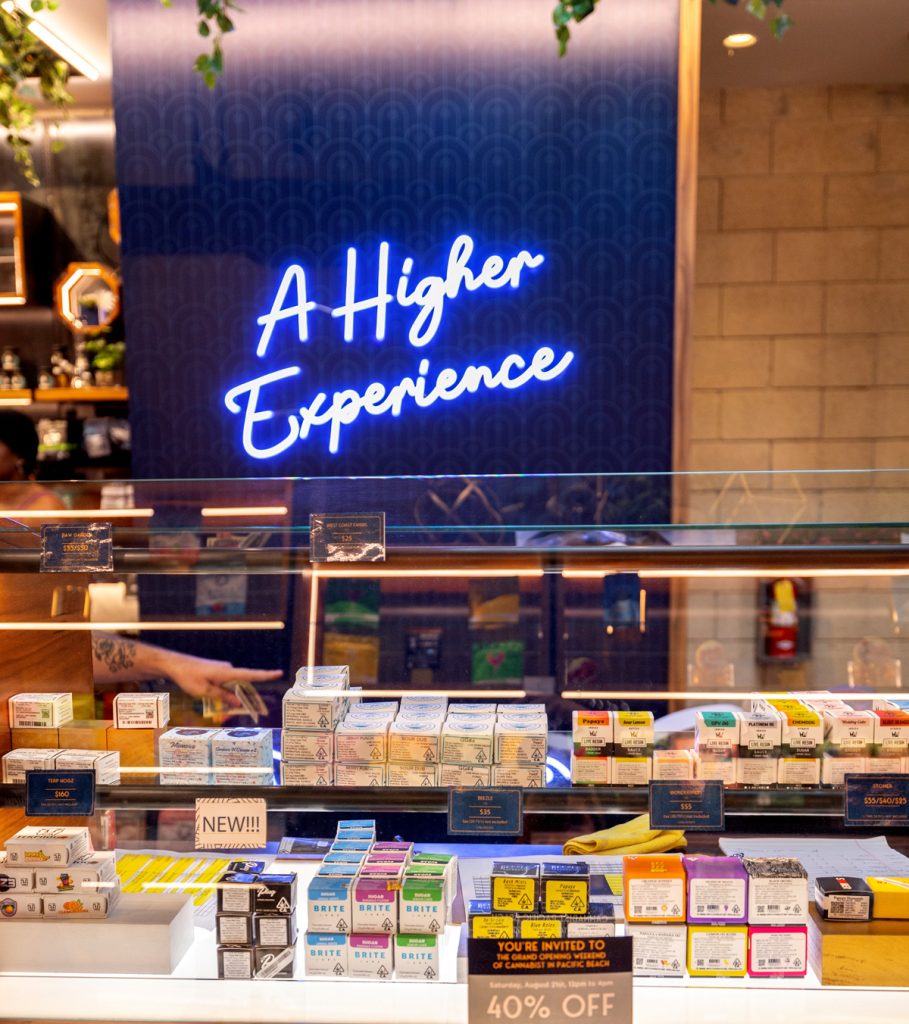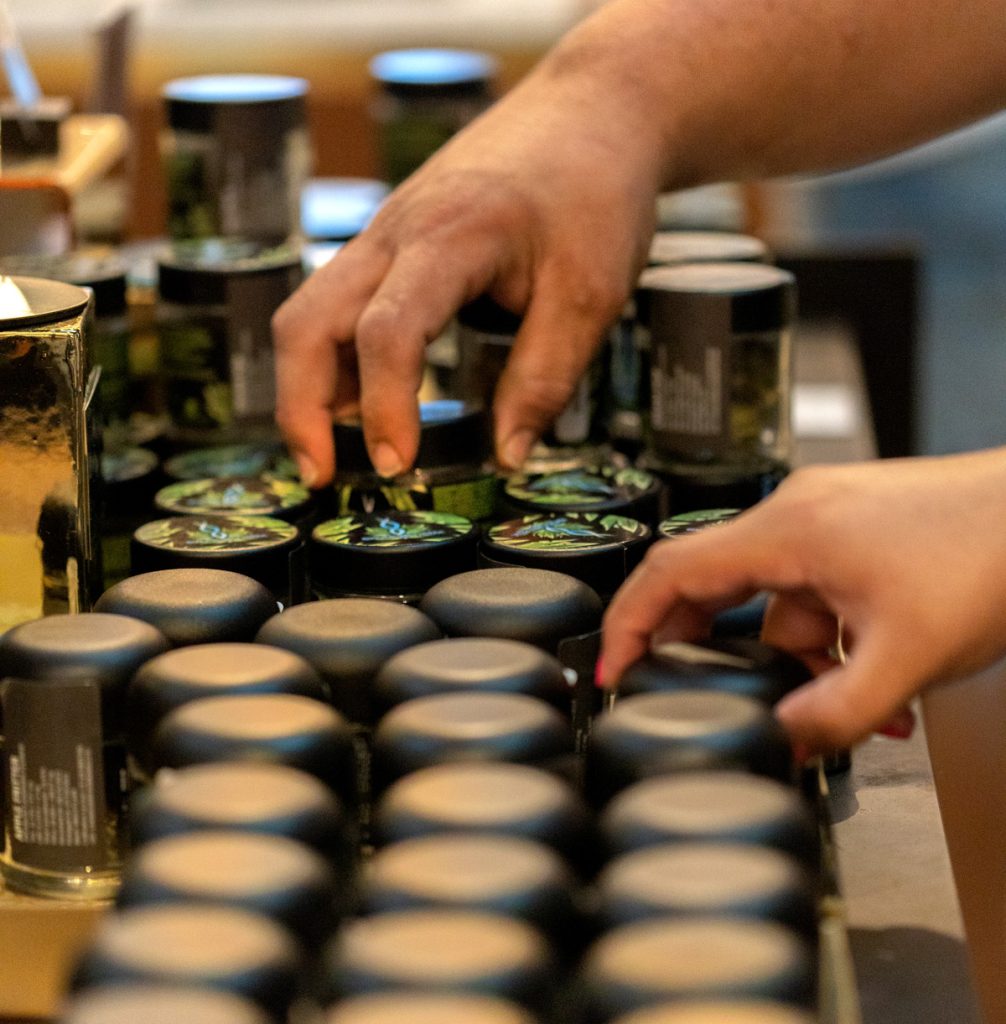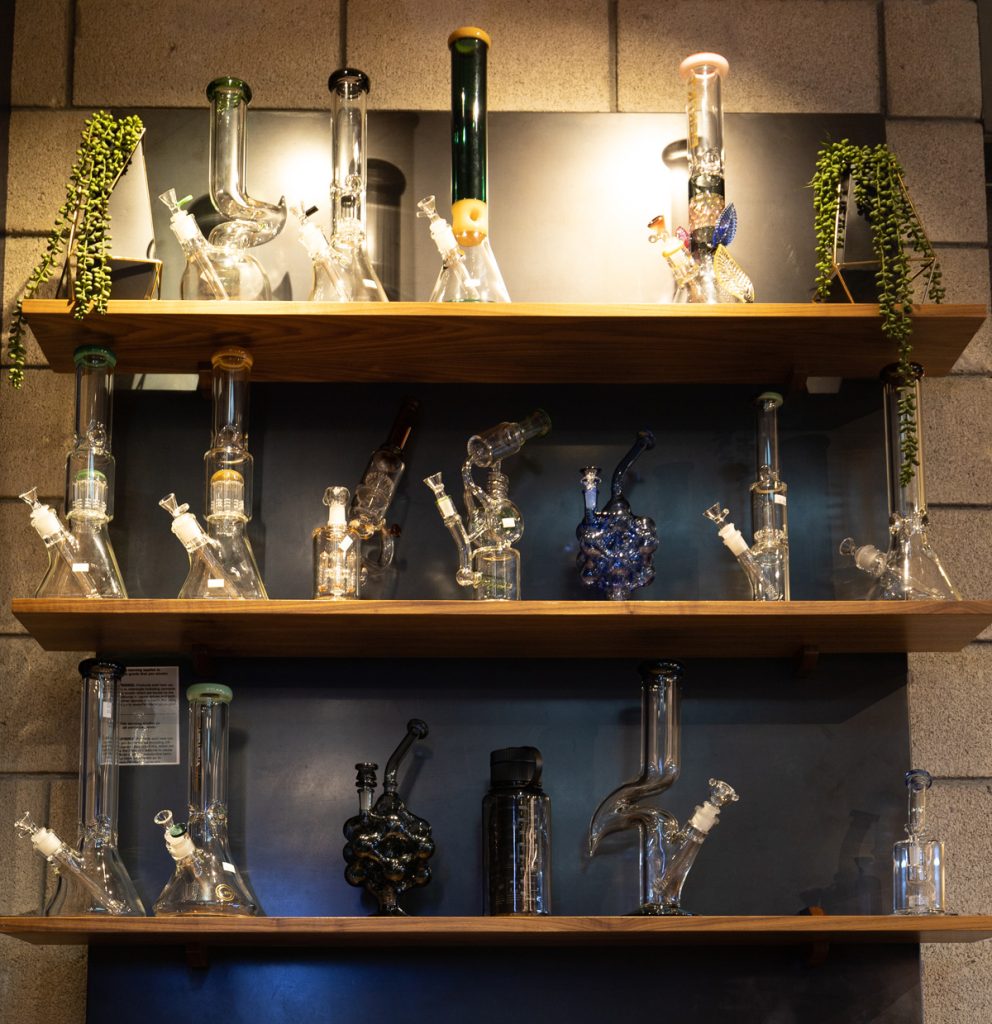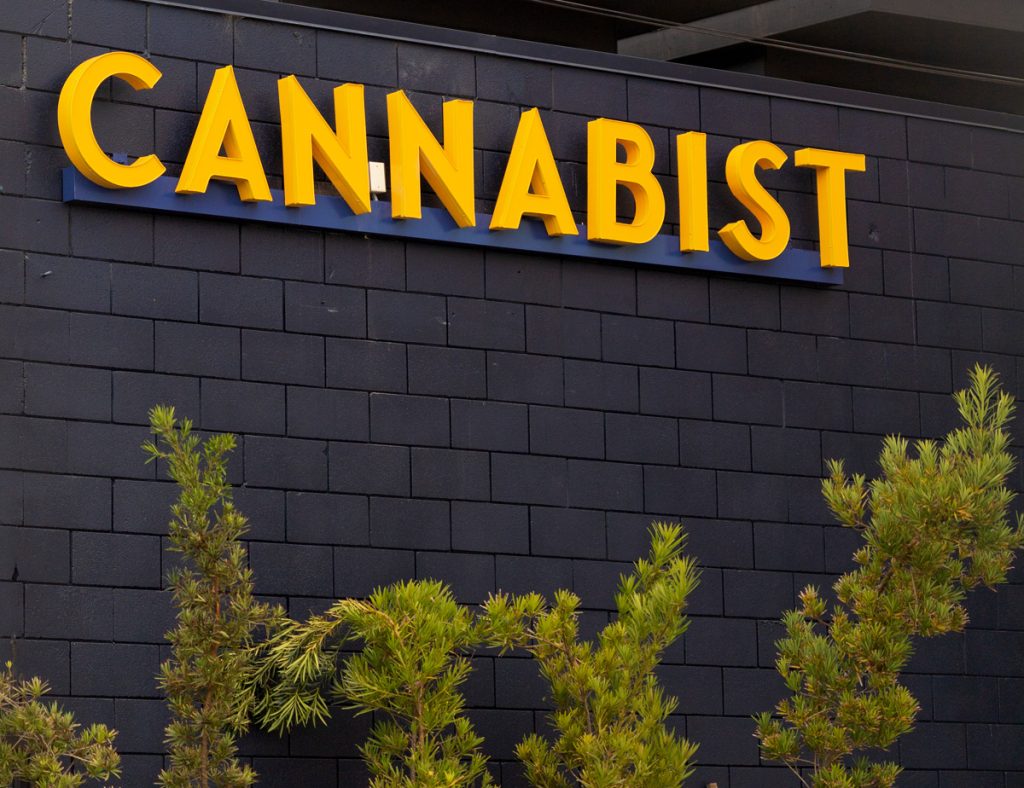 Cannabist San Diego
Cannabist San Diego has been the hottest dispensary on the block since it opened, and it's no secret as to why. Their supply is extraordinary and all-encompassing. Visualize LED lit shelves lined with products for all of your needs; pre-rolled joints made to help you mingle, hybrid chocolate covered sour gummies to help you take the edge off and release stress, as well as watermelon flavored vape cartridges, pens, and flower galore. They employ an incredibly knowledgeable staff to help guide you through the best possible experience for whatever journey you plan to take with your supply of tree. Oh and if you're big on interior design, you'll get a kick out of the luxury feel of their aesthetic storefront.
Cannabist is a not-so-hidden gem and arguably the best dispensary in Pacific Beach. This location is right off the Garnet exit if you're coming up from the North on the freeway, and is practically across from In-N-Out Burger if you're hoping to nom on some delicious animal style fries once you get stoney baloney. Because of their immense popularity in San Diego, they are expanding to other locations across the state as well as nationwide.
Address: 4645 De Soto St., San Diego, CA 92109
Phone: (858)-324-5130
Hours: Mon – Fri 7 a.m. – 9 p.m.
Sat & Sunday: 8 a.m. – 9 p.m.
THCSD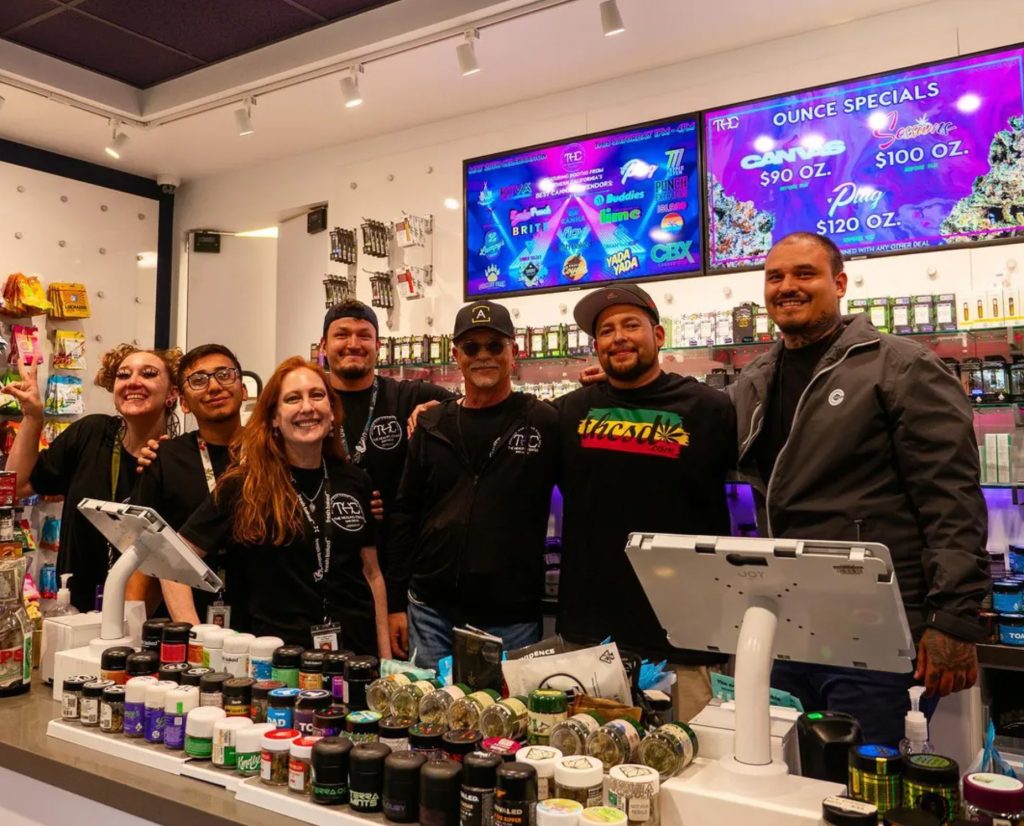 Calling all Pacific Beach residents! Don't sleep on visiting The Healing Center San Diego, the highest rated cannabis dispensary in San Diego, not to mention it is super hip and locked and loaded with THC and CBD goods. THCSD places high emphasis on educating their consumers, providing a clean and inviting space, and cultivating and bettering their community. Their top-notch products and excellent customer service are a direct reflection of their core values, and their specials and deals are unmatched.
Address: 3703 Camino del Rio S #215a, San Diego, CA 92109
Phone: (858) 324-2420
Hours: Mon – Sun 7 a.m. – 9 p.m.
Thrive CBD
Thrive CBD, located on the main strip of Garnet right next door to Trader Joe's, is a haven for all things CBD. Tinctures, topicals and lotions, edibles, and vapes: you name it, Thrive CBD has it. If you're looking for products that offer a combination of CBD and THC, or just CBD, Thrive has unique items that will help you alleviate pain, loosen muscle tension, reduce anxiety, and help you reach a calm state of mind. If you're looking for more weed-infused goods and high standard flower, we suggest you skip this dispeno and hit another one from this list. Their products tend to have a high price tag, so keep that in mind before making a trip over to their brick and mortar.
Address: 1570 Garnet Dr., San Diego, CA 92109
Phone: (858) 490 – 4223
Hours: Sun – Thurs, 10 a.m. – 8 p.m.
Fri & Sat: 10 a.m. – 9 p.m.
Urbn Leaf
Urbn Leaf is not exactly in PB, but it's certainly close enough to say it's nearby PB–a ten minute drive give or take. Just a hop over the freeway from Fiesta Island Park in the town of Morena, you'll find their homey storefront packed with Sativas, Indicas and Hybrids. Urbn Leaf has been around SD since the earlier years of weed legalization, before dispensaries became more widely accepted, which ignited an uprising in other cannabis retail joints across the county. Their modern establishment is one reliable place to find medical marijuana in Pacific Beach. In fact, when they first opened their doors to the public in 2017, they were a medical-only marijuana dispensary.
Address: 1028 Buenos Avenue, San Diego, CA 92110
Phone: (619) 275 – 3225
Hours: Mon – Sun, 7 a.m. – 9 p.m.
March and Ash
A ten-minute drive from Pacific Beach in the Mission Valley, PB and Linda Vista areas, the staple dispensary March and Ash is located. They have a convenient check-out process and a beautifully designed clone wall where they grow their indoor bud, though a downside of purchasing from March and Ash is that they don't guarantee the functionality of the products they sell, such as vape pens, if they happen to turn out defective. If you are in the neighborhood or have an appointment at the nearby Spa Eco Château, then you should pop in to browse their supply.
Address: 2835 Camino del Rio S #100, San Diego, CA 92108
Phone: (619) 314 – 7336
Hours: Mon – Sun, 7 a.m. – 9 p.m.
San Diego Recreational Cannabis – SDRC
While SDRC is not a marijuana dispensary in Pacific Beach per se, it is close enough to consider it as an option. SDRC has a shiny brick and mortar in the shopping center off Interstate 8 in Mission Valley, where you'll be greeted by well-informed budtenders to give you the low down on what kush will be the best fit for you. Their delivery services have been reported to be on the slower end and have higher minimum purchase requirements than other dispensaries, so bear that in mind if you are wanting weed delivered.
Address: 1299 Camino del Rio S, San Diego, CA 92108
Phone: (619) 906 – 5546
Hours: Mon – Sun, 9 a.m. – 9 p.m.

Shop Dispensaries Near Pacific Beach, CA Today!
As you can see, a brick and mortar weed dispensary in Pacific Beach is a rarity. For PB residents or tourists who want to support a local Pacific Beach dispensary, your best bet is Cannabist, San Diego. Should you be searching for a San Diego dispensary on the outskirts of PB or in other areas across the pond, there are also plenty in store.
And remember, if you are under the influence or simply don't feel like walking, driving, or biking to freshen up on your supply of bud, delivery is always an option. Thank you for reading, we hope you enjoy your high provided by any dispensary Pacific Beach in San Diego has to offer you!
About the author: Courtney Pester is a San Diego based San Francisco bred millennial with a passion for design and self-expression. She prides herself in her charcuterie board making skills and has a soft spot for animals. When she's not pumping out articles you can catch her playing tennis and enjoying the diversity of events and restaurants San Diego has to offer.