Estancia: Lunch like You're on Vacation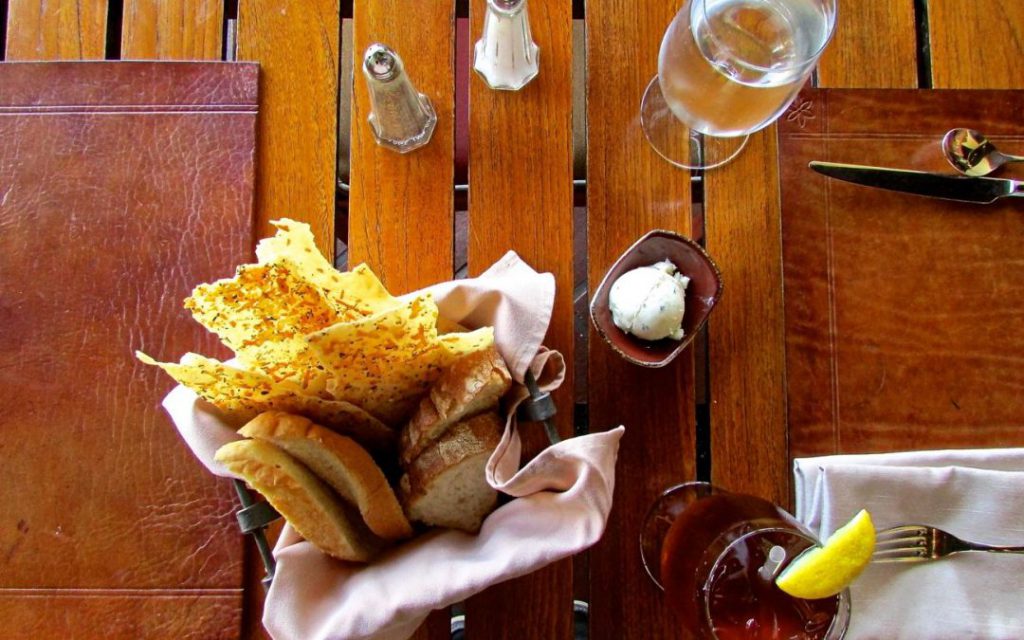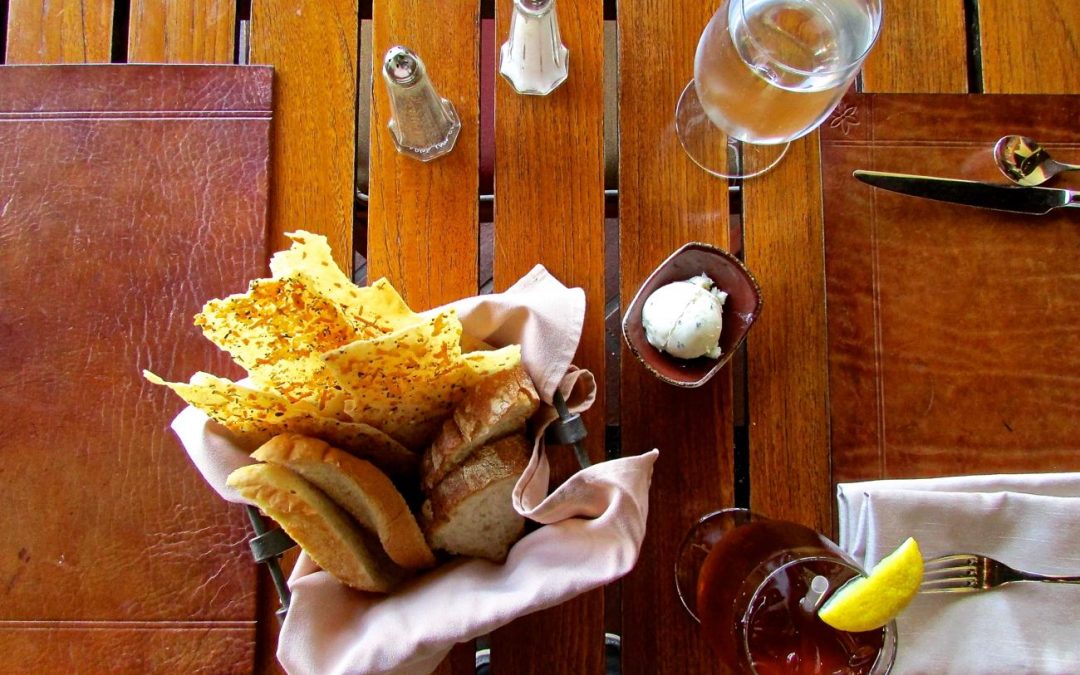 An Estancia Vacation
Virginia Woolf famously declared, "One cannot think well, love well, sleep well, if one has not dined well". At the Estancia Hotel & Spa in La Jolla, they couldn't agree more. It's a resort where many come to relax at the spa, attend a wedding or participate in a corporate retreat. These are all activities that require fuel that doesn't simply nourish, it delights.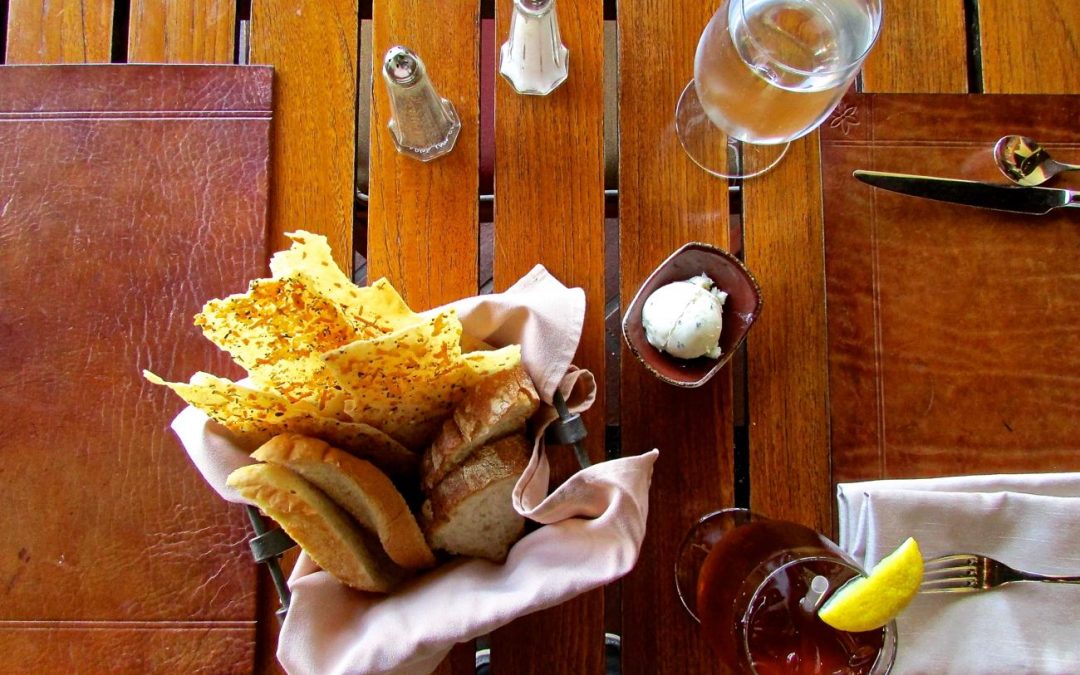 The grounds of this La Jolla hotel are lush and supremely kept, the Spanish architecture transporting you to another continent. The patio of the second-story Adobe El Restaurante offers an optimal view of the largest courtyard. Sitting out here on a sunny day with a light, pleasant breeze, I got to try some of Chef Kim's favorite dishes. She updates the menu with the seasons, so you'll never know what's in store for you!
For the table
Bread is brought out to each table; the basket is overflowing with a variety of soft-centered french breads and a special crispy flatbread that's crusted with herbs, cayenne pepper, cheese and other spices. It's incredibly unique and brought in fresh everyday from a nearby bakery. The garlic butter brought out may not be ideal for the flatbread, but it kicks up the flavor of the standard french breads nicely.
Starter: Duo Beet Salad
The Duo Beet Salad is simple, elegant and refreshing, all at the same time. Chef Kim plays with a variety of textures and colors here, layering Humboldt goat cheese with arugula for the center, which is then framed in petal-like cuts of red and yellow beets. A light balsamic vinaigrette is drizzled over the predominantly green middle to complete the ensemble. It's a good-sized salad, but, if you're fairly hungry, you'll still have your appetite for the entree.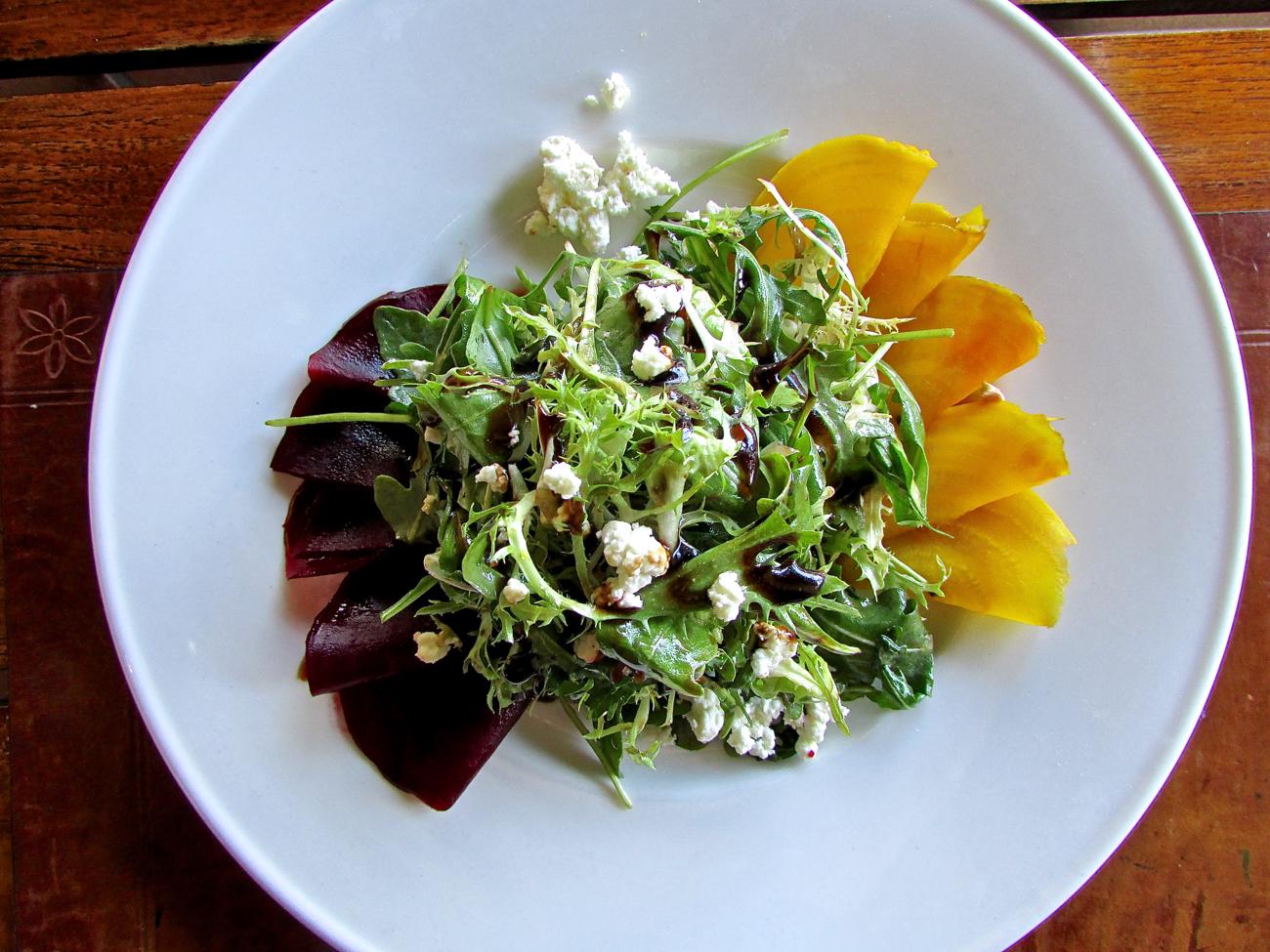 Entree Salad: Smoked Salmon Nicoise
When in the mood for a cool, light lunch rather than a heavier meal, I'd highly recommend the Smoked Salmon Nicoise. There are many components and textures that make you feel as if you're diving into a large meal, but as each item individually is quite light, there's little danger of feeling overly full after. The portion of smoked salmon provided was more than I'd anticipated. Placed on the herb cheese crostini, it made for a lovely, petite open-faced sandwich. To enjoy it brunch-style, pair the smoked salmon with the egg and finely cut, fingerling potatoes. I do have to say, surprisingly, my favorite point on the dish was the crispy capers. Often I find capers a bit too tart, but these blackened treats were infused with smoky flavor that took each bite to the next level.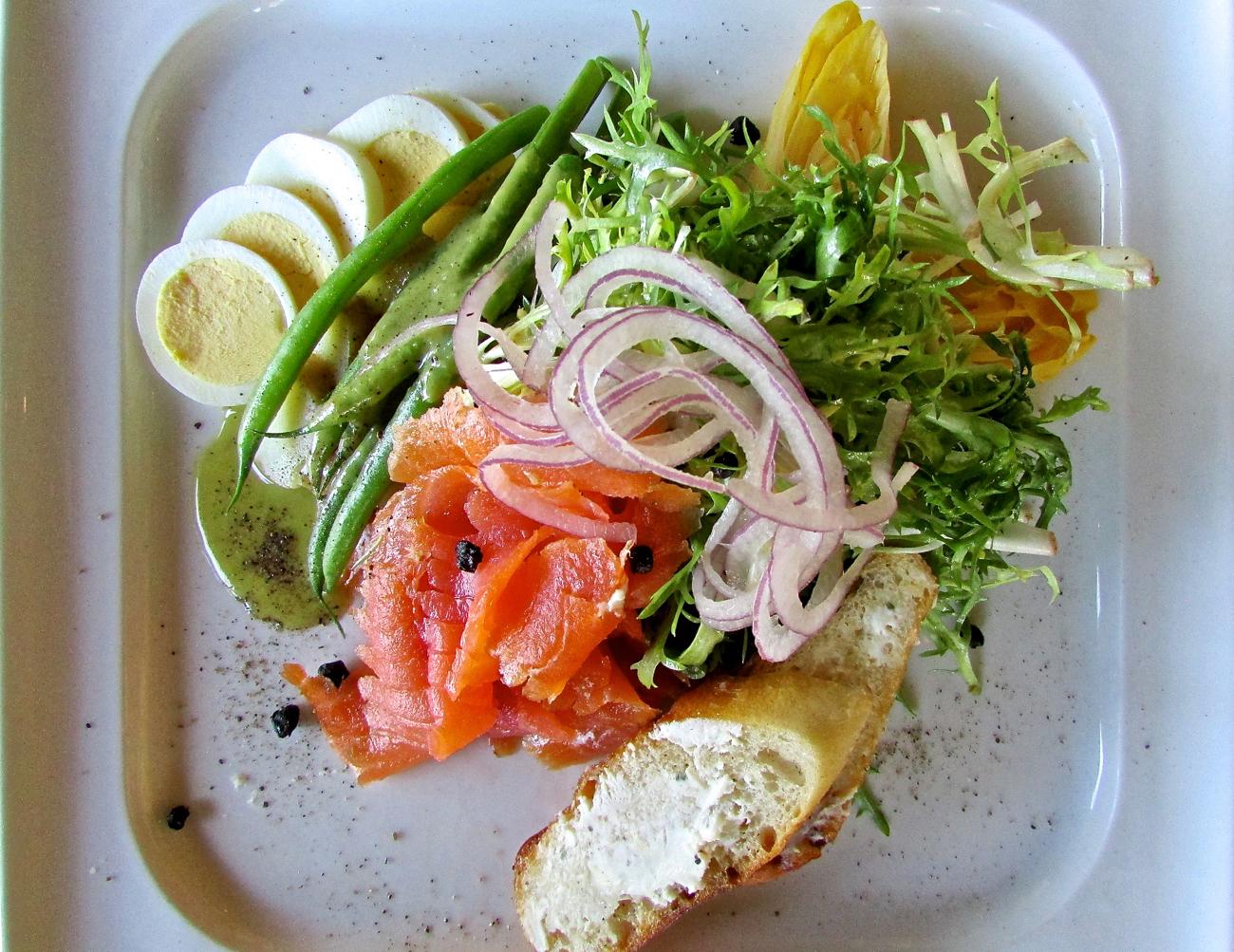 Cold Entree: Coriander Crusted Ahi
To get a feel for Mustangs & Burros, Estancia's second (primarily dinner-serving) restaurant, the chef brought out her latest creation from their menu, the Coriander Crusted Ahi. The dish was served on a square-shaped white plate, which highly contrasted the eye-popping sea of color. The heart of the dish was a swirling collection of julienne style-vegetables, seaweed chimichurri and thin rice noodles, all lightly coated in a house-made curry sauce. Many curries are known for their pungent smell and taste, but this one was very mild and, due to it's low temperature, almost cooling. The slices of ahi lining the noodle's perimeter were a combination of two textures in every bite, juicy in the middle and slightly crispy on the outside. All-in-all, it's an ideal way to try a long-standing type of sauce with a very new and refreshing twist.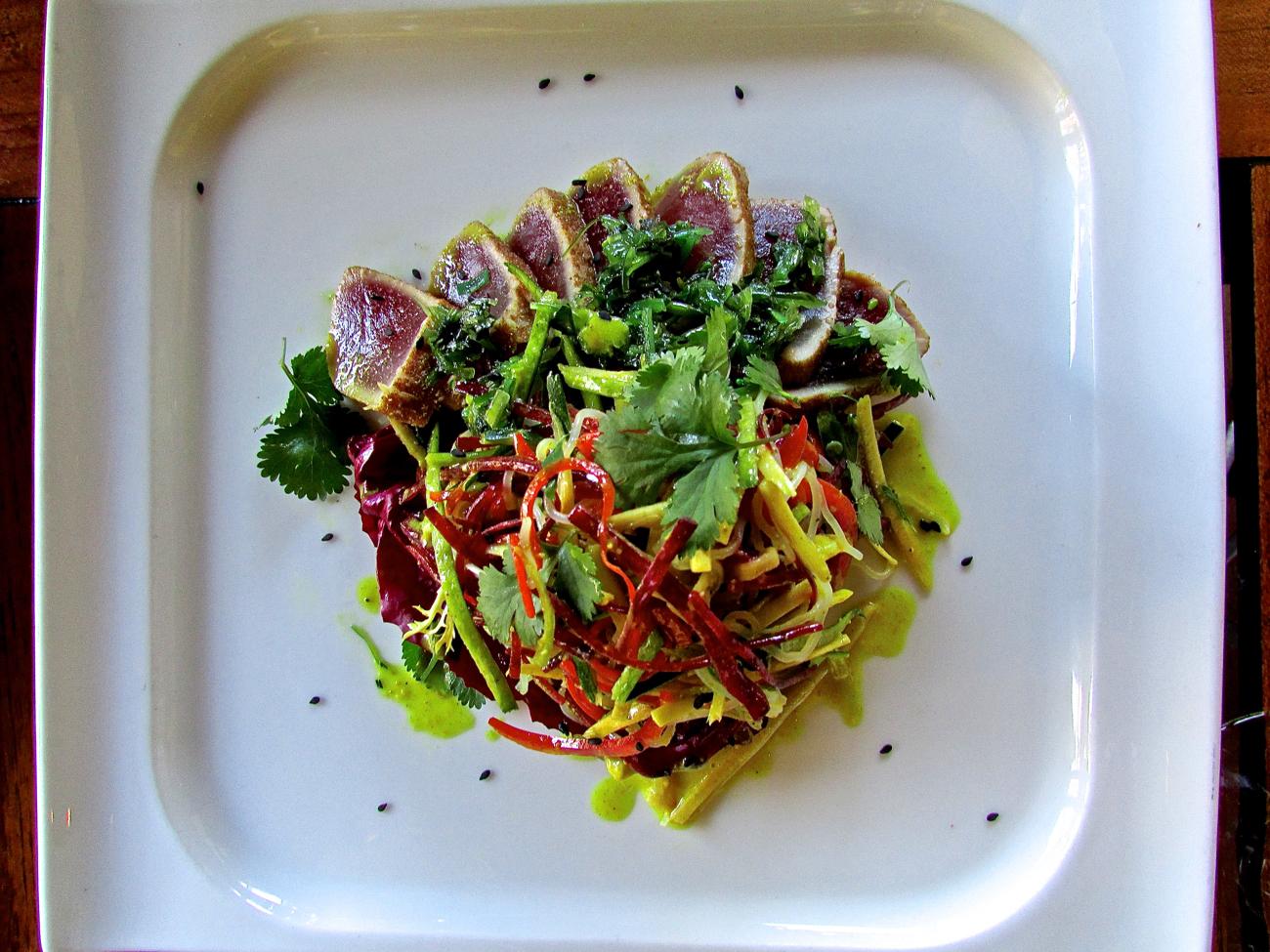 Hot Entree: Loch Duart Salmon Tabouli
The Loch Duart Salmon Tabouli was served with grilled asparagus and multi-colored tomato slices, each slice dotted with warm feta and olive pieces. Curving around this dish's center was a spread of light green sauce I assumed to be standard pesto, but turned out to be parsley-based. After savoring a few bites, I was very happy to find there was none of the usual oily feel that one gets after most pesto sauces. When spread onto a piece of the salmon, which was cooked just the right amount, it was dangerously sigh-inducing.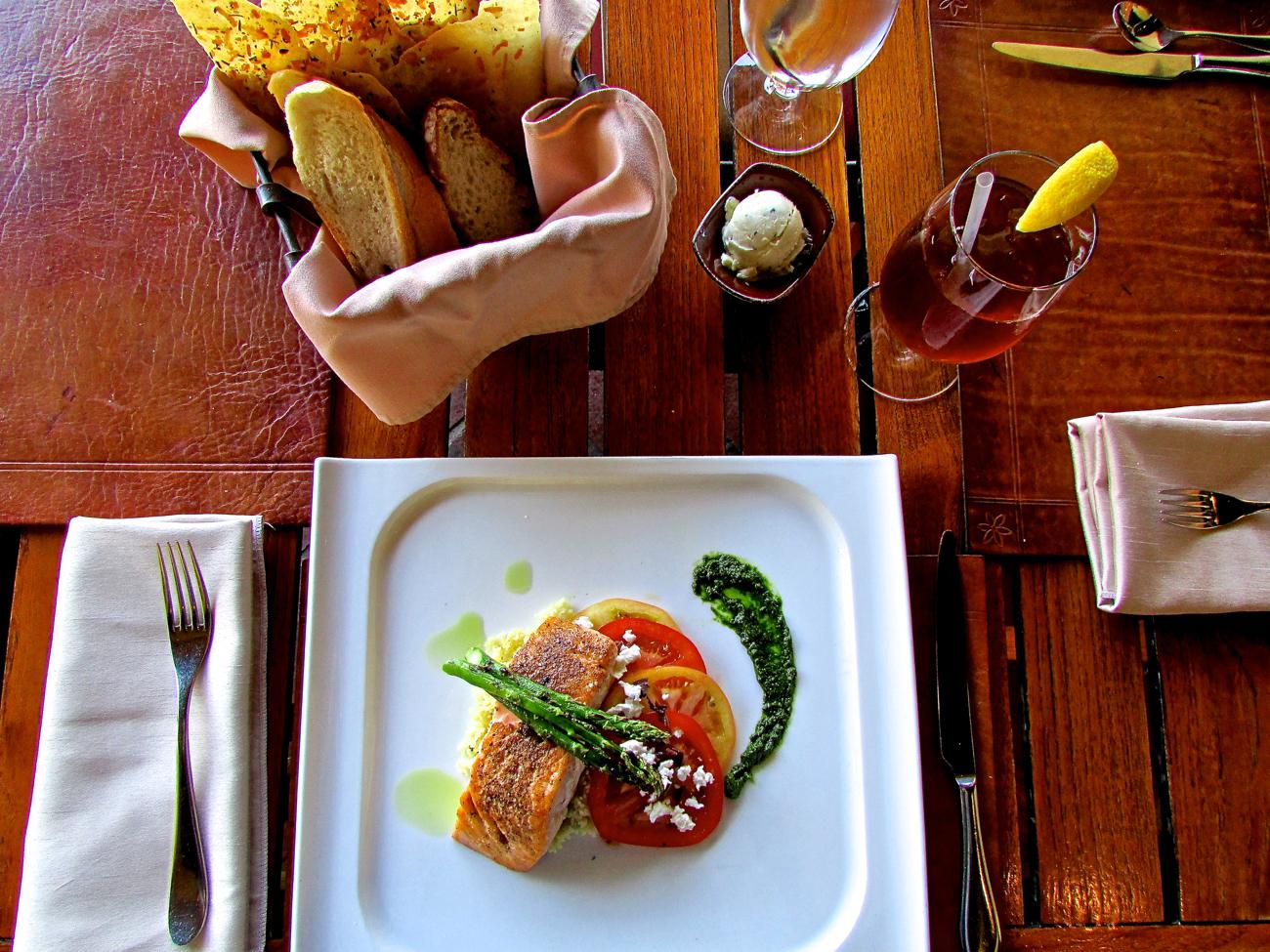 Overall Review & Recommends
The relaxed, unrushed ambience of this venue is rare to come by in bustling Southern California. I'd recommend this very highly for anyone not simply hungry, but looking for an hour or two to escape from day-to-day life in La Jolla, California.
Food-wise, the duo beet salad was a great starter salad I would definitely order again; the only thing I'd want to add would be the crispy capers from the Salmon Nicoise Salad. They are a true game changer.
And although both the Coriander Crusted Ahi and Loch Duart Salmon Tabouli were delicious, my top vote would have to be awarded to the Loch Duart Salmon. The salmon itself was just done so perfectly. The inside was highly succulent while the outside was crispy and spiced to a level of excellence that would definitely have me order it again.