Your Guide to San Diego Restaurant Week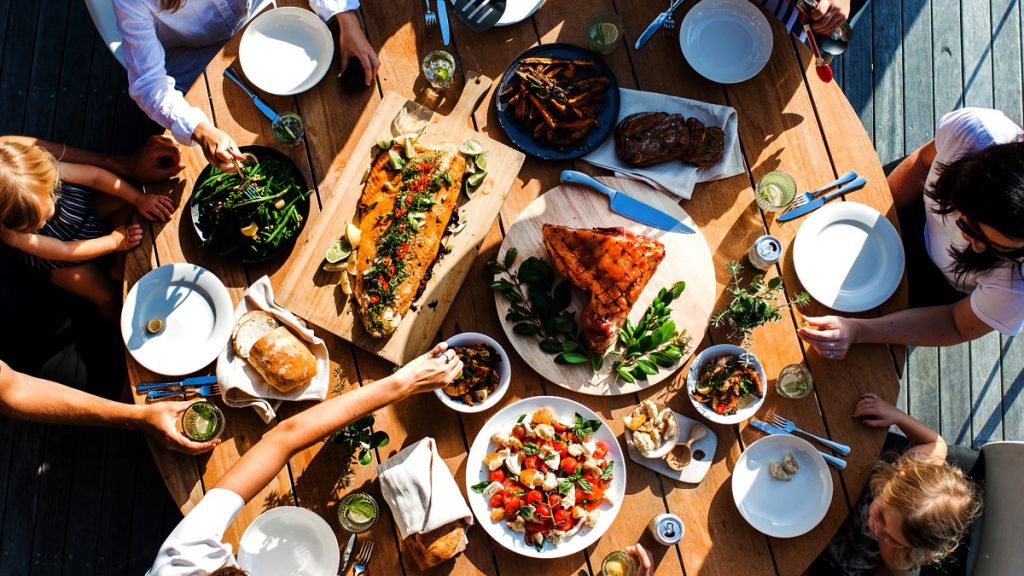 Calling all foodies, brunch advocates, nightcap enthusiasts, and dinner date goers! San Diego is hosting another restaurant week so you can taste all the eclectic cuisines the city has to offer. If there are some restaurants on your lineup that you've been itching to try, or if you want to branch out and try some new food genres, this is the time to do it! Unbeatable deals, discounts, preset menus, and specials from San Diego's most loved restaurants for one week and one week only.
What is San Diego Restaurant Week?
So what is San Diego Restaurant Week and how do I participate? From the event title alone you might garner that San Diego Restaurant Week is a full-fledged week to relish all the flavors of unique restaurants throughout the county. There are tons of restaurants taking part in this unique experience, and you'll have a chance to try limited-time menu items for a steal of a deal.
Peep the details below to make the most out of the beginning of April. For detailed information on San Diego Restaurant week menus, head on over to SanDiegoRestaurantWeek.com for specific info on each restaurant.
When Is San Diego Restaurant Week?
San Diego Restaurant Week happens each spring in San Diego. It can be an awesome time to take advantage of all the restaurants in the area before the tourists and out-of-towners make their way here to enjoy the long summer.
In 2023, the dates for San Diego Restaurant Week are March 26 – Apr 2.
What Restaurants Are Taking Part in San Diego Restaurant Week?
There are usually around 180 restaurants participating, serving up everything from Argentine to American, Asian to Italian. It'll be easier to book a reservation in advance to ensure you've got a table on lock, but if you happen to want an impromptu dining experience, that's ok too!
Hours of operation vary by restaurant. Check out each restaurant's website for their specific restaurant week hours.
And be sure to tip your servers and bartenders!
La Jolla Restaurants
Do La Jolla restaurants participate in San Diego Restaurant Week? The answer is: absolutely! And here are a few to whet your appetite.
George's at the Cove
You really should take advantage of the restaurant specials at George's at the Cove this year. George's is a long-time local favorite. They've received countless awards and accolades over the years, including a MICHELIN Plate Award, a mention in USA Today's "10 Best Foodie Spots," a spot on EATER's essential San Diego restaurant list, and many others. Although their menu is heavy on seafood, they also provide several vegetarian options including a Beyond Burger and roasted oyster mushroom quesadillas at lunch and grilled cauliflower at dinner. George's is located – you guessed it, at La Jolla Cove.
Address: 1250 Prospect St., La Jolla, CA 92037
Phone: (858) 454-4244
Hours: Sun – Thurs, 11 a.m. – 9 p.m.
Fri – Sun, 11 a.m. – 9:30 p.m.
Puesto La Jolla
What about margaritas, tacos, Caesar salads, guacamole, and beer? You'll find those – and more – at Puesto, located a few blocks inland from La Jolla Cove. Their 2023 restaurant week lunch menu is $25 per person, and their restaurant week dinner is a $35 three-course dinner. Adult beverages cost a little extra, but with all the mouth-watering aromas and flavors you might find a "Puesto Perfect" margarita or a "Puesto Negra" beer a no-brainer.
Address: 1026 Wall St., La Jolla, CA 92037
Phone: (858) 454-1260
Hours: Sun – Thurs, 11 a.m. – 9 p.m.
Fri – Sat, 11 a.m. – 10 p.m.
North County Coastal Restaurants
Luckily for all the beach bums out there, there are a few incredible restaurants on the lineup that line the coast in North County.
Panini Kabob Grill
Near the Carmel Valley Library and Ralphs in Del Mar rests the fast, casual restaurant Panini Kabob Grill. Their Mediterranean-style dining room is inviting and airy, and their restaurant week deal is unparalleled. In 2022, the restaurant offered a $20 three-course menu whether you dined in or ordered take out. They opt for healthier style paninis that are prepared fresh, and some of their menu items include salmon kabobs, strawberry date salad, and falafel platters. For dessert enjoy the sweet, crunchy and chewy baklava. Where else can you find a 3-course meal for that price?
Address: 12955 El Camino Real G4, San Diego, CA 92130
Phone: (858) 523 – 9336
Hours: Mon – Sun, 10:00 a.m. – 9:00 p.m.
Carte Blanche
Carte Blanche has an incredible dinner selection if you're into eating French and Mexican food in a lively and rustic atmosphere. Their restaurant blends the flavors of France into Mexican dishes, using locally sourced ingredients of the highest quality. Their three-course dinner menu for restaurant week will have you salivating, featuring items like vegan risotto, fisherman's pozole, quail knots and Mexican corn croquettes. Their current restaurant week menu isn't available yet for 2023 but you can scope their 2021 restaurant week menu for some ideas. You won't regret checking out this phenomenal seaside bistro, just three blocks from Ocean City Beach in Oceanside.
Address: 339 N Cleveland St, Oceanside, CA 92054
Phone: (760) 231 – 5370
Hours: Tues – Thurs, 11:00 a.m. – 9:00 p.m.
Fri & Sat, 10:00 a.m. – 10:00 p.m.
Sun, 10:00 a.m. – 9:00 p.m.
Mon, 4:00 p.m. – 9:00 p.m.
North County Inland Restaurants
North County San Diego has some appetizing restaurants participating in Restaurant week, so if you're tucked a bit in from the ocean have a peek at the options listed below!
Vintana Wine + Dine
Vintana is an adorable wine tasting and dining room that you won't want to miss during San Diego Restaurant Week. Their upscale restaurant is perched up on the penthouse level of The Centre at Lexus Escondido with gorgeous countryside scenery and dreamy lighting. This modern California style restaurant has remarkable views no matter what the time of day is, and they have incredibly lovely deals for date night with your partner.
Address: 1205 Auto Park Way, Escondido, CA 92029
Phone: (760) 745 – 7777
Hours: Tues – Sun, 11:30 a.m. – 2:00 p.m., 5:00 p.m. – 9:00 p.m.
Closed Mondays
Hunsaker's
Hunsaker's is a French-inspired steakhouse with a connoisseur-level whiskey and cocktail bar. Their restaurant is located in Central Escondido, right by the public library and San Diego Children's Discovery Museum. Hunsaker's sophisticated menu items are both complex and satiable, not to mention extremely well presented. Their appreciable restaurant week deals should not be overlooked, so write this one down if you want to rouse a business partner or dazzle a potential suitor.
Address: 113 W Grand Ave, Escondido, CA 92025
Phone: (760) 745 – 3835
Hours: Wed – Thurs, 5:00 p.m. – 8:30 p.m.
Fri – Sat, 5:00 p.m. – 9:00 p.m.
Central San Diego Restaurants
Looking for options in the San Diego metro area? Live near Balboa Park and want to save on rideshare fees? Trying to stay near the central San Diego beaches? Try one of these!
Coaster Saloon
Everything is bigger in Texas! If you're gung-ho about Texas-style barbeque, Coaster Saloon should be first on your list for places to go during restaurant week. Their authentic meals can be savored under the warmth of the sun in downtown Mission Beach, across from Belmont Park. Coaster Saloon is a casual, spacious sports bar with 15 flatscreens as well as foosball and billiards tables. Expect some top-notch baked beans, rack of ribs, BBQ sandwiches, and onion rings when you pop in. While they already offer reasonable prices, their restaurant week deals are even better.
Address: 744 Ventura Pl, San Diego, CA 92109
Phone: (858) 488 – 4438
Hours: Thurs – Sun, 11:00 a.m. – 9:00 p.m.
Mon – Wed, 11:00 a.m. – 8:00 p.m.
Island Prime
It's steaks and seafood galore over at Island Prime. Located on Harbor Island overlooking North San Diego Bay, Island Prime features breathtaking views of Coronado and the downtown San Diego skyline. During San Diego Restaurant Week you'll be able to experience a three-course dinner for under $80, with options like black garlic seared ahi, harissa grilled lamb chops, lobster bisque, and vanilla-ginger creme brulee.
Address: 880 Harbor Island Dr, San Diego, CA 92101
Phone: (619) 298 – 6802
Hours: Tues – Thurs, 5:00 p.m. – 9:00 p.m.
Fri & Sat, 5:00 p.m. – 9:30 p.m.
Sun, 4:00 p.m. – 9:00 p.m.
Closed Mondays
The Butcher's Cut
The steakhouse you've been dreaming of awaits, and it goes by the name of The Butcher's Cut. In the heart of the Gaslamp Quarter a few blocks up from Petco Park, you'll find this piece of local dining history. The posh restaurant has a fine selection of menu items on their three-course restaurant week dinner menu for only $40 or $50, depending on which option you select. This restaurant dry-ages their meats in their stellar cellar, where they showcase over 2000 pounds of meat – giving you a visual of all the goods. Their menu includes Angus filet mignon, lobster ravioli, avocado toast, and butterscotch budino. Get ready for their meat to melt in your mouth!
Address: 644 Fifth Ave, San Diego, CA 92101
Phone: (619) 235 – 8144
Hours: Mon – Sun, 4:00 p.m. – 10:00 p.m
East County Restaurants
Will East County residents please stand up? We've got a couple dining options in your area that are chock full of yummy, nourishing foods!
Pioneer BBQ
Pioneer BBQ offers vibrant eats featuring your favorite American food, with a healthy twist. At Pioneer BBQ you'll find everything from loaded fries and San Carlos wings to brisket chili and barbeque plates. Their restaurant is located right by the post office in Lake Murray, close to La Mesita Park. If you're feeling classy finger foods that are artistically presented, make sure to add Pioneer BBQ to your restaurant week bucket list.
Address: 8622 Lake Murray Blvd, San Diego, CA 92119
Phone: (619) 825 – 7787
Hours: Thurs – Sat, 12:00 p.m. – 9:00 p.m.
Wed & Sun, 12:00 p.m. – 8:00 p.m.
Mon & Tues. 4:00 p.m. – 8:00 p.m.
Antica Trattoria
Another Italian restaurant you won't want to skip during San Diego Restaurant Week is Antica Trattoria. They've been open since 2001, serving honest, flavorful dinner plates with old-school Italian character. Antica Trattoria offers some of the most traditional Italian dishes like bruschetta, burrata, cavatelli with Italian Sausage and cremini mushrooms, Duroc pork chop, and beyond. They even have deals on wine pairings, because who wouldn't want wine to wash down their rich and creamy pasta? If you want to impress a date, wine and dine them at Antica.
You'll find this charismatic dinery in La Mesa, right near the Vons below Mission Trails Regional Park and Lake Murray.
Address: 5654 Lake Murray Blvd, La Mesa, CA 91942
Phone: (619) 463 – 9919
Hours: Sun – Thurs, 4:30 p.m. – 9:00 p.m.
Fri – Sat, 4:30 p.m. – 10:00 p.m.
Giardino
Giardino is offering both lunch and dinner deals during restaurant week that will have your jaw-dropping to the floor. Their neighborhood cucina boasts classic Italian dishes like fettuccine Alfredo, Italian sausage, lasagna rosa, and tiramisu. They are known for their incredible cheese wheel pasta where you can eat fresh-made pasta directly out of the wheel. You'll find this Italian gem a little west of Spring Valley in Lemon Grove, a block away from St. John of the Cross Catholic and a bit north of Lemon Grove park.
Address: 8131 Broadway, Lemon Grove, CA 91945
Phone: (619) 825 – 7112
Hours: Sun – Thurs, 11:00 a.m. – 9:00 p.m.
Fri – Sat, 11:00 a.m. – 10:00 p.m.
South Bay Restaurants
Options on options, but the restaurant week San Diego list doesn't stop there. Closer to the border you'll find some quaint food establishments with drool-worthy menus.
Sea180 Coastal Tavern
Sea180 is literally right on the water, in the Pier South Resort in Imperial Beach. With stunning views of the ocean, a chic social setting, and menu items like tender cheeseburgers and chocolate tres leches cake, you know you're bound to have a good time. Their San Diego Restaurant Week deal is a $20 three-course lunch menu (without tax, gratuity, etc) or a $40 three-course dinner deal. With specials like this at such a prime location, you might want to think ahead and book a reservation.
Address: 800 Seacoast Dr, Imperial Beach, CA 91932
Phone: (619) 631 – 4949
Hours: Mon – Thurs, 11:30 a.m. – 8:00 p.m.
Fri – Sun, 7:00 a.m. – 8:00 p.m.
Farmer's Table Chula Vista
Farmer's Table prides itself on quality service and specializes in fusing American and Italian cuisines using the finest organic ingredients. Popular for their 10-pound bloody marys featured on the Food Network, Farmer's Table is a trendy foodie paradise with rustic charm. They have menu items like burnt carrots, steak tartare, and artichoke ravioli. For restaurant week they are offering a three-course menu for $40/person. Farmer's Table has four locations in San Diego, with their Chula Vista restaurant situated between the Memorial Park and Chula Vista Friendship Park in downtown Chula Vista, just a few blocks inland of the ocean.
Address: 330 F St, Chula Vista, CA 91910
Phone: (619) 207 – 0325
Hours: Mon – Wed, 9:00 a.m. – 9:00 p.m.
Thurs – Sat, 8:00 a.m. – LATE
Sun, 8:00 a.m. – 8:00 p.m.
What Genres of Restaurants Will Be Available?
San Diego Restaurant Week is highlighting five main ethnic food genres, although among the 180 participating restaurants you'll notice a hodgepodge of other authentic food choices. Here are some of the top food genres you'll find on the versatile list.
American
Classic American food consists of burgers, fries, barbeque, and a whole lot more. Pioneer BBQ and Farmer's Table are two of the countless restaurants that offer American-style dishes.
Seafood
Are you a fan of gumbo, octopus, mahi-mahi, or salmon? The seafood selection is bountiful during this springtime restaurant week. Island Prime is a solid choice if fresh fish is on your mind.
Mediterranean
Mediterranean food is known for its use of herbs to bring out flavor and to heighten dishes. Panini Kabob Grill in Del Mar is a no-brainer for some fire falafel, kabobs, and zesty spices.
Mexican
Because we are so close to the border, San Diego is fortunate enough to have countless dining options for enchiladas, tacos, rice and beans. Carte Blanche is a magnificent choice if you're craving Mexican food with notes of France. We wrote another article on the best Mexican food in San Diego if you're fiending for an authentic taco or a Cali-style burrito.
Italian
If you love handmade pasta and freshly baked pizza, you're going to jump with glee over how many options there are for Italian food during restaurant week. Giardino and Antica Trattoria are among the top choices for restaurants where you can take advantage of the sweet San Diego Restaurant Week specials on Italian food.
Should you have an affinity for trying foods from all over the globe, you'll be glad to know that these five aforementioned food genres are not the only genres of restaurants available during restaurant week. Other restaurants that may take part include Argentine, Asian, Cajun/Creole, California, Chinese, Contemporary, Cuban, fondue, French, fusion, Greek, gluten-free, Hawaiian, Irish, Persian, Peruvian, sushi, steaks, Thai, vegan, and vegetarian.
Are Tickets or Reservations Required?
Fortunately, reservations are not required to dine at a restaurant that is participating in restaurant week. That being said, given the hype around this citywide event, there is no guarantee that you'll be able to get a table simply by walking in. You don't need any sort of ticket to participate in San Diego Restaurant Week, but reservations are highly encouraged.
If you're a foodie and want to try out some delicious restaurants with limited time killer deals, don't sleep on restaurant week. Don't forget to scope the San Diego Restaurant Week menus for further details!
About the author: Courtney Pester is a San Diego based San Francisco bred millennial with a passion for design and self-expression. She prides herself in her charcuterie board making skills and loves chef'ing it up in the kitchen. When she's not pumping out articles you can catch her playing tennis, DJing, and enjoying the diversity of events and restaurants San Diego has to offer.
Additional reporting by LaJolla.com staff.