Best 15 Dispensaries Around the Bay Area, California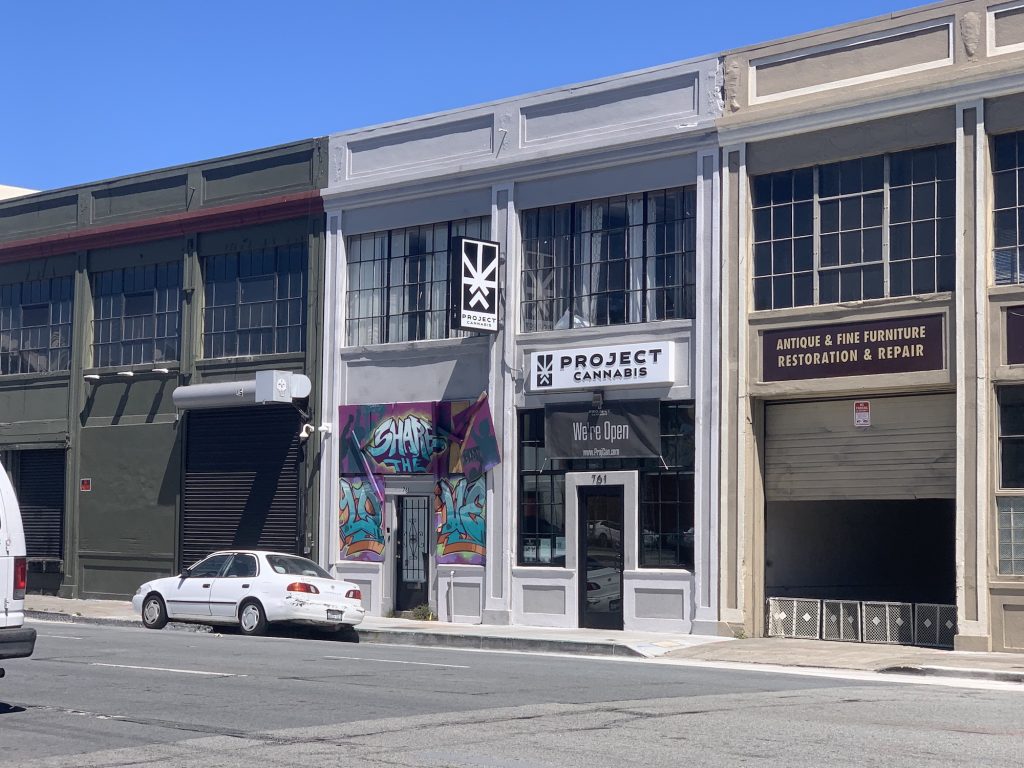 The Bay Area is known for its eclectic eats, breathtaking views, unparalleled architecture, and artistically driven inhabitants. In recent years, the Bay has also become a hub for cannabis retailers, with licensed dispensaries growing like weeds all over the map. To date, there are nearly 900 dispensaries in California and well over 200 in the Bay Area, gaining major popularity in cities like San Francisco, Oakland, and San Jose. Needless to say, if there is anything that's lacking in the Bay Area, is certainly isn't marijuana dispensary choices.
With so many options to choose from to get fresh flower, concentrates, edibles, and smoking gear, it can be taxing to narrow in on where to get the most pristine pot products. Finding a quality dispensary that suits your particular needs is a time-consuming process, as each licensed weed establishment has their own quirks and charms. When investigating where to cop some killer kush it's essential to understand each dispensary's advantages and drawbacks to help provide clarity on the best dispensaries that will give you the most value.
So where exactly can one find the best cannabis clubs in the Bay Area?
Dispensaries in the Bay Area
Habitual weed tokers, occasional pot smokers, and newcomers to the cannabis space that are local to the Bay Area– here's everything you need to know about purchasing and using weed in San Francisco. It's worth taking a look to get better acquainted with SF dispensaries and weed legalities in the region.
Below we've put together a highly curated list that showcases a broader list of the best dispensaries in the Bay that offer affordable prices, a wide variety of high quality products, short wait times, and knowledgeable budtenders to assist you on your journey to finding the best weed–tailored for your individual needs. If you're looking for a one-stop shop that puts forward all of the above, a visit to Project Cannabis is your ticket to paradise.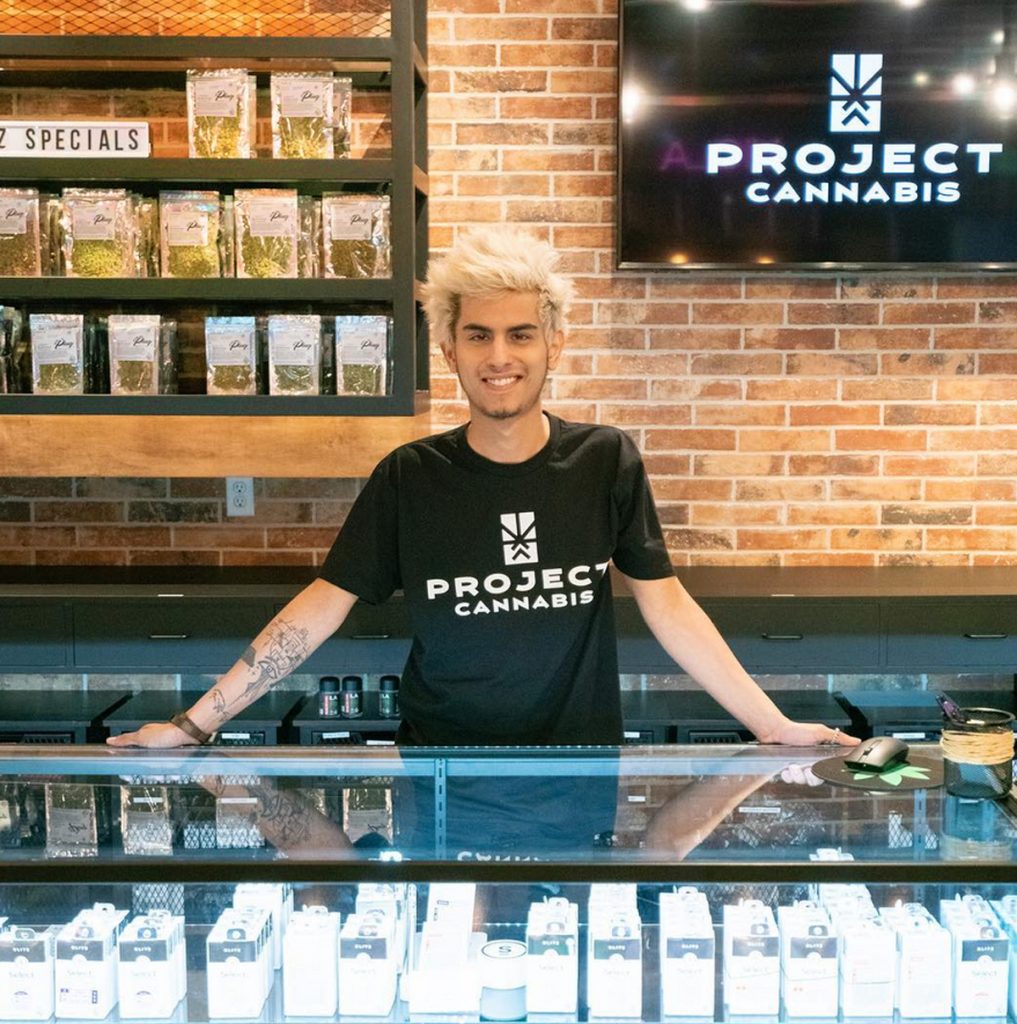 Project Cannabis
There are quite a few dispensaries in the Bay Area, but we are confident that Project Cannabis takes the cake. We put ProjCan as the first recommendation on our list because they sell the highest quality marijuana medicine on the market, grown at their very own indoor cultivation. They perform detailed testing to ensure that there is no mold or pesticide on their products, because they truly prioritize integrity and producing value for their clientele.
If you're looking for a substantial marijuana menu with tons of strains at affordable prices, then Project Cannabis is your new favorite weed hub. But really, these guys are growing pretty fierce kush, and you'd be silly not to try it out. Their futuristic yet modern chic interior reflects San Francisco's industrial architecture, so even the ambiance at Project Cannabis leaves something to be desired.
Not only are the vibe, prices, and service a major turn on, but so is their dedication to providing medical and recreational marijuana patients with value. The proof is in the pudding, or in this case, the proof is in the magical high you'll feel when consuming Project Cannabis products. Project Cannabis has dispensaries plotted all over the state, including DTLA, Studio City, North Hollywood, and their Bay Area location in the heart of San Francisco SOMA.
Address: 761 Bryant St, San Francisco, CA 94107
Phone: (628) 333-6159
Hours: Mon – Fri 8 a.m. – 9 p.m.
Harborside – Oakland
Harborside is among the finest dispensaries in Oakland–but according to Yelp reviews, Harborside's in-house products are quite expensive. Price points aside, we really dig this shop because they've got some unique products that will help you create the most elevated marijuana experiences. They've got Oranges N' Cream Indica Fruit Chews from Hi-Burst and Sriracha Hybrid from get Potli. You heard us–THC infused Sriracha! Their use of natural wood on both the exterior and interior of their storefront gives off a forest feel, and they've got a massive selection of weed plants you can bring home to nurture and grow in your own time. You'll find this cannabis joint near the Oakland Marinas, right off the 880 in East Peralta in Oakland.
Address: 1840 Embarcadero, Oakland, CA 94606
Phone: (888) 994-2726
Hours: Mon – Sun 10 a.m. – 8 p.m.
The Apothecarium Cannabis Dispensary – Castro
It's all rainbows and butterflies over here. In the heart of the Castro in between Mint Hill and Duboce Triangle, you'll find The Apothecarium Cannabis Dispensary, which carries cannabis from several of the most well-known weed brands on the block. They have crafty budtenders on staff to educate customers on what's good, what's hot, and what's not. While The Apothecarium offers a wide selection of rather epic kush, Yelp reviewers warn that a trip to this dispenso comes with long wait times, long lines, and slow service. Bring some headphones or a book if you plan to hit their line.
Address: 2029 Market St, San Francisco, CA 94114
Phone: (415) 500-2620
Hours: Mon – Sun 9 a.m. – 9:30 p.m.
Barbary Coast Dispensary
This Bay Area dispensary strives to explore new avenues by combining the two energies of cannabis retail and a vibey smoking lounge. Ganja lovers will rejoice at the wide selection of weed products at Barbary that you can sit and smoke in-house. If you want to rip a fat joint with top-grade trusted marijuana and get acquainted with some other San Franciscan weed enthusiasts, Barbary Coast is a must-try. Only downsides of shopping here is the inconsistency with online deliveries and some unprofessional staff, according to Yelp reviewers. Their establishment is right off Mission Street in the Theater District, a block up and over from Powell Street Station.
Address: 952 Mission St, San Francisco, CA 94103
Phone: (415) 243-4400
Hours: Mon – Sun 8 a.m. – 9:45 p.m.
Bloom Room Cannabis Dispensary
This boutique-style dispensary and smoke shop hybrid is a fun place to buy herb from, and browsing is built into the process. The interior itself is somewhat like an art gallery, with brick lined walls featuring cool art and hanging plants. Bloom Room has resin extracts, pre-rolls, CBD tinctures and topicals, and THC gummies for all your needs. It's a great place for newcomers, as the staff is very informative on what products will be up your alley depending on the high you hope to achieve. Past customers claim one shortcoming of Bloom Room to be their policies and occasional defective products. If you are purchasing weed tech, be sure to test your products before walking out the door, as they don't allow refunds after leaving the establishment.
Address: 471 Jessie St, San Francisco, CA 94103
Phone: (415) 543-7666
Hours: Mon – Sun 11 a.m. – 8 p.m.

The Green Cross
Inside this cavernous storefront is you'll find moody walls, bright lights, glass counters, and luminous screens showcasing a large array of marijuana inventory. On top of concentrates, flower, edibles, and CBD, the store is filled to the brim with pre-rolls in packs or singles, soft gel concentrates, and beyond. You'll find everything you need and then some, including seeds by Equilibrium, Avocado Body Balm CBD from IncrediMeds, and Cheeky Minx Body Lotion from High Gorgeous. The main disadvantage of going to The Green Cross is the unpredictable encounters you may have with their staff, whom past customers claim to have had unprofessional and unpleasant experiences with. Pop into the Manila Oriental Market or Mission Silver Market in Mission Terrace post weed purchase for some neighborhood exploration.
Address: 4218 Mission St, San Francisco, CA 94112
Phone:(415) 648-4420
Hours: Mon – Sat 9 a.m. – 8 p.m.
Sun 9 a.m. – 5 p.m.
MediThrive Cannabis Dispensary & Delivery
It's all wood, glass and tech over here. MediThrive has an illuminated brick and mortar that will make you feel like you're in a futuristic medicine shop. They are loaded with options across all price points, and have an entire supply line of wellness products from trusted brands because they believe marijuana truly is medicine. Despite their wow worthy daily deals and a wide collection of superior strains, customers note that the service could be better and the product quality can be inconsistent. MediThrive is located on the same block as 16th Street Mission in the Mission District of SF.
Address: 1933 Mission St, San Francisco, CA 94103
Phone: (415) 562-6334
Hours: Mon – Sat 9 a.m. – 10 p.m.
NUG Wellness
This delightful dispensary in Floresta Gardens – Bradrick near Burrell Field and San Leandro BallPark blends industrial modern style with a warming woodsy aesthetic. With wellness in the name, you know that the product is well above industry standard. NUG has state-of-the-art cultivation, extraction, and distillation facilities, and in the shop you'll find yummy products like THC-infused Chili Lime crackers and more comedic products like Canna Lean. They also have a playful vending machine that really sets the tone for feeling like you're in an ultra-posh adult candy store.
Their user-friendly website helps you locate products for every feeling, including product categories like Energetic, Creative, Sleepy, Hungry, Pain Free, Blissful, and Not High. According to Yelp reviews, NUG's main drawback is their unprofessional and unreliable customer service, so keep that in mind if you decide to venture to this cannabis asylum. This particular storefront is in San Leandro, though NUG is a reputable chain that can also be found in Sacramento, Redding, Oakland, and El Cerrito.
Address: 3089 Teagarden St, San Leandro, CA 94577
Phone: (510) 281-0745
Hours: Mon – Sat 9 a.m. – 10 p.m.
2One2 California Dispensary
Are you a big fan of Froot, Wyld, Smokiez, Kiva, or Mids Factory? 2One2 California Dispensary is among the Bay Area dispensaries with big brand names. While they have a smaller selection of products when compared with other dispensaries on this list, it's only because they carry the finest brands, but for a premium price. One thing to note on top of high prices is that Yelp reviews emphasize that the staff at 2One2 can come off as a bit unprofessional. All customer feedback aside, 2One2 has some awesome daily deals and brand specials, and some unique events such as Live Demos from well respected brands like Select, Proof, Cam, and Manzanita. 2One2 is located in San Francisco's Financial District at 212 California Street.
Address: 212 California St, San Francisco, CA 94111
Phone: (415) 449-4729
Hours: Mon – Wed 9 a.m. – 9:30 p.m.
Thur – Sat 9 a.m. – 10 p.m.
Sun 11 a.m. – 5 p.m.
Farmacy Berkeley
The beautiful city of Berkeley has much to offer to its residents, including family owned and community focused small businesses like Farmacy. Situated near Robert Mason Field in Paradise Park and just a few blocks down from Ashby Bart Station, Farmacy houses a professional staff of articulate budtenders to share their knowledge of their product line as well as information on the therapeutic benefits of marijuana. Not sure what to get? Have the staff educate you on different strains fit for different moods and effects, or scope their daily deal selection that promotes top-shelf brands at low prices.
Farmacy deeply believes in bringing together cannabis advocates and promoting sustainably produced cannabis products, which is why they aim to source their flower from local cultivators that place high value on health and wellness and pesticide free products. Should you decide to wander into Farmacy in Berkeley or order for delivery, brace yourself for long wait times. Past customers claim that Farmacy is not receiving gold stars for their timeliness.
Address: 3243 Sacramento St, Berkeley, CA 94702
Phone: (510) 984-7421
Hours: Mon – Sat 10 a.m. – 8 p.m.
Sun 11 a.m. – 6 p.m.
Silverstreak San Leandro Dispensary & Delivery
This unassuming San Leandro storefront–formerly known as Blüm–harnesses a warming interior with animal print rugs, light wood shelves, lush plants, and high-tech display screens listing their dank menu items. User-friendly displays that help you understand the full scope of their inventory, which includes mouth-watering flower flavors, vapes, concentrates, juicy dabs, and delectable edibles. Everything at the Silverstreak is all gravy, minus the staff members' attitude, according to Yelp reviewers who've had uncomfortable encounters with rude employees. You'll find Silverstreak at the crossroads of Mulford Gardens and Marina Faire in San Leandro.
Address:1915 Fairway Dr, San Leandro, CA 94577
Phone: (510) 900-4171
Hours: Mon – Sun 8 a.m. – 10 p.m.
Hi-Fidelity Cannabis Dispensary
Hi-Fi Green is a cutesy cannabis shop off Telegraph in a prime area of Berkeley. They place tons of items on sale along with daily specials and Reward Dollars to give you points towards future redemptions that can be redeemed in-store towards merchandise and weed products. Perhaps their management has changed, though past customers do claim via Yelp that the security guards at Hi-Fidelity Cannabis Dispensary can come off as insolent, and the general customer service isn't something to write home about. Sure, you'll be getting a high quality product, just don't expect first-rate service at Hi-Fi.
Address: 2465 Telegraph Ave, Berkeley, CA 94704
Phone: (510) 838-2400
Hours: Mon – Sun 11 a.m. – 9 p.m.
Cannabis Buyers' Club of Berkeley
Among the Bay Area dispensaries on this list, Cannabis Buyers' Club off Shattuck near the University of Berkeley in South Berkeley has some of the best weed specials around. This marijuana haven is a popping place for pot products of all kinds, featuring brands like Korova, Feelz, Grizzly Peak, Sticks, and Eighth Brothers. If you decide to pop in to Cannabis Buyer's Club of Berkeley, just be prepared to face high taxes, and the occasional lower quality product that might not be the best bang for your buck. Their website is also lacking in product imagery, so it's best to shop in store if you plan to shop for kush here.
Address: 3033 Shattuck Ave, Berkeley, CA 94705
Phone: (510) 849-4201
Hours: Mon – Fri 8 a.m. – 9 p.m.
Sat – Sun 9 a.m. – 9 p.m.
Caliva Dispensary & Delivery
Do you like to be in the know on innovative products from revolutionary brands? Then you'll want to check out Caliva, as they feature unique collections such as Monogram–Jay-z Carter's proprietary family of strains and smoking devices that are high end, functional, and luxurious. Caliva offers significant specials and access to expert Wellness Consultants who can personally guide you to the right products for your specific intended uses. Despite their exceptional customer service and high-end products that line the shelves of their vibrant space, once in a while you might come across damaged merchandise and long wait times due to long lines.
This dispensary occupies the neighborhood of Rockspring right near the Kelley Park Disc Golf Course and the Japanese Friendship Garden in San Jose. If you're feeling extra elevated from the kush you purchase at Caliva, you can take a stoney cruise over to the lush green grasses in the area and throw some discs or practice a peaceful meditation.
Address: 1695 S 7th St, San Jose, CA 95112
Phone: (888) 688-0303
Hours: Mon – Sun 9 a.m. – 9 p.m.
Green Remedy
The Green Remedy has a humble purpose for providing meticulously grown marijuana to its patients, as they view cannabis as a healing experience and want to ignite that in their clientele. Here you'll find everything from OM's Hemp Bath Salts to Uncle Arnie's Iced Tea Lemonade, as well as tons of smoking accessories like hand pipes, glob mops, rolling trays and weed grinders. All that being said, Yelp reviewers make note that the products at Green Remedy are expensive, though their online inventory showcases prices with tax included to provide some transparency behind their high prices. Green Remedy Can be found in the same area as Hilltop Park in Richmond.
Address: 2928 Hilltop Mall Rd, Richmond, CA 94806
Phone: (510) 758-7898
Hours: Mon – Sun 10 a.m. – 8 p.m.
Bay Area Residents and tourists alike are fortunate to have a wide array of top-notch weed dispensaries to choose from. Whether you're an Oaklander, San Franciscan, San Josean, or a nomadic wanderer, you'll quickly come to find that when it comes to finding a dispensary in San Francisco, no two are the same, yet all provide value for the right individual.
Project Cannabis is our top choice when it comes to a highly trusted growers, and while we might be biased toward this legendary brand, you can't go wrong with any of these weed establishments.
If you're curious about where to purchase CBD products, we took the time to organize the most noteworthy places to find CBD in San Francisco, too. Once you get the chance to explore the Bay Area dispensaries on this list, let us know how you enjoyed them in the comments!

About the author: Courtney Pester is a San Diego based San Francisco bred millennial with a passion for design and self-expression. She prides herself in her charcuterie board making skills and has a soft spot for animals. When she's not pumping out articles you can catch her playing tennis and enjoying the diversity of events and restaurants San Diego has to offer.