Discover the Charm of Temecula's Wine Country: A Day Trip Guide from La Jolla to World-Class Wineries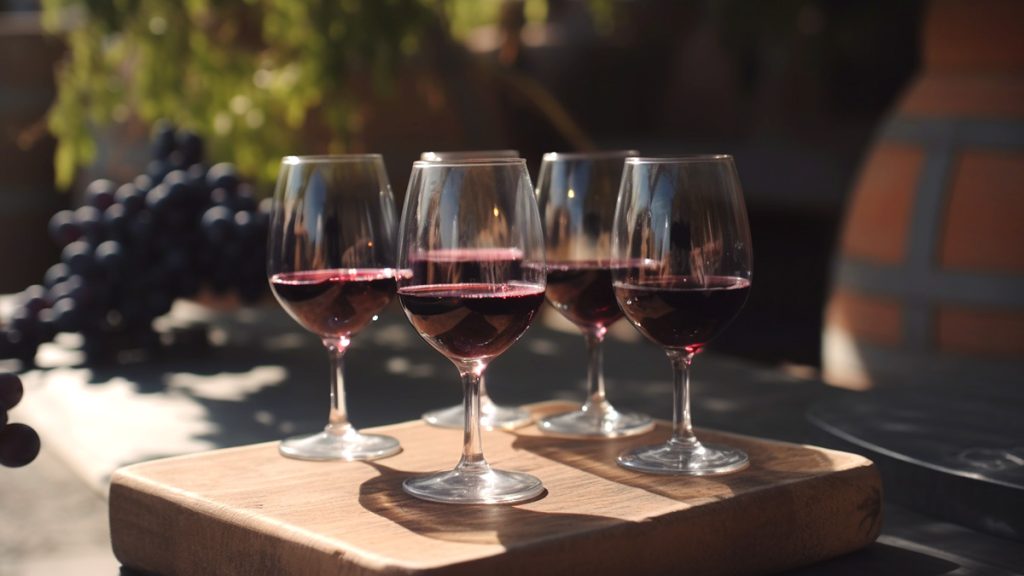 Nestled in the rolling hills of Southern California, Temecula's wine country is a picturesque destination for wine enthusiasts to experience world-class wines and breathtaking vineyard vistas. Planning a round trip day trip from La Jolla to Temecula for wine tasting is essential to ensure a seamless and memorable experience. In this article, we will provide a comprehensive guide on transportation options, tips for planning your wine-tasting route, and recommendations on where to make the most of your day in Temecula's wine country.
Map of Route from La Jolla to Temecula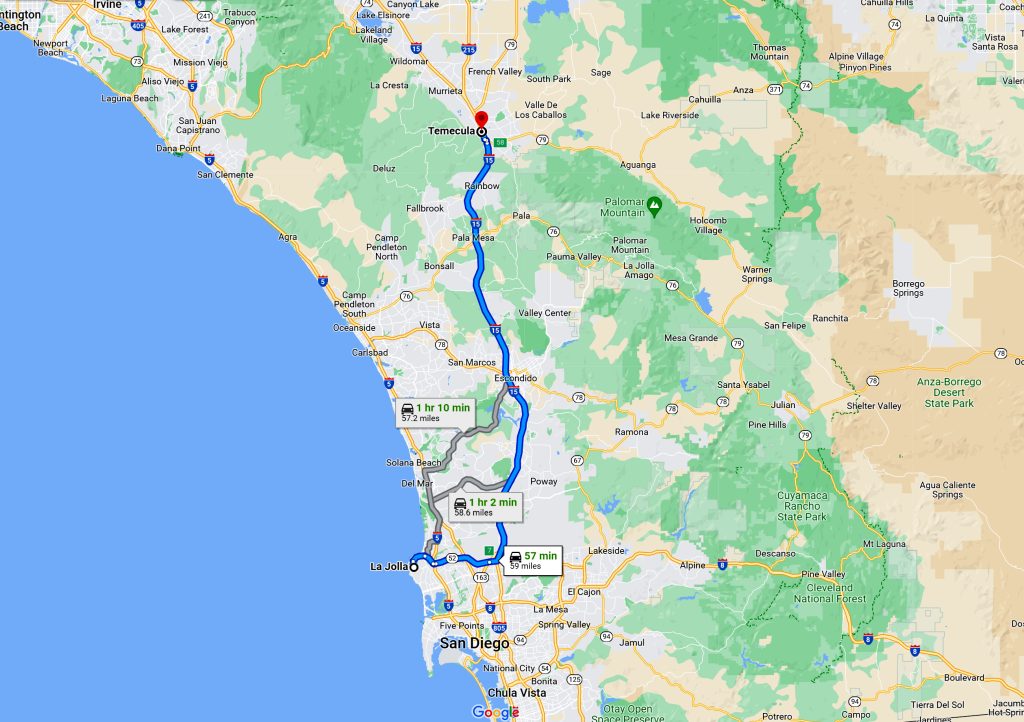 Transportation Options
There are several ways to reach Temecula from La Jolla for your wine-tasting adventure. One option is driving yourself, with an estimated travel time of approximately 1 to 1.5 hours, depending on traffic. Most wineries offer ample parking spaces for guests, but it's crucial to designate a driver who will stay sober throughout the day to ensure a safe return trip.
Another option is joining an organized wine tour. These guided tours often include transportation, tasting fees, and sometimes lunch. The benefits of taking an organized tour include not worrying about driving, learning about the region from a knowledgeable guide, and enjoying a curated selection of wineries. Popular tour companies operating in the area include Grapeline Wine Tours, Rockin' Wine Tours, and Destination Temecula. Prices vary depending on the tour's duration, inclusions, and group size.
Ride-sharing services like Uber and Lyft or local taxi services are also available for transportation to and from Temecula. While this option provides flexibility and allows everyone in the group to indulge, the costs can add up, especially for longer distances and wait times between wineries.
Planning Your Wine-Tasting Route
To make the most of your day trip, start by researching the various wineries in the region. Consider the types of wines they offer, their specialties, and the ambiance of their tasting rooms. Temecula is home to over 40 wineries, ranging from large, well-known establishments to smaller, boutique wineries, each offering a unique experience.
Once you have a list of preferred wineries, create an itinerary that includes the number of wineries you'd like to visit during your day trip. A good rule of thumb is to plan for 3-4 wineries to allow time for travel between each location and to truly savor the tasting experience. Be sure to factor in travel time between wineries, as well as breaks for meals and rest.
Finally, make reservations at the wineries you wish to visit. Many tasting rooms require advance bookings, especially for larger groups or on weekends. Additionally, some wineries offer exclusive tastings or behind-the-scenes tours for visitors with reservations, adding a unique touch to your experience.
Recommended Wineries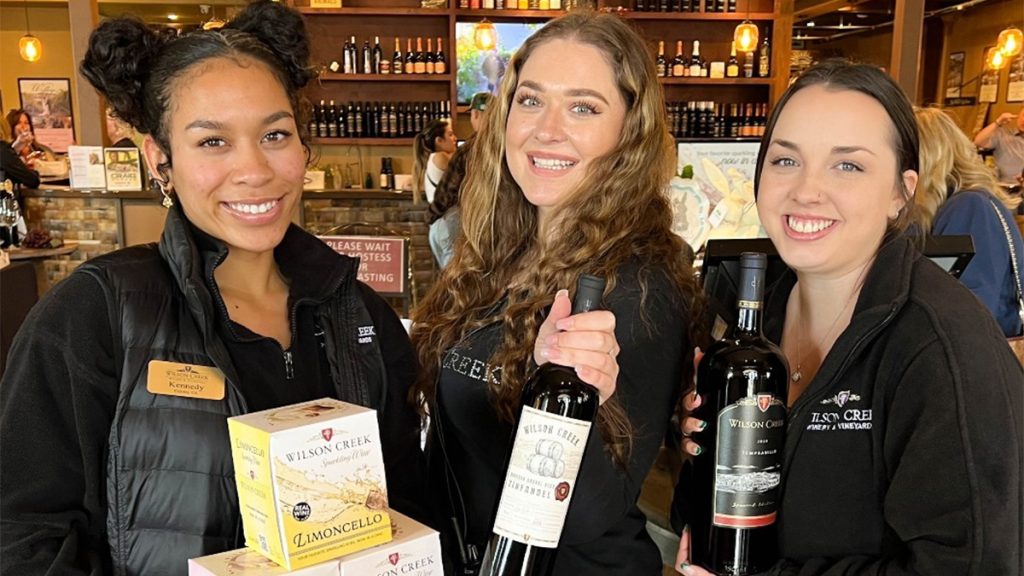 South Coast Winery Resort & Spa is known for its award-winning wines, including reds, whites, and sparkling varieties. The resort also boasts a luxurious spa, hotel accommodations, and a fine-dining restaurant, making it an excellent option for wine lovers looking to indulge in a full day of relaxation.
Wilson Creek Winery is famous for its Almond Champagne and offers a wide selection of other wines to please any palate. Visitors can dine at the on-site restaurant, The Creekside Grille, or enjoy a picnic on the picturesque grounds, taking in the beautiful vineyard views.
Callaway Vineyard & Winery provides a diverse selection of wines and tasting options, catering to both novices and seasoned wine enthusiasts. Its scenic hilltop location offers breathtaking views of the surrounding vineyards, perfect for sipping wine and capturing memorable photos.
Leoness Cellars is a boutique winery that emphasizes quality over quantity, with a focus on handcrafted, small-lot wines. The intimate tasting room offers guided wine pairings, allowing visitors to fully appreciate the nuances of each wine.
Dining Options in Temecula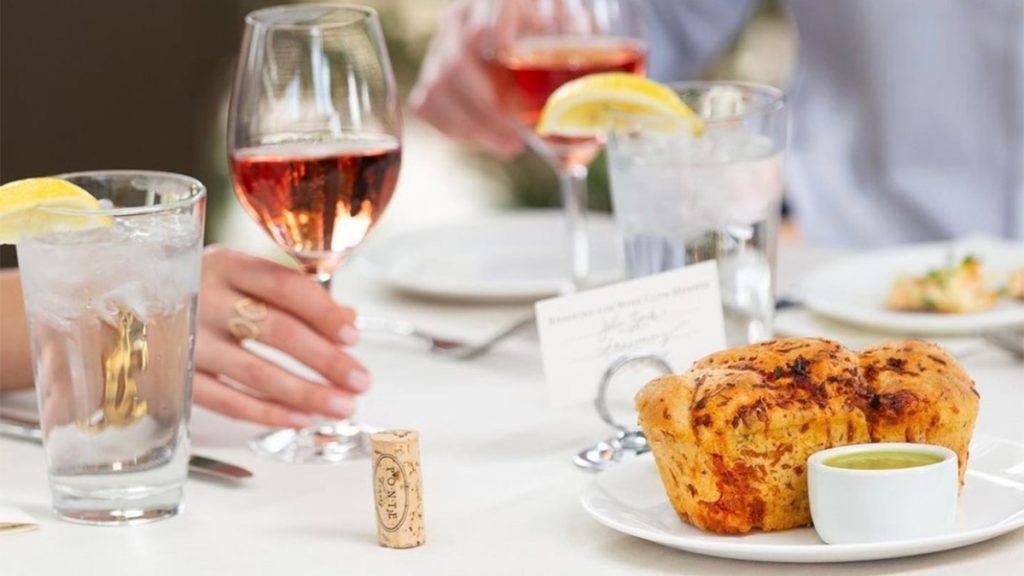 Many wineries in Temecula feature on-site restaurants and outdoor dining, ideal for a mid-day meal between tastings. Popular options include The Vineyard Rose at South Coast Winery, The Restaurant at Ponte Winery, and The Pinnacle at Falkner Winery. Be sure to book a table in advance, as these restaurants fill up quickly, especially on weekends.
For those seeking a more casual dining experience, Old Town Temecula offers a variety of restaurants and eateries, ranging from quaint cafes to lively pubs. Take some time to explore the historic district and its unique shops, galleries, and tasting rooms.
Tips for a Successful Wine-Tasting Trip
Drink responsibly by designating a driver or using transportation services to ensure everyone's safety. Stay hydrated and pace yourself throughout the day to fully appreciate each tasting experience.
Dress appropriately for a day of wine tasting by wearing comfortable yet stylish attire. Opt for practical footwear that can handle walking on uneven surfaces and standing for extended periods.
Budget for tasting fees and potential wine purchases. Many wineries offer wine club memberships that can help save on tasting fees and offer exclusive discounts on wines.
Conclusion
In summary, planning a round-trip day trip to Temecula's wine country is an excellent way to explore the region's renowned wineries, enjoy delicious meals, and create unforgettable memories with friends or family. With a well-thought-out itinerary, reliable transportation, and an adventurous spirit, you'll be poised to experience the charm and beauty that Temecula has to offer. Cheers!