Say Oui to We Olive: A Hidden Gem with an AMAZING Happy Hour

We Olive:
A Hidden Gem with an AMAZING Happy Hour
In the heart of La Jolla, California, walk along Prospect Street, and you'll see a charming spot that's has bottles of olive oil and other goodies up to the ceiling. We Olive may just look like a shop, but head to the back and prepare for a surprise. The ocean-facing side is a laid-back, charming wine bar with a patio looking onto the Pacific. With a fire for any windy chills and bar stool seating that maximizes ocean views, it's a true hidden gem, especially during their happy hour.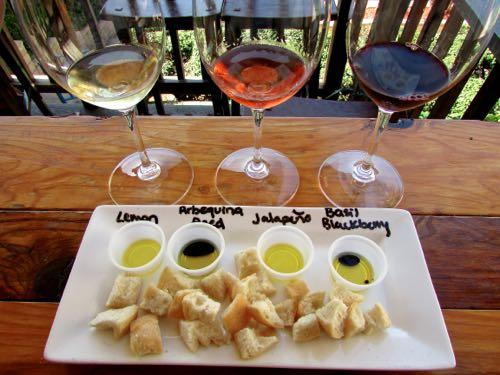 .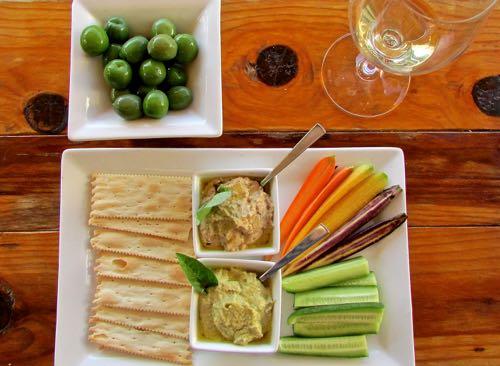 Olive Oil Tasting
Upon walking in, you find yourself reading labels with every type of olive oil and balsamic vinegar you can imagine. From rosemary-infused and basil olive oils to peach white and aged balsamic vinegars, the staff are happy to walk you through a brief lesson on olive oil and help you find your favorites.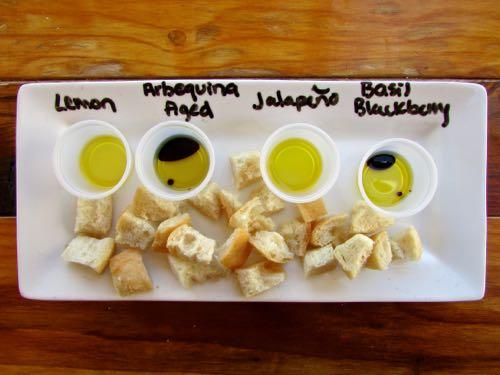 Although, why not get the full experience and sit down at the patio for happy hour or wine tasting? While you're waiting, they'll have a plate brought out to you with bread and various olive oils & balsamics for dipping and tasting. Anything they serve is for sale, so when you discover the magic of Arbequina Olive Oil paired with Aged Balsamic Vinegar, you can take them home with you.
Wine Tasting
A little wine tasting with your olive oil exploration really takes things to the next level. You can try wine by the taste, glass or bottle, and if you're interested in a variety, get a flight. They keep things local with wine only from California, mostly from smaller boutique venues that offer unique, one-of-a-kind cases.
The best time to come for tasting? Wine Wednesdays, from 3 to 7 pm, when you can get half-priced glasses of wine!
Artisan Cheese and Charcuterie Plate
This plate is just the right size for sharing with a few fellow cheese lovers. The cheeses are rotated as the seasons change, so you can continually come in to something new and fresh. Three types of cheese are served with crackers, fruit, nuts, and unique meats (like boar!) The team here always makes sure to select ingredients that go incredibly well together.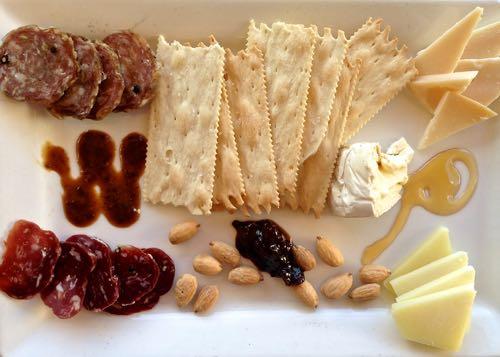 We Olive also offers a variety of hummus plates. No need to choose just one; select the We Olive Dip Duo, so you can taste two. The garden basil hummus & black olive and blood orange hummus go wonderfully with the crackers and colorful array of vegetables. The black olive and blood orange hummus on the sliced cucumber is particularly refreshing!
Happy Hour
Speaking of great offers, happy hour is held Monday through Thursday, from 4 to 7 pm. You'll find exclusive deals on both glasses & bottles of wine and craft beer. We recommend enjoying a refreshing drink with one or two of the plates on the happy hour menu, the cheese and hummus plates which are great for sharing and wine pairing.
Important Note for Locals
Show the team you're a La Jolla local and get happy hour deals every day of the week! It's We Olive's way of saying this spot appreciates this town's locals and is proud to serve the community.
And if you work in La Jolla, make sure to come by Mondays for Industry Night. All wine glasses are half off! Now that's a good way to end a hard day's work.
What Next?
As you're in the heart of the Village at 1158 Prospect Street already, we recommend checking out La Jolla Cove. If you're in a mood for a walk after your relaxing wine, cheese and/or olive oil experience, take the coastal walk over to La Jolla Shores. Learn more about it and other hikes at the 5 Best Hikes & Trails in La Jolla.