How to Throw an Epic Beach Party in San Diego
Who doesn't love a good beach party? Especially if you're in La Jolla, how can you not love a good beach party in San Diego? With so many beaches at our fingertips, you can easily throw a party to remember. Of course, there are so many things to think about – the theme, the food, the music, the invitations; heck, you could even throw your party on a nude beach if you wanted. While coming up with beach party ideas is hard sometimes, let's aim to make that a little easier.
Are you ready to throw an epic beach party in San Diego?
You may fancy yourself capable of throwing the best beach party in San Diego, but there's more to consider than just the locale. Just because you're in one of the most idyllic ocean towns in the world doesn't mean it's going to be a breeze. You've got to consider the time of year. Is it a New Year's Eve beach party in San Diego? Consider the age range of the guests; this determines what accommodations you need to buy or rent. Considering who will be in attendance and the time of day will also influence the best beach snacks for the type of event you're aiming to throw.
These are just several things to consider – time, place, attendees, and the other factors mentioned above. So, if you think you are, in fact, ready to throw a beach party in San Diego, let's get down to the nitty-gritty.
What are the best reasons to throw an epic beach party in San Diego?
First on the list of best reasons is location, location, location! You couldn't ask to be in a more beautiful place in the country and arguably the world. The climate of scenery makes La Jolla an ideal place to throw birthday parties, weddings, bat mitzvahs, really any celebration – including work events!
Birthday Party Ideas – When throwing a beach birthday party, there are unlimited ideas, because individuals are unique. You want to make sure that you send out birthday greeting cards and invitations that match your theme, so pick one first. Many people opt for a luau-type theme for birthday parties, and you can go in a ton of directions to keep it age-appropriate.
Weddings – Tons of couples decide to tie the knot on one of the many beaches in San Diego. Your wedding theme is, of course, up to you two as partners and any planners and designers you've hired, but remember, drinking on public beaches is not permitted in San Diego, so you are limited in that capacity.
Work Events – Work events are a great way to build team morale and keep the company's values in line amongst employees. A simple picnic or buffet style will work for this type of event. Depending on your company's budget, however, you can hire a planner depending on the size and scale of the event.
How to Prepare for Your Beach Party?
Throwing any party, let alone a beach party in San Diego, takes some prep work. You must enlist the help of friends or hire planners, designers, and decorators based on the size of the event you are throwing. The list doesn't end there, and you'll need caterers and even possibly permits. If your party is more elevated, an ice sculpture will obviously melt, but you could even hire a professional sandcastle builder if you're trying to make a statement.
You should also consider what kind of food, drink or party favors to have at your party. For example, you might want to really get the party hopping by visiting one of these dispensaries near Pacific Beach, or shop some of the amazing restaurants for kickin' good eats.. Try to remember events you went to in the past that are similar to what you're trying to achieve and build on that. You don't want to plagiarize someone's party (especially if they're on the invite list) simultaneously; however, imitation is the highest form of flattery.
Of course, there are always safety matters to consider before throwing a beach party in San Diego, too. Plan before the party, and think of contingencies. Do your best to protect your guests from surfing injuries, tripping hazards, bad weather, etc.
Maybe you went to a Pacific Beach San Diego party in the last few years that had everything you were looking for – the right location, it was during the evening, and the caterer was on point. Either source the same caterer or one that serves a similar style of food. Keep in mind that you need to have a way for guests to quickly dispose of utensils, cups, and napkins that could blow away in the wind and become litter (unless you're going more sustainable or have hired a crew to wait on guests as well).
Locations
Just like where you decide to buy your home, start your business or throw a party – location is everything. So, picking your location is one of your top priorities. Let's dive into some of the options our fair city has to offer.
Downtown, Harbor, and Coronado
Silver Strand State Beach
Silver Strand is great for kids and wheelchair accessible if some of your guests require such amenities. It has ocean and bay shorelines as well.
Pepper Park
Pepper Park is a park a little over five acres large. There's a playground there as well as restrooms, picnic tables, and a boat launch. This is a good option if you need tables but don't feel like spending your budget on rentals.
Coronado Beach
Coronado is a more urban beach, which would be great if you're planning a livelier party. Most people come here for the swimming, sunbathing, or surfing options, so if you don't want to contend with crowds, this may not be the spot for your party.
Waterfront Park
Waterfront is an excellent option for a young or middle child's birthday party. There are tons of areas and equipment for children of all ages to play with and spray fountains. There are also large grassy areas for a picnic-style party.
Harbor Island Park / Spanish Landing
This park is a beautiful public space overlooking the bay. While it does have a path for walkers and bicyclists that could distract a larger party, the scenery is idyllic and would be an excellent fit for a more intimate gathering.
Shoreline Park
Shoreline Park is a mile long, and the views are breathtaking. Almost always full of sailboats, the perfect backdrop for any number of parties. Another cool thing about Shoreline is the public art, so there's always a conversation starter there if many of your guests will be meeting each other for the first time. The park also has a beautiful promenade. This place makes for a great beach party in San Diego.
Sunset Cliffs Natural Park
The name says it all when it comes to this locale. The cliffs are simply breathtaking, and you could throw an elevated event here. You would want a planner to help you figure out its logistics, but it's a majestic setting.
Ocean Beach, Mission Beach, and Mission Bay
Ocean Beach Dog Beach
Throwing a birthday party for your beloved pet? A mixer for singles who "Must Love Dogs"? This is your spot. Ocean Beach Dog Beach allows dogs to be freely off-leash. Obviously, it will be a casual party, but you can have a lot of fun here with your pet and your pet-loving pals.
Mission Bay Park
Mission Bay Park is wildly popular as a place to swim and sunbathe, even surf, so expect a crowd. It is wheelchair accessible and friendly, which is something to consider. Mission is also super kid-friendly, so another place you should put on your list if your party is geared towards children.
Fiesta Island
I mean, come on, it's in the name – Party! Fiesta is a pretty big island off Mission Bay and boasts 27 miles of beaches. There are fire pits that could make for a wild party or really intimate as well. As we said, it's in the name, and this should be on the top of your list while planning.
South Mission Beach
South Mission Beach is adjacent to lots of shops and other things going on. This is a good suggestion for a quick event and probably pretty casual. But, the beach is lovely and wide, so you could easily set something up if you went with it as your locale.
Mission Beach Boardwalk
What's in a name? What's on a boardwalk? Mission Beach Boardwalk has an old-school feel to it and even an amusement park. You could throw a nostalgic themed party here for older adults in your life or go in plenty of other directions. It will be busy, though, so this isn't the way to go if you want something quieter.
Ski Beach
Many locals love this beach for a good reason; the beach is flat, and there are many good places to have a fire pit. It's busy but never overrun. Ski Beach is a perfect spot if you have a medium-sized party where you want to be able to expand on a theme.
Crown Point Park
If you don't have much budget or throw something together last minute, Crown Point Park is a fantastic option. There are plenty of picnic tables, grills, bonfire rings, and a giant grassy park where kids can play, or you could set up games like badminton or corn hole–a very casual spot, which frequently makes for the most memorable parties.
Fanuel Street Park
Another actual kid-friendly location, but the views are stunning enough for the adults to appreciate amid the mayhem. Fanuel Street Park has a playground, BBQ grills, a huge grassy park, and bath amenities (helpful if your children are young enough to be prone to accidents and messes).
Pacific Beach
Though Pacific Beach is definitely busy during the daytime, the spectacular views make it an excellent place for an evening beach party. It has a great, long pier, and the white sandy beaches are perfect for party pictures.
Law Street Beach
The beachline here is backdropped by grassy cliffs, which would make it a picturesque wedding party locale. It's known for good surfing and jogging so the evening would be a better bet.
Tourmaline Beach
Tourmaline Beach is a beautiful oceanside like most San Diego beaches, but parking is a bit tough at this beach. So, you would need to plan on traveling as a group, or it could work for people within walking distance or a more intimate gathering.
Calumet Park
Overlooking a bluff, Calumet Park is a grassy and serene location. It's lined with benches which could be suitable depending on the type of event you're throwing or a distraction.
Birdrock & La Jolla
Birdrock Viewpoint
Considered by many as one of the best seaside views in San Diego, Birdrock is beyond beautiful. This is a very relaxing and serene environment that lends itself to all types of parties.
Windansea Beach
Known mainly for its iconic palm-covered surf shack, this is a popular surfing site. That doesn't mean you couldn't host an epic BBQ or luau here, though! It's worth noting there are no public restrooms available at this beach.
Marine Street Beach
The clear water at Marine Street Beach makes it an easy place to throw a relaxing affair. This location would be great for day or evening events. There are no restrooms or parking; however, street parking is sometimes difficult to obtain. If you're throwing a significant event here, you're going to need a shuttle!
La Jolla Cove
This beach, while quaint, is always manned by lifeguards during certain hours. This site offers restrooms as well as showers, so if you're throwing a proper beach party where you'll be swimming and building sandcastles, it's a great pick. Not to mention, there are picnic tables!
La Jolla Shores Park
La Jolla Shores Park isn't directly on the ocean, but a mere two blocks away, which is beneficial if there are babies at the party. They have a playground which is great for children of all ages, but you're a short walk to sand and waves if you want them!
Blacks Beach Park
Trying to kick your party up a notch? Well, Blacks Beach gives you the option to go nude if that's what you're looking for. You decide what kind of party you want to throw here. Blacks Beach can be difficult to get to since it's located under the Torrey Bluffs, but it's worth the visit. Whether you're going in the buff or not, it's a beautiful view.
North County Coastal: Del Mar, Encinitas, Cardiff, Carlsbad, and Oceanside
Torrey Pines State Beach
TPSB is an excellent spot for fishing, surfing, and swimming. Additionally, it's an easy place to throw a beach party! The beach is nice and wide, and there are pre-set-up picnic areas as well.
Powerhouse Park & Del Mar Beach
Powerhouse Park sets above a beautiful and large sandy beach, making it ideal for a large outdoor party. Guests have the option of relaxing in a gorgeous grassy setting or spending time on the beach. If you're throwing something black-tie, this is worth checking out. You can go low-key if that's more your party's vibe as there is a playground and small picnic area.
Fletcher Cove
The beautiful park at Fletcher Cove even has a viewing deck, which makes it a great spot if lots of photos are taken. It also has picnic tables, playgrounds, and a nice grassy park. Oh, and did we mention basketball? Yeah, for a casual beach party, this place checks a lot of boxes.
Tide Beach Park
The backdrop of this park is stunning cliffs lined with gorgeous homes, but there's so much more. The beach is full of perfect white sand and is known for its serene and calming atmosphere. Tide Beach could easily host a beautiful wedding ceremony or just a casual hang-out on the beach.
Swami's State Marine Conservation Area
If you want your beach party to be in a very natural environment where guests can sneak off and explore to find new favorite places, add this to your list of considerations. The beach is small but clean, and there's a beautiful little tide pool.
Cardiff State Beach
This beach is protected as it's part of a state park system. Cardiff could be a fun location for a wedding where your out-of-town guests want to stay in RVs since there's a campground nearby. It's beautiful and definitely worth checking out.
San Elijo State Beach
This beach is big! It's over two miles, kind of big! It's best known for its campground and picnic availability, so it's an option for more relaxed get-togethers. But maybe that's how beach parties should all be!
Swami's Beach
Free parking! Dog friendly! Beautiful beach! This place is an easy one to host virtually any event at. The sand is nice and soft at Swami's, and the sunsets are to die for.
Encinitas Beach County Park
While not everyone loves a pebbly beach, it could be just what you envisioned for your event. Encinitas Beach County is a beautiful park with lots to offer.
Grandview Surf Beach
This beach lies at the base of cliffs; it offers parking up above the cliffs, making it easy to access as an event locale. The beaches are beautiful white sand beaches and the view, well, it's grand!
Ponto State Beach Jetty
The Jetties at Ponto State Beach are nice and tight together, making them easy to walk across if your guests are likely explorers. This beach is spacious, and the jetties give it a natural feel you could be looking for.
South Carlsbad State Beach
Not only do they have a cliffside campground where you could quickly turn your party into an all-nighter, but they've also got picnic grounds and a gorgeous scenic beach. This beach is known best for swimming, fishing, and diving. Lots of fun to be had at SCSB.
North Ponto Beach
Backed by some pretty sharp bluffs, this beach is sand and pebble, so that it would be great for a fire pit. Walking along the beachside here is beautiful as well.
Tamarack Surf Beach
This beach is right on the border with a neighborhood, so getting super rowdy is not an option. It's also a stunning ocean view with a laid-back vibe–an excellent choice for a day party.
Oceanside City Beach
Oceanside City Beach is almost always crowded, so keep that in mind in your party planning. But, it's an absolutely gorgeous beach with a great pier. There are almost always food vendors nearby, so you could even forego catering and buy everyone's lunch!
Oceanside Harbor Beach
This beach is an excellent spot for all age groups, so you're not limited by that while planning. The waves are almost always mild, and there's not a ton of seaweed – which can be a real turn-off for some–super long pier, which is enjoyable. The beach is a favorite with locals, and there's also a lot to do in the surrounding area if partygoers want to keep hanging out after you've shut down the main party.
Invitations
As mentioned earlier, after picking a theme, invitations are one of the first party planning steps you need to conquer. You can send out invites indicating a theme before getting all your other ducks in a row. Some people work better under pressure, so it's good to do it this way. Ways to come up with a great invitation are using free services online to send email invites – not only is this a more sustainable way of sending invites, but it's also easier for people to get their RSVPs to you quickly.
If you're working towards a more formal event and want to send a nice thick cardstock version of an invite, you can either work with a planner that has connections to get them done for you, or source someone local to design, print, even address the invites for you. It's generally agreed that your invitations need to include obvious things like date, time, and location, but take it a step further if you have expectations on things like preferred attire, parking instructions, and whether or not you want children included.
If it's a children's party, this could be a fun project for you and your kid to do with one another. Can you think of anything sweeter than getting a homemade invitation by the child for whom the party is for? Yeah, I didn't think so.
Decorations
When it comes to decorating for a beach party, there's a little more to keep in mind than you may have to for a party you're throwing indoors. Firstly, you need to keep in mind the wind, and you'll want decorations that aren't going to fly away, not very environmentally conscious. Consider using a pop-up tent or renting a giant tent if you're hosting a wedding or more significant event.
If you have a tent, you can quickly secure any type of decorations you're using for it. You can also connect your decorations to picnic tables and chairs. If you're inclined to go the DIY route, filling mason jars with beach pebbles and tying decor to them could look beautiful. Also, be mindful if you're utilizing candles as part of decorations. They must be in a glass container that cannot be blown over and are heavy enough to stay in place.
When it comes to what you're going to decorate with, think – garlands, pom poms, balloons, oversized faux flowers from a craft shop. If it's within your budget, fresh local flowers are always a show stopper. Just make sure that you or a designated crew of people are in charge of responsibly cleaning up any decor you've chosen for the event. Please utilize these items responsibly and one more emphasis on candles or anything else that could be a fire hazard (like sparklers or fireworks).
What Should You Serve at Your Beach Party?
What you should serve at any party is always dependent on many variables: location, age of attendees, budget, and others. It would be best to remember that most people have specific dietary restrictions due to lifestyle choices or food sensitivities. So you're going to want at least one vegan and a gluten-free option of every course.
For hors d'oeuvres at a beach party, keep things simple with things like cut fruit and vegetables, or you can serve them kebob style. Simple bowls of healthy chips and nuts are excellent options, and no one ever goes wrong with a beautiful charcuterie board, do they?
Your main course is going to be dependent on the same variables. If you're using a catering service, let their chef absolutely handle this. It can be overwhelming to come up with mains, especially if the party is large. Since you're going to be oceanside, go with easy eats like bbq (with all the fixings set out for guests to build their sandwiches how they like them), pizza is always a crowd-pleaser. Many of the locations mentioned above come equipped with grills, so if you fancy yourself a "grill master," you can't miss burgers, hot dogs, or other sausages and grilled veggie kabobs or fresh grilled corn on the cob. Remember your non-meat-eating friends, though, and have black bean burger options for them too!
When it comes to dessert, let's face it, though the weather is idyllic in San Diego, it's going to be a little warm out, so you want to keep things cool. However, frozen desserts may be out of the question unless you have a way to keep them completely frozen until it's time to serve. Something like a parfait, a simple apple cake, or even two-bite cupcakes are perfect. There's also beauty in the simplicity of a tray of cookies. That way, guests don't feel pressured to partake in dessert, or on the flip side, they can indulge in a ton if they want!
When you're planning your party, drinks are a fun way to incorporate your theme; some hosts even opt to name drinks specifically for the event. However, you may be bummed to hear this, but alcohol consumption is not permitted on most beaches in San Diego, and you can't drink at all on the beach at Pacific Beach. While all San Diego beaches worth visiting are so beautiful, it's easy to get past this, and it does limit you as far as the drink menu is concerned. If you are dead-set on serving alcohol at your event, you can easily apply for permits, though.
Therefore great alternatives are sparkling waters like Topo Chico, Spindrift, Waterloo, or good old Pelligrino. Making your own cucumber or lemon water is always a refreshing treat if you have the time and inclination. Make sure you've got a cooler full of ice and display the drinks artfully while propping your cooler or drink container.
What Should You Do at Your Beach Party?
What shouldn't you do at your beach party in San Diego? First of all, you're in one of the most beautiful places you can be, so celebrate the simplicity of your awe-inspiring surroundings at your event and let them guide your activities planned – if you even want to go that route. If the party is for adults only, you could arrange some games on any part of the spectrum, from corny to risque. Also, if you and your guests are a little athletically inclined, badminton or beach volleyball are always fun.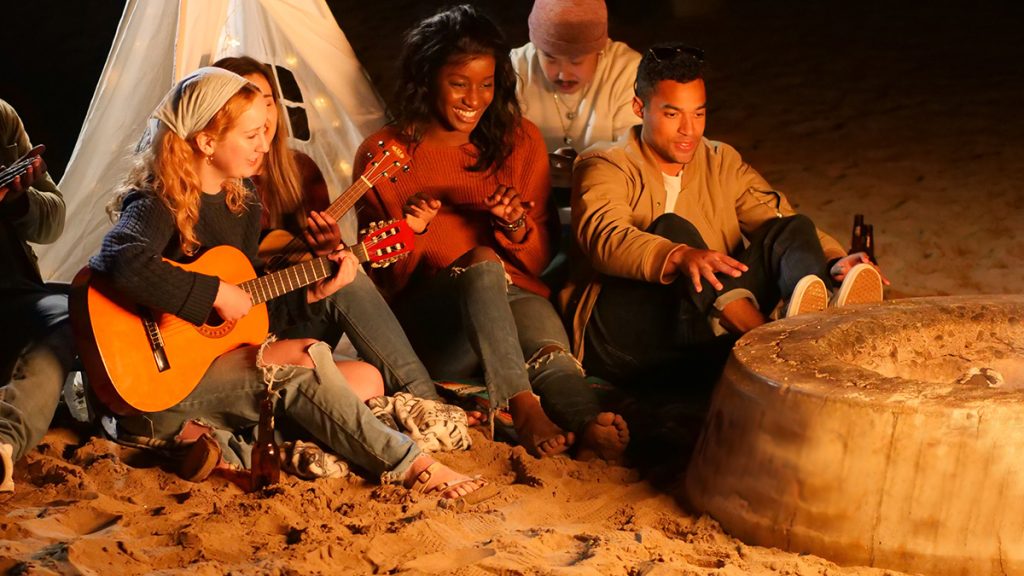 You do, at minimum, want some music. This could be as simple as cueing up a BlueTooth speaker and curated playlist, or hiring a quartet if it suits you. If you have the gift for strumming, you may want to haul out one of your custom guitars and serenade your party-going friends at the beach. Whether you go with a boom box or make your own music – beats are a must at any beach party.
If the party is for children, you do need to have some fun plans up your sleeve. Good things for a beach party for children are the same in many ways as indoor parties. But you could have water balloons or squirt guns, a bubble machine, a sandcastle building contest, and the list is endless. But, no matter the age of the people in attendance, favors are always fun, so don't forget them.
For adults, souvenirs from the party can be specific to the theme (a bottle of pink nail polish if it's a baby girl gender reveal party, a bottle of wine for any adult that isn't dry, even gourmet chocolates, even better if they're local chocolates). For children, favors are easier. Most children are particular about what the theme of their party is going to be, so just stick with that – if it's a "character" party, favors are easy. If they want a dinosaur or mermaid party, you may have to do a little bit more in-depth shopping, but you get the idea.
The main thing to remember when planning your perfect beach party is to try not to sweat it. You're in La Jolla, life is easy, and the weather is undoubtedly breezy. Make sure you develop a theme that makes sense for you and the type of event you're throwing, and the rest will fall into place. Focus on being a good host, and your friends and loved ones (or coworkers) won't notice the little details that go wrong – and some will go wrong. But, it will be a smashing success if you follow the outlines mentioned above. Cheers!