Dispensaries Near Universal Studios Hollywood in December 2023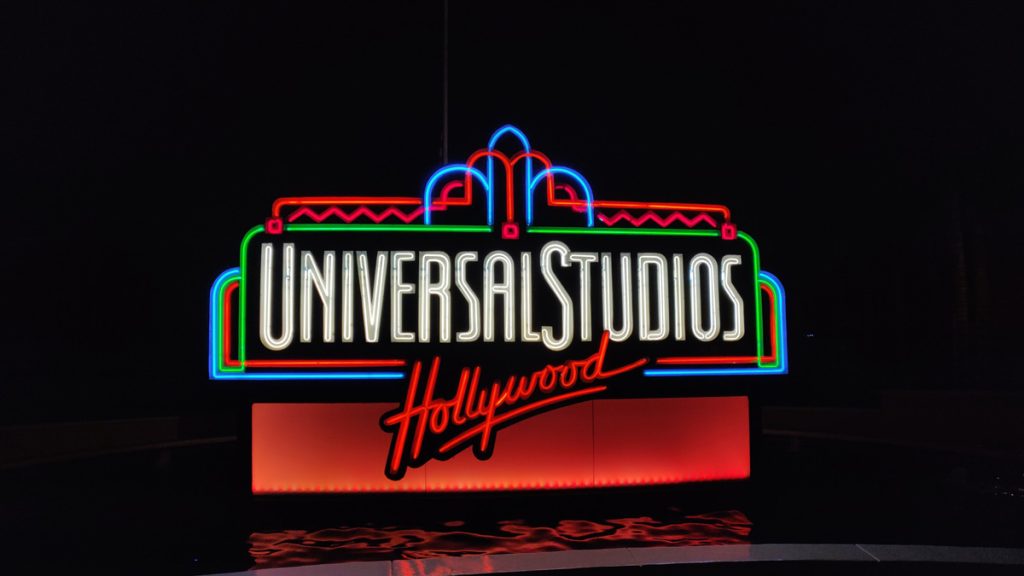 While it is a neighborhood synonymous with glamor, show-business, and the entertainment industry, Hollywood is also an integral part of the recreational weed culture in Los Angeles. The boom of recreational and medicinal weed dispensaries since the legalization has led to numerous dispensaries across the city.
However, while you may have your choice in options, only a few truly stand out as being the best dispensaries in Hollywood. If you're looking for a dispensary near Universal Studios, then this is the definitive list that you're going to want to cross-reference!
The Best Dispensaries Near Universal Studios
If you're having trouble when searching for a "dispensary near me," don't give up just yet! Some of the dispensaries around the Universal Studios area provide some of the best cannabis experiences in the city, and we're happy to break them down for you and tell you where to find them. Here, you'll be able to find where the best dispensary near Universal Studios Hollywood really is.
Project Cannabis Hollywood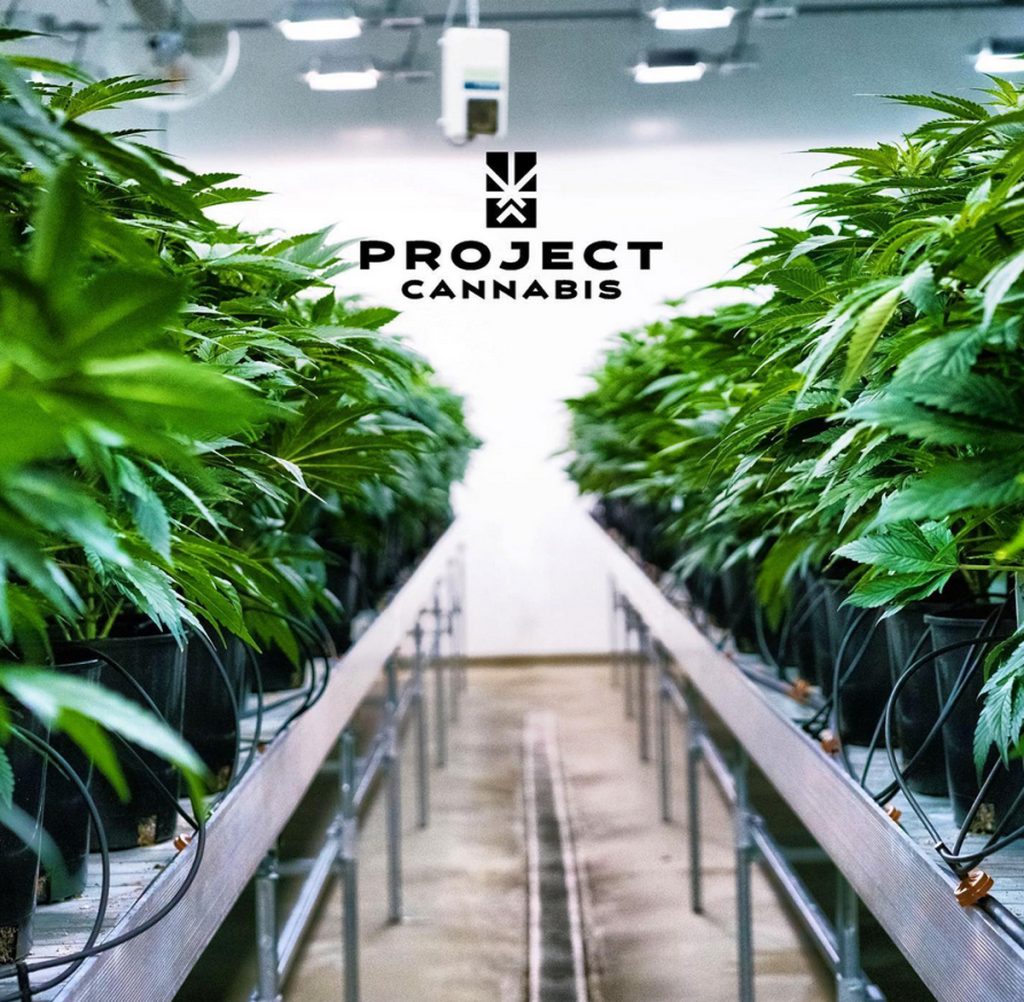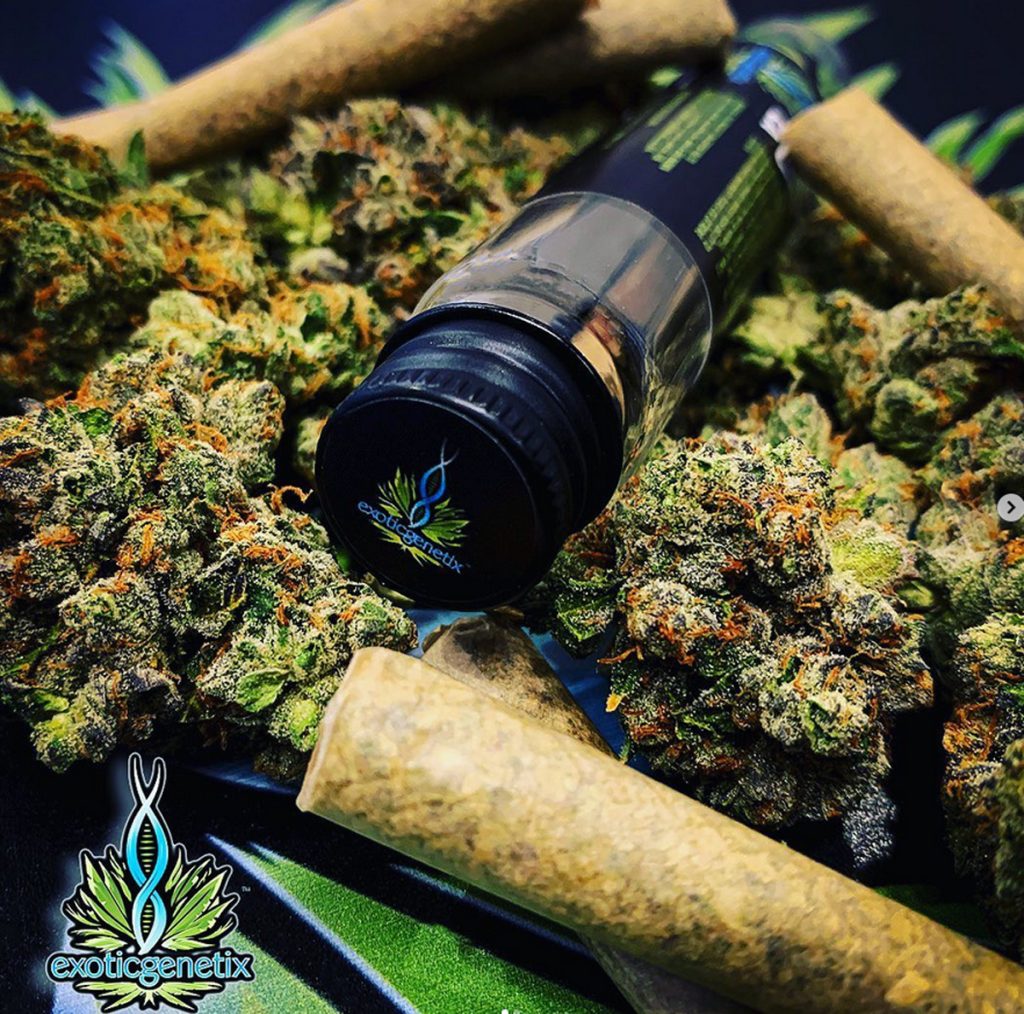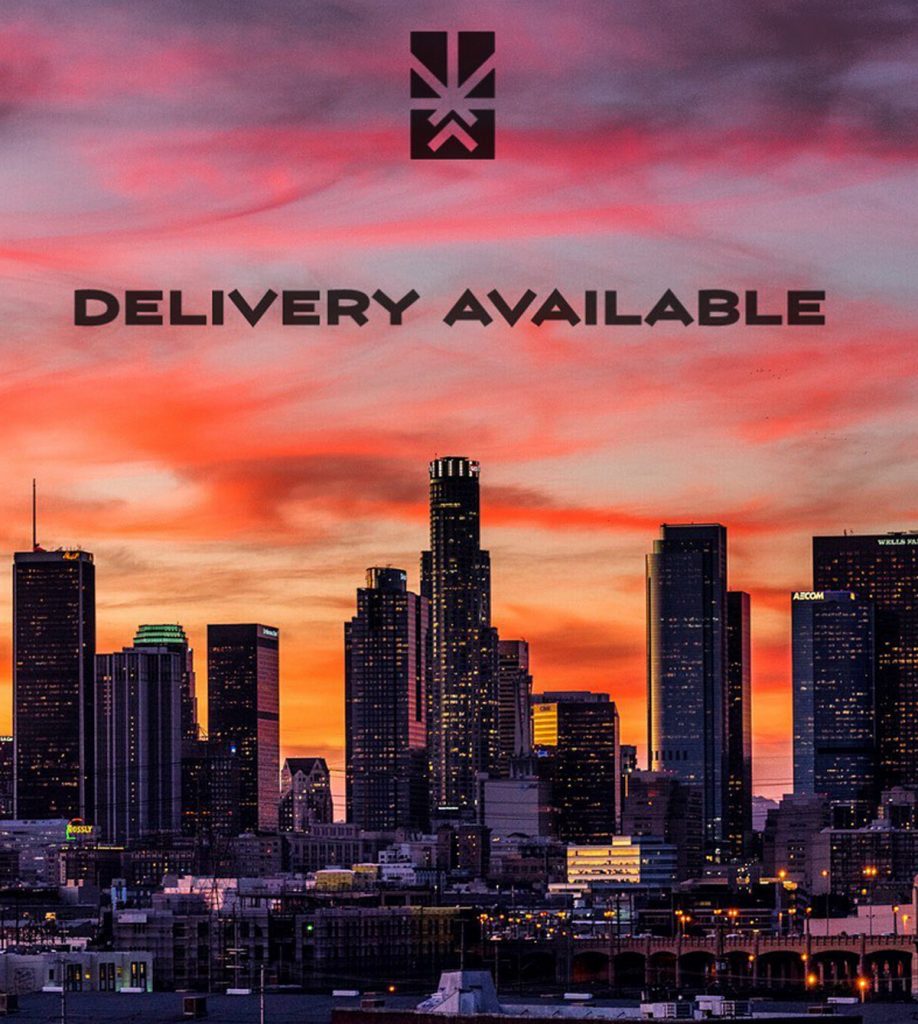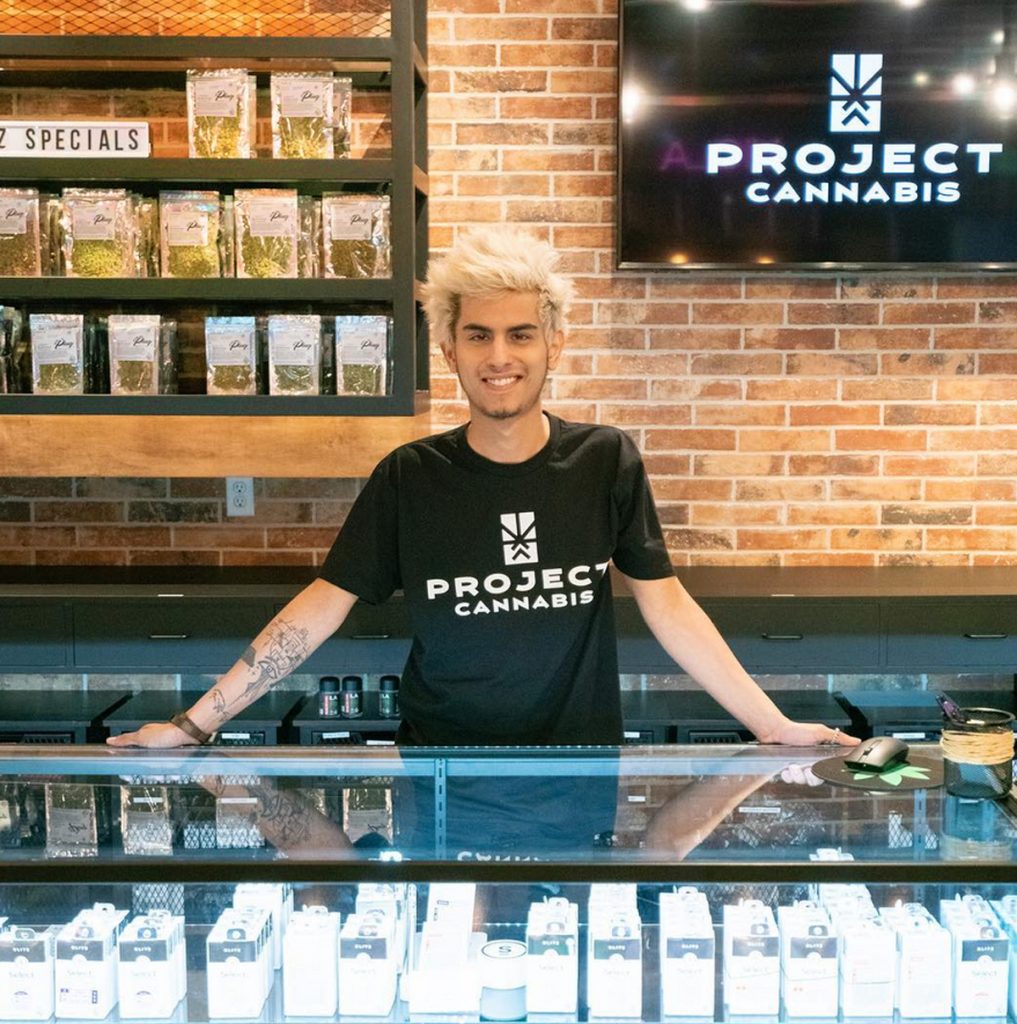 An award-winning dispensary that operates an indoor cultivation operation, Project Cannabis Hollywood, prides itself on growing high-quality cannabis in California. Their partnered brands have also received over 50 High Times Gold Cup Awards. These awards from the High Times are received from trusted experts on THC and CBD products, which further proves their quality and credibility.
In addition, Project Cannabis Hollywood also offers LA-wide shipping for your safety and convenience. Being a seed-to-store business, this upscale dispensary ensures that trust and integrity are brought to their valued customers. With guaranteed quality products coupled with affordability, you can't go wrong with this recreational dispensary near Universal Studios Hollywood.
Address: 10842 Magnolia Blvd., North Hollywood, CA 91601
Phone: (818) 322-2177
Hours: Mon – Sun 7 a.m. – 10 p.m.
THE WEED – Powered by Project Cannabis
As an offshoot dispensary of Project Cannabis Hollywood, THE WEED is just as reputable and trustworthy as the aforementioned shop. Located right off the famous Ventura Boulevard in Studio City, THE WEED is a great alternative option to get quality marijuana products from Project Cannabis.
Offering different marijuana products which include vapes, edibles, topicals, and pre-rolls, this weed dispensary's extensive inventory allows for a seamless customer experience. In terms of a pure dispensary experience, THE WEED – as well as other Project Cannabis branches – arguably provide the best marijuana in the North Hollywood area.
Address: 11557 Ventura Blvd., Studio City, CA 91604
Phone: (818) 980-2265
Hours: Mon – Sun 7 a.m. – 10 p.m.
Markt. Dispensary
Being a relatively small shop, Markt. Dispensary is a good alternative for customers that wouldn't want to go in huge dispensaries, as it can understandably be somewhat overwhelming. Despite this, the shop provides affordable cannabis products that are of quality. Markt. Dispensary provides fairly affordable prices with a wide selection of flower types.
The shop itself is in a secluded location, though, so it might be difficult to spot at first. However, this doesn't stop the shop from being a trusted dispensary that still offers premium products for cannabis lovers here in the Hollywood area.
Address: 3625 Cahuenga Blvd. W, Los Angeles, CA 90068
Phone: (323) 850-1847
Hours: Mon – Sun 9 a.m – 10 p.m.
Smart Cannabis
Smart Cannabis is committed to satisfying all kinds of cannabis needs for its customers. The shop offers unique deals that change daily. This allows their clientele to have more access to different kinds of cannabis.
Focusing on creating a specialized customer service experience, the Smart Cannabis staff is knowledgeable in all things marijuana-related. However, because the shop is streetside, you would have to use the parking meters on the storefront. If you can't drop by the shop, you may also order online through their website.
Address: 10745 Riverside Dr., Los Angeles, CA 91602
Phone: (818) 856-8208
Hours: Mon – Sun 8 a.m – 10 p.m.
Ice Kream
With deals for new customers as well as returning customers, Ice Kream is a great dispensary for individuals looking to find their primary shop for cannabis needs. Although the prices aren't as affordable as some of the other options, Ice Kream does offer free delivery for its customers.
Located along Ventura Boulevard, you won't miss their huge billboard right on top of the store. The next time you're in the area, be sure to drop by this Los Angeles dispensary for their cannabis products.
Address: 11376 Ventura Blvd., Studio City, CA 91604
Phone: (844) 688-7339
Hours: Mon – Sun 8 a.m – 9:45 p.m.
iLyfted Studio City
iLyfted Studio City stands out as a dispensary with a black and green aesthetic for its eye-popping shop. The lot of the store is very accessible with an open space for parking. Located on the corner of Moorpark Street and Kraft Avenue, this dispensary is hard to miss.
While the shop does carry a wide variety of cannabis products, the atmosphere of the store can be intimidating for newbies. Regardless, iLyfted Studio is a great dispensary that provides a truly unique experience.
Address: 11422 Moorpark St., Studio City, CA 91604
Phone: (818) 862-7066
Hours: Mon – Sun 8 a.m – 10 p.m.
Sweet Flower
With a focus on diversity and inclusivity in creating a genuine cannabis experience, Sweet Flower is a tried and tested brand that has been operating (medically) for over 10 years. The shop itself is very inviting and has a very chic look.
The shop also provides personal delivery ensuring the quality of the products when it arrives right at your door. Located on the corner of Colfax Avenue and Ventura Boulevard, Sweet Flower is a Dispensary you shouldn't overlook if you're in the area.
Address: 11705 Ventura Blvd., Studio City, CA 91604
Phone: (818) 794-6420
Hours: Mon – Sun 8 a.m – 10 p.m.
MMD Hollywood
Another mainstay in the Cannabis industry since 2006, MMD Hollywood first started out as a medical dispensary in North Hollywood. Though prices may lean towards the more expensive side, you can't go wrong with their extensive menu.
The shop boasts one of the largest selections of cannabis products in the area. To top it off, the staff at MMD is committed to giving excellent customer service to newbies and experienced cannabis users alike.
Address: 1515 N Cahuenga Blvd., Los Angeles, CA 90028
Phone: (877) 420-5874
Hours: Mon – Sun 8 a.m – 9:45 p.m.
Frequently Asked Questions
Can tourists use dispensaries in California?
As long as you are over the age of 21, anyone can buy cannabis in California – regardless of whether you're a tourist or not. That said, you can only purchase up to eight ounces, and for any more than that, you will need a medical marijuana card.
Are dispensaries in LA cash only?
Most dispensaries in LA are cash-only, though many do keep ATMs on the premises. This is because of the long history of legalization in the past years, as marijuana possession is still a federal offense. This makes credit card companies wary of facilitating sales, so be sure to carry some cash on hand just in case.
What are the rules about using Cannabis in California?
When in public, cannabis consumption is illegal. This includes other public establishments such as bars, restaurants, buildings, and other similar properties. The method of consumption does not matter, either. Enjoying marijuana through vaping, smoking, and eating is also illegal.
How much does cannabis in California cost?
On average, you can expect around $60 to $80 per ounce. However, prices often change with the ever-fluctuating and growing market.
The Best Weed Dispensary Near Universal Studios Hollywood
No matter which option you go for, any of these shops will be sure to provide you with quality service and trustworthy products. With health being your top priority, cannabis should always come from the most reputable sources for your safety. Any of these stores will open their doors to any and all individuals who are interested in cannabis. If you're looking for the best weed dispensary near universal studios, you can't go wrong with any of these fantastic dispensaries. But don't stop here – you might also want to check out some weed-friendly restaurants to expand your horizons.
That said, you definitely want to be sure to swing by Project Cannabis Hollywood and THE WEED if you're in the neighborhood. If you happen to be down the road in San Diego, though, don't forget to check out some of the best San Diego dispensaries found there for quality cannabis. No matter which one you decide on, though, you can feel confident you're enjoying some of the best marijuana in the Golden State!